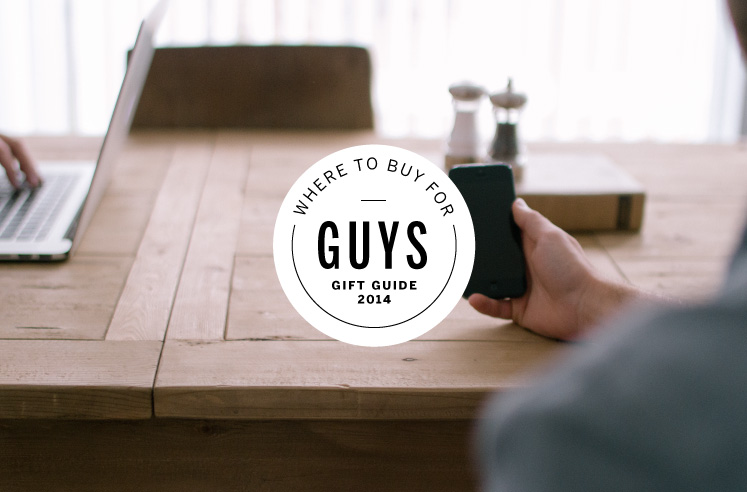 Where to Shop: Holiday Gifts for Guys in Dallas
If your holiday shopping has come to a screeching halt, fear not! These local shops are your go-tos when it comes to finding the right gift for your dad, husband, best bud, brother, or boyfriend. Here, you'll find where to buy coolers, comics, and kitchen gadgets galore.
1Tailwaters Fly Fishing Co.
Guys love this shop as much for the extensive selection of rods, reels, and flies (the store stocks brands like Umpqua, Sage, and Temple Fork) as for the rugged gear (think Patagonia and Simms). Our pick: Heavy-duty YETI coolers weather many a storm and are ultra-trendy. Though they're one of our pricier picks, they'll come in handy for years to come.
2Mountain Hideout
Whether you're buying for a hiker, a mountain biker, or a camper, this is your spot. The shop has walls lined with backpacks, racks full of gear to keep warm, and even camping cook wear. Our pick: Super comfy Patagonia fleeces (in a rainbow of shades) never go out of style.
3Whole Earth Provision Co.
Part novelty store-part outdoor paradise, Whole Earth is a staple for those who like to wander. It's packed with all the gear outdoor-types like: telescopes, binoculars, compasses, tents, and the list goes on and on, but you'll also find cool books, puzzles, and games at the front of the store. Our pick: Stretchy hammocks that make you daydream of warmer days ahead.
1Zeus Comics
Every Wednesday morning, the store receives a fresh shipment of comic books. On the stands now: everything from classics like X-Men and Batman to Angela Asgards Assassin #1. Our pick: A copy of whichever blockbuster adaptation your favorite guy couldn't wait to see.
2Common Ground Games
The best gift of all might be to bring your gamer along with you to this store. It's packed with card games and board games, and the back is lined with tables for you to join in the fun while you're in the store. Our pick: The store has stocked a few holiday games like Holiday Flux, Love Letter's Letters to Santa, and a Twelve Days of Christmas card game.
1Luke's Locker
Runners love Luke's Locker for the extensive shoe collection that runs the gamut from stylish Nikes to hardworking Asics. Running gear and athletic clothes are well-stocked as well. Our pick: Keep stockings happy with snacks like Gu chomps, Honey Stingers, and Nuun.
2Richardson Bike Mart
This super store sells everything for your cyclist (of any age) to get road ready. From mountain and road bikes galore to helmets, apparel, and gear, this store stocks it all. Our pick: Make sure your cyclist is always visible with headlights and taillights, which the store keeps in large quantities.
3St. Bernard Sports
For the ski buff in your life, this store offers up some of the best brands of cold gear and equipment. Not to mention, cool accessories like knitted caps and one very special needlepoint moose flask. Our pick: Any of the cold gear. Try gloves, a cap, or goggles to make your snow bum happy.
1Grapevine Olive Oil
The drizzler's delight: this store is stocked with olive oils, balsamic vinegars, and racks and racks of salts and spices. Our pick: Any of the infused (raspberry, fig, and chocolate-jalapeno) balsamic vinegars make a great gift.
2Barbecues Galore
Help your master griller hone his skills during the off-season. With warmer days just ahead, barbecue accessories (rubs and sauces, tools, and wood chips) are in plenty at this smoke joint. Our pick: The store makes a 5-Piece Tool set that includes all the basics in a sleek, black case.
3Jimmy's Food Store
If your guy is the type that likes salamis, pancettas, imported cheeses, Italian wine, and canolis, this is your one-stop shop. Our pick: To your tastes, but don't pass up the incredible cheese selction.