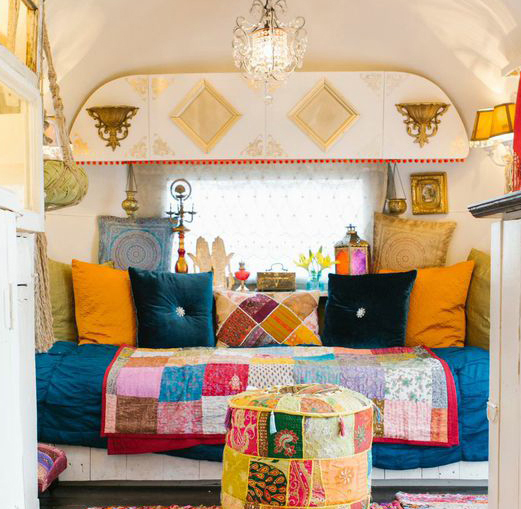 The Silver Soul Jewelry Airstream Trailer is On the Move
Local jewelry designer Molly Sharp lives a rock-and-roll lifestyle. From her long-tressed musician husband and polished-yet-bohemian home in East Dallas to her effortless free-spirited sense of style—everything has a so-cool-you'll-be-jealous vibe about it. And her new jewelry shop, The Silver Soul, is no different.
Shoppers will find the 1966 Safari Airstream Trailer filled with rings inspired by Native American conchos, eagle belt buckles embellished with natural turquoise stones, and arrowhead earrings made out a variety of colorful stones. Many of the pieces are unisex, so if you're looking for a gift for your rocker beau, this should be at the top of your shopping list.
Sharp's designs aren't the kind of pieces that you'll find at shops like Forever 21 or Urban Outfitters. "The jewelry line isn't about mass-produced pieces," She said while giving me a tour of her in-home jewelry making studio. "Everything is unique and hand-crafted."
The designer dreamed up her storefront-on-wheels years ago, but an engagement, wedding, and one very sweet baby kept her too busy to fulfill the dream until recently. "I thought this trailer would be a great way to have a store, but also somewhere to stay while my husband is on the road. That way, we can travel with him."
Sharp has been making jewelry since 2002 and is trained in lapidary design, goldsmithing, and advanced metalsmithing. If you're looking for a custom piece, she also designs engagement rings and bands.
"The tradition behind jewelry making is huge to me. People invest in a great pair of shoes, which will only last you a while. When you invest in a great piece of jewelry, it can last forever and be passed down from generation to generation."
To find out where The Silver Soul will be next, check out their Facebook page.