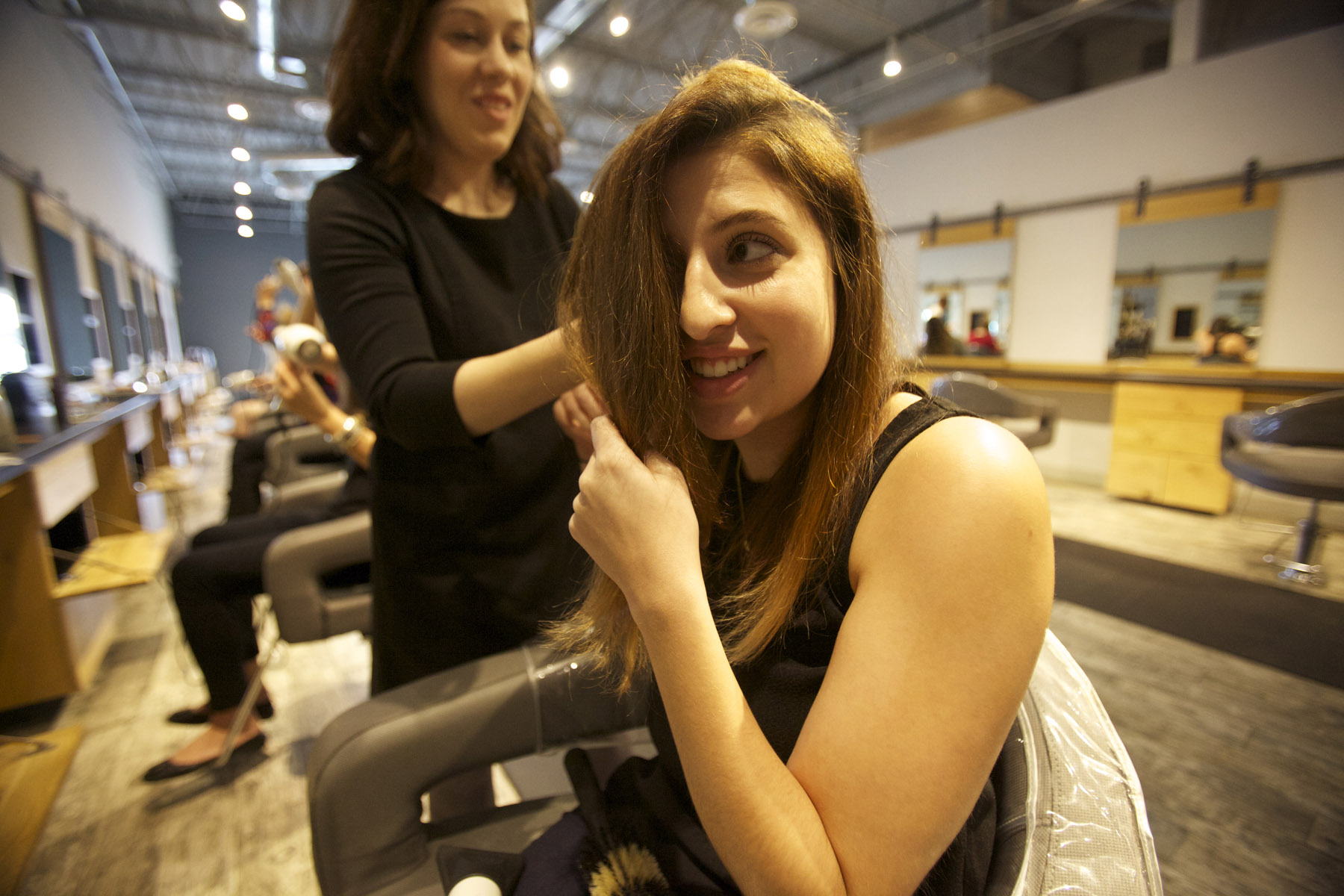 15 Minutes to the Perfect Blowout
The perfect blowout is the Holy Grail of the beauty world: It's hard to find, though that doesn't stop people from searching. What if you could master the technique at home without help from a pro? Whitney Haynes, founder of Form Hair Education, thinks you can. Every Saturday, Haynes and her assistant offer styling classes at L.A.R.C. Salon, where you can take notes on everything from the best-looking updos to pristine ponytails. Here, we break down the blowout in six easy steps.
What you'll need: A round brush, a blow dryer with a concentrator attachment, and your favorite hair products (I have a lot of fine hair, so Haynes suggested R+Co's thickening spray and styling mousse).
The technique: Starting at the crown of the head, work a brush from the root through the tips. When you reach the ends, curl hair around the brush and heat it up. Let it sit for a few seconds, then repeat until you reach the desired smoothness and flip. Side note: If you have curly hair, your best bet is to dry hair from the root to mid-lengths with a flat brush and follow with the round-brush technique to eliminate frizz.
Step 1:
While hair is wet, apply products and create your part. Blast hair on high without the attachment (to save time) and once strands are about 70% dry, smooth out any flyways by round brushing them back—see above photo for a reference.
Step 2:
Section hair into three parts from crown-to-ear on each side. Twist up the two sections of hair and begin on one side, making two smaller subsections of hair to get the greatest benefit from the round brush technique.
Step 3:
Move to the top section and pull hair towards the mirror. Place your brush at the base of the head and wrap strands around the brush without moving it. With the dryer at the crown, blow air upwards until hot, then let the hair cool. Remove the brush and gather all hair that has been blown out.
Step 4:
Repeat step 2 on the last section of hair.
Step 5:
To finish, smooth the back of hair by dividing it horizontally into small sections, which can be split in half and pulled over your shoulder. Use the round brush technique on each small section. When you reach the top section, pay special attention to the top of the hair so that it is sleek.
Step 6:
 Smooth your hairline to nix flyaways, and re-brush any ends that haven't held the flip.
To learn more or sign up for a class (which we highly recommend) click here.