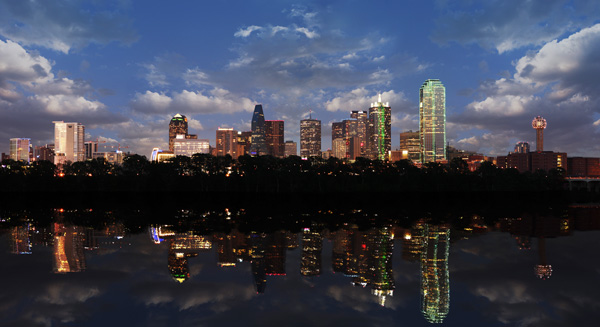 Dress Like Dallas This Halloween
Shine bright like Reunion Tower on Friday.
Halloween is almost here, but before you reach for those cat ears (yet again), try dressing up as something a bit more original: one of Dallas' best-known landmarks or citizens, of course! We've compiled a list of our five favorites and how to get the looks.
Reunion Tower. If you're in a pinch, create this costume out of things you already have at home: an umbrella, battery-powered Christmas lights, and black clothing. Poke holes in the umbrella, place the lights into them and you're ready to go!
Dallas Cowboys Cheerleader. Join the NFL's most glamorous cheerleading squad (if only for the night). Super crafters can make an outfit at home, but those who are not DIY-inclined might still be able to find one to rent. Luckily, high kicks are not mandatory.
Bonnie and Clyde. Clyde Barrow, one half of the gangster duo, both lived and is buried in Oak Cliff. Recruit a partner in crime, find some 1930's garb at a vintage store, and then paint the town red.
The Pegasus. We love the iconic flying red horse as costume inspiration. Try feathered wings, red clothing, glow sticks, and some glitter (flying horses always need glitter).
Amber Vinson or Nina Pham and Bentley. Basically, we're suggesting you dress up like one of 2014's biggest badasses. Play Destiny's Child "Survivor" on repeat for your Halloween crowd and you'll follow suit.