If you didn't make Esé Azenabor's fashion show debuting her latest collection, catch up here. The scene was abuzz with stiletto-clad society gals with martinis in hand, and the ornate frocks sent down the runway were showstoppers; hand-beaded and truly stunning. The gorgeous, Nigerian-born Canadian designer popped into the D offices to spill her bag and talk about her journey. Her career started early. Too early, her mother might say. Esé once used a pair of scissors as a child to turn her mom's beaded, brocade skirt into a new outfit for herself. (The design is still framed.) These days, she's still inspired by rich textures, including those of the '20s and '50s. She calls her looks vintage-inspired for modernized dressing. I call them exquisite. See what the Dallas designer keeps in her purse.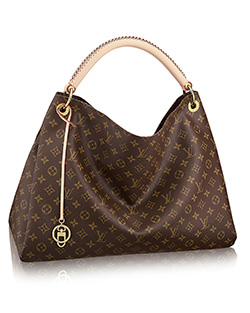 1. I'm obsessed with Make Up For Ever's loose powder. I put it on my skin every morning. My favorite lipstick is YSL. I love pink colors, and they carry the best shades of pink. Creme De La Mer, oh my gosh. Obsessed. I used to have some skin issues, but I used the full line and it totally resolved them. For the days I want to go with a bold red color, I go with Piermarini lipstick [in Never Again].
2. Since my fashion show, I've been carrying this around. It's a good reminder. I was so happy in the turnout.
3. This Louis Vuitton epi leather wallet is my favorite. I've had it for four years and it still looks good.
4. My mom gave me this card holder because I was always putting business cards in my purse.
5. It's a little bit strong, but I'm obsessed with Tom Ford Black Orchid.
6. Until last year, I was living on the small Blackberry. I finally invested in a Galaxy.
7. This skull necklace is one of my designs. I hand make a lot of things. It has a Swarovski brain and eyes and it talks. [The jaw moves.] I don't believe in luck too much, but every time something good happens, I'm wearing this ring. I wore it to my fashion show and to my first fashion show. Then my mom gave it to me. I call it my magic ring.
8. My scissors and sewing kit are a must-have for me. I have safety pins in there, I have some beads. I mean, I've made a complete outfit of safety pins! You never know when something's going to rip. I keep bobby pins too. I never wear my hair up, no matter how hot it is outside, but I use them for clothes.
9. This credit card swiper is how I pay my bills. My USB has all my pictures from my lookbook and all my important work stuff. I live downtown, so when I walk my dogs at night, I carry this flashlight with me.
10. This is my ID. I'm so proud of my showroom. Three years ago I was doing my business from my apartment. I went from one bedroom to two bedrooms to make space for a showroom in my apartment. Finally, I decided to get a showroom at the Dallas World Trade Center.
Get the Living Newsletter
Get the insider's guide to the best in Dallas style, beauty, and wellness delivered right to your inbox each month.