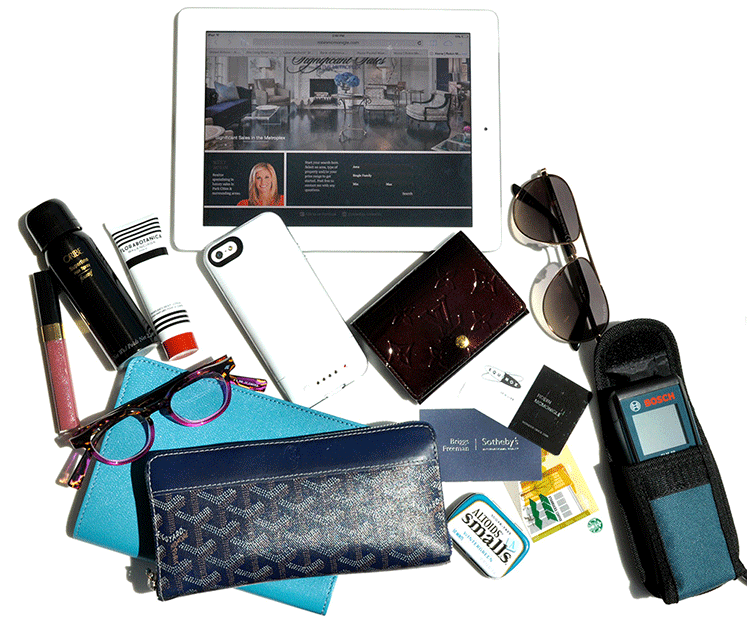 What's in Robin McMonigle's Bag?
The Cali transplant, real estate guru, and if you can believe it, a single mom of four spills her bag.
When I interview designers who come to town, they rave about Dallas women. They gush about their polish and mind-blowing ability to pick up their kids from carpool looking impeccable from head to high-heeled foot. Robin McMonigle's one of these women. She's a Cali transplant, real estate guru, and if you can believe it, a single mom of four (15, 14, 11, and 8). And, the woman is gorgeous. See what she keeps in her Céline tote.

Currently reading: Goldfinch by Donna Tartt
Favorite new purchase: Celine Luggage Tote handbag
Favorite dessert: Chocolate Souffle from Rise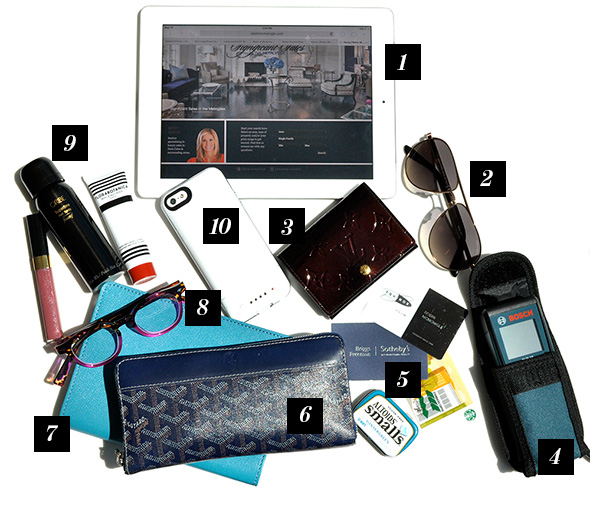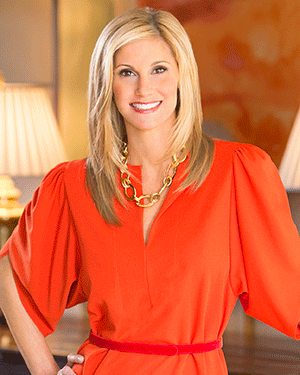 1. We use an iPad for all our listing presentations. And then we can also look at properties.
2. My Tom Ford aviators. Pretty cute. Don't want to lose them.
3. My little Louis Vuitton card case was given to me by a good friend.
4. This is a laser. It measures rooms. So this is great great because I'm always going into houses and people ask me what the ceiling height is. We're always measuring rooms for people, and this is kind of fun.
5. I keep my Equinox card and my Starbucks card in the little wallet so I can just take it to the gym with me or when I'm running to get coffee. And I always have my business cards with me. I'm always handing them out. Good for clients. Good for dates. It's twofold.
6. My wallet is Goyard. I bought it in New York. I've had it several years. You can't get the brand very many places.
7. I got that because, when I meet with clients, I'm always taking notes when I'm walking through their house. I bought it at Madison in Highland Park Village.
8. These I can't live without. I bought them at Madison too. They're just readers. I went and had my eyes checked and all I need are readers, but I need them. I've got them stashed everywhere. Readers are so stylish and cute now.
9. Beauty products from left: I've been wearing Chanel lipgloss, number 119 [Wild Rose], for seven years. I buy it in bulk. This is Oribe Superfine hairspray. A Texas girl can never be without her hairspray. And my Florabotanica. It's Balenciaga. It's thought the cutest thing was my boys like fashion–rapper/basketball fashion–so they said, 'We can't wait until that new store opens in Highland Park Village.' I said, 'Balenciaga?' and they said, 'How do you know Balenciaga?'
10. My boys convinced me to get the Mophie charger so I'll never run out of battery. It's great.