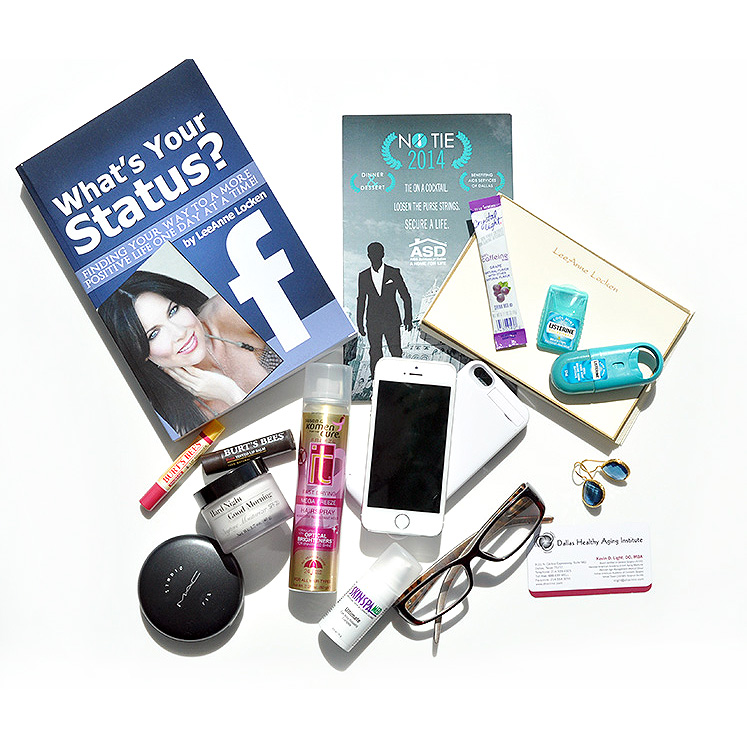 What's in LeeAnne Locken's Bag?
The emcee, reality star, and author stashes books, party invites, and her go-to beauty products in her purse.
If you know LeeAnne Locken , you know a short title doesn't cover her accurately. If you don't, let's go with her Twitter summary: TV personality, actress, emcee, inspirational speaker, reality star, author. It's all true. She's competed on She's Got the Look, appeared on Big Rich Texas, hosts dozens of events, including the recent No Tie Dinner & Dessert, Art from the Heart, and the Equest gala, all in the last few weeks. (You can't miss her at an event: she's either emceeing the thing or competing for an unofficial most glitz and glam award with Steve Kemble.) She's also an inspiration guru who has released a book based on her uplifting Facebook posts. Plus, she's gorgeous with an infection laugh. Take a look at what she stashes in her purse.


Theme song: "Happy"! I can't stop playing it!
Goal for 2015: To release an "Affirmation Book" a month!
Go to mani/pedi color: Always nude or blush. It's a habit from years of being a hand and foot model.
Favorite way to get Zen: Believe it or not, TV! I watch Grimm, NCIS, The Blacklist, Sleepy Hollow and (don't judge me) Vampire Diaries!
Most treasured piece of clothing: A vintage crystal handbag from the 20s from my Great Aunt Alice.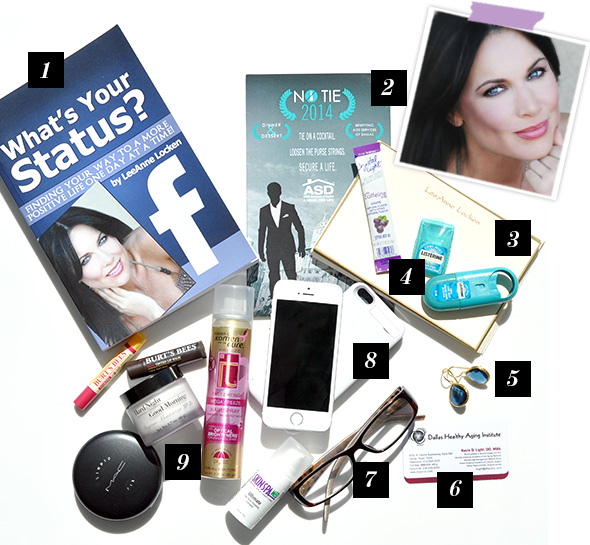 1.
 This is my first book,
What's Your Status?
.
What's Your Status? 2
is coming out soon. As soon as I get five minutes.
2.
No Tie Dinner & Dessert Party
3.
 I take my thank you notes everywhere. When I'm stuck somewhere, and I can get work done, I'm either on my phone or writing a sweet little thank you note. Emails are nice, and so are text messages, but a thank you note is very personal.
4.
 Everybody's like, 'You've got to drink more water.' And my response is, 'Water does nothing for me.' But now it does. It's caffeinated and grape flavored. My Listerine strips for when you're out all the time–you leave in the morning and you don't come home until later. I keep
Wisps
in my car, too.
5.
 I have a bunch of these in a bunch of different colors. You can wear them with anything.
6.
 This guy helped me. He found out I had no Vitamin D, and Vitamin D is your happy vitamin. That first week he had me on Vitamin D, I was putting Pharrell Williams to shame.
7.
 I can't see. I'm almost 50.
8.
 My iPhone and
Mophie
. It's my lifeline. It has a USB port, so you can plug in your phone to mine.
9.
 I only use two kinds of lipstick and that's either colored Burt's Bees (I've got Pomegranate and Rhubarb.) At night I use 
MAC Lipglass
. I will die wearing 
MAC Studio Fix
. It's just easy. Everyone has to have a can of hairspray. It's called Dallas. My favorite moisturizer is Hard Night Good Morning because most of my nights are hard and I like all my mornings to be happy. SkinSpa Med Eye Area Relaxing Complex. You can even put it over your makeup during the day.