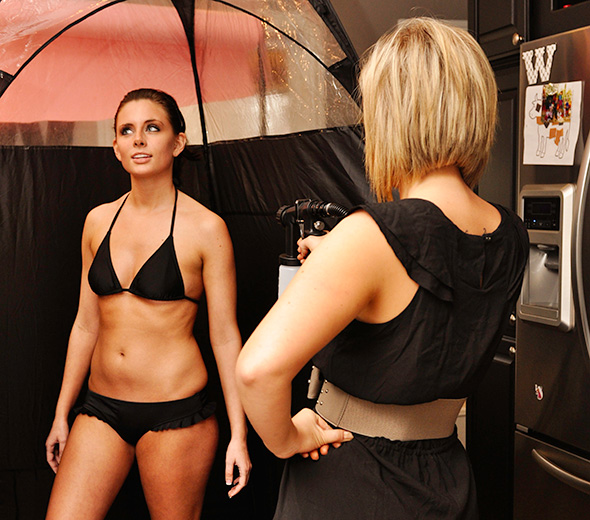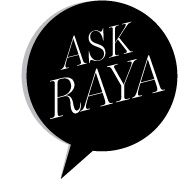 As the sunshine is pouring down, the airbrush tan questions are rolling in. I collected the most frequently asked and sent them to my go-to mobile airbrush girl, Jacy Rader of Bronze and Beautiful. Wake up with a halfway bronzed bod? There's prevention (and a bit of a solution). Can't figure out how to prep? Rinse and exfoliate. Jacy tackles the world's spray tan dilemmas ahead.
I've heard I need to shower and exfoliate. Someone else told me to moisturize beforehand. What's really the best way to prepare for an airbrush tan? – Maven
We get this question a lot! First, I want to say an airbrush tan is very individualized. The way you prepare for your tan, how long it lasts, or what color it develops into can be very different for each person. I will describe the typical way to prepare for a tan, but feel free to tailor these guidelines to what works for you.
Shave, shower, and exfoliate 24 hours prior to your appointment. You can use an inexpensive exfoliator from the drugstore (like St. Ives Apricot scrub), an expensive one of your choice, or, if you are like me and cautious of what you put on your skin, find a simple homemade sugar scrub recipe. Directly after you shave, shower, and exfoliate, you'll want to moisturize the skin. With that being said, you typically want clean skin (no perfume, lotion, makeup, or deodorant) when getting an airbrush to avoid any inconsistencies (like streaks). Therefore, do a quick rinse right before your appointment. Some individuals with severely dry skin benefit from having lotion on before their appointment, but this is not the norm. The idea is to have moisturized skin, but you shouldn't typically put on lotion right before your appointment. Lotion acts as a barrier between the skin and solution, which could cause the tan to not attach to the skin as well.
I slept in my airbrush tan and woke up a little streaky (mostly around my wrists, underarms, and ankles). What do I do? I wanted to show off my bronze goddess body, not cover it up! -Bailey
The best solution for this situation is exfoliate the streaky areas. You can use a loofa with an exfoliating scrub to remove the top layer of dead skin cells which should blend the tan. If that doesn't help, squeeze some lemon juice (only on your problem area), let it sit for a few minutes, and then scrub the area. But there are ways you can prevent streaks from happening!
Solution typically collects in dry areas like the wrist, ankle, and knuckle areas. If you have prepared your skin properly and this continues to be an issue, then ask your airbrush technician to go lighter in those areas. I typically do not spray the neck, underarms, hands and feet because these areas catch excess spray from the rest of the body. It looks much more natural and the spray doesn't collect in the problem areas. You could also try applying a light coat of barrier cream (any non-fragrance lotion) to your problem areas before your tan. [Editor's note: I always rub a little lotion on my wrists, cuticles (hands and feet), ankles, and knuckles before being airbrushed–works like a charm.)
How do I make this sucker last longer? I look darn good and I don't want to turn back into a pumpkin before the weekend ends. -Kyle
Let me first explain a little background information. An airbrush tan attaches to the top layer of the skin. The skin regenerates every 7-10 days, so airbrush tans last about that long. This has a lot to do with your body chemistry and how often your skin cells regenerate. But wait! There are some things you can do to help keep you looking bronze and beautiful longer! First, follow proper the airbrush preparation listed above, making sure to scrub all those dead skin cells off. Throughout the duration of your tan, avoid exfoliation and abrasion to the skin. Some little things you can do are shower and shave less often, pat dry with a towel, and avoid soaking the skin (e.g. bath tub, pool, etc.). Also, keep the skin moisturized. You can begin applying lotion after your first shower. You can even moisturize from the inside out by staying hydrated–H2O is the way to go! After about three days, you can begin to apply a tan booster like Jergen's Natural Glow or your preferred product.
The primary ingredient in tanning solution that gives you color is DHA (Dihyroxyacetone). It sounds scary, but it is actually derived from sugar beets (natural keto-sugar). There is another ingredient that is not as typical in all solutions that I have chosen to use called Erythrulose (another natural keto-sugar). Erythrulose takes longer to develop which prolongs your tan (it also keeps your skin moisturized, decreases the "spray tan" smell, and has a way more natural color). Be educated!
Are you judging my cellulite? Be honest. -Sam
Haha. I love this question. I see this as a professional relationship, just as a doctor views her patient. I have become accustomed to seeing naked bodies of all shapes and sizes. When I am with a client, I am primarily focused on my job and responsibility to you. And believe it or not, everyone has cellulite and what they consider imperfections. Our society is bombarded by perfectly photoshopped women and men in the media and often we think that is what normal looks like. But in reality–and from my experience–everyone has unique "imperfections" that make them beautiful and who they are. My hope is that an airbrush tan helps you amplify the beauty you already have. And honestly, I am way more concerned about making sure you love your airbrush tan than noticing your cellulite, chiseled abs, or third nipple.
Get the AtHome Newsletter
Enjoy Dallas' best trends, hot properties, and tips from local designers to help you nest in style delivered weekly.