A Few New Favorite Things: Sage Roll-On Perfume, Cozy Texas Tees, and Rose Balm
Ivy Kirshner spring wedge booties, Sage perfume, Texas tees, and rose balm make our love list.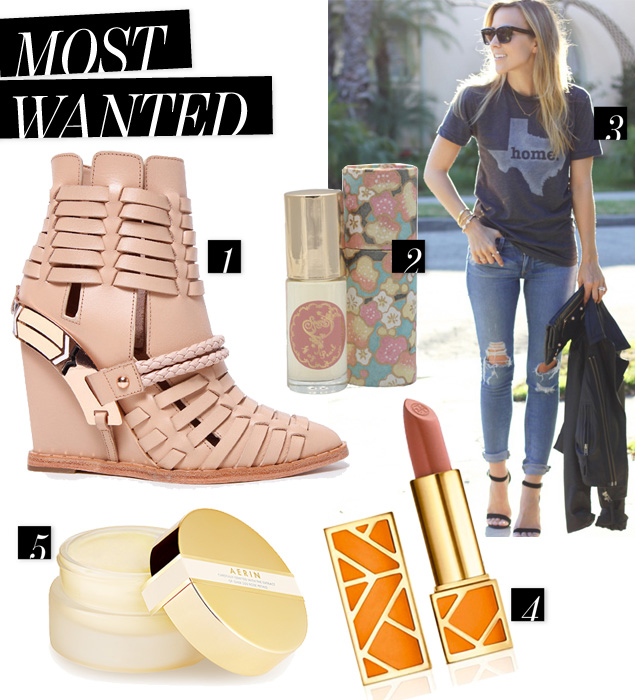 1. Ivy Kirshner's "Roman" wedgie bootie at Elements. It's like a sandal boot, which is ideal for Texas summer conditions: furnace outside, igloo inside. I love the enamel details on the harness. They come in black, too, but I hear the gives you legs for days.
2. Sage roll-on perfumes. If you're taking a trip to Fredericksburg, pop into Root for these (and lots of other things you'll need). The perfume collection, themed by birthstones, come in full bottles and prettily packaged roll-ons for stashing in handbags and giving as gifts. Try Pearl with mousse de chene, sandalwood, musk, and vanilla.
3. A Texas Home T. This butter-soft tee falls somewhere in a happy place on the Texas pride spectrum (not quite a flag tattoo on your ankle). No love for the Lonestar State? (Then get out.) You've got 49 other states to choose from and a couple countries.
4. I wouldn't call myself a Tory Burch girl–I don't dig the heavy embellishment or prominent logo thing, but on her lipstick tubes, it's perfect. The familiar orange covers the square container with the emblem stamped on top. It's fun. Try Pas du Tout, her signature "perfect pinky nude" (couldn't have said it better myself).
5. Aerin Lauder Rose Balm. They say 350 rose petals were used in the extraction process to make this silky balm. It comes in a pretty glass container with a gold lid, so it's easy to leave on display. I use it on my nails and cuticles, lips, and around my eyes when I forget eye cream.