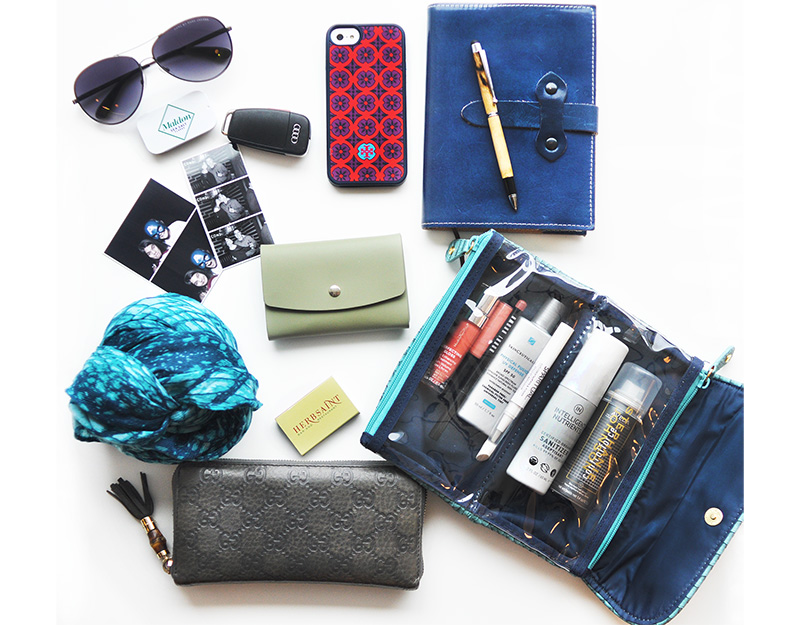 What's in the Hiatus Spa Owner's Bag?
Sheila Garrison popped by D to share her favorite beauty products and purse accessories. We want one of everything.
Anyone who has taken spa advice from me has likely been recommended a trip to Hiatus at Inwood Village. It's a topnotch facility with some of the best treatments, masseurs, and products. It's also helmed by a very lovely Sheila Garrison with abnormally radiant skin, luscious hair, and a collection purse accoutrements so inspiring it made me put "shopping at Hiatus' spa boutique" on my weekend to-do list. She popped by D's offices yesterday, clad in black–with a very cool leather vest–to share her accessories. With a third location of the spa opening in Plano's Willowbend Wellness Center in just a few short months, I have no idea how she found the time, but I'm so glad this veteran of the beauty biz could spare some time (and product suggestions).


Favorite spring beauty trend: The liquid liner and bold lip look.
Favorite cocktail: Gin and tonic with a large sphere ice cube in a double old fashioned glass. (Fill half way with St. George Terroir Gin, and top with Fever Tree Naturally Light Indian Tonic and a squeeze of lemon.)
Favorite local designer: Abi Ferrin. They're flattering, feminine, and on-trend.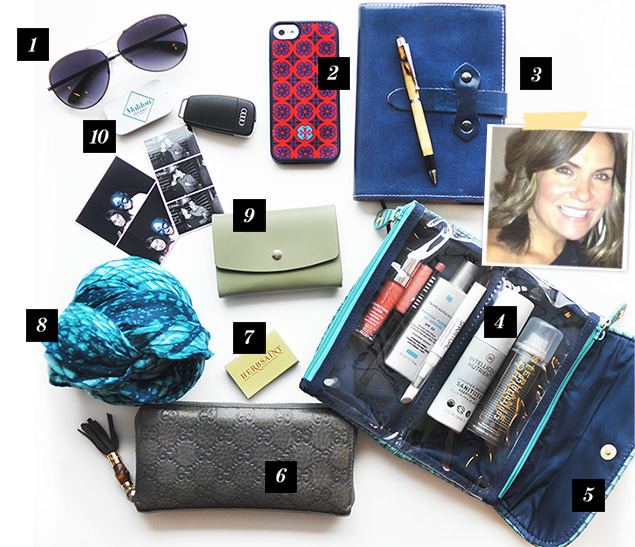 1. It took me a while to find the right fit in this shape, but I like these Marc by Marc Jacobs sunglasses.
2. I tried to branch out with color with my Tory Burch iPhone cover. I change them often because I get bored.
3. I love this KESCarvings hand-carved beechwood pen I found on Etsy. I like the weight of it. I like the way it writes and it's beautiful. This Italian leather notebook by Papier Plume is refillable and real durable.
4. Beauty products (left to right): The HydroPeptide Perfecting Gloss* is a lip-plumping treatment. It's a great color. You can wear it by itself or wear it over something else. Razzledazzler is a new lip gloss I found this season at MAC. The thing I like about it is it's slightly opaque, which you don't find all that often in glosses. It's a cross between a lipstick and a gloss. The pencil in Cocoa by Bobbi Brown I use with everything. I wear SkinCeuticals Physical Fusion SPF* every day under my makeup and on weekends by itself. It's fabulous. Spa Ritual's Cuti-Cocktail Oil Pen* is a cuticle moisturizer and pusher, so it keeps your nails looking great between manicures. I use it in the car sometimes when I'm on the go.  Intelligent Nutrients organic hand sanitizer* is made from plants and flowers and no chemicals. This line was created by the founder of Aveda. I can use it on my kids, too. I love Aveda's Control Force hairspray* because it's a firm hold, but you can still run your fingers through your hair. [Ed note: Fact. Ran my fingers through Sheila's defined but soft curls.]
5. These Stephanie Johnson bags* are the best. She uses all these great fabrics. I like that I can see everything in my makeup bag. You're not digging around.
6. This is my favorite wallet. I love everything in the Gucci store.
7. Herbsaint is a restaurant that Bill and I recently tried in New Orleans. We love New Orleans. We go there a couple times a year and we always try to save room for a new place.
8. This Spun scarf* is one of my favorite things. I wear black all the time and sometimes you just need a pop of color. And you can tie it all those different ways. [Sheila then proceeded to show me how to turn this scarf into a bohemian vest. Brilliant.]
9. My San Lorenzo business card holder is made from regenerated leather. They take leather scraps and pieces and grind it, press it, and add natural rubber, so it's kind of a recycled thing.
10. My family is my world. Emma is 7, Logan is 13. We have a lot of fun. Maldon sea salt is the best salt in the world. It's kind of flaky and crispy. [And in my response to asking her why she keeps it in her purse:] Because good salt is good salt. You can put it on brownies, on French fries, on chocolate whatever.
*Available for sale at Hiatus.