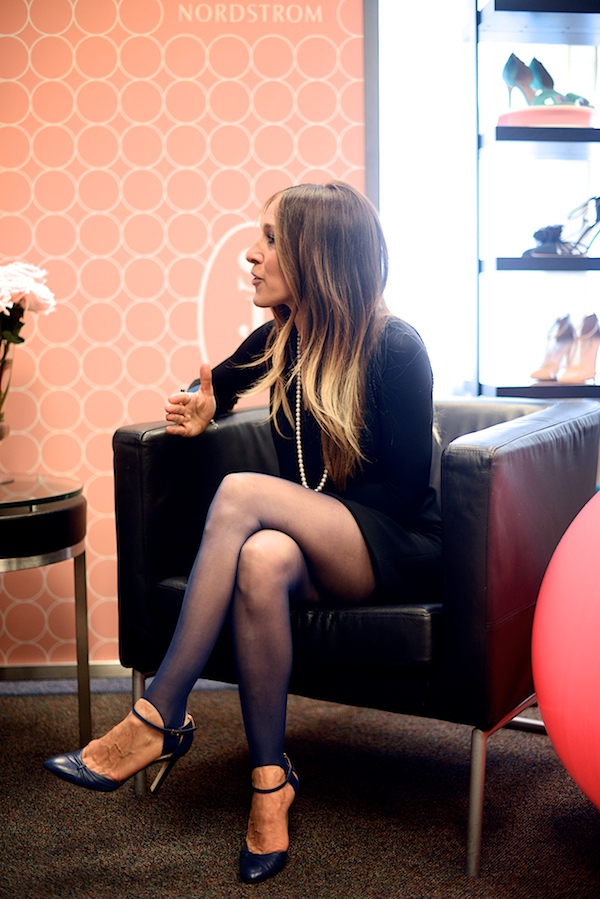 It was a lazy Sunday afternoon my junior year of college when my friends and I had "the talk." The one where we all likened each other to Sex and the City characters. Turns out, I'm a Charlotte-Samantha mix—very rare, I know.
I texted those friends last week to share some big news: I'd be meeting the one and only Sarah Jessica Parker on Sunday. They all swooned. "What are you going to ask her?" they all wondered. Obviously, there were many questions I wanted to ask, but I was there to learn more about the SJP Collection, Sarah Jessica's Nordstrom-exclusive line of shoes, handbags, and one special trench coat. After spending no less than three hours trying on prospective outfits, I decided on a Rachel Comey dress from Nicole Kwon, and was ready to meet the style icon.
The SJP collection is made up of twenty-five styles of shoes, three varieties of handbags, and a tailored trench coat dubbed "the Manhattan." Grosgrain ribbon detail, which can be found on all of the shoes and as trim for the Manhattan, is an allusion to Sarah Jessica's childhood. The shoes are named after different style icons who have influenced the designer, and of course there is a "Carrie." Sarah Jessica's partner in business when it came to designing the line is George Malkemus, the CEO of Manolo Blahnik, a favored shoe of the Sex and the City ladies.
Since Sarah Jessica wanted to have as much time as possible to meet fans in the shoe section of Nordstrom (how sweet!), our time together was limited to seven minutes. While I typically like to take notes during an interview, I couldn't help but staring straight into her baby blues: I think she may have actually been seeing into my soul. Hopefully it kept her from seeing my shaky hands. –Margaux Anbouba
Margaux: What are you wearing?
Sarah Jessica Parker: On my feet, this is the Tanny named for Tanaquil LeClercq. I have on French navy stirrup [hose], an Yves St. Laurent jumper that I'm borrowing, a body suit, French navy grosgrain ribbon, a bracelet I bought on Etsy for five bucks, a thimble, a ring from my husband, and tiny little diamond earrings.
M: How has your life served as inspiration for the SJP Collection?
SJP: I don't know if everything in my life is part of this collection. But there are experiences you have or images that are inexplicably in your brain or relationships you've had and colors you like, or women you have admired, that are all a part of it. When I finally had the opportunity to sit down with George [Malkemus] and talk about periods of influence and inspiration [for the collection], we had the same reference points, which was really interesting for both of us. I think that parts of my life, aren't necessarily integrated into the line, but have played a role in the story we wanted to tell with this collection.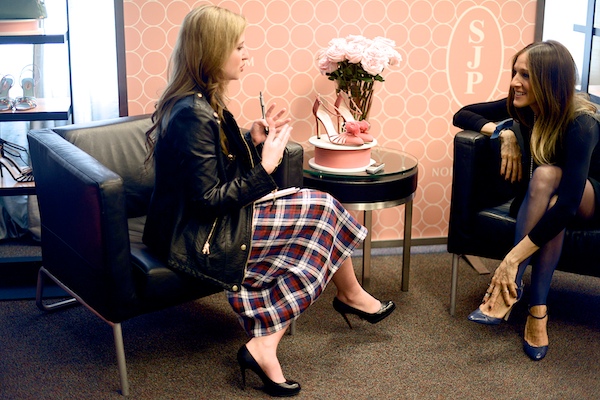 M: Do you have a favorite pair of shoes?
I don't choose a favorite. Never have and never will. I couldn't possibly.
M: Why did you want to include a trench coat in this line?
When we put the whole collection together, which was trench, bag, and shoes, we saw the collection as secondary packaging when you walk into the room — it seemed like it all fit together, it's the soup to nuts idea. The shoes are the main focus, the shank of the collection, but there was something nice about the idea of including the Manhattan trench.
And just like that, our time together was over. Thankfully, Stylesheet was there to capture the moment. Looks like we are best friends now, right?
Also, just for the record, Buzzfeed says I'm a Miranda. Not sure what I think about this.
Get the AtHome Newsletter
Enjoy Dallas' best trends, hot properties, and tips from local designers to help you nest in style delivered weekly.