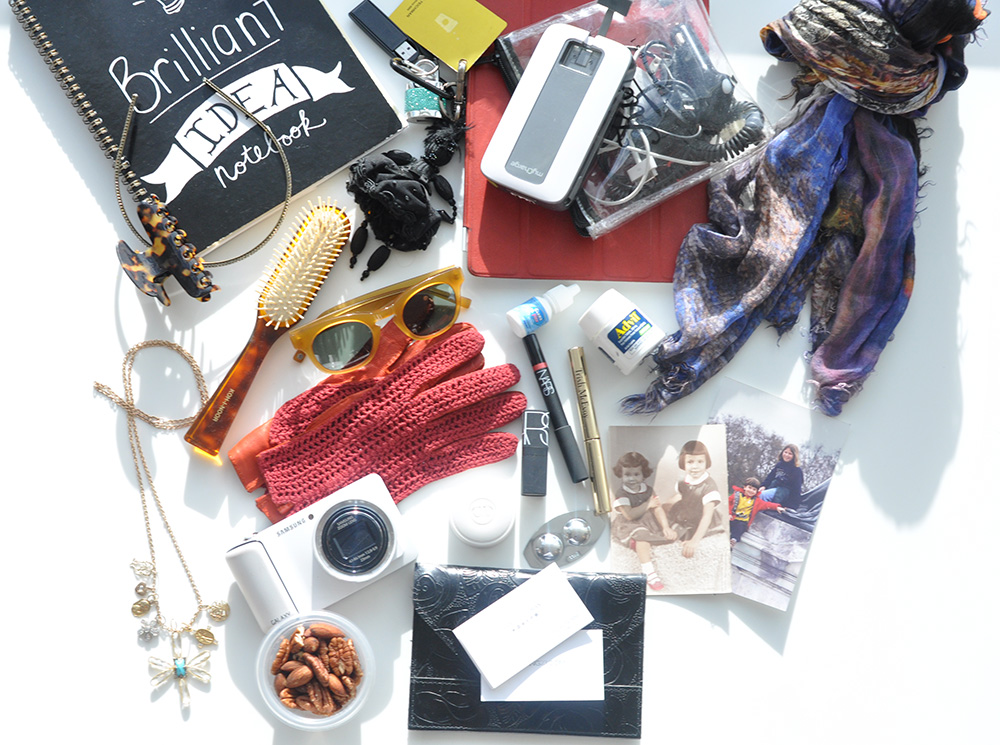 What's in Ylang 23 Owner Joanne Teichman's Bag?
Joanne Teichman, owner of jewelry boutique Ylang23 (alongside husband Charles), is a very busy woman these days. On the heels of fulfilling the holiday wish lists of lucky, jewelry-loving ladies, she's about to open the shop's new location in the Plaza at Preston Center. Come February 8, all the pretty trinkets we love at the Galleria shop (rose gold from Todd Reed, dainty studs from Jennifer Meyer, and diamonds and exotic stones from Cathy Waterman) will be closer instead. In the meantime, she popped into our offices to share what's in her purse.

Best way to get Zen: Crank up The Doors, Queen, or Bruno Mars to get moving in the morning.
Goal for the new year: Breathe.
Most treasure piece in your closet: 1980 Albert Nippon pintucked, black with white pin dots treasure worn at my rehearsal dinner and still so chic!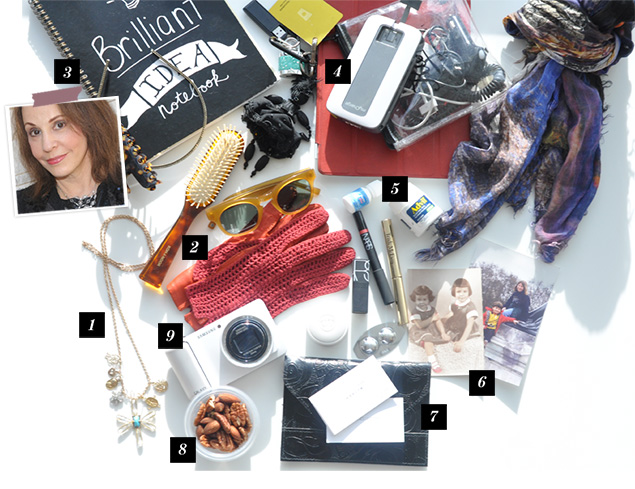 1. I usually have around my neck too much jewelry, but it's like choosing children, so I put a lot of pieces on a chain. Most of the pieces on here are Cathy Waterman, Irene Neuwirth, and Ten Thousand Things.
2. (clockwise from top left) I love my Koh-i-noor brush. It just feels chic. I fell in love with these Warby Parker sunglasses, which is weird because I never do browns and caramels. I bought these gloves years ago and they're still my favorite. They're Hermes and they're a combination of leather and crochet. They're not the warmest in the world, but they're just nice to tuck into your bag. I'm sick that they quit making them.
3. I love the Brilliant Ideas notebook. I found it at Urban Outfitters. I can tuck all my ideas in there. Especially for the new store opening.
4. I have a fear of running out of power on my devices. I'm always online, Instagramming, and taking pictures. The myCharge is amazing. It has iPhone charges on it.
5. (products top to bottom) These Clerz Plus Lenz Drops I keep everywhere. By the bedside, by the computer… If your contacts aren't quite right, you just squirt 'em in and everything's back to perfect. The NARS lipstick is Dressed to Kill, my current winter favorite, and I have a NARS gloss pencil in New Lover, and the combination is a great, happy color. This Trish McEvoy [24-Hour Eye Shadow and Liner] in Topaz is the best. You can go anywhere with a smoky eye. Put it on your upper lid and your lower lid and the color is incredible. I'm addicted to this stuff. I've used Christian Dior Crème Abricot for years, and I just love it. My mother used it. It really helps your cuticles and it's especially great when you're traveling. For under-eye circles, GlamGlow is great because it has caffeine. You just throw it on under your eyes. You tap it on and wipe it off.
6. I always have to have some pictures of family. It keeps me grounded. I love this [black and white] one of my sister and me because my mom made the dresses and my shoes are red. And these are my kids [right], now 20 and 27. Just happy moments to remember.
7. My cards have all my social media on them. I'm an Instagram junkie [@ylang23] and I do all the Instagramming myself. The pouch is Comme des Garçons and I've collected the pieces. The latest pieces don't have the stamping and the butterflies.
8. I have to have something if I hit an emergency or skip a lunch and my latest thing is salted and unsalted nuts, and I love almonds and pecans. I'm a Southern gal.
9. This camera, which I had to get in New York because Dallas was out, I wanted for an award I got. I had to have this camera. It's wifi.