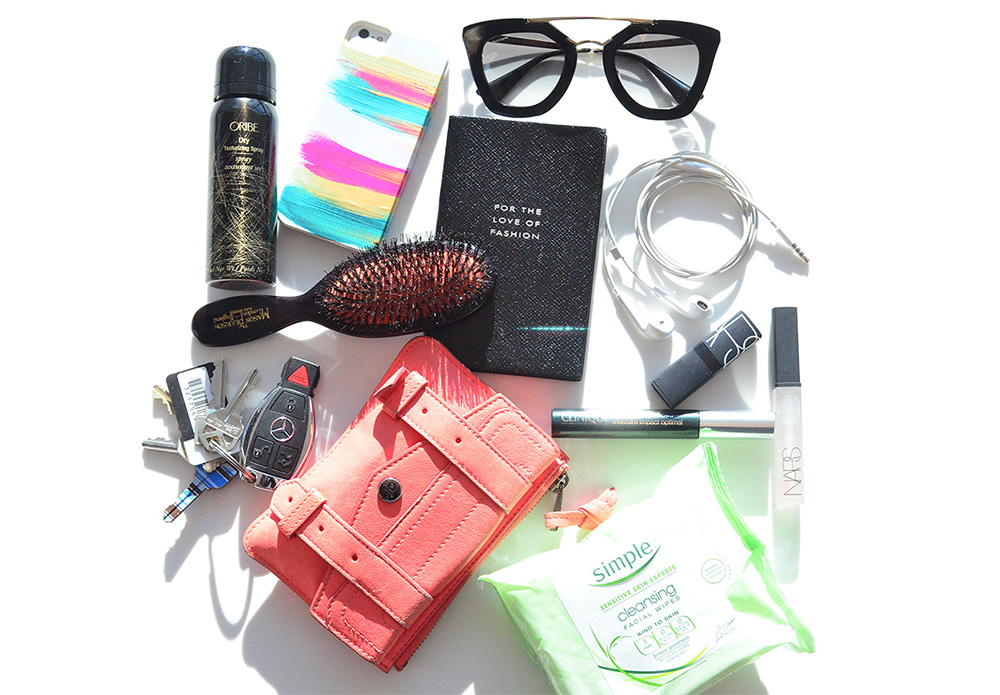 What's in Fashion Blogger Merritt Beck's Bag?
What's in the fashion blogger's bag? Surprisingly minimalistic collection of perfect Prada sunnies, a mini Mason Pearson, and her favorite NARS staples.
Merritt Beck has made the transition to full-time blogger her fashion site, The Style Scribe. It gives her more time to dish about the things she loves and more time to pop into D's offices to let us see what's in her bag. Take a look.



Go-to polish colors: Essie in Topless and Barefoot
Recent favorite purchase: A double pearl necklace from Anthropologie
Closet she envies: Olivia Palermo
Favorite dessert: Anything that has salted caramel on it
1. Prada sunglasses. "These were a Christmas gift from Santa, AKA my mom. They have such an interesting shape. Geometric."
2. Smythson fashion notebook. "I'm excited to take it to Fashion Week. It's good for notes and just little things I come up with when I'm traveling."
3. Beauty (clockwise top top left): "My favorite lipstick is NARS in 'Cruising.' It's almost down to the nub. It's nude-prink, just good for every day. I like to have something with a little more shine just in case I'm going out. I love NARS 'Triple X' gloss. I always jump around for mascaras, but my favorite right now is Clinique High Impact. It has a good wand."
4. Simple Skincare Cleansing Wipes. "These are my favorite thing ever. They're cleansing wipes for sensitive skin. I have really sensitive skin."
5. Proenza Schouler PS1 wallet. "This was from Reward Style's Top 25 grossing blogger list dinner. The first dinner was with Proenza Schouler and they gifted each attendee a wallet. So it's a fun memory. Makes me proud."
6. Hair stuff. "Both of these have to do with volume. The Oribe Dry Texturizing Spray is a godsend, especially when I'm doing curly hair or trying to get it a little more messy looking."
7. iPhone cover. "It's actually by another blogger, Jen Ramos. She writes the blog Made by Girl. It's from her Coco & Hearts line. I bought three, one for my mom and sister for Christmas."