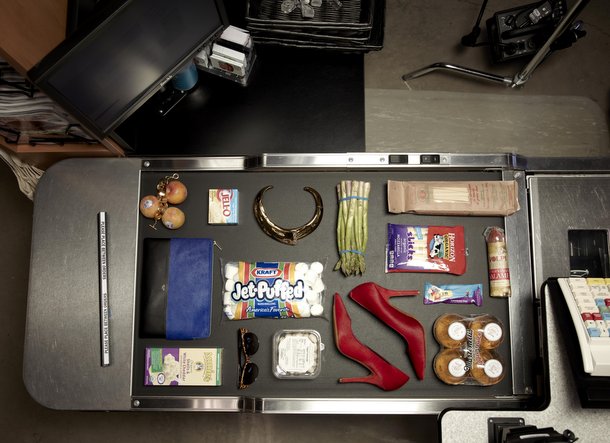 By Dawn Marie Mellon
When I saw the movie Confessions of a Shop-a-Holic, specifically the scene in which the mannequins in the store windows came alive and began conversing with the movie's protagonist, Rebecca Bloomwood, I breathed a sigh of relief. You see, until that point, I thought I was the only one who could hear those beautiful store-front sirens. (Or, at least, the only one who would admit it!)
Just thinking about the fact that Dallas has more shopping centers per capita than any other city in the country makes my heart skip a beat. On the other hand, I have a friend who proclaimed she'd rather "poke her eyes out with miniature replicas of the Eiffel Tower than go shopping." Ouch!
So, what is it about shopping that can make a fashionista's heart behave erratically, and, at the same time, make an otherwise confident, rational woman want to permanently blind herself with a souvenir?
Truth be told, there are valid reasons behind some women's distain for shopping. Some, for example, feel intimidated or judged by the sales staff when they walk into a store; they feel pressured to buy things they don't necessarily like or need; they buy pieces that don't go with anything they have in their closet and end up feeling like the whole experience was a waste of time.; and the list goes on.
Well, after reading last week's column, many of you have purged your unwanted garments..consigning them, donating them, swapping them (but, hopefully, not burning them)…and, therefore, you must shop!
So, here's some advice from a seasoned professional that will help you have a successful shopping experience:
Before you leave, prepare a budget and a list divided into 3 sections:
The Replacements – items currently in your wardrobe that need to be replaced (worn out, damaged, wrong size, etc.)
The Completers – pieces you need to make a complete outfit (you have a fabulous skirt you never wear because you don't have an equally fabulous top to wear with it)
The Trends – trendy clothes, shoes, and/or accessories to update your look for the season
Ask someone to join you:
The person you ask should be someone who will give you honest feedback. This person has to be comfortable with your budget, your figure, and the stores you choose.
Shopping with someone who can view you in person and from every angle is an advantage you can't get even with a 3-way mirror.
Shopping with someone allows you to keep 'the power,' so you're less likely to be the victim of a sales associate who's chief concern is her commission check and not your long-term happiness.
Choose stores wisely:
Go to stores that carry lines you know fit your body type and fit within you budget.
Make sure you understand, and are comfortable with, the store's return policy.
When you find a store you like, stick with it. Not only will it save you time, it also will give you an opportunity to develop a relationship with a salesperson who will have a vested interest in your long-term happiness; be more likely to call you just before the out-of-budget piece you've been lusting after goes on sale; and be motivated to quickly resolve a problem, should one arise.
As you shop, keep these thoughts in mind:
Buy whole outfits (unless your buying a piece from your 3-part list)
If you find something you love, but it's not on your list, make sure you have at least 3 other piece in your closet you can pair with it to make a complete outfit.
Don't buy something just because it's on sale. Ask yourself if you'd buy it even if it wasn't on sale.
Consider cost-per-wear. Even though something may have a seemingly steep price tag, think about how much wear you will get out of it over the course of the season. On a cost-per-wear basis, it may be less expensive than your daily Starbucks habit!
My personal motto: When in doubt, leave it out!
After you get home:
Keep the tags attached to your new purchases and keep the receipt handy, in case you decide to return it. Some stores will issue a credit for items that go on sale within a specific period of time after the initial purchase – another good reason to keep your receipt handy.
If you experience buyer's remorse, learn from it, so you don't make the same mistake again.
Most important, have fun, and, pretty soon, those beautiful store front sirens will speak to you as well, and the only thing you'll want to do with your memento of Paris is admire it.
Dawn Mellon is a Dallas-based fashion stylist and mother of two teenagers, Andrew and Erica, known for effortlessly dressing some of our fair city's loveliest ladies for all manner of tony appearances. Over the next few months, the fashion maestro will be joining us here on D Moms daily to share her expertise on how to build a killer wardrobe and don it with confidence. 
Get the D Brief Newsletter
Dallas' most important news stories of the week, delivered to your inbox each Sunday.