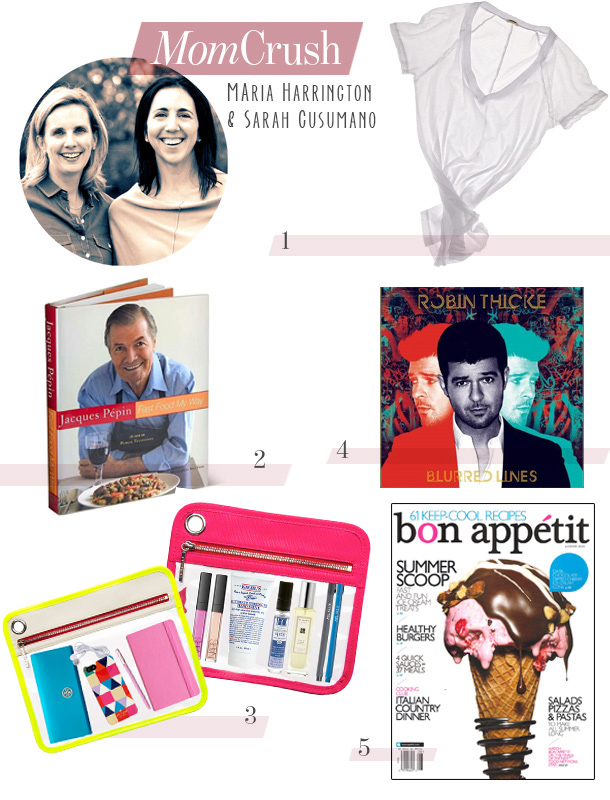 Who they are: TRUFFLE co-founders Maria Harrington (mom of Reese, 9 and Luke, 7) and Sarah Cusumano (mom of Andrew, 10, Jack, 9, and Jimmy,4).
Why we love them: The friends are are the masterminds behind a utilitarian, chic, and totally genius solution for organizing the chaos that is the inside of most mama's handbags. Plus there's this from the duo's website:
We believe that Inside is Everything.Whether toting a beautiful designer handbag or a durable canvas carry-all, the inside of these bags can be just as lovely, functional or put-together as their outside appearance.
We couldn't agree more!
Herewith a peek into Maria and Sarah's world.
On heavy rotation: Cannot stop moving as soon as the first beat of Robin Thicke's Blurred Lines blasts from the stereo. Instant dance party as soon as it plays no matter where we are — at home, in the car, at the pool… Best song of the summer!
What they're reading: Magazines on our iPad, especially Bon Appétit! Also loving Grace: A Memoir, Vogue Creative Director, Grace Coddington's page-turner filled with an unparalleled look into the world of high fashion and what it's like to work alongside the infamous Ms. Wintour.
Always in their handbags: A petite TRUFFLE pouch filled with the small items that inevitably fall to the bottom of our bags: NARS lip gloss, Kiehls hand cream, emi jay hair ties, EO lavender hand sanitizer, a yummy Jo Malone travel-size cologne, and a few of our favorite LePens. There's also a Nº 1 Clarity holding our iPhone with headset, a small wallet, and a moleskin notebook.
Their uniforms:  linen drawstring pants, a tissue tee, sandals, and a few pieces of arm candy for a pop of color or subtle shimmer for that chic touch.
Their go-to family meals: From Jacques Pepin's Fast Food My Way, the delicious recipe for Chicken with Garlic & Parsley. It doesn't get any easier than this — simplest dinner, incredible flavor in minutes… serve with lemon wedges and a fresh green salad. Delish!
Their tips for balancing work and family: There's never a balance! The scales are tipping back and forth every day as we juggle our entrepreneurial endeavors while attempting to nurture a happy home. Having each other as business partners help us stay sane as we are able to adjust work loads based on family needs, baseball schedules, and family vacations.
Get the D Brief Newsletter
Dallas' most important news stories of the week, delivered to your inbox each Sunday.