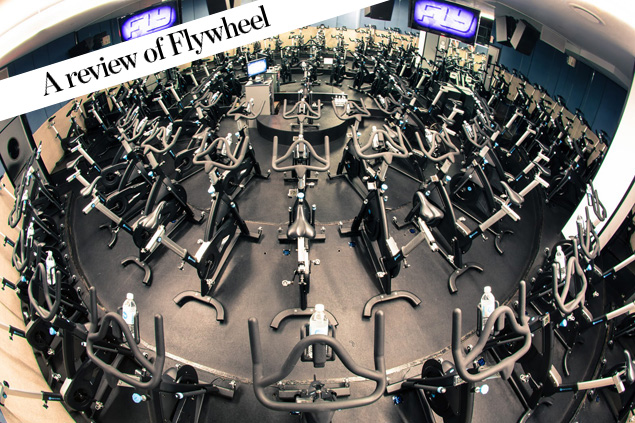 Warm weather is here. Yay! Time to bare our thunder thighs. Boo. So, now we're on the hunt for the ideal fitness program to seatbelt us into the workout wagon and keep us both working hard entertained. If you're in the same rut, you're in luck. On top of our last year's 5 Favorite Workouts in Dallas and Chelsey Plumlee's Bodybar review, more workout news is coming soon. Next up, a review of Flywheel Sports spin studio. Could the cycling shop be for you? Check out Chelsey's take:
Flywheel Sports, New York's stadium cycle studio, has finally made its way to Dallas. Founder and esteemed fitness instructor, Ruth Zuckerman, designed a spin experience that incorporates music, weights, and a custom stationary bike. After hearing rave reviews at the office, I decided to check it out. I talked my bike-loving brother into joining me for some male perspective before signing each of us up for the complimentary intro class that Saturday morning.
The friendly staff helped us check in at the laptop station while we grabbed the provided shoes that were waiting for us in numbered cubbies. We locked our gear in the complimentary lockers then waited anxiously for the previous class to wrap up. The studio doors opened and we both tried to play it cool as Troy Aikman strolled past us.
First Five Minutes of Class: We made our way into the dark, chilly studio and a uniformed gentleman toting an iPad escorted us to our bikes. He assisted us with the settings, told us a little bit about the bikes, and made sure we were comfortable before class began. Our cheerful instructor, Mark Shipman, gave the group a rundown of the class before saying, "Hope you like 80s music!" And we were off.
Middle of Class: I was totally regretting my Friday night happy hour with the girls, and my hypercompetitive brother was only making things worse. As I struggled to keep my legs spinning, he shot me a sarcastic smirk before cranking up the resistance on his "Torqboard" and leaving me in the dust. As Michael Jackson's "Billie Jean" started to play, I found my second wind and pushed through the last few hills and even some unexpected weight training.
Class is Over: We unlocked our shoes from the pedals and slowly made our way off of the bikes for some much-needed stretching. We were both a bit wobbly, but totally exhilarated and starving for lunch.
Next Day: Our legs and arms weren't as sore as we expected them to be, but we still felt that we had done some major calorie-burning. There was also some discussion about wearing padded shorts or buying padded seats for future classes. Consider your bum warned.
What I Love Most: The high-tech space keeps things clean and simple. I appreciated the way every moment of class flowed with the great music. My brother raved about the bike and the instructor's killer attitude. (Our instructor, Mark, had taught the class before ours and, as we left, we overheard him talking about teaching the next one!)
What I Love Least: The Dallas studio is located off of Oak Lawn at The Shops of Highland Park so busy nights and weekends could create a parking challenge. The locker area is just a big common space outside the studio so if you need to change you will have to wait for a shower or restroom stall.
Cost: Flywheel falls comfortably in the middle when compared to other local studios. Both locations are offering 30-day month-to-month memberships for $180 without a sign-up fee or commitment.
The Takeaway: This concept takes all of the work out of working out so you can relax and focus on the experience. The shoes, water, towels, locker, and equipment are all there waiting for you when you arrive and the "Torqboard" records your progress for online review. We will be back for more.
Get the AtHome Newsletter
Enjoy Dallas' best trends, hot properties, and tips from local designers to help you nest in style delivered weekly.