Dallas Residents Launch New Activewear Line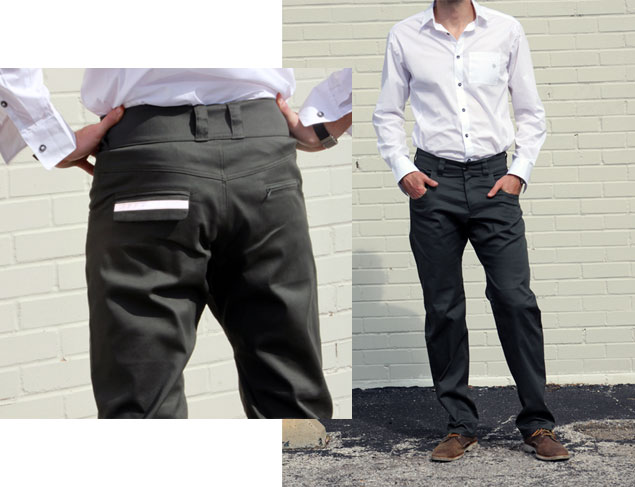 Designed with bicycle commuters in mind, Rozik is a new Dallas-based line of "every wear" clothing that allows you to bike to work, or hurry to happy hour afterward, without the annoying wardrobe change. Launched in 2012 by locals Anne Clarrissimeaux and Anthony Rosich, Rozik sells what appear to be classic men's khakis–except they're made out of comfortable, breathable material, making it easy to transition from work to play–and everything in between. (And since the owners are cycling enthusiasts, the pant legs even have tabs that make them easy to roll up to keep clear of bicycle chains, and there's a hidden reflective flap for extra visibility when riding at night.)
Not only is the line owned by Dallas residents, but all of the clothing is produced right here in North Texas. Clarrissimeaux and Rosich say they are working hard to re-establish the clothing manufacturing industry in Dallas, and they're helping local charities along the way. The company has partnered with Dallas Lighthouse for the Blind's Sewing Center, which helps with the final stages of manufacturing the clothing, and in return, a portion of the profits from t-shirt sales go to benefit the organization.
Rozik currently sells only men's clothing, but a women's line is in production and should be hitting stores sometime this summer. Until then, you can purchase the men's merchandise from Transit Bicycle Company and Richardson Bike Mart.
Jessica Mitzner is a ShopTalk intern.
Update: The clothing is not created exclusively as a workout pant, but as a pant that allows lots of activity.