My Roots Juice Detox Cleanse: A 5-Day Diary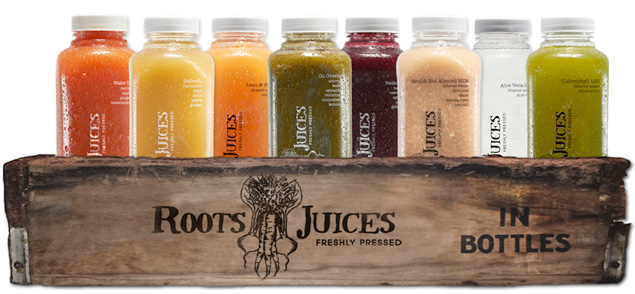 I'd been wanting to do a quick detox when I discovered local juice line, Roots Juices, had a five-day, pre-packaged detox kit. I wasn't looking for weight loss results, but a full-body cleanse that would flush me of all the garbage I'd be eating, let me reset my appetite, and help kick-start some better habits. I've done the Master Cleanse before, and in comparison, with it's no-prep setup and nutritious ingredients (versus the Master Cleanse's lemon, cayenne, and syrup concoction), the Roots Juices detox seemed like a more manageable alternative. Except for the cost.
Each day of the detox kit includes six juices and two waters and costs $50. That's $250 for five days worth of product. Courtesy of Roots' public relations teams, I was offered a three-day trial, free of charge. At first, I hesitated, especially in light of all the recent freebie talk. Then I checked my rear in the mirror. It needed a detox, and I'm a broke editor. I covered the last two days out of pocket, and having experienced the entire shebang now, I will probably shell out for the whole thing again in the future. After calculating the cost of the usual weekly expenses (one grocery store trip, one happy hour, one dinner out, multiple work lunches), it rounds out to nearly the price of this detox. Plus, after comparing it to the well known BluePrint Cleanse, a similar pre-packaged juice kit, Roots is a steal. BluePrint comes with six juices (no waters) and rings up at $325.
Overall, I'd say the cleanse was relativity easy. Although exercise was out of the question for me, I didn't feel hungry, I did feel mostly energized throughout, and I absolutely took away from it what I wanted: I'm eating better, exercising steadily, and, as a bonus, a few pounds down. Below is my diary.

The juices were delivered the Sunday before I began my detox. You can get up to three days' worth of product at a time, but some juices will last a little longer. They sure did look pretty, and I was feeling pretty stoked about getting started. But, of course, I had one more glass of wine.
The juice order goes like this:
Wake Up (carrot, apple, ginger, watermelon)
Refresh (cucumber, lime, mint, apple, ginger)
Lean & Fit (grapefruit, mint)
Go Green (kale, spinach, romaine, cucumber, lemon)
Restore (beets, carrots, apple, aloe, ginger)
Health Nut Almond Milk (almonds, dates, vanilla bean, sea salt, filtered water)
Aloe Vera H2O (aloe vera, water)
Chlorophyll H20 (chlorophyll, filtered water)
It's recommended that you drink them every 2-3 hours.
I had a surprising number of people ask me, "Can you drink alcohol?" Brace yourself for the answer. No. You can't detox if you're putting poison back in.

8:00 am Wakeup carrot juice is first. I like carrots. I'll probably like carrot juice.
8:15 am I do not like carrot juice.
8:30 am I'm a little nauseous. I'm not used to putting dense, liquified nutrients in my body right when I get up. Not finishing this last swig.
10:30 am Refresh is decent. Clean and light. I can do this.
12:00 pm The Lean & Fit grapefruit juice is delicious. I'm at Pot Belly watching coworkers eat sandwiches, and, surprisingly, I don't feel hungry. I feel empowered.
2:00 pm The Go Green is a delightful surprise. It's not thick or chunky and tastes like drinking celery.
3:00 pm A headache has arrived. No pain killers. Defeats the purpose of detoxing.
4:00 pm I'm drinking the beet juice. I'm used to my mom's, which is sweetened with more apple, but this is doable. I'm thinking about food now. I'm not hungry. Just thinking about food.
6:00 pm I haven't been drinking much water in between. I'm just not thirsty.
6:30 pm Next up, Health Nut Almond Milk. (sip) Wait. Is this real? (sip) This is dessert. Better than dessert. This is creamy, nutty, delicious sweet heaven in a bottle.
7:30 pm I'm squeezing in the last two bottles quickly so I can stop peeing so much and get some sleep. The aloe water tastes like… water.
8:30 pm The chlorophyll water tastes like water.
9:30 pm I can't stop peeing.

8:00 am I am a little loopy this morning. In fact, my vision is a bit off.
8:15 am The carrot juice isn't as bad.
8:20 am Okay. It's still pretty bad. I'm leaving a sip behind.
11:17 am Amazingly, I'm still not hungry.
1:00 pm Everyone's eating Chinese delivery for lunch, but I can totally handle it.
3:15pm I finished the Go Green 45 minutes ago, but I'll admit, this Chinese food in here smells good.
4:00 pm The beet juice makes my nose flare. It's not that I don't like it. Just makes my nose flare.
5:30 pm I have the hiccups. Again.
8:45 pm I'm having food cravings, but I'm not necessarily hungry. My teeth are coated in a film. Ew.

8:00 am This carrot juice gets easier every day. It's like my body wants it. I drank the whole thing.
10:15 am The Refresh went down easy as pie. Yum. Pie.
12:00 pm I recognize that the kitchen smells good, but I'm still not hungry. The grapefruit juice is quite a delight. And I don't even really like grapefruit juice. I'm using a straw now to avoid tooth slime.
1:30 pm I've got a headache that just won't quit.
4:15 pm My muscles are crampy.
4:45 pm This headache stinks. I'm feeling antsy to eat. I think I'm just bored. Ready for the almond milk.
5:15 pm I'm feeling a little weak between the headache and muscle aches. This must be the detox.
6:00 pm I love you, sweet almond milk.
6:30 pm The headache from hell continues. Is it bedtime yet?
8:30 pm Boyfriend is making tacos in the kitchen. I'm going to kill him.

8:00 am Phew. Headache's gone.
3:00 pm Woah. The day has flown by. What am I going to eat when this is over?
7:00 pm It's a tiny bit challenging knowing there are tubs of Tex Mex in the fridge. (Hello, queso!) Not sure I would really eat it if I was given permission, though. I feel too… clean.

8:57 am I slept in. Feelin' good. One juice halfway down. Seven bottles to go.
12:30 pm I've been looking at raw and vegan recipes all day. I can't wait to eat, but it's out of excitement for the new foods I'm going to choose to eat, not hunger.
2:30 pm After bookmarking a handful of raw pesto and veggie recipes, the green drink isn't as exciting, but it's going down smoothly.
5:45 pm Aw, Health Nut Milk. I'm gonna miss you, friend.
9:30 pm Last water finished. Wait. The detox is over already?


Post Cleanse Diet
Roots Juices recommends following up your cleanse with three days of raw food eating to "slowly wake up your digestive system." I did not do that exactly. I was too excited to get back in the kitchen.
Saturday following the cleanse, I ate a banana for breakfast, raw salad (with spinach, grapes, red onion, and olive oil and vinegar) for lunch, and a vegan dinner of black beans, lettuce, salsa, and avocado. Sunday I made a banana, almond milk, and cocoa powder smoothie for breakfast, a black bean salad for lunch, and added a tortilla to the salad for dinner. I even went nuts and added a tablespoon of Greek yogurt. (It tastes identical to sour cream to me.)
It's been more than a week since I finished the cleanse, and I feel great. The cleanse gave me the opportunity to take a break from eating, reevaluate what I wanted my diet to look like, and gave me the time to plan some changes. The few pounds lost (four on Sunday, once I got back to eating) have given me the motivation to keep it up. Now, I'm eating mostly vegan with cheese used as a treat rather than a standard ingredient in every meal. (I've dropped an extra couple pounds from that, making me feel cleaner and leaner than I have in a while.)

A few pointers from yours truly:
1. Carry a toothbrush and toothpaste. A gooey layer around your teeth might make itself at home from all the swigging.
2. Drink through a straw. To prevent tooth slime, try sipping a few juices down with a straw.
3. Map out your strategy. The juices are meant to be consumed every 2-3 hours. Plan ahead by penciling in times you want to drink each juice. This way, you get them all in without having to cram at the end of the day.
4. Get an extra pen. You will be crossing a lot of things off your to-do list. It's amazing how much extra time you have when you're not thinking about/preparing/inhaling meals.
5. Grocery shop the day before you're planning to begin eating again. You don't want to wake up ready for your first meal only to realize you don't have appropriate foods to eat. Take a couple hours on the last day of your cleanse to meal-plan for the week. Nothing ruins a diet fast than not having access to healthy foods when you're hungry.
Feel free to ask me anything–I'll be honest–and if you're interested in doing a cleanse yourself, you can order online. It's pretty simple. To sample a few juices individually, you can shop the selection at Beyond Pilates, Greenz at Equinox, Innergy Fitness, and a couple other places.
Update: I've already had a few questions, so I'm answering them here.
Q: Were you, um, running to bathroom all the time?
A: To relieve my bladder, yes. Otherwise, no.
Q: How were you not starving all the time?
A: After calculating the content of each juice, I discovered you're still getting about 926 calories per day. I think the fact that you're still ingesting nutrients, and often, alleviates that problem.