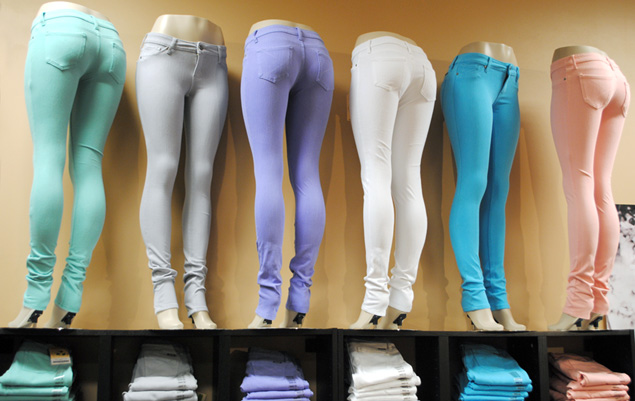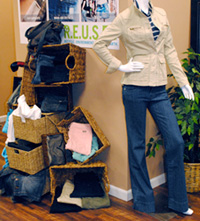 REUSE Jeans opened two weeks ago at the Shops at Park Lane. When I received the press release for REUSE, it spoke of eco-friendly fabrics and sustainable apparel. I was skeptical. I do not care for the Shops at Park Lane. And, save for Whole Foods, nothing about Park Lane is particularly planet conscious. But I'm past all of this now having visited the store last night. Every Thursday night, REUSE serves champagne so it was the obvious choice of weeknights to go. Four of us girls headed over to check out the shop.
The jeans here are recycled. (Before you crinkle up your nose, we're not talking about pre-owned jeans.) The material itself is recycled. Scraps of discarded denim are cleaned, broken down back into original cotton, mixed with fresh cotton and spandex (for a stretchy fit), and reworked into new pairs of skinny jeans, low-rise flares, mid-rise bell bottoms, and more. The color selection is extra special. Each season, a collection of hues is released. (The spring 2012 pastels above come in skinnies and flares. The jewel tones from fall, below, are available in skinny legs.)

We were encouraged to try the jeans on to truly experience them. I kept myself busy snapping photos while the rest of my team hit the dressing rooms. (I typically find jeans uncomfortable, and I wasn't interested in rediscovering my size.) When my three friends kept emerging in different colors, oohing and aahing about their cute butts and comfortable wear, I considered changing my mind. When I found out you have to go down a size in these jeans, I caved. Then I was hooked. My friend without a rear end suddenly had a perky hiney. No one had a muffin top. And most of all, we were comfy. "I could wear these to yoga," one said. Prices are pleasantly surprising at $95 for women, $125 for men. Your turn to hit the dressing room.
HEAD IN RIGHT NOW AND ALL JEANS ARE BUY ONE, GET ONE 50% OFF.
Get the AtHome Newsletter
Enjoy Dallas' best trends, hot properties, and tips from local designers to help you nest in style delivered weekly.