Ask Raya: The Best Color-Infused Lip Treatments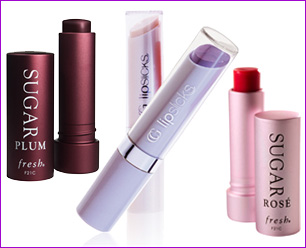 "Okay, so this is terribly ungirly of me, but I can't stand lipgloss. I like color on my lips, but I hate the sticky feeling. I've tried stains for subtle color, but my lips are too dry for it. Lipsticks have too much color for every day wear. What's a good lipgloss replacement?" –Unglossy
Know the feeling.
I have two products in mind that I absolutely LOVE and think can be your perfect, non-glossy color fix.
The first suggestion is Covergirl's Lipslicks Lipgloss. (It's not actually a gloss, don't worry.) The stick, priced at a teeny tiny $4, is silky and moisturizing, and deposits enough color to be noticeable. Shades cover the spectrum from clear to ruby.
If you're a lavish beauty spender, I suggest Fresh's Sugar Rosé Tinted Lip Treatment. It's worth every penny of its $22.50 price tag. The original lemony-scented tube is perfection, but for color, the Rosé version offers a hint of pink. (If you're looking for a darker color, go with the new Plum.) This stuff applies like butter (seriously—don't press too hard) and has a fresh, clean scent.
Enjoy your new, happier mouth.
Got a beauty or style question? Ask me.