Hunting for the Perfect Shades with Jennifer Rade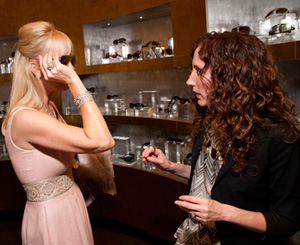 How do you choose the right sunglasses for your face? We didn't know, so we asked Jennifer Rade, Angelina Jolie's stylist and ambassador to new sunglass boutique, ILORI. (She's pictured left with the head of gorgeous curls.) Here's what she had to say:
Why did you decide to partner up with ILORI?
I decided to partner with ILORI because the Luxury Sunglass Boutique has its finger on the pulse of trends in both fashion and eyewear, and is a true arbiter of style in both realms. Eyewear is that final piece that finishes off a look, and can be the extra touch of glamour and sophistication, or the edgy accessory that pulls everything together.
What is the trick to finding the right lens shape for your face?
I do feel that analyzing your face shape is a good place for consumers to start when selecting sunglasses, as a more rounded pair of sunglasses can soften a strong jaw line and a more squared style can help add definition to a rounded jaw line.  But I don't feel that face shape is the only factor to choosing the right pair(s) of sunglasses.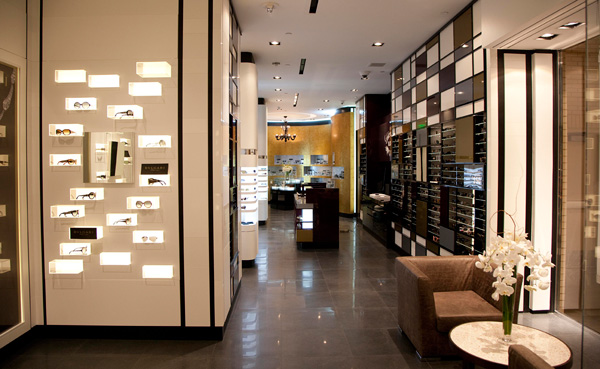 One of the most important things I look for when people try on sunglasses is proportion.  Where do the sunglasses lie on the face in relation to the nose, chin, eyebrows and hairline?  Are they too wide or too narrow?  Do they cover too much of the forehead or not reveal enough cheek bone?  The right pair of sunglasses will compliment the face by creating symmetry and not drawing too much attention to any one area.
I suggest using a camera phone and taking pictures of yourself in a variety of sunglasses. That way you can get a more objective view of how they look on your face. I also think it's important to experiment with different shapes and materials – don't focus on the idea that only one style suits you. Break out of the rut and try on a bunch of styles! 
What are some of the biggest mistakes you see people make selecting/buying/wearing sunglasses?
I have noticed that people have a tendency to just use small mirrors when shopping for sunglasses so people will focus on the face, but ILORI has huge full-length mirrors to help pick out the perfect pair of sunglasses to also compliment wardrobe.
I suggest people try new styles and let go of the idea that there's just one style or color that will compliment them best. Experiment with color, style and size – you may just surprise yourself. Between wraps, aviators, and over-sized plastics, there's something for everyone. Make sure to try on a variety of sunglasses when searching for your perfect pair. Have fun and experiment with different colors and shapes. Pick out sunglasses that make you feel your very best, regardless of any rules.
I also suggest that people also consider their skin tone, hair color and even personality when seeking out a new pair of shades.
What is your personal favorite pair of sunglasses?
I am a huge advocate of having a sunglass "wardrobe," people should own a variety of styles and colors to compliment their outfits, moods and occasions. Plus it's always great to have one pair for the car, your purse, your briefcase… 
My very favorite pairs of sunglasses right now are my grey Chanel and a classic Burberry. I am a big fan of plastics.