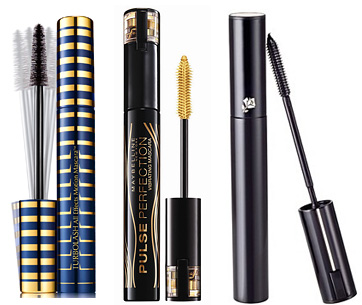 This is a long overdue discussion here on ShopTalk: vibrating mascaras. There's Lancôme's Oscillation (right), Estée Lauder's TurboLash (left), Prescriptives MotorEyes, Maybelline's Pulse Perfection (center), and even a rotating contraption called Spin Lash. Are they gimmicks? Catchy tools employed by marketing departments at cosmetic headquarters everywhere? Follow the jump to get my humble opinion. (And find out what we're giving away.)
*Update: Congratulations to our six winners!
In short, no. I don't think these are gimmicks. You know when you wiggle the wand between your lashes before making that upward stroke? Well, that's what this vibrating motion imitates. And I think it does a better job. I'm actually amazed to see that they create a look more dramatic then non-buzzing mascaras. But you have to have time to practice and get the hang of them. I don't think these are good for a quick swipe-and-run-out-the-door type of morning. You'll see other beauty bloggers say similar things. I tested Estée Lauder, Lancôme, and Maybelline. Below is my recap.
Lancôme's Oscillation, $34: This has a press-and-hold button for vibration on the end the cap with a thin, stiffer brush at the tip of the wand.
Pros: This stuff works major lengthening magic. It made gave my lashes a thick black shiny coat. I felt like I was wearing new lashes.
Cons: This has serious potential to clump. If you're not very careful, and you make a too-thick swipe, you're stuck with the damage. Work slow, pay attention, and don't add too many coats.
Estée Lauder's TurboLash, $32: The vibrating starts automatically when you pull the wand from the tube. Twist back into tube to turn it off. The brush here is fairly full and soft.
Pros: The fluffy brush gives my lashes volume. After application, it looked like my lashes had doubled in number. The formula is comparable to that of DiorShow, which, if you haven't tried is a cult classic and for good reason. It also gave my lashes a little curl, which lasted all day.
Cons: It doesn't have magic in the lengthening process. In terms of length, it works like regular non-vibrating mascara.
Maybelline's Pulse Perfection, $12: This, too, has a press-and-hold button at the end of the cap. The brush on the wand has a rubbery, flexible finish.
Pros: If you like Maybelline's Define-A-Lash, this formula feels exactly the same but with newly added vibration effect. This mascara gave me a shiny finish and a hint of a curl that lasted all day without any flaking.
Cons: Because of the brush, this has the potential to do serious clumping, too. I definitely see longer length, but it doesn't do much for me in the way of volume.
Now, in honor of the experiment, I'd like to continue the opinions. I have six vibrating mascaras to give away—three Oscillations and three TurboLashes—so fill out the form to enter to win. When mascaras have been received and tested, I'd like to get a quick blurb from all of the winners on their opinions of the mascara. Good luck!
*Update: To clarify, I'll pick six winners and each one will receive either the Oscillation or TurboLash. Make sense?
Get the AtHome Newsletter
Enjoy Dallas' best trends, hot properties, and tips from local designers to help you nest in style delivered weekly.