Firehawk Aerospace has relocated its corporate headquarters and research and development facility from Melbourne, Florida, to Addison. The move comes as the company is about to close an oversubscribed $17.6 million Series B funding round, headlined by Goff Capital, Hal Lambert's Point Bridge Capital, and Raytheon Missiles & Defense.
Formed in 2019, Firehawk designs and produces hybrid rocket engines for missile and defense systems that are powered by a proprietary 3D printed rocket fuel. Its engines are expected to be launch ready in 2023, and it has already raised more than $22 million in total funding to continue growth.
The company's new headquarters space encompasses more than 41,000 square feet at 4550 Excel Parkway and will house Firehawk's 22 employees—a headcount CEO Will Edwards hopes to grow to 40 by the first quarter of 2023. 7,000 square feet of the new HQ will be allocated to the engineering and design team. The remainder of the space will be utilized for small-scale prototyping, manufacturing, and R&D operations. Firehawk expects to move into its new home in March of 2023.
Why Firehawk moved its operations from Florida to North Texas, it comes down to one thing, says Edwards. "A company like ours could not have fundraised as quickly as we did anywhere outside of Texas," he told D CEO. "Our strong capital partners here is the reason we are in Texas."
"Accessibility to vendors in North Texas is almost unlimited, so we are all in on Texas," Firehawks' CFO Ben Allen added. "Texas is ripe for a prominent hardware revolution in our space—the defense tech and aerospace-related fields. So, we are absolutely leaning into that, especially from an investor standpoint and general partnerships."
Hybrid rocket engines use both solid and liquid propellants. "A significant advantage of a hybrid rocket engine compared to other forms of chemical rockets is its immunity to accidental detonation," Edwards said. "This immunity is achieved by the fact that the propellants are stored on-vehicle in two different states of matter."
There are two major companies that supply engines to missile and defense systems throughout the country: Aerojet Rocketdyne ($2.18 billion in 2021 revenue) and Northrop Grumman Innovation Systems ($35.67 billion in 2021 revenue). Within the next 5 to 10 years, Edwards says he is aiming to complete the "tri-opoly" of aerospace leaders in the industry. "There is room for a third company," he said. "Our technology has the ability to disrupt a lot of aspects of the industry, not only in terms of performance, but in terms of rate of innovation and production, as well as cost."
Allen added, "We're creating a rocket that can serve not only the defense space, but also, eventually, the commercial space."
Firehawk's 3D fuel printing methods are also cheaper than traditional fuel production, according to Edwards, and the company has secured five patents for its process. In 2021, it partnered with NASA to test its engine at the NASA Stennis Space Center in Mississippi.
The company also broke ground on a rocket engine testing site in Midland in October and expects to be testing its engines at the West Texas facility by the end of December.
"We're excited about helping develop a hardware-oriented startup community in Dallas," Allen said. "We do believe we will be one of the next prime companies in the community," Edwards added.
Newmark's Vice Chairman and President Jim Cooksey and Garrison Efird—a principal leader with the firm's National Technology & Innovation Practice Group—represented Firehawk Aerospace in lease negotiations. Dillon Buhrkuhl with Pillar Commerical acted on behalf of the landlord.
Get the D CEO Real Estate Newsletter
Get weekly updates on breaking commercial real estate news and relevant industry reports.
Author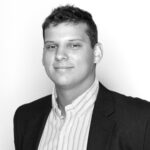 Ben Swanger is the managing editor for D CEO, the business title for D Magazine. Ben manages the Dallas 500, monthly…