Over the last 12 months Ben Lamm has been at the forefront of de-extinction. His Dallas-based company Colossal raised $75 million in capital and is aiming to bring back the woolly mammoth and the Tasmanian tiger. "Seeing woolly mammoths successfully re-wilded back in Arctic is what most excited me about the future," he said.
In the founder and CEO's extended 2022 Dallas 500 Q&A, Lamm talks about leaving his former company Hypergiant, discovering a lost civilization, and more.
EDUCATION: Baylor University (BBA Finance and Accounting)
BIRTHPLACE: Austin, Texas
FIRST JOB: "When I was about 12 years old, I paid my neighbors to mow my lawn with 50 percent of my allowance. I learned about the power of outsourcing. My first real job in high school, I was a waiter at Chili's and I hated it so much I bribed the hostesses to not seat my section and, therefore, I made no money. I learned: The only way to succeed is to find a job/career you love."
BEST ADVICE: "I was once given advice to not take advice from others and I think that's the best advice I've ever received. I was also told by the founder of Bungie and creator of Halo, Alex Seropian, that life's too short to work with assholes and that's made me think twice."
DINNER PARTY: "I'd love to have dinner with Andrew Beal and Victor Vescovo; I value people who think differently and have diverse backgrounds."
DESTINATIONS OF CHOICE: "Too hard to list. The BVIs; Sacred Valley, Peru; Parrot Cay, Turks & Caicos; Jumby Bay, Antigua; Antibes, France; and here's a bit of a curveball: NASA—all their campuses are awesome and every time I leave I learn something new."
NONPROFIT CAUSE: "The Planetary Society is focused on empowering the world's citizens to advance space science and exploration. I think this is so important for the long term health of our society and for our ability to continue making big scientific breakthroughs. I am also supportive of the various conservation nonprofits protecting biodiversity including Re:Wild and WildAid."
HOBBY/PASSION: "I'm passionate about exploring and learning. I love exploring new places and researching ancient technologies like the pyramids, or diving into genomics and seeing where that takes me next."
LOCAL FARE: "I love Javier's. If I'm starving and having a cheat day I'll get the Steak Durango."
FUN FACT: "I don't eat smart (ie octopus) or endangered (ie bluefin tuna) animals. I am also a huge dog person and my dog's names are Barbie and Ken."
TOUGHEST CHALLENGE: "Last year, I had to step back from Hypergiant, a company I love, because I wanted to take on other big challenges in the de-extinction space. It was extremely hard to make that move and to know that something I built was going to be just fine without me. Ultimately, the company is in really good hands and it is growing and bringing new products to market even without me. But, leaving was hard."
A BETTER DFW: "Dallas has been adding additional green spaces and parks. I hope they continue to."
WALK-UP SONG: "Sympathy for the Devil by The Rolling Stones"
MUST-READ: "The Overview Effect by Frank White. It's a good reminder to keep things in perspective."
BIGGEST RISK: "Every time I start a new company feels like the biggest risk I've ever taken. So, most recently it was the launch of Colossal."
BUCKET LIST: "Other than bringing back the woolly mammoth? I recently joined The Explorers Club. I've always wanted to discover a lost civilization. I'm looking forward to checking this box on future expeditions!"
Get the D CEO Newsletter
Stay up to speed on DFW's fast-moving business community with weekly news reports, interviews, and insights.
Author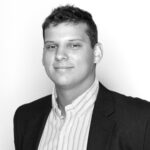 Ben Swanger is the managing editor for D CEO, the business title for D Magazine. Ben manages the Dallas 500, monthly…