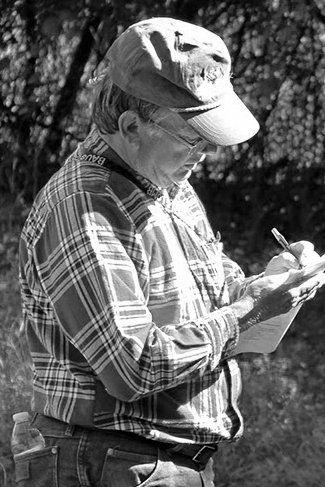 Last weekend, Ben, Scott, and I headed down to the Trinity Forest. All of the rains have flooded much of the area, so we were restricted in where we went. We chose Lemmon Lake. Some of you have asked, Where is Lemmon Lake? The best way to access it is the lovely park off of River Oaks. Take Loop 12 off of I-45, exit onto 310, and then turn left on River Oaks. There is a huge parking lot. It's a beautiful and underutilized public park. It's filled with large Post Oaks, and there are nice picnic pavilions. We hardly ever see a soul there, which is too bad because it's lovely.
First we headed north to Little Lemmon Lake, along the paved path. We heard and saw quite a few Indigo Buntings, which are brilliant blue birds, as well as big flocks of Cedar Waxwings. We walked all the way over to Loop 12, but the entire area around the boat ramp was flooded. We turned around and decided to walk over to the main Lemmon Lake. The paved trail parallels the lake. The entire thing is shaded. There is not really a trail over to Lemmon Lake. There is a thin band of woods to your left as you walk along. Now the entire area is flooded. However, when our seasonal rains cease, those woods dry up. It's possible to just pick a spot that looks relatively free of underbrush and walk over to the lake. It's good to keep aware, as the woods are full of poison ivy and an occasional Copperhead. But it's worth it, because in the summer the lake is home to Ibis, Wood Storks, and the Roseate Spoonbills. Here's Ben Sandifer's wonderful account of what you can see.
We walked all the way to where the trail extends beyond Simpson Stuart Road. It is possible to walk or ride a bike here from Trinity River Audubon Center, and it's a lovely path — although at the moment large parts of it are underwater. We walked onto a field of Indian Paintbrush and Evening Primrose, watching Indigo Buntings and a single Black Chinned Hummingbird, feeding on one of the Indian Paintbrush. We walked back and then through the woods to the old dam on Lemmon Lake. The Trinity River was out of its banks, and we sat and listened to the water as it coursed among the trees. It's truly a beautiful spot. I often hear people disparage the Trinity, but I defy people to make the effort to access it in these remote places and not find some peace watching these shady waters. It takes effort but is well worth it.
Ben and I finished our hike and made plans to meet the next day at Earth Day, where I was manning the booth for the North Texas Master Naturalists. Our local naturalist community lost one of our best and brightest this week: Jim Varnum. Jim died on April 25. He was a founding member of North Texas Master Naturalists, completing the training in 1999. No one did more to educate the public about our special Blackland Prairie than Jim. Jim was a walking encyclopedia about plants and was entirely self educated. I've written about Jim before. In 2014, the North Texas Master Naturalists gave him the Award for Exceptional Service. It was richly deserved.
My first exposure to studying our local nature areas was on guided hikes with Jim. He led hundreds of hikes. He realized how overwhelming it was to try to learn so much and gave great advice: just learn one new plant. I last saw Jim at Cedar Ridge Preserve, in a commemoration of Dr. Stanford's 100th birthday. I was excited to see our local orchids and identified them as hexalectris. Jim was standing close by and calmly and gently corrected: "Those are coral root." That was Jim in a nutshell, knowledgeable and ready to share that knowledge with others. In the past, I've taken photos of plants and emailed them to Jim. He always took the time to respond. Jim devoted many years to educating people about what North Texas natural areas had to offer. And he did that through a number of organizations, including North Texas Master Naturalists.
Some of the best people I know are in that organization. And many of them, like Jim Flood and Richard Grayson, got their inspiration through another giant, Ned Fritz. Jim Varnum's death leaves a large hole in the Naturalist community here. But it gives me hope when younger people like Ben Sandifer are rising to the occasion, and others like the young volunteers I see training to become Master Naturalists. They are the ones replanting milkweed at Big Spring for their children to enjoy.
There has been lots of talk recently about naming things after people. I think there is a better and longer legacy. That legacy is created by people who spend their time volunteering to educate the next generation. People like Jim Varnum. May he rest in peace.
Get the D Brief Newsletter
Dallas' most important news stories of the week, delivered to your inbox each Sunday.