Tracy Tutor, a luxury real estate agent featured on the hit reality show Million Dollar Listing Los Angeles, is expanding to North Texas joining forces with Douglas Elliman's Dallas office. Dallas will be Tutor's first market outside of California.
In 2021, Tutor—who was the first female agent to be featured on the Bravo TV reality show—surpassed $300 million in sales. Local agent Breah Brown will work alongside Tutor and together the two bring more than 33 years of real estate experience to DFW.
This addition is just the latest in a long line of recent addition Douglas Elliman's Dallas office has made. It recently joined forces with Al Coker, the Carroll/Eltis Group, and more.
The Dream Con Anime and Gaming Convention Returns to Esports Stadium Arlington
This weekend, Real Dreamers Change the World, also known as RDCWorld1, are returning to Esports Stadium Arlington to host Dream Con Anime and Gaming Convention. The sold-out event will consist of pop culture, art, comics, music, cosplay, and more.
RDCWorld1 is a group of seven creative artists and social media influencers who produce content and events. The group founded Dream Con in 2017 because of a gap they observed in the gaming, anime, and comic convention space for people of color.
"This is year four of hosting Dream Con and the event has continued to grow and attract anime and gaming lovers from all over the world," Johnathan Newton, Dream Con Event producer and RDCWorld1 member, said. "We are extremely excited to be back in North Texas where attendees can conveniently travel to enjoy a fun weekend of interactive activities, competitions, and shopping all while connecting with like-minded individuals who have common interests."
The three-day event will feature various activities, including meet and greets, a traditional artist alley, wrestling, a music concert, blaster battle, smash bros, indoor basketball, a cosplay contest, a gaming tournament, and a dodgeball charity match. Attendees will also be able to shop from over 200 vendors and attend panels and discussions with well-known voice actors, cosplayers, content creators, and gamers.
Tarrant County Commissioners Approve Small Business Workforce Assistance
The Tarrant County Commissioners Court allocated $25 million in federal funding to assist small businesses that have been impacted by the pandemic.
Businesses with 50 or fewer employees during the first quarter of 2020 can apply for grants up to $27,500—based on the number of employees and eligibility requirements. Applications opened July 11, and the deadline to apply is August 31, or until funds are depleted.
"We know that small businesses continue to bear the brunt of the economic impacts of the pandemic," Tarrant County Judge Glen Whitley said. "These funds will help more local businesses stay open, keep their employees, grow their success, and continue to be a strong force in our county."
Restaurant Delivery Platform Foodja Expands to Dallas
Foodja, a workplace restaurant delivery platform, is expanding to Dallas. The platform will provide professional meal delivery from restaurants to offices throughout the county. Foodja is in partnership with thousands of restaurants in Dallas, including Pei Wei, Bread Zeppelin, McAlister's Deli, Fuzzy's Taco Shop, Slim Chickens, and Coolgreens.
To meet the needs of workplace orders, Foodja offers two products—Foodja Cafe and Foodja Catering. Foodja Cafe is available for companies between 50 and 20,000 employees and allows people to order their own customized meals from a list of rotating restaurants. Employees receive a text notification when their meal has arrived so they can pick it up from the designated Foodja kiosk. Foodja Catering is designed for occasional events or meetings with immediate or scheduled delivery. The service can cater meals served group-style or in individual packaging for 2–2,000 employees.
"Companies have different ordering needs. Their orders are larger and more complex, and most platforms just aren't designed for them," Steve Sprinkle, founder and CEO of Foodja, said. "Companies are looking for live, local customer service and professional drivers to deliver large orders accurately and on-time. That's our specialty."
Get the D CEO Newsletter
Stay up to speed on DFW's fast-moving business community with weekly news reports, interviews, and insights.
Authors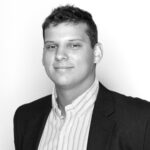 Ben Swanger is the managing editor for D CEO, the business title for D Magazine. Ben manages the Dallas 500, monthly…