Coined as a property for the "most discriminating of buyers," T Bar W Ranch has a legendary past that includes zebras and camels being housed in its European barn—and even Lyndon B. Johnson's convertible and several Rolls Royces, including the infamous yellow car in "The Great Gatsby" film were showcased in the car collector's garages. Now, the $4.9 million 365-acre property offers endless possibilities for the next buyer to transform it to his liking.
"It's a plug and play type of place," Icon Global founder Bernie Uechtritz tells D CEO. "Whether you want to turn it back into a working Ranch, or whether you want to continue to operate it as a showplace or a private estate for you, it offers that versatility and workability and practicality for whatever that the buyer wants to do."
Last owned by John and Rebecca Wampler, of Tyler, the fourth generation property was once marketed at $8.9 million. The storied ranch is now listed for less the listed price and under appraised value.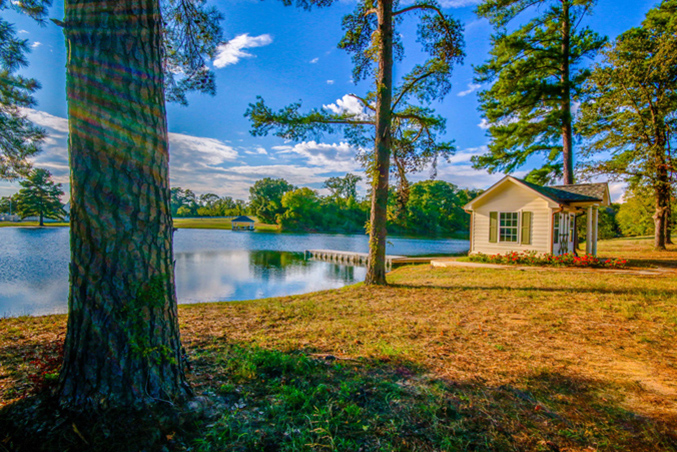 But it wasn't always a European retreat-style getaway.
The Wamplers transformed the place during their 20 years on the property. They built the polo field, the new barn, the office complex, a new residence, and even some lakes, said Uechtritz.
At their core, the couple was known as exotic and fine members of society—both in East Texas and in Switzerland. That's where they had a second home.
John sold quality cars all around the country, traveling on Rolls Royce tours from Colorado to Germany. Rebecca attended all of the social events. Their children, John Jr. and Jaclyn Wampler were educated in Switzerland­—and later on at SMU. But in 2018, tough times hit. The business ventures came to an end, and "sadly, that whole house of cards came crashing down," said Uechtritz.
A Dallas bank foreclosed the ranch in December of 2019 and it was sold foreclosure auction on the steps of the Wood County Courthouse in 2019.
Dallas' Icon Global Group was hired by lender BBVA to market the property.
The family's estate in  Neuchatel, Switzerland, was also seized by Swiss authorities and sold via court order along with the contents, such as luxury vehicles, art, wine, and personal effects, which were all sold through an online auction.
The once exclusive longhorn ranch, equestrian, polo, and car collectors estate is considered one of East Texas' most premier multipurpose properties and loaded with a two-story office, gym, two main residences, two additional on-site homes, and a barely used 12- stall horse barn.
In the past, the European-style barn, featuring cobblestone flooring and hand-crafted ironworks, was used to showcase exotic vehicles, and even served as a venue for a custom boot trunk show. It's never housed horses, but "would be the envy of every equestrian," said Uechtritz, and can be used for anything including weddings or even a "farm to table fine dining experience."
The two-story ranch headquarters holds a tack room with a full bath, a fitness center, a three-car auto buff's garage, a two-story office, and one of the main homes has an additional 6-car collectors garage with some luxury apartments above. "It's beautiful," added Uechtritz. "[The whole property] is a real 'look at me' kind of place."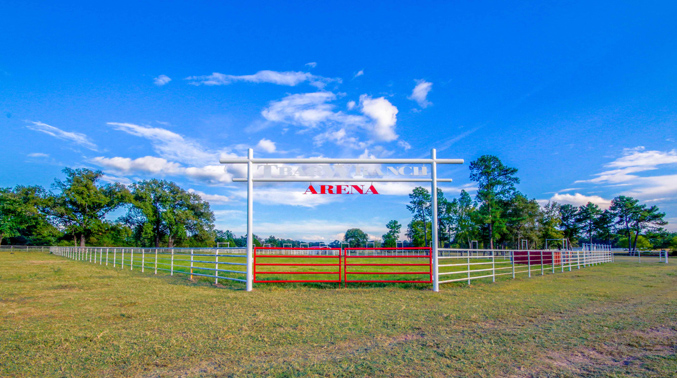 A small working ranch, three and a half miles of internal ranch roads travel throughout the property, with fenced and cross-fenced areas, cattle pens, hayfields, and a 10-acre polo field. The fencing and cattle pens are all constructed from high-quality materials, said Uechtritz, adding that the previous owners "spared no expense in designing and building the pastures, and the paddocks, and the hay fields."
Two lakes filled with Florida hybrid bass surround the property.
The ranch is for sale as either one or two parcels—180 acres and 185 acres—to two separate owners. In the case of a two-parcel deal, buyers will have separate entrances and residences.
"There's a real deal for somebody that wants to take the time and come out and restore it and make it their own," Uechtritz said. "They can finish one of the main houses, there's rental property ability, and there are three or four cottages. It's just has a lot of scope."
Texas Ranches is a new editorial series from D CEO that features noteworthy ranch properties in the region. To submit ideas for consideration, email Online Managing Editor Bianca R. Montes.
Get the D CEO Real Estate Newsletter
Get weekly updates on breaking commercial real estate news and relevant industry reports.