From October 2022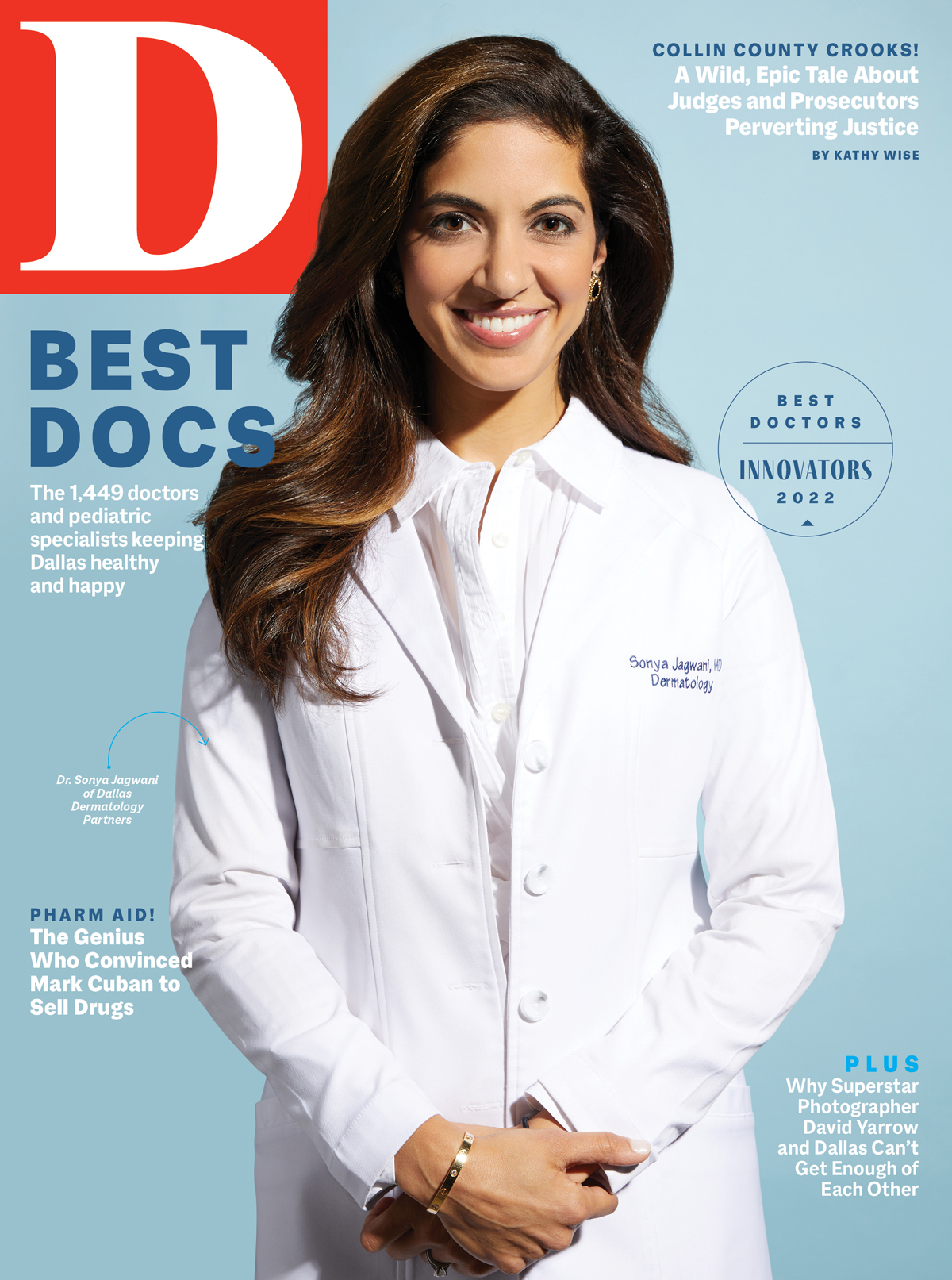 Carla Rockmore's social media stardom came virtually overnight and largely by accident. When the country had its first pandemic lockdown in March 2020, the Dallas-based designer yearned to do something creative. Her friends begged her to entertain them. "The only thing I had to play with was my fabulous closet," she says.
Less of a closet and more of a two-story showroom, the space includes a spiral staircase, a fireplace, and an enviable mélange of high-low fashion. A Dior bag is at home next to a Zara top, Birkenstocks, a vintage Gucci dress, and thrift-store finds.
Rockmore began posting lighthearted styling videos to YouTube, and one of her kids made her a TikTok account (@carlarockmore). Nothing much happened at first; she accumulated only 91 followers on TikTok in a year. Then an April 2021 video exploded: she attracted 250,000 followers in a week and now has more than 1.2 million.
The 55-year-old Canadian seems to have unlocked the secret most influencers would kill for: Rockmore's followers span generations. Baby boomers, Gen Zers, and everyone in between flock to her quirky videos for style advice, a bit of joyful levity, and encouragement.
"My TikTokers are usually between the ages of 24 and 35, and they say things like, 'Thank you for showing me that there's life after 25,' which scares me," she says. "What are we doing in this world that is so wrong that you end up thinking that you're done for after 25?" Rockmore's Facebook fans are closer to her own age, looking for 50-plus fashion inspiration. They leave comments like "Thank you for allowing me to dress the way I want to dress" and "Thanks for pushing me to put on a lip."
It's hard not to see Rockmore's appeal. Envision the personality and voice of The Magic School Bus' Ms. Frizzle but with the hair and wardrobe of Sex in the City's Carrie Bradshaw. Sprinkle in a shirtdress, some chunky bangles, a pair of spiky combat boots, and a little Iris Apfel. Now imagine her making videos to teach you the history of the Burberry trenchcoat or how to style a tent dress. 
She may be new to the medium, but Rockmore has been a designer for decades. She began her career in an Amsterdam-based couture fashion house before moving back home to Canada, where she spent 15 years working as a clothing designer for companies such as Buffalo Jeans and Disney. After getting married and having two kids, she decided she couldn't travel as much internationally. Instead, she parlayed her understanding of design and manufacturing into fashion jewelry.
In 2012, Rockmore and her family moved from Toronto to Texas for her husband's job; Michael Stitt is the CEO of Dallas-​based Haggar Clothing Co. "It was a big shocker for me," she says. "I had never been in the heat. And I had never been in a city that did not have a manufacturing component to it."
Put A Bird On It "There's a feminine feel to it, but then there's an edginess in some other pieces," Rockmore says of her Korshak collection.
Rockmore tried being a carpool mom for a few years but floundered. "There was always some sort of catastrophe," she says. "I forgot the forks. I had something melted in the car. I forgot a child somewhere."
A friend connected her to Rajasthani jewelry makers in Jaipur, India, and she got to work designing a fine jewelry line with Stanley Korshak. The collection took three years to produce, and the pandemic didn't help. Rockmore was in India designing her latest collection in March 2020. Stitt called her and said she had to get back to the United States before the country locked down.
Her 39-piece collection finally launched this July. Like the style she's known for, there's an unconventionality to the collection. One ring's center stone is set between two gold rabbits. Tiny birds carved from opals and moonstones perch on gold hoops. Her Victorian Goddess earrings were inspired by a woman's torso in a corset.
Her toughest challenge for the collection was scale. Watch any of Rockmore's videos, and you know how much she loves oversize jewelry. But she couldn't do that in 18-karat gold. Much of her work involved sizing the pieces down to something more affordable. Even so, pieces range from $1,000 to just over $8,000.
Over the last six months, Rockmore also designed and launched two capsule collections with Amazon's The Drop (shoppers have only 30 hours to buy the pieces), and she's developing a new fashion jewelry line that will launch this fall. But TikTok may be what truly allowed the designer to scratch her creative itch.
"There's a symphony that goes on in your head if you're creative and you need to get something out. And I found it frustrating that I couldn't find my place here," she says. "For me to get into my closet and just express what I'm feeling in my look and why I'm putting these pieces together is very rewarding."
---
This story originally appeared in the October issue of D Magazine with the headline, "TikTok's Most Fab Closet." Write to [email protected].
Get the AtHome Newsletter
Enjoy Dallas' best trends, hot properties, and tips from local designers to help you nest in style delivered weekly.
Author
Catherine Wendlandt is the online associate editor for D Magazine's Living and Home and Garden blogs, where she covers all…