From October 2022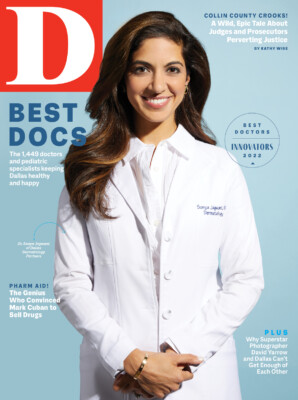 It used to be an alley. Not just a quiet alley but a dead one: blocked off from public access, behind a locked door. The space was a radiator factory before that, until its Deep Ellum owners transformed it into a cut-through between two buildings, a quick way to walk from Elm Street to Main. Then, though, they seem to have had second thoughts. Radiator Alley became a place you wished you could walk through while you fumed at the padlock in your way.
Now this neglected shortcut is the life of the party.
It's open to foot traffic again. Guarding the entryway, where a garage door used to roll shut against intruders, is a posh ice cream shop. Inside the alley, round picnic tables, festive plants, and colorful decorations have transformed an abandoned space into a welcoming one. Along its length runs a glass-walled bar—the new domain of Deep Ellum's leading master of culinary festivities, Regino Rojas.
This is his new spot, Revolver Gastro Cantina. It fills in the middle ground between his two other concepts, the ultra-casual Revolver Taco Lounge and the reservation-only La Resistencia. The original dual-purpose space remains around the corner, serving takeout tacos and evening tasting-menu dinners. The Gastro Cantina, however, allows you to enjoy the advantages of both—the sophisticated high-end cooking of La Resistencia and the rebellious attitude of Taco Lounge—along with an impressive liquor selection and that colorful patio. As you sit at the long, skinny bar, you can drink tequila, snack on salted nuts, and watch sports on TV while eating boldly flavored food that pushes Dallas to expand its collective palate.
Like the original Revolver, the new restaurant emphasizes the flavors of Rojas' home state, Michoacán. It also prizes top-quality ingredients, challenging Americans' nonsense belief that Mexican food must be cheap. Here, the beef is from Wagyu breeds, and the tortillas are made fresh to order, by hand, from nixtamalized heirloom corn sourced from Mexico. (That is why Revolver has always had Dallas' best, most flavorful tortillas.) 
Many of the dishes at Gastro Cantina are familiar to Dallas diners but pushed in different directions, rethought if not reinvented. Guacamole, for example, has a new, bright high note because Rojas employs yuzu instead of lime. Enchiladas are folded over a hearty stew of quail, potatoes, and carrots. The stew's flavor notes rhyme with Hungarian goulash, and the enchiladas are served with a small salad instead of rice or beans. (Push the leaves through the salsa if you need dressing.)
Revolver's chile relleno takes its inspiration from the Yucatán. Rather than the cheese-stuffed poblanos familiar in Texas, the restaurant uses caribe peppers, the name of which reflects the capiscum's Caribbean origin. The filling is cochinita pibil, a spicy, citrus-marinated pork. This dish has a kick, which is why it is served on a mellow bed of black beans with a swirl of crema, and why you may want to cut up your chile and fold it into a corn tortilla.
Some of the new classics are only available seasonally. In early July, I shared an indulgently creamy cup of elote, into which Rojas and his cooks tipped a helping of an imported French butter that contains diced-up white truffles. Now, though, corn season is gone and so is the elote.
Birria has become a culinary phenomenon across the United States, and dunking a birria taco in broth has become one of Instagram's most popular foodie flexes. The term "birria" is a flexible one, though, originally referring to a meat stewed in a spicy broth. Which meat depends on which region of Mexico you're in and what is available.
Rojas takes birria back to his Michoacán roots—sort of. He uses cabrito (kid goat), slow-cooks it in spices, and then folds the meat into Asian won ton wrappers. The fried won tons are plated on a tangy red salsa reduction with white beans. The result is probably my favorite dish at the Gastro Cantina, the one that best sums up how the food here combines tradition and invention, knowledge and playfulness.
Tortilla Reform: (clockwise) Rojas with his mother in the kitchen; enchiladas; Wagyu fajitas with Mennonite cheese; shoe decor.
Rojas has long had an interest in Asian migration to Mexico and how the various cuisines might intersect. He installed a binchotan grill at La Resistencia and even served sushi with Mexican seafood and flavors, a tribute to Japanese fishermen who live in Ensenada. The won tons are a logical next step, and so is another attention-getting new plate: grilled collar of hamachi.
As it is at Japanese restaurants such as Tei Tei Robata Bar, the fish's collar is cooked slowly over the grill. All through the first half of your meal, you'll watch it sit over the flame, absorbing the low-and-slow heat that will make the flesh tender and the skin crispy. When the hamachi is ready, your server will do the carving, piling the meat onto a plate with shredded lettuce and a pineapple pico de gallo. Another basket of corn tortillas means that, yes, you're going to be making your own tacos.
Rojas tells me that this dish came together while he was on vacation on Isla Holbox, a more laid-back alternative to the resorts around Cancún. It was a happy accident. He was grilling fresh fish for his family and improvised the pineapple pico because those were the ingredients available at the nearest store.
The idea and layout of the cantina encourage this kind of conversation and storytelling. Because the only indoor seating is at the bar, a staff member is always around to pass you a free snack or tell you about the origin of the dish you're eating. It also means that a great cocktail is always within reach. My favorites are the refreshing Smoke and Sigh, which blends mezcal, Aperol, and flavors of bergamot and grapefruit for a cooling sip; and the Oaxaqueño Old Fashioned, which offers I-need-a-drink boldness from both tequila and mezcal in the mix.
If this sounds like history class, rest assured that the lesson comes with fajitas.
For a Deep Ellum establishment with stiff drinks on the menu, Revolver Gastro Cantina is surprisingly educational. In its first months, one of Mexico City's leading food writers, Alejandro Escalante, took up residence with the title "maître d'cantina," training employees, talking to diners about the food, and recommending bottles from the extensive liquor selection. Rojas, too, has a story ready about every dish. In my visits to the bar, I've learned about chile varieties unavailable in the United States, such as the xcatic pepper; Mexican cooks' embrace of "tacos de autor," a sort of auteur theory of taco creation; and that, in Rojas' view, the most romantic getaway city in Mexico is Morelia.
I also learned about the surprising origin of the fresh, whole-milk cheese often known here as Chihuahuan cheese. In Mexico, it's called queso menonita, because it was originally produced by German Mennonite immigrants. Mennonites have lived in the state of Chihuahua since the 1920s and reached a population of about 100,000 before recent drug conflicts compelled some to move to Canada. Many are still in the dairy business today.
If this is sounding like history class, rest assured that the lesson comes with fajitas. Mennonite cheese is a comforting molten blanket on top of the sizzling skillet, draping over the mix of Wagyu skirt steak and poblano and bell peppers. If you sit at the right spot along the bar, you can watch a cook blowtorch the cheese into place. This is the only dish Revolver serves with flour tortillas, which are made to the same specifications as the corn variety: small and slightly thick, sturdy and flavorful enough to hold whatever you try to fit within.
There are less delicious ways to learn about the history of Mexican cooking. And no classroom is as lively as Revolver Gastro Cantina, with its spray-painted walls, open kitchen, and alley patio. At a time when Dallas' new restaurant openings force us to choose between inventive food we haven't enjoyed before and comforting old-school hospitality, Revolver is a reminder that we can have both in one exuberant, tequila-laden package. 
---
This story originally appeared in the October issue of D Magazine with the headline, "Raising the Bar." Write to [email protected].
Get the SideDish Newsletter
Dallas' hottest dining news, recipes, and reviews served up fresh to your inbox each week.
Author
Brian Reinhart became D Magazine's dining critic in 2022 after six years of writing about restaurants for the Dallas Observer and the Dallas Morning News.