From November 2022
Are car guys always men? No. Is there a car guy on your street? What sort of a question is that? This being Texas, the answer is yes. You likely have one in your family. Is being a car guy a generational thing that might soon die out, thus signaling the end of not only culture but possibly the human race itself? I don't know. This article partly sets out to explore that question.
There is a tall, middle-aged man who I run into at the Lakewood Whole Foods (when it used to be cool, before Bezos ripped out the bar). He sometimes turns up in a two-tone late 1950s Chevy Bel Air in turquoise and white. Every time I see him, we say hi and can't remember each other's names, but if we're both on our way out, I ask how the Bel Air is. We stand in front of it with our groceries placed at our feet, warming in the evening sun. Maybe 30 minutes of car-guy chat goes by. On one evening, he told me his 20-year-old son had entered a '60s Mustang he'd restored into a local car show and had won Best Mustang. Turned out, it was the only Mustang, but that's not the point.
I'm not a Chevy guy, you understand. I'm a Jag guy. But that doesn't mean I'm not very into other cars. "What's under the hood?" I asked the Bel Air guy. "Is it a small block or a big block?" (Apologies to Chevy guys. I know I should know.) Straightaway, the Bel Air guy gets right to the nub of it: "Let me tell you what Melba Toast is packin' right here, all right. We got 4:11 Positrac outback, 750 double pumper, Edelbrock intake, bored over 30, 11 to 1 pop-up pistons, turbo-jet 390 horsepower. We're talkin' some fuckin' muscle."
That's actually a quote from Wooderson in Dazed and Confused. The Bel Air guy didn't say this exactly. But he gave me—quite unironically—something very similar and with the perfectly laid-back Texas accent.
I smiled and I smiled. It was a moment I will always treasure in my heart, because a million other such conversations have been had, be they in Dallas, Houston, California, Detroit, Coventry, Birmingham, Italy, France, Germany, Japan—all the great engineering cities and countries—but this one was just bang on the money.
Which brings me to a place in Dallas that an editor friend named Tim Rogers recently asked me to visit with him, since he knows I am a bit of a car guy. The Shop Club lies in an industrial warehouse spot out along I-35, somewhere on the way west toward the airport. It's a 55,000-square-foot space that is ostensibly a car storage facility but with a twist, or perhaps several twists. I recommend that anyone with even a passing interest in cars—but especially car guys—take the family and go for a visit, because to state it plainly: this is a fun place.
So what is The Shop Club? It's really a de facto crowd-sharing, nonstatic car museum. And a restaurant. And a coworking space. At the entrance, there is a coffee bar that takes the form of a Ural motorcycle and sidecar. Farther inside, a bar and restaurant called Derby is separated by glass from the shop floor, where the cars emanate in a symphonic manner over an acre of air-conditioned space. If you've ever been to Kenwood House, in London, for an outdoor concert where you sit on the banked lawns and bring your own picnic to watch classical music in the summer—well, this is not that, but it's not not that.
Some of the cars probably spend most of their time there, while some are rotated in and out as their owners take them away for events and to use in a more prosaic manner. So the de facto car collection, the assembled village band or orchestra of cars, as it were, changes from day to day. The staff move the vehicles in and out of the building when required, but meanwhile the public is free to eat there and see the cars from the other side of the large glass partition.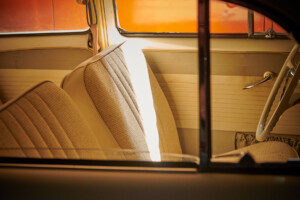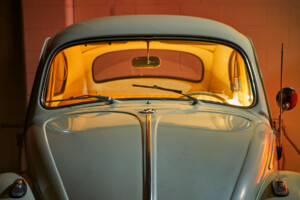 Bug, Eyed: Julie Chickering, the first female founding member of The Shop Club Dallas, displays her 1963 VW Beetle there.
Above the restaurant is a members' area with a private bar and a pool table and a cigar room and a viewing deck that steps out over the collected cars and bikes. The space is thoughtfully kitted out. Members pay $200 per month for a car and $75 for a motorbike.
Is this a review? Not really—but I'll go there in a bit. At the head of the restaurant, there's a metallic gold 1970s Honda Trail 70 Monkey bike, the same model bike that Dallas' own Owen Wilson is seen on while wearing a yellow jumpsuit in Wes Anderson's first movie, Bottle Rocket. Anderson blends an obsession with design and cultural heritage with comedic and sometimes dark narratives about the love-hate of modern life trying to free itself from more stolid tradition (which is really what this story is about).
Tim and I sat down to lunch, and he ordered the Cuban sandwich (advertised as pulled pork but mysteriously arriving as brisket with added ham), while I had their burger. My burger was very good. Very car guy-ish, which is to say, a heart attack on a bun. Tim sat facing in, like the man is meant to, while I was allowed to face out as the "woman" (as I say, car guys are not necessarily men) so that I could take in the acre of cars while we ate.
Nearest to us and over Tim's shoulder was a Model 73C 1944 Bugatti. Next to that was a black 1954 Jaguar XK120 roadster, which I recognized instantly, since I've seen it before and have a picture of it on my iPhone from an event outside de Boulle, the Preston Road jeweler. In car terms, if we were people-watching in one of the world's fanciest restaurants and you could scroll back through the ghosts of history, seeing these two cars two tables away was the equivalent of being joined by Gina Lollobrigida and Clark Gable. Maybe you need to be a car guy to get this excited? Maybe not. Maybe because cars are more reliable than people? (Certainly better-looking than my lunch date or I.)
So, for me, this was already fantastic. These two cars alone were worth the trip. Frankly, I could have eaten the burger, seen the two cars, and gone home happy. But that's just two cars on the other side of a piece of glass.
After lunch, Tim introduced himself at the front desk to The Shop Club's general manager, John Leeman, to secure a tour. Tours are to be booked in advance, so we were unlikely just to get to mingle without extracurricular purpose. Eric McGill, the service manager, was on hand to take us onto the shop floor. As opposed to conventional car storage, this Seattle-based company has mixed into it other services, such as lifts for the members and workshop space. There are qualified techs available if you wanted to, for example, bolt on a new transmission or just change the tires. More than this, Rachel Donovan, a shop valet, teaches welding classes.
We started with the members' facilities, had a quick whiz around the cigar room and so on, and then went out—through the looking glass—and onto the members' viewing deck, where the ambiance remains more or less of car storage, only better air-conditioned and well lit. We spied various exotics and pointed, much like kids at the zoo, asking Eric, "What's the white one with the black stripe and the whale tail?" Or whatever. Minutes later, we descended the stairs and ventured into the reserve—on safari, so to speak.
It is like walking into your local coffee shop to discover a Picasso on the wall next to all the local art.
As it turned out, I knew way more about the Bugatti than Eric did. But that was fine. This is not the Petersen Automotive Museum in Los Angeles. From Shop Club pictures I'd seen online before visiting, the Bugatti Model 73C confounded my limited knowledge of Bugatti, so I'd researched it in advance. It was originally a factory prototype, the last car ever designed by Ettore Bugatti, and he died before it was finished. This example was gradually assembled and reconstructed over the decades to Ettore's intentions. For each of the known examples, the original dealers were left to assemble the chassis, and this is one of maybe nine ever produced. The car left the Paris factory in the 1940s for the main U.S. Bugatti dealer before arriving with someone else in Mexico and then later heading back across the Atlantic to Donnington, England, where it was restored and put together properly with fenders added for road use, as well as the correct wheels and radiator grill, before ending up at a California auction in 2002. I may be wrong, and there may be another one that looks exactly like this. But I doubt it. It's not as sought-after a car as, say, the iconic Bugatti race car, the Model 35B, but there is no "correct" version of a Model 73C. As an extreme exotic, this, then, is a very rare sighting.
To me, this is what is so fantastic about The Shop Club. It is like walking into your local coffee shop to discover a blue-period Picasso on the wall next to all the local art. It's a bit mind-blowing. And yet no one's making a song and dance about it. It's just there. It's not locked in a vault like the dubious Leonardo da Vinci toward which Christie's, a number of years ago, artfully nudged the Dallas Museum of Art into blowing its combined 21st-century art budget on.
Who might be the Bugatti's current owner, I asked Eric, and why would that person store such a super rare car here and not, say, in a dedicated private garage or an esteemed museum, such as the Petersen or Alabama's Barber Motorsports Museum? The Bugatti, it transpired, along with a $2 million Hispano Suiza, a series one E-Type Jag roadster, and a Pan Americana campaigned Series II Jag rally car also present that day, are all owned by a woman car guy. She had inherited the collection, and one might guess she wanted others to have access to them. Whatever her reason for keeping her cars here, it is an undeniably generous act, just as patrons of art museums gift or lend artworks to museums for the benefit of all.
The Shop Club, then, is a social thing as much as it is storage. The only member I spoke with is Julie Chickering, the first female founding member. She keeps her ivory 1963 Volkswagen Bug there. We talked at length on the phone, and she told me that the club's social aspect is very real and that unlike in the original Seattle iteration (which opened in 2017 and is more focused on the storage and shop facilities), it became apparent that the desire for a meeting place with other social facets was something that Dallas was short on. Julie likes that she can go there to meet members, check the cars, or just have a drink. It's a more neutral space, unlike most bars, where a woman arriving alone might feel a bit of a target.
I am an outsider who came to Dallas from London, a city with a fully formed transit system, a more moderate climate, and an ancient street plan that allows for constant interaction on foot. Dallas' newfound "walkability" fantasy strikes me as just that. It's way too hot for most months of the year to walk in a meaningful fashion, other than to your car (electric or not). There's a reason for NorthPark. But how many times a week do you need to buy trousers or ink for your Montblanc? NorthPark became the High Street, but it was very much about the consumer experience only. You don't always want to be surrounded by shoppers, shopping, breaking maybe for lunch, and then shopping. And you must drive to get there.
Over time, the discussion of walkability became fashionable, and now we have Klyde Warren Park, which is great, but you can't ride your horse in it. It's not Hyde Park in London. You can't organize an impromptu game of football with two teams of 11 or even five. It's a mini park. Lots of mini parks are springing up in Dallas, and each has a similar array of amenities, but still they tend to be destination places. You don't walk through the park on your way from one meeting to the next or from where you parked to get to the Royal Academy or whatever.
Dallas, then, is very different from London and always will be. Over time, you accept what the city is, or you up and leave. Nonetheless, even dyed-in-the wool Dallasites clearly crave new meeting places. No surprise that The Shop Club advertises itself as a country club for gearheads.
We moved on. Tim was taken with the Ford GT, the limited-edition remake of the iconic 1960s Le Mans racer, the GT40. It was his instant favorite even though he drives a charcoal grey Tesla, which is a legit contemporary dilemma that we all must face. To come back to the Chevy versus Ford thing, I said I was a Jag guy so as not to get caught in the American crossfire, but I'll come clean: I'm a Ford guy. The GT40 is magnificent. How much history and engineering are in this thing? A lot.
Opposite and lined up against one wall was a row of vintage pickups, inevitably mostly Chevys and Fords from the 1950s to mid-1970s, one of which was a very photogenic two-tone baby-blue-and-white 1968 Ford F250. The F250's owner has a very catholic selection of cars on view: a beautiful dark red Mercedes SL Gullwing, the aforementioned Ford GT, and a white Jaguar XK150 roadster parked in the Founders' Room.
The two-tone truck looks like it would be driven by a part-time male model who plays drums for an Austin hipster band—except that current Austin hipsters (now called "creatives," so I'm told) would probably cancel anyone behind the wheel, given its 8 miles per gallon or whatever it probably big-gulps. Marfa might still let you drive it in their artfully curated township on the basis that it gives the 153 population good Instagram opportunities. Besides, all those '90s Donald Juddists must be picking up their pensions by now. Time is running out. Even hipsterdom has become vintage.
At the end of that row and lower on the cancellation hit list was an original Mini, this one owned by John, The Shop Club's GM, who apparently has several old Minis. It's very much his thing. My first car was a beige-over-red '66 Austin Mini, designed by Alec Issigonis, the famed Greek-British car designer, so it was nostalgic to see an old one here.
Next to the ultra low Ford GT was a white Nissan GT-R Nismo. Eric mentioned it had 1,000 horsepower. The Nissan is a proper track car, it has to be said. It's not designed for budget jaunts to the English seaside for young families. And Texas has no seaside to speak of, unless you include the Gulf, which is a sort of tepid bacterially traumatizing affair with uninspiring fish, so the seaside trip is not an option on a compromised immune system, and you have to make your own fun, hence the 1,000-horsepower track car. Maybe take it around White Rock Lake at 2 am?
As a type of riposte to the Nissan, next to it there was a small orange Autobianchi Bianchina. It's the tiniest car you might ever see. It's a two-door convertible, based on the Fiat 500, and it makes John's small Mini look decidedly macho by comparison. It's smaller than a golf cart, and I pictured my small dog and cat in the front seats, maybe driving it from the kitchen to the dining room.
Eric then took us into the Founders' Room, where the cars are given more space. You pay a bit more to be in this part, and while the idea of it sounds slightly lodge-like and hierarchical, it's not. The diversity and quality of the cars are no different in this section. There was a classic VW camper, a Rolls-Royce Silver Ghost, a Corvette, a midcentury Ford F1 Estate (maybe lowered but with wonderful art deco details in the front facia, grill, and headlights). The aforementioned Jag XK150 and Julie's immaculate 1963 Bug. (N.B., I'm not a VW guy, but I am an early Porsche guy. If you want to see what an untouched German fabric interior in a 1963 VW looks like, have a look at this one. Good luck with replicating that fabric, MoMA NYC! Can't be done.)
Cars all look like bars of soap now because regulations govern most aspects of design.
Like I said, I called Julie after my visit. We spent easily an hour on the phone talking about The Shop Club, cars in general, and the dilemma of owning a prized classic, the main dilemma being whether you drive it and, if so, where and how often. Julie comes from a car guy family. Her father owned a garage, and she was pretty much weaned on cars, although she forgot to tell me this and texted me this nugget as a P.S. afterward.
She told me she bought the ivory Bug on an eBay auction, but she clearly knows her stuff and told me she originally drove it around East Dallas but now feels to be the custodian of something too special to risk being banged into. Of the older cars on display, I'd say it was the most original and untouched and was one of the only true museum-grade cars there. This car could get into a collection like the Petersen and is probably better than the Bug the MoMA owns, since the MoMA Bug (despite being a very early example and more covetable in this regard) has had a fair bit of restoration. You can find a video about it online. Julie had to replace only the fuel pump and add seat belts (since they weren't legally required in '63 in the States). Other than that, you're looking at an unmarked car as it left the factory, the very same year I was born, 58 years ago. You might say that the true cultural value of Julie's example way exceeds its current market value. It's only original once, as car guys say.
There's an old joke: "We have an ax that's been in our family for generations. It was my great-grandfather's, and he passed it on to my grandparents, but they had to replace the blade since it cracked, and then it was my parents', and then the handle snapped, so they replaced the handle. Then they passed it on to me, and now I've replaced the blade as well. It's been in the family for generations." Which is cute but also quite poignant. The spirit of an object—the religious component that you imbue it with—over time becomes as concrete as the object itself.
A lot of restored cars are like this. It might say "matching numbers car," meaning the stamp on the engine matches the stamp on the chassis, but the only original bit of the engine is maybe the crankcase bearing the engine stamp, while every other component may have been replaced over time—with real factory parts perhaps, just as every body panel and every other component that attaches to the chassis might also be new. So, "truly authentic" is maybe scars and all? Age, patina, history, usage. Or is it about being perfect, unused, never taken out of the crate? The cool thing about The Shop Club is that it includes all stages and all comers. A place like the Ralph Lauren Museum will probably have every car restored to the same level.
Texans live around cars and rely on them more than most as simple workhorses—so much so that they now seem expendable. And most modern car design is so hamstrung by the myriad global safety requirements that it's simply no longer possible to make cars look like the golden era of Detroit or the incredible art deco-era Delahayes from France. Cars all look like bars of soap now because regulations govern most aspects of design. Small wonder that many people don't care about cars or actively dislike them. They're a necessary evil to many, and most new cars are quite boring. For some, the last thing they want to go and look at on the weekend is more cars. They see millions of them thundering up and down our highways every week. However, we also like to make gods of things in pagan ways to enrich our lives.
So, to indulge the annoyingly fashionable word "authentic," what is authentic in the context of The Shop Club's eclectic crowd-sharing "collection"? I mean, we can argue which individual car is authentic, but what of the whole experience? "Authentic" is a word often used instead of "good" or "bad" these days. I first heard it in an argot sense, bandied around in art schools in the mid-1980s. If a new piece of contemporary art seemed opaque or incoherent, hard to understand or decipher, perhaps ugly, what you might have described formerly as "bad," but you sensed it had something intangibly interesting about it, you might very well have said, "I think it's authentic." The terms "good" and "bad" had become a bit redundant. So the word "authentic" started to become more nuanced and useful.
Now, of course, we use the word "authentic" quite fashionably in food reviews and perhaps even comedy, as well as in art or politics. Something can be in poor taste but still true. It can taste kind of foul and be a bit gristly, but one might say, "This is how they eat it in the indigenous peasant villages, so it's really authentic." (The implication being that if you follow suit, you're also more authentic.)
So maybe what I liked most about The Shop Club is its lack of curation, the absence of self-conscious pairings, the lack of wall placard texts that in art museums not only tell you what it is but how to think about what you're looking at, including caveats and trigger warnings about the creator's potential moral and political inappropriateness. While you can have a $15 tour, which is the only way to see the cars up close if you're not a member, The Shop Club backs away from telling you things that used to be the preserve of museums but are now a part of everyone's consciousness in promoting their own Instagram page. They admirably don't use the phrases "this is curated" or "pairs well with" or any of the prerequisite restaurant/museum speak about what you should be seeing in the things you're looking at. Meanwhile, it's not a flagrantly populist and dumb interactive light show with jumbo-sized stroboscopic versions of billboard Van Gogh extracts either. The point is more that you make your own entertainment—or not—and that you find what you want to find—or not. Funnily enough, art museums used to be more like this once upon a time, and I miss this less self-conscious and evangelical approach to them.
Cars are cars, art is art. Let's keep it simple.
One might argue—very easily—that as we enter the phase of electric cars, the golden age of the automobile has passed, just as the golden age of painting has also passed. Which is why we still go to the museum to look at the Bellinis and the Vermeers, the Picassos and the de Koonings, knowing we can't get it back. So, too, with the Bugatti, the Jags, the Hispano Suiza, the early Fords, the crazy purple, early '60s El Camino so gaudy that it's actually sublime. The rake of the windshield contrasted with its crazy space rocket fin afterburners out back—the car looks like it's going so fast standing still that it's inverted itself in time and space and is now facing backward. It's one of Detroit's all-time great achievements. It's pure fantasy.
The Shop Club's storage floor is a snapshot of Texan car enthusiasts' interests and tastes, and in this sense it can't not be authentic. That El Camino sat on the side of the floor opposite to the pickups. Then there was a sort of lilac-desert-sand mid-'60s Ford Thunderbird timepiece (maybe challenging Julie's Bug for originality?), the kind of car you could imagine out in Odessa back in the day, a Wooderson-era early '70s Dodge Dart Demon in orange, a 1940s Woody station wagon, and a contemporary Jeep Rubicon with a grey Kevlar paint job. The Jeep's owners were about to drop a supercharger into it. Eric told me the couple used it outdoors a lot as a camper, and interestingly it was the woman, not the man, who felt the Jeep needed more power when they were in the mountains and on inclines. Maybe because the air is thinner? Maybe to get out of danger should they be set upon by bears or people from Arlington/Oklahoma on vacation?
It's impossible to say that this is not authentic, because it's all essentially true—like the beaten-up late '30s F1 pickup with a Pontiac jet-age Indian hood ornament, which looked so wrong on the old Ford. The glass in the possibly original windshield was somewhat milky, like the eyes of an old person with cataracts. What looked like the original paint had been sandblasted by the elements for, what, 80 years? The owner had clearly decided to leave all its age and customization intact. So a non-original original, very authentic, something of a palimpsest of Americana in all sorts of regards, authentically offensive to some for its hood ornament by now. But what if you're an octogenarian Pontiac guy? I guess maybe don't live in Portland.
What else is authentic? Driving a car is authentic. Crashing one or being crashed into is authentic. Mending one is authentic. Restoring one is authentic. Fetishizing and looking at one in an interior space is authentic. The first night I got my new F-Type Jag home, I took an Ole Wanscher chair from my living room and a glass of red into the garage. I opened the driver's door, sat in the chair, and I just looked at the Jag for a surprisingly long time. It was biblical. This might sound strange. But to me, it's way more strange not to do such things in your garage. You spend loads of money on a painting and hang it on the wall, and then you don't look at it? You totally wasted your hard earned/inherited cash. You may as well have just founded NFT uBer Deliveroo Art, the zero-commitment art service to formally disconnect you from all things but your iPhone.
Which raises a question that comes up a lot: are cars art? No. They're not. They're almost art but not quite. It doesn't mean they're less important. They just have a different function. They can be a bit like art. And indeed, auction houses sell art much like used car salesmen day in and day out, but in the end, they're different things because car manufacturing doesn't self-consciously contain a proactive intellectual, political, or religious narrative, but rather one unto itself. Architecture is the design outlier to this rule, since architecture has such a massive social function that it becomes very political. Architecture can be high art, although car design is so close to architecture in many ways. Still, car design is its own category.
Perhaps it's useful to remember that the ancient Greeks didn't have separate words for art and craft, but only the word "techne" for both, which meant many things: made, built, skill, craft, art, science, technology, expertise. It was all techne. Hence technology. Although today the word "technology" has a narrower meaning. As we progressed through the Renaissance and art picked up a religious function, the self-conscious purpose of art, craft, and design took different pathways. It's another story for another time. But are cars art in the contemporary sense? No. Equally, art is not cars. It's art. Cars are cars, art is art. Let's keep it simple.
There is one important thing missing from The Shop Club: the smells and sounds of these things. The sound of a Bugatti B35, of a Jaguar straight six, of a Ferrari V12, of a Porsche boxer 4 or an air-cooled 911. Or many of the iconic U.S. engines. Today, in Dallas, we suffer the meathead supercharged V8 hemis and Dodge Dunderheads and so on. We're all familiar with the sound of the death rattle of the big American V8s, whose companies have tuned their exhausts to sound like Merica Fuck Yeah. These big 21st-century V8s have become obnoxious—not because they're not electric and not progressive but because they so lamely attach themselves to a type of belligerent retrogression. Their exhaust note is embarrassing.
I would not, however, apply the same sentiment to the reasons that the great manufacturers in their heyday created the cars they did. Italian Ferrari V8s and V12s, Lamborghini V10s, Maserati V8s, Jaguar and BMW straight sixes, Rolls-Royce's early straight sixes, often naturally aspirated—these things thronged and screamed the music of their countries in as aspirationally and celebratorially progressive ways as Vivaldi, Monteverdi, Tallis, Purcell, Bach, Beethoven, Elgar, Handel, Vaughan Williams, Britten. I don't mean this metaphorically; I mean it literally.
The sound of these engines is viscerally compelling and life affirming. We've decided of late, via Silicon Valley wankers, that having no sound at all is somehow virtuous. But why is this? Because it relieves of guilt and complicity. We're nowhere near lowering emissions, especially not in America. Driving an electric car lowers tailpipe emissions but little else. But because it makes no noise, our drivers make no noise and do no harm. But by doing no harm, they also do nothing. They become like plant life. They grow and they wilt and they decompose back into the earth. But they make no music. Have you never heard a Jag's XK straight six on cam? You haven't lived.
What I meant to say was, when an object becomes only something to look at and makes no noise, no smell, it becomes inert. This is the downside to placing art in museums. It becomes neutered. Even though visual art is meant to be visual, this does not mean it's mute or has no voice. The overwhelming fault of someplace like the DMA is that it will always tend toward being less controversial rather than more controversial. It will always follow rather than lead. It will always not want to make too much noise except in being loudly "an important museum" due to its collector base and aspiration. But does it have Jan Hoet, the visionary founder of the Municipal Museum for Contemporary Art and at one point one of the 10 sexiest people in Belgium? I believe the hire of Max Anderson was an attempt to be exactly that, but it didn't work out, which is a shame.
Great visual art that is relevant in its own time screams as loudly as the early Fiats and Bugattis and Alfas and Jags and Bentleys. Early 20th-century art in the age of the machine was probably its most massively important era. Right now, we're early in the tech revolution, and, instead of art making a profound reaction to the cultural change, it's been snuffed out and subjugated by it to the extent that art has been simply dissolved into the eternally asinine nature of tech and binary mathematical nerd thinking. The masses have given in and bought in to becoming gonadless idiots who drive sewing machines to somehow make themselves feel closer to god. (I say this with all due respect and affection for my lunch companion at The Shop Club.) We may indeed all need to drive sewing machines to save the planet, but we have sacrificed art and culture to arrive at that gateway.
Fortunately, I'm approaching my 60th year, and I have no kids. Just because we now have iPhones doesn't mean the human psyche has even yet processed the effect of late industrialism. Now we are moving through virtual tech-ism, and yet our kids don't even understand the meaning of industrialization. They're existentially all at sea, only now two epochs out of date. "Progressives" think that if only they can have even more apps, be even more hardwired to current information, that somehow they will be adjusted and in tune. But they have no tune. Their minds are just the vessels of the white noise that they've chosen to wear in their earpieces.
If they want to hear music, to hear life: listen to Bach, and then listen to a straight six engine, and then get back to me and tell me you didn't just hear the same thing twice, just separated by 440 years.
Here's my take away on The Shop Club: what do you do with your cars and bikes that aren't quite museum-grade? And even if a museum did take them, how could you access them if you wanted to use them again? Meanwhile, as with Julie's Bug and most of the cars at The Shop Club, what do you do with cars that are a bit too precious to risk being tanked into on the Dallas roads? Do you just keep them at home gathering dust where no one else will see them?
Many years ago, I had an idea in conversation with one of Dallas' younger collectors as we surveyed a neighborhood building that would eventually be torn down (as it now has been). What if he bought the building and dug down underneath and replicated Charles Saatchi's wonderful old Boundary Road space in London in what used to be an old paint factory but in a very residential spot? This had the potential for something similar. My feeling was that because the best modern art was now so prohibitively expensive, such that the younger collectors could no longer assemble collections anything like, say, the Hoffman collection, what if several younger collectors clubbed together and put their collections under one roof as a private, subterranean museum? Together, they'd have something substantial. On their own, they could only maybe fit a dozen major artworks in their homes before they have to build something purpose built, or they donate larger chunks to the DMA (which maybe the DMA doesn't want), or they sell it off, or they stop collecting altogether.
The Shop Club answers this conundrum in car form and mirrors my suggestion from a decade ago. (Though, again, I stress that cars are most definitely not art.) The thing is, like with the cars, not all museum art is great and will stand the test of time, but that doesn't mean it's irrelevant. Equally, despite the best efforts of advisors such as Allan Schwartzman and company to the top philanthropists here to make sure they get the best and most important art, Schwartzman is just a guy. An Art Guy, let's say, but he's fallible.
In conclusion, The Shop Club is not entirely unique. There is a bit of a fashion for shared car storage units. Matt Farah of The Smoking Tire podcast several years ago built a 14,000-square-foot space with thick concrete walls in Los Angeles where others can store cars; there are also some communal areas. He described it as "part Pantheon, part Bat Cave, and part Fort Knox."
Which is funny to me, because as a sort of postscript, I've been known to send certain local museum directors and curators extended ideas about new Dallas buildings that would serve this multifunctional aspect. Many years ago, one such idea—which was serious, partly Swiftian—was to build in the center of the Arts District a giant building that served as a sundial because Dallas strangely has no Big Ben. I devised a giant circular structure with a rotunda where vintage Jaguars were placed at the point where each digit of the clock face would be. These would revolve on a bezel-like disc in the outer part of the building and would rotate around a restaurant run by London's Jeremy King. The place, as I described it at the time (long before Farah's deal), was "part Pantheon, part Stonehenge, part The Wolseley, London." It seemed obvious to me that Dallas lacked all these components. Later, Nick Badovinus started Town Hearth and Desert Racer with cars and bikes in them. I haven't been to either, but there is a difference between a restaurant with a few cars and a car place with a restaurant.
To return to my conclusion and my promise to offer a bit of a review, it wouldn't be honest if I didn't admit to sensing a very slight hint of Portlandia's Deuce Hotel in Shop Club in some of the communal areas. Besides the bit about the smell and sound, this would be my only complaint. If you've seen the Portlandia episode parodying an Ace Hotel (where there are vintage typewriters and gramophones in every room), you'll know what I mean. I once stayed in the New York Ace Hotel, and I can tell you that the real-life version is more of a parody than the parody was. At 6 pm, the vast lobby at Ace filled up at one point with painfully Portlandia-esqe hipsters—excuse me, creatives. They appeared out of nowhere by the dozen and lined up at tables on laptops. It was obvious they were shopping or Instagramming and not actually working, though. Some of them were knitting. They did this instead of talking to each other over a drink. They were plainly addicted to staring at screens and their own avatars. The Shop Club gives off a similar vibe, though I doubt anyone there is doing any knitting. Not that there's anything wrong with knitting, mind you. It's one of the finest forms of techne.
So. The Shop Club has maybe accidentally imported a tiny bit of Portland that I personally wouldn't mind if they could send back by return mail, but it would be unfair to judge it this way, because this phenomenon is everywhere now, and, in truth, The Shop Club appears to be very popular with those club members who want to use it. There's a waiting list to get your car in there, so they're doing something right.
Mostly, though, it's about the cars and bikes, and for car guys of every gender, it's a must-visit place. It's not the Petersen Museum, and it's not the Ace Hotel either (thankfully). It's something else. But it's a lot more than just car storage.
---
Richard Patterson is a YBA painter who has shown around the world. He is represented in London by Timothy Taylor and in Dallas by Cris Worley. This story originally appeared in the November issue of D Magazine with the headline, "Cars are Not Art." Write to [email protected].
Get the AtHome Newsletter
Enjoy Dallas' best trends, hot properties, and tips from local designers to help you nest in style delivered weekly.