I remember the art collection more than anything. The Andy Warhol that greets you in the entryway, a portrait of shoes that glitters quietly in the muted light meant to create a sense of intimacy.
The rest of the vestibule holds a velvet love seat and drapes that hide bottles of wine. They cloak the room, not accidentally in burgundy folds, the color of a young port. It's clear the focus is soft light on expensive wood, the hushed aura of a lustrous, luxuriously appointed cocoon.
Tango Room is a collaboration or, given the name, a partner dance. On one side is Tim Headington, the impresario behind an empire that includes The Joule hotel, high-end boutique department store Forty Five Ten, and restaurants Wheelhouse and Sassetta. On the other are the three founders of Graileys, an exclusive, members-only wine club, of which Headington is a member.
One gets the distinct sense that this is their baby. I doubt Headington was quite as personally invested in the openings of the now-shuttered Americano, inside The Joule, or even the gleaming Mirador (also closed), which rested like a crown atop Forty Five Ten.
As with any restaurant, there is what the owners wanted it to be and what the place actually is. Some square these two ideas perfectly. Others do not. Tango Room, in my experience over three visits in the fall, unfortunately fell among the latter—a slippage that surprised me considering the lineage.
What they wanted was a haven where patrons could retreat after a tasting at Graileys, where they might follow it up with a meal and perhaps another bottle or two. They knew well that such an enclave was missing, the sharp Graileys staff having recommended many a restaurant over the years, sending people into the wilds where a wine list may not be terrific, but one could order a steak. And so Tango Room, born of a few years of conversations and a year and a half of pandemic-related delay, was conceived to fill the gap.
With 60 seats, nestled into 12 booths, this is a place where simple, classic cocktails are $19 and the intimate, luxe atmosphere itself fulfills the desire for gravitas. It belongs fully to the neo-steakhouse scene that our city has spawned, a genre that includes Georgie, Knife, and Town Hearth. There is also the membership-only Park House, which opened in 2018 and shares the same art advisor—and, to the observant eye, at least one contemporary darling's work.
What Tango Room has to distinguish it in this meat market is a well-crafted wine list. In a book where the median range by the glass hovers at $25–$30 (but is worth the pour), you'll find a depth of serious vintages and old vines—a rich, white Châteauneuf-du-Pape, structured California cabernets that reach back to an era three presidencies ago, and powerful Bordeaux from the reign of Mitterrand. They, alone, can make a meal memorable.
But if the wine sets Tango Room apart, the food is a setback.
In a city that struggles with roast chicken, the $90 Jidori bird here was one of the worst I've had, arriving cut up family style in a cast-iron skillet. Whose idea was it for the presentation to clash so thoroughly with the space's understated luxury? But that was the least of the dish's concerns. The breast was overdone, the dark meat underdone, and the whole thing, served over a bed of panzanella—lacinato kale, chorizo, preserved lemon, sourdough bread, and bitter escarole—presented a viscous mess, sodden with chicken jus and so salty my lips burned after two bites. The salad was warm, murky, and limp. And there was no part of it I wanted to eat. (Even the preserved lemon couldn't find a place in all the muted flavors.)
The same fate befell creamed spinach, cooked until it was a dull and lifeless swamp. Fiore Sardo, a hard sheep's milk cheese, rejiggered it but rendered the dish so gamey it tasted like a slightly damp sheep's wool coat smells.
Not all was equally objectionable. The best entrée in all three visits was a delicate trout prepared à la sole meunière, with tangy capers and slivered shallots. Bright with lemon, warm with brown butter, it was one of the best, deftest treatments of fish I've encountered in a while. There was a good pappardelle Bolognese, the sauce made rich from browned pancetta and foie gras and a trifecta of meats—beef, lamb, pork—and the supercharged decadence of being mounted with butter.
Nonetheless, it's telling that the most consistent pleasures came from the nonsteak realm.
How do you mess up a rib-eye quite so badly as the one we received, and just a stone's throw from Town Hearth? Gristly and overly fatty at once, the pedigreed portion of Rosewood Ranch beef was so slim it resembled a bavette. It arrived aggressively charred but more well done than medium rare, as though the cut's anatomy had perplexed the kitchen too.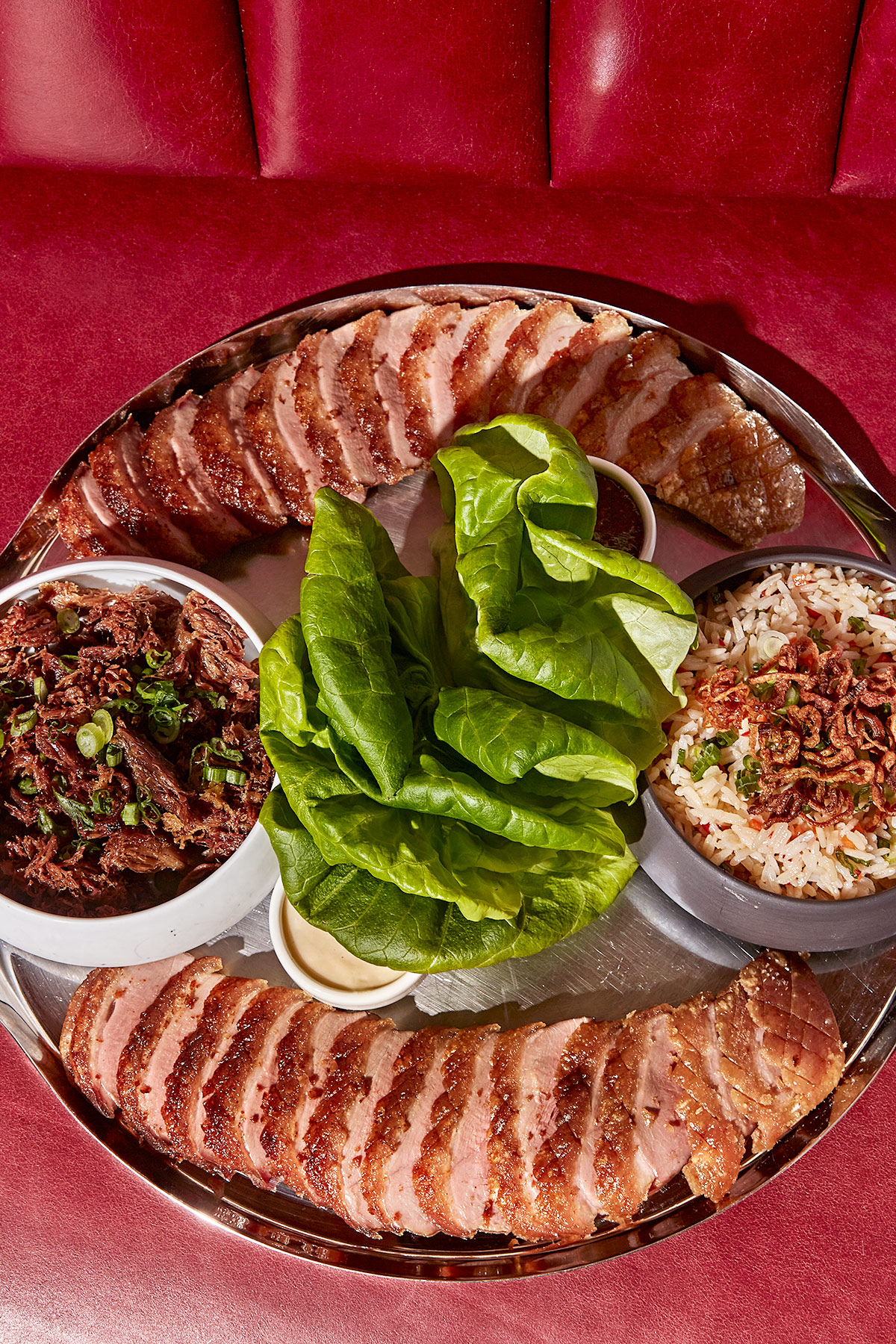 This was somewhat ameliorated by a filet on a later visit that came lavished with a nicely reworked chasseur, a sauce named after hunters. (Here, a showcase of mushroom conserva, oven-dried cherry tomatoes, and demi-glace.) As with the rib-eye, which we'd topped with a knob of Stilton butter, the extra was the saving grace. It shouldn't be so.
Such volleys were singularly forgettable, save for sides of mushrooms with Madeira or whipped potatoes with demi-glace, rich with butter.
The Peking duck commands $135 and comes with duck confit, duck fried rice, and Bibb lettuce leaves in lieu of buns or pancakes to swaddle the bites you accompany with mustard and hoisin sauces and yuzu pickles. It could be an interactive slam-dunk, but it loses focus, the victim of an identity crisis: a French-style duck that presents as Peking-style, sliced and fanned, but with skin that is not taut enough over the pillow of fat. Despite the technique and showmanship, the point gets lost.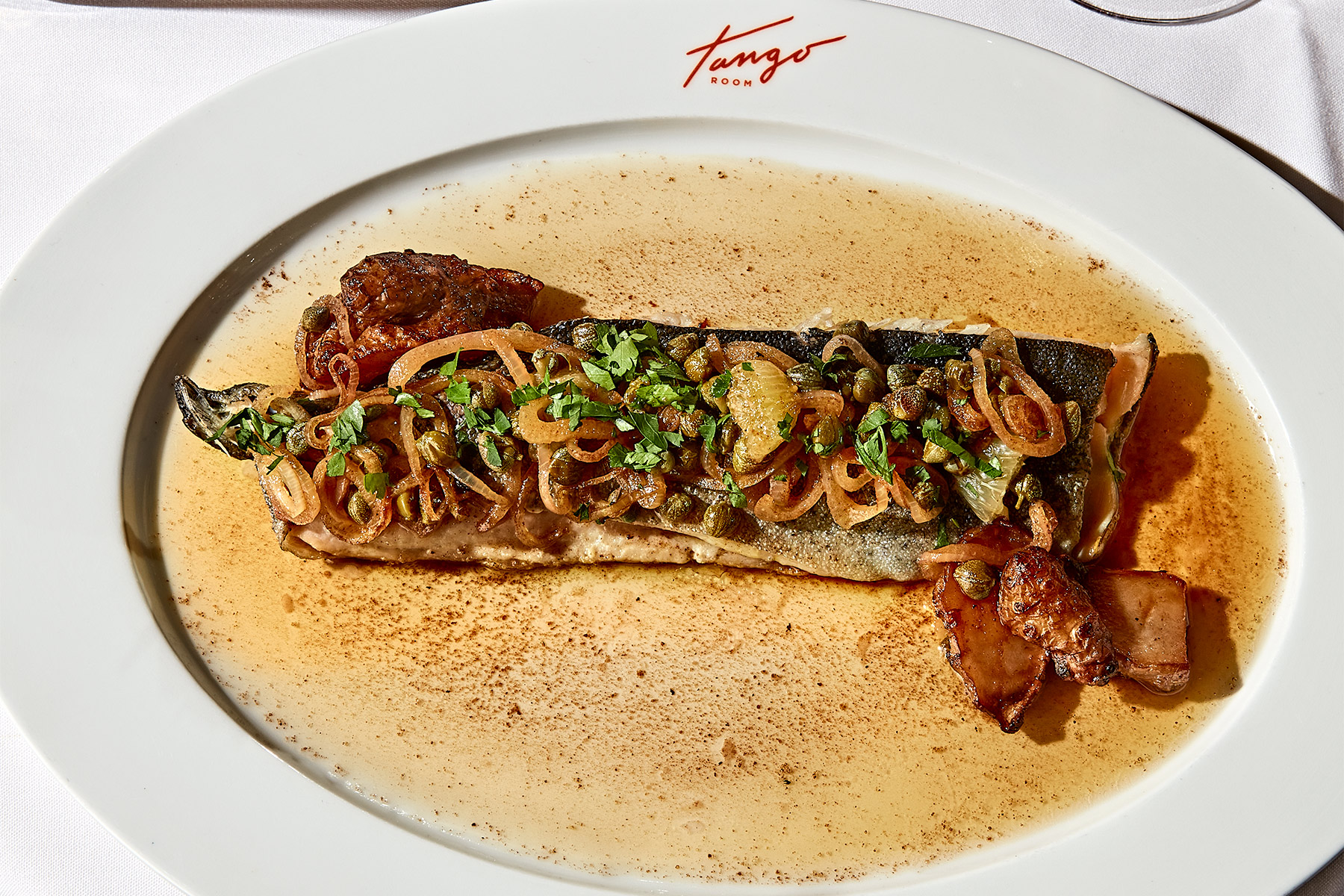 All Headington concepts make their ice creams and sorbets in-house, and a baked Alaska offers a showy delivery with the thrill of the blue flame. When I had the classic during an early visit, it was stacked with olive oil cake and fudgy-textured ice cream (the flavor was strawberry) and meringue on which played tongues of fire sparked by elderflower liqueur. (Later, it was replaced by a whim of green apple sorbet, peanut, and caramel.) But why did they need the three-berry coulis? Or the behemoth berries that needlessly tricked it out as a tired steakhouse trope?
The whole thing could have been a standout, but, like the chicken, it wasn't well executed—or, at least, not well enough for the price. Aside from the money one spends to partake, the greatest sin is that it all blurs together.
How much should be made of the fact that the entire mechanism is shifting, that Rosa de la Rose was added to the Headington Companies firmament as general pastry chef and James Daversa moved up in ranks to replace Kylil Henson as chef de cuisine in Tango Room's first months? All I can say is that I noticed no change in my visits. The issue seems to be with the concept. Ambitious. Different from anything Headington's group has done before.
I was convinced by the wine and the atmosphere. I was unconvinced, overall, by almost everything else. For the price, I shouldn't be ambivalent.
In the space that used to hold FT33, this new venture aims to explore and exploit the Venn diagram of a steakhouse, private social club, country club, and hotel with lobby as art gallery—but perhaps it only gets lost in the overlapping circles. I left wondering: what exactly is this steakhouse in a teacup? And where does it fit in?
I was convinced by the wine and the atmosphere. I was unconvinced, overall, by almost everything else. For the price, I shouldn't be ambivalent. This is a place where, by all accounts, you might see Dallas glitterati. They deserve better steak.
If I want a burger at the bar, an excellent wine, and a Warhol sprinkled with genuine diamond dust, I suppose I'll go to Tango Room. If I desire Peking duck, I'd rather go to Richardson.
Get the SideDish Newsletter
Dallas' hottest dining news, recipes, and reviews served up fresh to your inbox each week.
Author
Eve Hill-Agnus was D Magazine's dining critic from 2014-2021. She has roots in France and California and during her time at D wrote…