There are two types of Super Bowl watchers. The ones who have been perfecting their homemade queso recipe and plotted the exact order of their many-layered dips. And then there those who go on a beer run 30 minutes before kick off. If you fall in the latter camp, you might need this here list.
For the America's Team Faithful
Chef Kent Rathbun will add a number of special steak cuts as well as his Frito pie kit (guisado chili made with his smoked brisket, plus all the toppings) to his usual Sunday pickup menu. Or stay for the Solo Cup Sunday party in the parking lot of Lovers Seafood & Market; there'll be live music, TVs on the trailer, and cocktails served from the bar. Read more about why Rathbun's Curbside BBQ is the best tailgate takeout.
For the Buffalo Bestie
At Nurungji, you can get Buffalo or Korean barbecue wings in bulk, plus Buffalo chicken cheese fries (to toast your team), spicy chicken feet (to taunt your opponent), and fried gizzards (to the winner go the spoils).
When Smoke Gets in Your Thighs…
The Austin import will have to-go-only meal packs available for pickup ($99, feeds four to six). The package includes wonton chips with dips (Thai green salsa, peanut sambal); full rack of smoked baby back duroc ribs (which are heavenly, get these); whole smoked sake chicken with gochujang glaze; Thai-style sausages; crunchy cabbage salad and cashew-ginger vinaigrette; oak-grilled zucchini with cashew sambal. Preorder now through February 11.
Kick Off With 'Cue
This barbecue mainstay has a mountain of eats for your party needs: choose from 18 smoked wings, over a pound of brisket, two Kreuz original sausages, mac, and blue cheese coleslaw. All this feeds up to six people. For a bigger feast, which should satisfy up to 10, there's 2 1/2 pounds of brisket, two pounds of pork ribs, jalapeño sausages, plus sides such as smoked baked beans, Lockhart coleslaw, and mac and cheese ($100–$200). A la carte offerings are also available.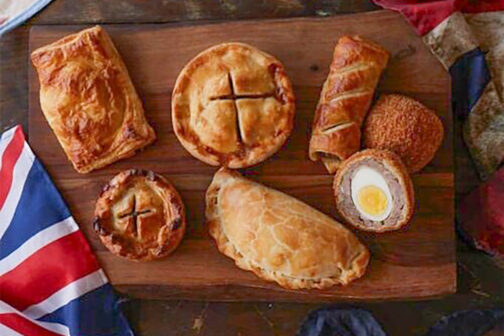 For the Patriots Compatriot
Order Tina Miller's delectable British baked goods online to heat and eat at home: Stilton pork pies, party sausage rolls, Scotch eggs, Cornish pasties. Absolutely get the bakewell tart and mini Victoria sponges, too.
For the Tampa Bay True Blue
Pay tribute to Tampa Bay's Cuban culture with platters of mini pork sandwiches, mini guayaba pastries filled with guava paste and cream cheese, and mini sugar horns.
For the L.A. Lover
Soup dumplings don't travel well, but place a to-go order at Fortune House for the magical pan-fried pork buns, Chinese chive pockets, scallion pancakes, sweet-and-sour baby ribs, and tea-smoked duck with fluffy buns.
Duck Fat Is the MVP
Go straight to Roots Chicken Shak's catering menu and place an order for your choice of Tiffany Derry's famous duck-fat fried chicken strips, wings, or nuggets by the dozen; a pan of banana pudding; and sweet tea by the gallon.
For the Green Bay Beau
At Nate Abeyta's gourmet butcher shop, you'll find house-made bratwurst, kielbasa, and sauerkraut, plus locally baked brioche buns. Throw in some black pepper and bleu cheese burgers and Squeaky Bee cheese curds for some added calcium.
SPORTS BARS, TVS, YELLING AT TVS IN SPORTS BARS
Super Bowl Watch Parties
Head to Yard House
With more than 20 televisions and some one-hundred taps of local and craft beers, why host when you can just show up at Yard House? You'll find Korean chili-garlic wings, Kurobuta pork burgers, and dressed-up nachos.
Virgin Hotel's Super Party
Feb. 13, 5-9 p.m. Cheer on the Bengels or Rams at the Pool Club, which will have the game on the big screen.
Lounge on the Lawn at AT&T's Discovery District 
Kickoff starts at 5:30 p.m. Set up a few foldable chairs, a cooler with beers, some oversized foam fingers, and viola! – you've got yourself a good ole fashion Texan sports watch party. View the biggest game of the year on the city's biggest TV screen with 140 inches of vibrant, crystal display. There will be lawn games, giveaways, and face painting, too.
Dawn Your Best Sports Regalia at Saint Rocco's 
Doors open at 3:30 p.m. The classy New York Italian restaurant in Trinity Groves is hosting a viewing party on its rooftop. Snap a few selfies overlooking the best view of Dallas' skyline while flaunting your favorite game day outfit. The event will include a full bar, classic football bites such as hot wings, and six large TV screens for your viewing needs. So grab a pint and be sure to practice your Italian hand gestures in the mirror beforehand.
Stay Glued to the Screen at Omni Hotel's Owners Box
A sports lover's paradise, this state-of-the-art restaurant is more than just any old sports bar with over 70 TV screens throughout the entire restaurant (including a 16-foot wide screen for viewing the game). Enjoy stacks of carnita fries, loaded nachos, and wash it down with an ice cold beer. 
Play Ball with Your Pup at the Backyard Dallas
The mixed space adult amusement bar has become a dog-friendly icon in the big D. With both indoor and outdoor seating, surround sound, and over 45 TV screens, the Backyard is sure to have plenty of open space for you and your pup. Try the loaded mac and cheese with smoked turkey or brisket, frito toppings, and hatch chile cheese sauce or the backyard poutine with your choice of waffle fries, tots, or sweet potato fries topped with chopped bacon, smoked brisket gravy, and tempura cheese curds. Don't forget: if it drops on the floor, it's the dog's.
Catch Some Live Tunes Before the Game at Avenue Sports Grill
Show begins at 2 p.m. The casual sports bar on Lower Greenville has charmed folks with its live music. Known for its brunch game and weekly music line up, the Avenue Sports Grill combines both the fresh and modern vibe of Lower Greenville and sweet southern hospitality. Chow down on a classic Reuben or a smoked bacon and sausage flatbread. Sip a glass of chardonnay while being serenaded by Ryan Berg, a loud and proud East Dallas boy, who is known for his fusion of soul and country.
Kick Things Off at Christies 
The Greenville Avenue sports bar has a modern feel with a patio, rooftop, and three full service bars. Enjoy small bites for the big game such as jalapeño poppers, fried cauliflower bites, and creamy queso. If you're feeling a bit classy, try the chef's selection of seasonal meats and cheeses on a charcuterie board. Plus every seat in the house has a view of the game. 
Celebrate Saloon Style at the Nodding Donkey 
And what would a good game day be without some good old country flair? This saloon-style bar in State Thomas is known for its Texan pub fare. Choose from sizzling fajitas, smoky brisket queso, seared beef saloon burgers, and more. Taps are sure to be flowing with $4 domestic drafts or take a chance with some donkey punch made with rum and some "secret ingredients." 
Score Some Crazy Cocktails at Happiest Hour
If you're looking for a watching party with a cocktail game that's a bit avant garde, look no further than the happiest place on earth. Not Disneyland. But the Happiest Hour! From a spiked tea with Deep Eddy Lemon Vodka to a Bombay Sapphire gin with OJ and ginger ale, the selections are as numerous as the number of times the Cowboys didn't make the Super Bowl. Just don't fumble too much afterwards. —Jacob Villalobos
Get the SideDish Newsletter
Dallas' hottest dining news, recipes, and reviews served up fresh to your inbox each week.
Authors
Kathy Wise has been the executive editor of D Magazine since 2016. At various points before that, she was a…
Rosin Saez is the online dining editor for D Magazine's food blog SideDish. She hails from Seattle, Washington, where she…