Several years after being named Texas' Next Top Designer by Stanley Korshak in 2006, launching an eponymous fashion line that reached millions of dollars in sales and benefited survivors of sex trafficking in Nepal and Cambodia, and having her leggings spotted on the likes of Kate Middleton, Dallas-based designer Abi Ferrin was ready for a break. So, in 2014, she decided to go to Peru.
"The Peruvian government said they were going to shut down Machu Picchu for visitors because the World Cup was happening in Brazil," Ferrin says. "I was just so in the hamster wheel of my business and in every Nordstrom at the time, and I was like, I'm going to stop and I'm going to go take this trip."
The 15th-century Inca ruins turned out to not be the highlight; meeting members of the Indigenous Quechua community and discovering the powerful hallucinogen ayahuasca were. "I met this family, the Clero family, and they introduced me to plant medicine," Ferrin says. "It was a journey that helped me heal the complex trauma that I had. It was literally my life before that trip and then my life after. I came back a different girl."
She may have come back with a new sense of self and, after a subsequent trip, pregnant with her Quechua son, but she didn't exit the hamster wheel until January 2020. That's when she decided to close her West Village store, right before the pandemic hit. She officially shut the doors on March 19 without a plan.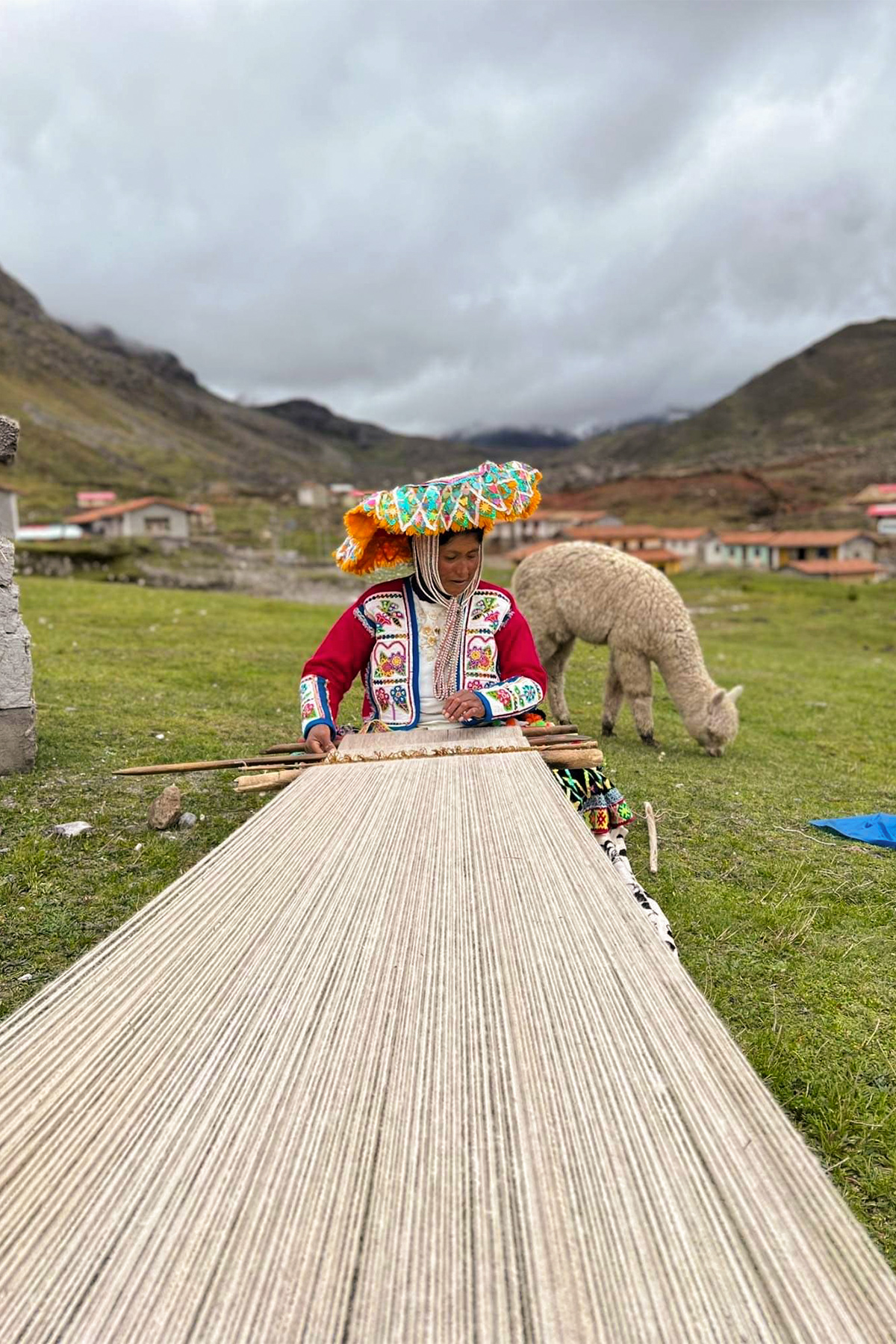 "It's all no kill," Ferrin says. "For the Quechuan, the alpaca are one of their most sustainable resources. When the alpaca die of natural causes—during the cold season, a lot of the babies freeze, and when they die of old age—is when they harvest the fur. Because the animals are actually much more valuable to them alive."
Within a few weeks, she accepted a Facebook invite for a women's medicine song circle from Isis Anchalee, a similarly burned-out Silicon Valley software engineer and founder of the #ILookLikeAnEngineer movement. When Anchalee realized that Ferrin had experience using fashion to benefit female survivors and Ferrin discovered that Anchalee wanted to create a collective to support Indigenous weavers from the community in Peru where her son was conceived, it only took a phone call to confirm their partnership was kismet.
At the time, Anchalee was stuck in lockdown in Peru; she had arrived with plans to go to the jungle for a couple of months but found herself under a strict quarantine in Cuzco with no warm clothes and the Southern hemisphere winter on the horizon. A neighbor told her about a little village of potato farmers and weavers high up in the mountains that had been forgotten by the Peruvian government. With the borders closed and tourists kept out, they were having to kill the alpacas, which they traditionally relied on for milk, cheese, and wool, in order to eat. Anchalee offered to raise funds to help support the desperate community. In return, her neighbor brought her handwoven ponchos from the village to keep her warm.
That's when she had the idea to slightly modify the design by essentially opening the poncho down the front and adding a fur trim to create a cape for an upscale Western market.
"This ended up being this beautiful co-creative collaboration that not only brings financial support but it brings economic reciprocity," Anchalee says. "We started off with 15 women, and we've grown to almost 30 in the total number of the artisans that we work with. We selected women who had the greatest financial need to join this collective of weavers that we named the Q'ori Tikas Weaving Collective. Q'ori tikas means 'the golden flowers,' because it's the golden flowers that grew from the darkness of the quarantine."
The weavers use traditional hand looms, and each cape takes around three weeks to produce. No dyes are used; the colors in the weavings come from the natural color of the alpacas' wool. Most capes are priced at $1,111, but unusual colors or more intricate weavings may cost more.
Under the name Moon Rising, Ferrin and Anchalee have been selling the capes internationally through their website and, most recently, at Art Basel in Miami. So far, Anchalee says, they've been able to pay $75,000 to the Quechua artisans they employ since the company launched in September 2020.
"When we started, this was still a warehouse for my old life," Ferrin says of her studio at South Side on Lamar, which is now filled with racks of capes, jars of ceremonial Peruvian tobacco, dream catchers, and Tibetan singing bowls. Having cleared out the cutting tables and made room for her new venture, she says her goal for 2022 is to add another Indigenous collective.
"We're going to continue with the cape, obviously, but we're looking at some Indigenous cultures in Mexico that have more summer options, like caftans or summer sweaters and wraps," Ferrin says. "When I was in Miami, I made a few contacts for some communities down there. Indigenous resilience is what we're targeting. It's about sustaining these communities so they can keep their beautiful, artisanal ways."
Get the AtHome Newsletter
Enjoy Dallas' best trends, hot properties, and tips from local designers to help you nest in style delivered weekly.
Author
Kathy Wise is the editorial director of D Magazine. A licensed attorney, she won a CRMA Award for reporting for "The…