In the women's bathroom at Monarch, there is a black-and-white photograph of a brunette wrapped in a man's embrace, laughing, her head thrown back in ecstasy. The downtown restaurant-—perched on the 49th floor of The National, vertiginously tall and glamorous, a supermodel tottering on high heels—would like you to feel like that woman in the photo. Somehow, some way.
Arrive at 5 pm, and you file into a world where a floor staff glides by in smart, slinky, black and navy blue outfits, attaching lapel mics as though they are about to back up Beyoncé for a halftime show. Later, at 10 pm or maybe midnight, as the vibe gets espresso-martini clubby, diners will be inexplicably lined up 10 deep against a wall, preening or waiting or both, or on a staircase for a photo. They will populate sofas and ottomans, drinks in hand, in the lushly wallpapered chandelier bar that connects the two sides of what is a U-shaped bauble of a dining room in the sky.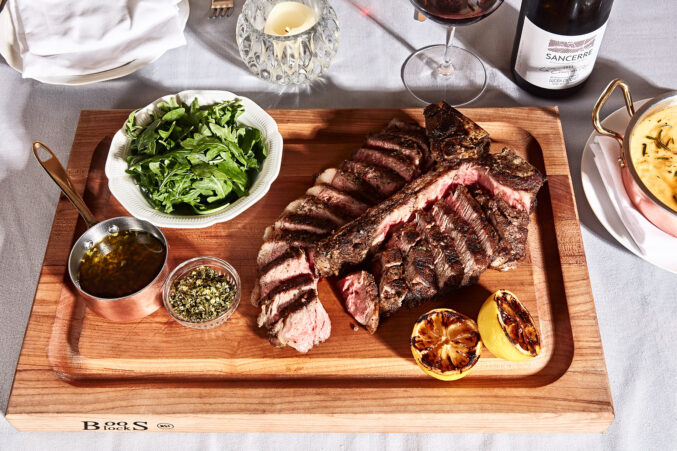 To get here, you must first make your way through the bewildering labyrinth of the lobby of The National, the headline-grabbing redevelopment (by Todd Interests) of a George Dahl-designed banking building and hotel. You are looking for an improbable elevator, tiny and old, a vestige of its midcentury-modern bones, the least likely to take you to your crown-jewel destination. And once you arrive on the 49th of 51 floors, which somehow feels as though it's all the way at the top, scratching the sky, the myth begins. A myth of limitless expansiveness. A myth that you are one of the chosen, young, chic, unique, important. You are the woman in the photo, lost in the moment.
Monarch is the latest brainchild of Danny Grant. The chef and restaurateur has been welcomed in our city like a prodigal son, even though he was never from here to begin with. He's from Long Island with a Sicilian family background and a rapidly expanding restaurant universe based in Chicago. In 2015, he joined business partners to open Maple & Ash, a wildly popular steakhouse (with locations in Chicago and Scottsdale), and Etta, a more casual hearth-based Italian restaurant that reminds him of his roots (with outposts in Chicago and Culver City, and soon Scottsdale, Houston, and Las Olas, Florida). Before that, in 2011 and 2012, he was busy earning two Michelin stars for RIA in the Waldorf Astoria in Chicago, becoming the youngest U.S. chef to do so. And while Grant could be seen as a prolific, absentee restaurant-creator, remaining in Chicago while he opens versions of both concepts in Dallas next year, Monarch is a stand-alone imbued with far more of him than that stereotype suggests.
Grant is well versed in opening temples to live fire. For Monarch, he took off the guardrails, he will tell you. His aim: unrivaled opulence.
And so it is a place of eating hearth-grilled steaks and whipped ricotta layered with honey and black truffle oil. It is a place of meticulously prepared king crab and prawn cocktails, served on a chalice of ice. A place where spaghetti spills from whole, rosy lobsters and there is no such thing as being overdressed. Or: a place dripping in drama, where you can scarcely keep your eyes on the food.
The first time I went, I had the herb-ricotta agnolotti and marveled at the simple luxury of the buttermilk brodo, thick and tangy, and the pickled scallions, smoked tomatoes, smoked almonds, and delicate, liquid interior held in the butter-yellow dough, crimped like with pinking shears. I ate them and watched the other diners, silhouetted against the sky.
Or you can summon a steak-scape. The dry-aged porterhouse bistecca, cooked directly over the coals for an effect like the fire-kissed behemoths at Town Hearth and basted with a broom of herbs and olive oil, is all char and concentrated flavor. It can come with hasselback-scored eggplant with a bagna cauda of capers and anchovies and olives, or unpardonably creamy mascarpone polenta, or excellent grilled baby artichokes served with a salsa verde that have so much more to say than you think they will.
Lift to your mouth a morsel of immaculate, ivory Dover sole, barely accented with bright, brash capers and tiny chestnut mushrooms, as the sommelier strolls by with his cart of decanters. From the fish to the wine list, with its pages and pages of bottles, it's all deadly serious, in a way.
And yet, refinement and fun become inextricable. (I should note, perhaps here, that you are paying for the privilege.) The idea for the grilled prawns came from a trip to the jungle near Tulum and an epiphany near a wood-fired oven that was putting out whole grilled crustaceans and salt-baked fish. Now, in this place with a two-sided wood oven, those borrowings lead to the prawns with fennel pollen and a Calabrian chile jus—a glorious, decadent mess.
Are you surprised that the boldly plush carpaccio comes with petals of black truffle? The whole night, black truffle has been wafting through the meal like a fragrance. It's also in the brioche that accompanies it, brushed with truffle butter, and in the risotto with its brilliant dab of pungent robiola.
The whole idea is lavishness and even the invisible magic of technical prowess that makes the chocolate souffle come out far sooner than it should. Our server told us that, in case we did not want to think about it—or, presumably, trouble our mind with anything—we could order The Royale (a secret five-course meal for $290) that will lead you through the highest of the highbrow proteins.
But note the undeniable continuity, from cocktails to dessert—that tiramisu ice cream parfait with its deep booziness and surprising, perfect coffee granita.
Which is not to say that there are not missteps. The moons of buffalo mozzarella on the lasagna Diane had congealed to a rubberiness and slick sheen when they arrived at our table.
But you will not remember them. Or, maybe, you will, but the impression recedes in a memory of an evening unhampered by details. The food was delectable, yes, but these are nights in which nothing exists but how you feel. Monarch taps into a particular form of maximalism that our city loves, and has always loved.
You can summon a steak–scape. The dry–aged porterhouse bistecca, cooked directly over the coals and basted with a broom of herbs and olive oil, is all char and concentrated flavor.
Perhaps, after your meal, you went up by another strange stairway to the intimate boudoir of sister sushi and sake lounge Kessaku. (It is overseen by Grant and culinary partner Hari Chan, also based in Chicago; both kitchens in Dallas are helmed by their own chefs.) You skirted the Persian rugs and the glow of fringe lamps that throw pools of light on nigiri and rolls of Miyazaki wagyu, truffle, and caviar and on cocktails that might dabble in gold leaf and cost as much as a nice steak in most places. (One is $65 and another is $80.) And you realized that, from its catwalk, you could see the pinpoints of light in every direction, like one of artist Yayoi Kusama's "infinity mirror rooms"—an immense, stunning, dizzying display on this vast, dark prairie. And you felt, maybe, the vertigo of a very particular tremulousness. Why are we all here?
One answer was offered by a friend who leaned over and murmured, "We come here to be beautiful monsters," as a guest threw a fit and cruelly threatened not to tip seemingly on a whim. In this jewel in the sky, I did see people giddy with the heady sense of specialness, not all of them beautiful monsters, but letting their personalities match their surroundings.
But the actual answer may have everything to do with this year. The year of relief and excess. The year in which everyone has reemerged and we have no idea where things are going, but we hope for up. Apparently, it seems, everyone wants to be up. Up in the sky. As loftily up as you can possibly be.
---
Write to [email protected]. This story originally appeared in the September issue of D Magazine with the headline, "Can We Get Much Higher?" 
Get the SideDish Newsletter
Dallas' hottest dining news, recipes, and reviews served up fresh to your inbox each week.