When British-born Ruby Jaffrey couldn't find the right contemporary art for her home in Dallas, she bought a 3-by-3-foot canvas and painted it a deep red, adding a textured gold orb in the center encircled by a repetition of the word "Allah" in black script. Someone later referred to it as calligraphy, although it didn't fit any traditional scripts. It had evolved from a combination of many of them. Fourteen years later, Jaffrey is averaging three custom commissions a month, and her work has been exhibited in London, Karachi, Atlanta, New York, Los Angeles, Austin, and Washington, D.C.
She grew up in England, the child of Muslim parents who had emigrated from Pakistan. "It was a lot of layers to navigate, and I faced a constant struggle between trying to find my identity and fitting in with other kids," Jaffrey says. "I think that challenge still exists and, in some ways, is amplified because now we are exposed to infinitely more influences on social media."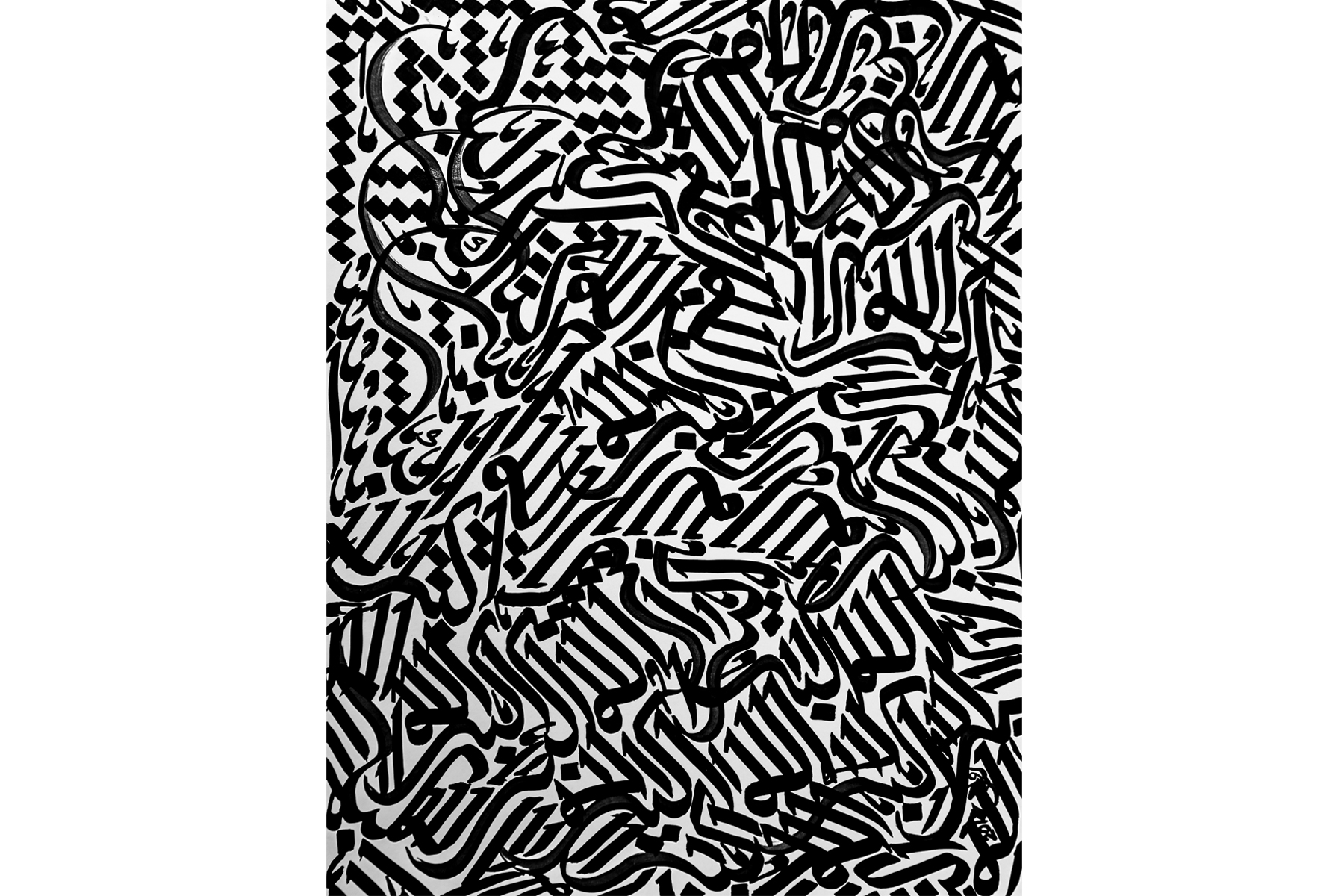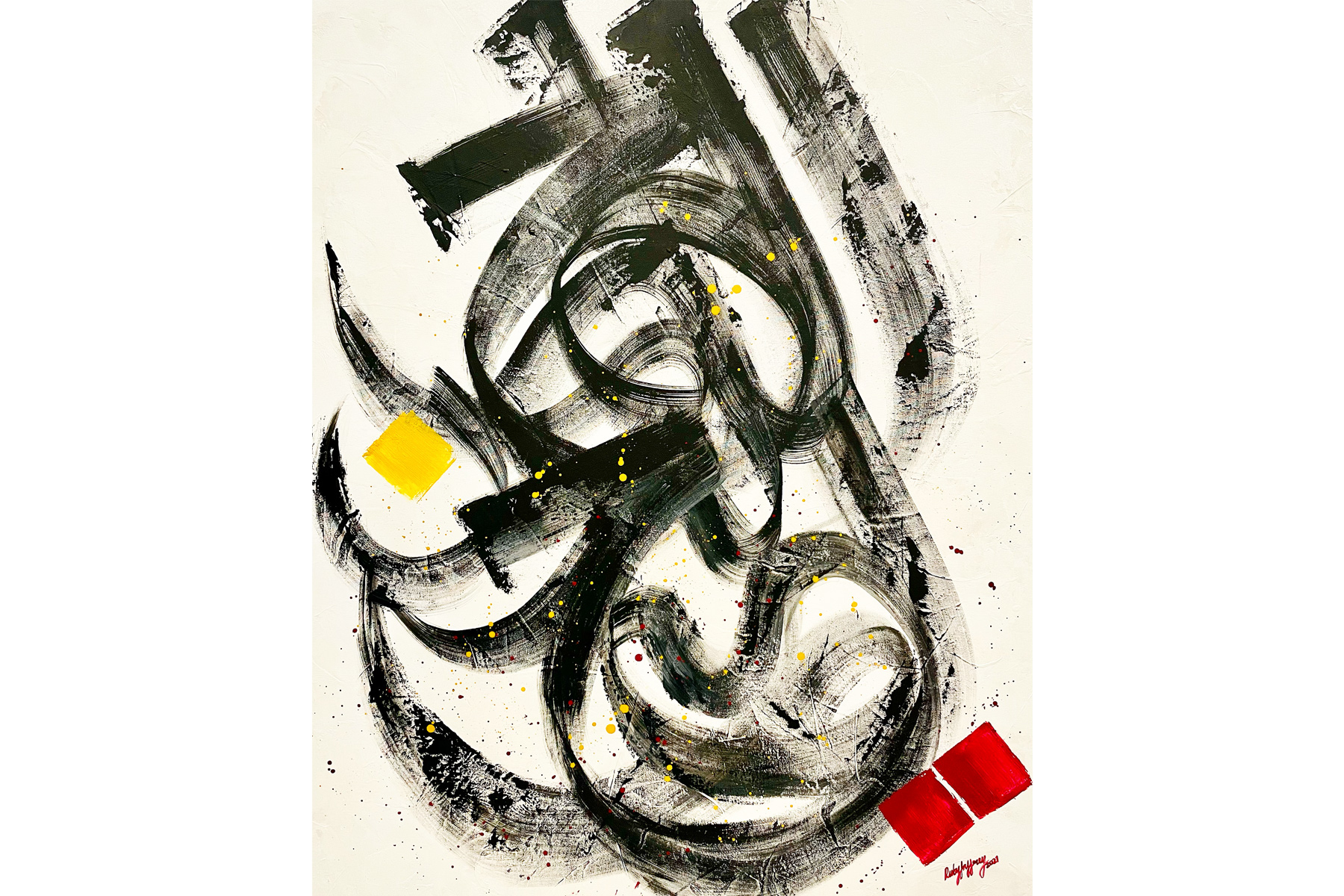 Jaffrey says she's drawn to a monochromatic, black-and-white style. "Even my wardrobe is full of grays, blacks, and rich white, so there's really no color there," she says. "I'm not a really vibrant, colorful person in terms of my own personal taste. And that kind of comes through in my paintings."
Art became a tool for her to connect with others, as well as with her faith. She describes her style as "modern Islamic art," and the inspiration for her pieces often comes from the Quran, causing her to examine the meaning of the verses as she determines how to honor the words with colors, brushstrokes, and texture.
"I see my work as more of a way to connect with scripture in an organic way," Jaffrey says. "When someone commissions a piece and they ask for a specific verse to be painted, you instantly know that verse resonates with them in some way. My job then is to delve deeper and really reflect about the context and meaning of the verse so that I can bring it to life through the creative choices I make."
Jaffrey works out of a home studio with white walls and large windows that provide plenty of natural light. But the first thing you notice is the floor, which is covered with splatters of paint and bits of writing.
"It's been great, because with the new houses you often have these 20-foot ceilings for which someone will commission a piece."
"When we first moved into our house, I had designated this room for my studio, but it had carpet in it," Jaffrey says. "We ripped up the carpet and, lo and behold, we found all these architectural notes scrawled on the floor—instructions for the building team spray-painted in reds, blues, and greens on the pockmarked concrete, which I thought was cool and decided to keep."
Business has only increased during the pandemic, as people have taken the time to focus on home projects. And though Jaffrey receives orders from all over the world, she has found a thriving local demand for her work from referrals, at least in part due to the influx of people moving to Dallas for jobs with companies that are headquartered here.
"Many of those people are young Muslims moving here, which is primarily my market," Jaffrey says. "And it's been great, because with the new houses you often have these 20-foot ceilings for which someone will commission a piece. That is unique to Texas, because you certainly won't routinely do pieces of that size for houses in England, let's say, and it really allows me to expand my range."
---
This story originally appeared in the May issue of D Magazine with the headline "The Writing Is on the Wall." Write to [email protected].
Get the FrontRow Newsletter
Get a front row seat to the best shows, arts, and things to do across North Texas. Never miss a beat.