Skinny Corks and Telephone House
Born from the mind of The Wild Detectives co-owner Javier Garcia del Moral, the Six Foot Love Series transforms the North Oak Cliff bookstore into a concert venue, with a limited capacity of 42 people. (The name, as you might have guessed, comes from the amount of space between tables and benches.) The performances include music from local artists; for May, Skinny Corks and Telephone House are the featured acts.
---
Circulate: 7 Works on Paper by Xxavier Edward Carter
For this seven-piece exhibition, Dallas-​based artist Xxavier Edward Carter transforms magazines, newspapers, and financial and legal documents into thought-provoking collages that reflect on concepts of ownership and wealth. Carter removes the physical markers of the documents and reassembles them into blank shapes, allowing him the space to provide commentary on American ideals of materialism, capitalist waste, and indulgent desire. His show is the first installation at Cluley Projects, a new West Dallas satellite space of Erin Cluley Gallery, directed by Nell Potasznik-Langford. Its main focus: elevating regional artists.
---
The Beach Boys
Known for their pioneering California sound, the Beach Boys (led by singer Mike Love) will perform a selection of their iconic hits at Annette Strauss Square, as part of Vogel Alcove's 29th annual Arts Performance fundraiser. A virtual link will be available for fans who are unable to attend the event in person, and all proceeds will be donated to the local homeless nonprofit.
---
[img-credit align="alignright" id=" 848101″ width="330″]
[/img-credit]
Concentrations 63: Julian Charrière, Towards No Earthly Pole
Towards No Earthly Pole interrogates the fraught relationship between civilization and the Arctic through the French-Swiss artist's large-scale video projects. Partially inspired by the polar explorations of Ernest Shackleton and Sir John Franklin (the latter of whose Alfred Tennyson-penned epitaph gives the exhibition its title), his work positions the poles as focal points through which to examine societal impacts—such as climate change and colonialism—on nature. This is the Berlin-based Charrière's first solo museum exhibition in the United States.
---
Mlima's Tale
Written by Pulitzer Prize winner Lynn Nottage, Mlima's Tale follows the story of a Kenyan elephant named Mlima on the run from ivory poachers. This local production of the play allows attendees to view the social and economic conditions of poverty, capitalism, and corruption that fuel the illegal trade.
---
The Slave Dwelling Project
Started by historian Joseph McGill Jr., The Slave Dwelling Project travels across the country to cultural sites to educate individuals and institutions about how slaves were forced to live. The mission of the organization is to shift historical narratives of slavery through researched talks conducted by curators, historians, and professors.
---
[img-credit align="alignright" id=" 848102″ width="677″]
[/img-credit]
Kevin, Wishes & Charms
Through May 15 | Ro2 Art
During her 10-month cancer treatment, artist Natalie Sirett sewed messages and collections of words on handkerchiefs to help process her experience of chemotherapy. Fifty-four handkerchiefs later, the artist transformed her collection into an exhibition that draws parallels to the new "C" word—COVID. Accompanied by personalized prayer boxes, Sirett's pieces provide a perspective of her journey into a new normal.
---
Virtual 'til Midnight
Lorelei K is the featured performer for the sculpture garden's taped concert series. Fans of the Dallas-based singer (aka Dahlia Knowles) will be the first to hear her new darkwave and sadcore sound. It's a rapid departure from her Denton pop beginnings but a necessary auditory evolution.
---
Daniel James Brown
In Facing the Mountain: A True Story of Japanese American Heroes in WWII, Brown documents the firsthand experiences of several Japanese American soldiers and their families in internment camps. In this virtual event, the New York Times bestselling author will detail his experiences archiving research and interviewing survivors of this unjust period of American history.
---
[img-credit align="alignright" id=" 848123″ width="677″]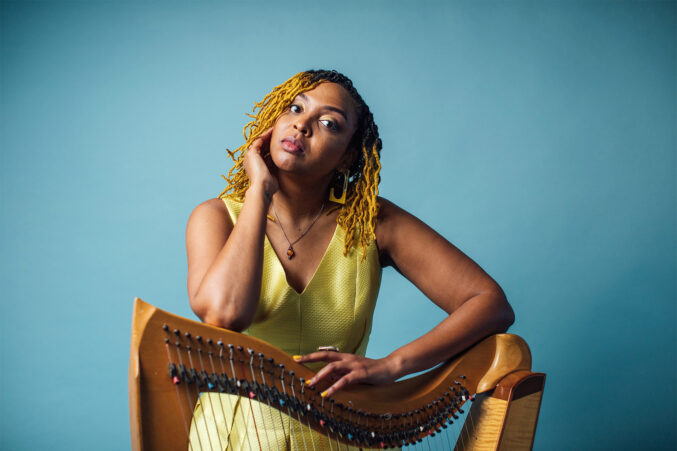 [/img-credit]
Harp and Sol
Harp and Sol is an honorific performance by Jess Garland that pays tribute to the land and communities impacted by Shingle Mountain. Accompanied by a soundscape composed of wildlife and traffic noise, Harp and Sol intends to address the physical and spiritual effects of environmental racism in South Dallas.
Get the FrontRow Newsletter
Get a front row seat to the best shows, arts, and things to do across North Texas. Never miss a beat.