The space inside ALTLinen's Design District warehouse on Crampton Street is filled with a blur of white. In this serene temple to textiles, laundry tumbles in machines capable of washing 100 pounds at a time. Voices are muted over the whir of a steam press that handles a sea of bleached fabric punctuated every once in a while by a blue stripe.
It all leaves the kind of shifting alabaster impression you get when you squint your eyes and look at snow falling in a storm. You'd never guess there's something dark and sordid churning underneath, a linen cartel that has been holding restaurateurs hostage in many ways.
The trio behind ALTLinen—Eric Katzenberger, Madhu Rajendran, and Partha Raghunathan—became the Davids taking on the Goliaths of linens because they were needed. Because it seemed no one else was willing to do a simple thing well: get clean, quality cotton napkins on Dallas' dining room tables.
---
When he opened Encina in the former Bolsa space in the Bishop Arts District last October, Matt Balke became the proprietor of his own restaurant for the first time. He and his partner, Corey McCombs, had signed the lease in February. Eight months later, the restaurant industry was in shambles and every penny counted.
Linens were something he had never had to think about before. As Bolsa's executive chef, Balke had been in charge of labor and food inventory only. Bolsa's owners had employed Alsco, an international Utah-based company, for their linen needs. They had used them at their sister restaurant Smoke as well, as did many other local restaurants.
Balke signed on with Alsco in September, and soon he was receiving invoices whose figures baffled and alarmed him. It had been hard to ascertain from the contract how the numbers would play out. Suddenly he was reviewing tallies that were showing twice-a-week expenditures of $250 to $300 for linen service.
For example, an early November invoice lists the following: 50 black bib aprons ($24.30) with an inventory maintenance fee ($3.85); 300 bar towels ($65.25) with an inventory maintenance fee ($23.40); brown dinner napkins ($67.68); 50 front-of-house microfiber pro towels ($16.65) with an inventory maintenance fee ($3.90);  the servicing of a first-aid cabinet ($16);  a linen storage unit ($6.25); and a bevy of cook's shirts, in sizes medium to double-extra-large. The byzantine list culminates in an undesignated service charge of $31.14.
Linens and the other maintenance fees are calculated based on inventory allotment numbers, or pars, that represent the agreed-upon stash Alsco will keep in stock for an establishment. Set the pars too low, and you may not be able to ramp up without paying a premium when Friday and Saturday night services and a sold-out Mother's Day brunch push you over capacity. Set them high, though, and no matter what you use, the linens come and the fees add up.
For Balke, that meant up to $340 twice a week for laundering. "They beat you up on the little charges," he says.
What he didn't know was that the linen business is a cabal. Dominated by large companies, the industry has historically lent itself to hegemony. Now it's dominated by one large company in particular.
Alsco (American Linen Supply Company) has been in existence since 1889, when horse-drawn wagons carted linens for the Steiner family's Salt Lake City-based business. It was a start-up in its day: the first linen, uniform, and apron rental company in the world.
With more than 16,000 employees in more than 150 countries, Alsco is now a four-generation, multimillion-dollar company that looms large in the hospitality and healthcare industries. In 2015, Alsco acquired Admiral Linen and Uniform Service, a now Houston-based company with a reach in Texas and Oklahoma, thus cementing its hold locally.
But regardless of purveyor, linen services are one of the most loathed aspects in the restaurant industry, especially among independent restaurateurs. To enter that domain is to be introduced to a whole lexicon. The term "pars" comes from the hostelry world and refers to the number of sheets assigned to beds at any time. It is, in the restaurant business, the amount of linen allocated to an establishment, set in advance and determinant of all sorts of fees, including inventory maintenance, special delivery, and service fees. And then there are the contracts, typically two to five years in length (the five-year contracts automatically renew unless a restaurateur gives 90 days' written notice). Chefs say they feel straitjacketed.
"I can leave my produce company. I can leave my meat company. I can leave my electricity company, if I pay a $30 cancellation fee," Balke says. "I can change my insurance. I can change my tables. I can change specs with Sigel's, if I wanted to. But I can't change my linens?"
Yes, because the contract-based colossus was, until now, the only game in town. Meanwhile, Balke could check off a catalog of wrongs.
The items in the first-aid cabinet, for which he was charged a service fee, included expired medicine. The kitchen towels were often, Balke says, "useless." The towels were "always damp, so it's hard to touch a hot pan," and "one out of 10" were in a lamentable state—in tatters, with frayed edges, worn through.
He'd set pars in September that didn't reflect COVID-19 realities, and he struggled to have them adjusted down. "We were starting to have such excess," Balke says. On an October 23 invoice, Encina was charged for kitchen shirts that never materialized. They'd ordered 44 shirts (at 43 cents apiece) that Balke says were not delivered. (Alsco declined a request for comment.)
Balke called a meeting with his Alsco representative on a Monday, asking for results by Friday, the second of their twice-a-week delivery days. He wanted his pars fixed and his shirts delivered. He received no response. Friday came, and he was presented with a bill for the usual amount. His plea went unanswered.
"They never changed anything," Balke says. "They never brought the shirts."  It was finally too much.
Roller Derby: Eric Katzenberger added four washing machines, industrial dryers, and this 13-foot press to his co-founders' Design District warehouse to form ALTLinen, which launders for chefs.
The chef called Eric Katzenberger at ALTLinen, a name he'd been referred to recently through the grapevine, and 15 minutes later, the then 32-year-old was at the restaurant with samples. The invoice listing white napkins at 12 cents apiece and white kitchen towels at 13 cents, plus black aprons, tablecloths, mats, laundry bags, and a laundry stand was blissfully straightforward. There were no percent-based maintenance fees. No pars. No contract. The company simply charged based on what they dropped off.
"It's a small dude who shows up," Balke says. "He comes in and he does an inventory and he says, 'Do you have any special events?' It's what a linen company should be."
Between the two invoices, dated just over three weeks apart, lay what would amount to an almost $2,000 difference over the course of a month. "That's somebody's paycheck in linens," Balke says.
It was nothing short of radical.
---
Katzenberger is the sort of person who, when he tells you his life story, needs many parentheticals. One, for example, would hold the tale of an almost mythical adventure involving the delivery of a motorcycle to a friend in San Francisco, wherein he drove it cross-country in time to catch a flight back, booked 30 hours later. It was a wild ride across the Western states with a gallon of gasoline strapped to the back of the bike with a bungee cord. Along the way, there was an interlude with a man who greeted him in a maroon bathrobe, an epiphany in the Mojave Desert, and a stop in Las Vegas. It is the kind of anecdote you often hear in his presence, where the punchline is in the journey.
When he was 25, Katzenberger had already made the first of many pivots. In 2012, he dropped his studies at UNT to become a farmer with a plot in Greenville, 45 minutes east of McKinney. He called his company Greens & Goodies, a microgreens and garnishes business.
[img-credit align="alignnone" id=" 842862″ width="677″]
[/img-credit]
As he tells it, "I picked up a shovel and turned some ground." He sold his produce at farmers markets before becoming connected with the late Tom Spicer, emperor of the rare edibles world, who went on to link him with chefs, who would ask him to grow things for them—agretti or other obscure varieties of greens. (Teiichi Sakurai, at Tei-An, has said that Katzenberger had the best microgreens he's seen in the last 12 years.) The more he hung out in restaurant kitchens, the more he heard that linen service was the thorn in the chefs' sides, their albatross. They wanted cotton, not dank, odor-trapping polyester. They wished services were picked up more frequently. They wanted fairer prices. They wanted an alternative.
The more he heard, the more motivated he became to solve the problem. He didn't know linens, but he had friends. Madhu Rajendran and Partha Raghunathan were acquaintances. They already had a textile business, Bloom & Give, founded in 2015, that partnered with mostly small, female-owned or -operated cooperatives in India that kept traditional weaving, dying, and spinning practices alive. Raghunathan—who has a mechanical engineering degree from the Indian Institute of Technology,  India's premier university for engineering—oversaw production. Rajendran, who had done work for Stanley Korshak and private labels for the likes of The Citizenry, handled design.
Bloom & Give dealt in beautiful textiles, gorgeous robes and scarves, bags, totes, clutches, throws, pillows, and kitchen linens that came in block-printed, hand-knotted, and texture-stitched variations, from Rajendran's native Kerala to Jaipur, Bengal to Kashmir. (Raghunathan is from Tamil Nadu.) They represent vanishing traditions, including tribal patterns woven with a backstrap loom tied around a woman's waist and pashminas that require 150 hours to make. Some of the techniques reside among the arts designated UNESCO Intangible Cultural Heritage. Much is done without electricity: hand-spun, hand-dyed, hand-loomed, hand-sewn. Fifty percent of the company's profits support female schooling projects in India.
The table linens, made in co-ops in Kerala in southern India, are crafted from beautiful, absorbent cotton fashioned for a climate of coconut groves and sweltering heat.
The fabrics are wonderfully delicate, with intricate patterns and volumes that fall in soft folds. The table linens, made in co-ops in Kerala in southern India, are crafted from beautiful, absorbent cotton fashioned for a climate of coconut groves and sweltering heat. They started appearing in hotels and the jewel boxes of California wineries, and they graced the tables at Dan Barber's Blue Hill at Stone Barns in New York, the sine qua non of farm-to-table dining. Barber's wife also chose to hand out Bloom & Give's throws to guests dining on the grounds. In the culinary world, this is tantamount to saying your throw has been chosen to be used by guests at the White House. They had risen to the heights of culinary accoutrements.
So Rajendran and Raghunathan were not looking to start another business, to begin another full-out, 400-meter sprint. Nevertheless, Katzenberger insisted. He convinced them that disrupting an industry would be worthwhile.
In founding ALTLinen, their first priority was to design a napkin to be absorbent, durable, and elegant. To be the napkin of all napkins. They chose handwoven cotton that Bloom & Give could produce at a price that was, perhaps, a few cents more than what restaurants had been paying for polyester, but which was still affordable. The napkins and kitchen towels made to serve the restaurant industry would then be laundered and serviced by Katzenberger in partnership with Raghunathan. (Rajendran has equity and is an investor in the company.)
Katzenberger already gained the confidence of top-tier chefs, who spread the word from kitchen to kitchen like a coveted industry secret. Soon, Junior Borges knew, and so did Toby Archibald, formerly at Bullion, then at the chic steakhouse Georgie. Sakurai signed on Tei-An, Ten Ramen, and the chefs at his former Teppo.
The chefs told Katzenberger what they needed, and he provided it. In fact, as COVID-19 hit the fledgling business and the restaurant industry simultaneously, forcing restaurants to close dining rooms, he says, "We decided to service their aprons and kitchen towels for free," to do everything possible to help them survive. ALTLinen waived their invoices for three months.
But for restaurateurs already under contract to Alsco, like Balke, switching services was not easy. He expected to have to pay a penalty for canceling his contract, guessing it might be in the realm of $2,000. But on December 4, 2020, the company sent a letter via its attorney saying that if Balke didn't respond within 10 days, they would file a lawsuit for just over $65,000, representing half of the average week's allotment for the rest of the five-year contact. The buyout clause for improper early contract termination, it turned out, was half of what he would have spent for the rest of the contract duration.
[img-credit align="alignnone" id=" 842852″ width="677″]
[/img-credit]
His options, as he saw them, were to proceed with the lawsuit and the fees it would entail, or crawl back to Alsco, the linen giant.
His contingency plan, should he have to continue with Alsco for the next five years, reads like a scorched-earth manifesto. He would consider slowly decreasing his orders. He could reduce the kitchen staff's allotment of towels. He could get the polyester napkins, but no mats, no first-aid kit, no laundry bag stand. He even considered re-outfitting the dining room with tables that don't require tablecloths.
He could, theoretically, honor his contract by ordering only a modicum of product a week and everything else from elsewhere. But, he says, a noncompetition clause makes it a breach of contract to use another service.
With thousands of Alsco napkins and tablecloths stocked upstairs, Balke sat down with his attorney over dinner at Encina and told him he wanted to keep ALTLinen. They'd changed the plates to match the snowy linens, and the room looked better. The attorney sent a letter to Alsco. As this article went to print, Balke was expecting to be served any day.
"It could be $100,000 to be done with linens," Balke says, noting that Jon Stevens at Stock & Barrel and a handful of others received letters, too. Jimmy Contreras of Taco y Vino also jumped ship.
"They're getting angry," Balke says of Alsco. "I don't know if anyone's ever exposed them, but I don't know if there's ever been an alternative to linens in this town."
---
To ride around on a delivery route with Katzenberger is to see the dirty laundry of a city's finest restaurants. It is to witness their vulnerabilities and their desires, too.
It's December 29, in the quiet period after Christmas and before the new year. Just the two of us are in the truck. We are masked, except when he smokes cigarettes out the window between deliveries.
We enter through back doors to the world of dish pits and hotel pans. At Tei-An, Sakurai sits down with us and, in the sanctity of his soba oasis, talks about Steve Jobs' ingenuity and the folly of an archaic linen contract system stuck in the '80s.
We go to Stock & Barrel, where it is payday. Stevens hands out paychecks in the darkness of an empty dining room, sharing strong words about the entanglements with Alsco and the struggle to free himself.
At Taco y Vino, we load linens into a shabby storeroom across the street.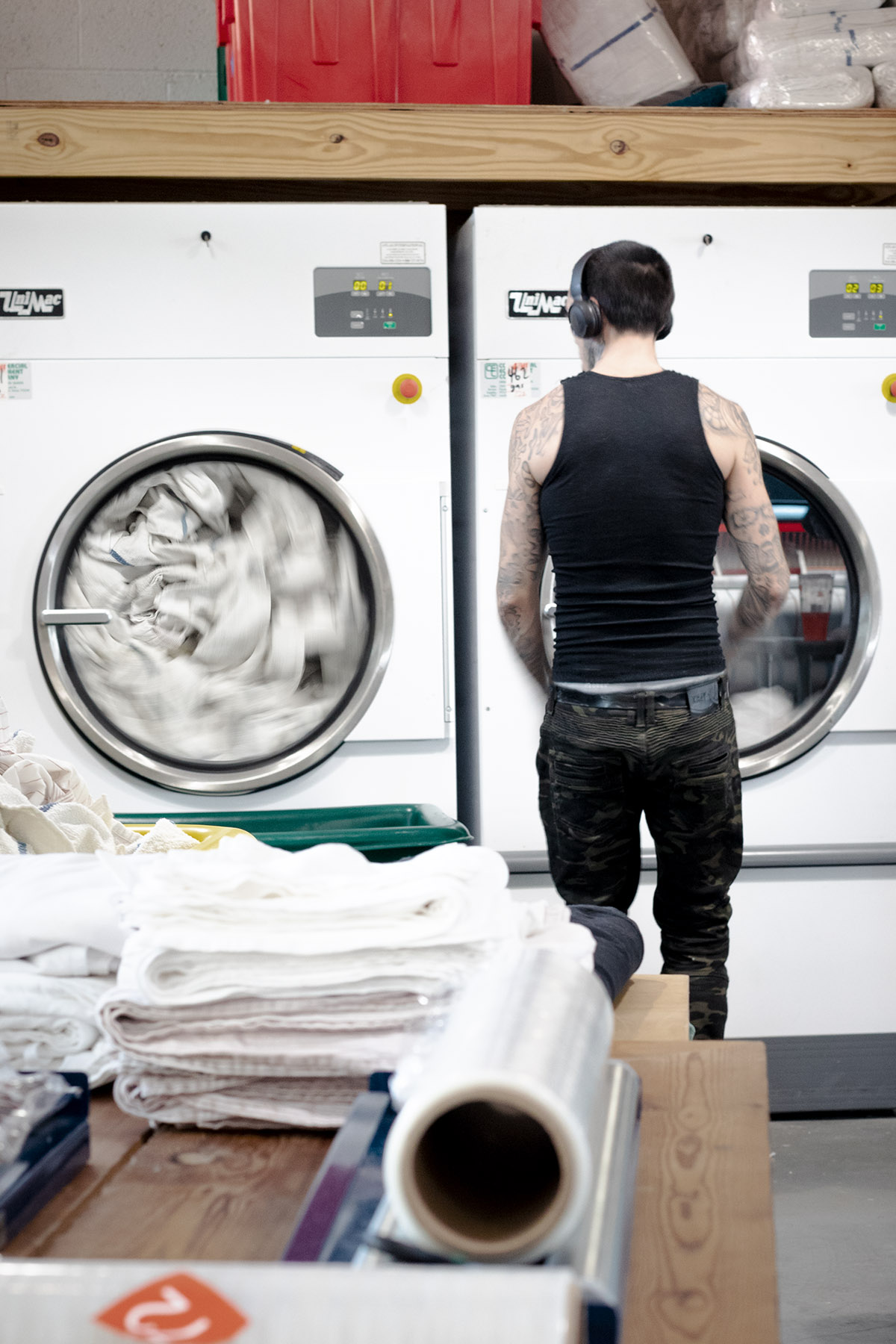 At The National development downtown, Katzenberger calls someone named Marcus, who comes down to move construction cones so we can go inside the half-finished Thompson Hotel (which is now open), where ALTLinens will be used in every dining outlet. Jeramie Robison, who is in charge of culinary operations, worked with Katzenberger when he was a farmer and brought him into the towering downtown behemoth that will include Catbird, fine dining restaurant Monarch, and the bar Nine.
We visit the new $100 million AT&T Discovery District complex, where Katzenberger is laundering for Brian Zenner's new steakhouse, Ounce; Peja Krstic's Ichi Ni San; the coffee shop Rise + Thyme; and the food hall's 20 other food and beverage outlets. He got in thanks to Krstic, who uses ALTLinen at his two Mot Hai Ba locations.
We slink into Enrique Tomás, storing linens in bathrooms, locked metro carts, and sheds on casters that chefs have built by hand. In each, Katzenberger eyes the stock and delivers only what's needed. When a stash is high, he holds back. Nor will he charge. That's not what he's about.
At almost every stop, Katzenberger jumps on people in a bear-hug embrace—chefs and sous chefs with whom he has history. They have strapped palm trees to a U-Haul and had him help them tote them from their restaurant to their home. They have won bets that made him plant several thousand dollars' worth of exotic grass in their home yards.
He was already an insider. Now he's just the guy who's doing everybody's laundry.
---
Katzenberger has brought in four massive washing machines, dryers, and a 13-foot steam press to the Design District space Rajendran and Raghunathan bought in 2017 to house Bloom & Give's inventory. There's a chef's kitchen with a broad table, where Raghunathan often cooks and serves the staff a Sunday lunch, using herbs plucked from a garden behind the warehouse. The space has every appearance of a start-up, with washing machines instead of standing desks.
In addition to the linen service, Katzenberger has developed a process to lift stains using the least amount of water and chemicals, a secret formula of enzymes with a few extra steps thrown in to suit his perfectionistic streak. It's a completely MacGyvered process that ensures their kitchen towels are cleaner than most table napkins, chefs say.
At almost every stop, Katzenberger jumps on people in a bear-hug embrace—chefs and sous chefs with whom he has history.
Five months ago, in October, ALTLinen launched a residential service with an emphasis on cotton towels to reduce paper towel use. A set of linens comes with a lifetime of new ones to replace them (for just the cost of shipping), while the worn ones will be upcycled to commercial use. So your home dish towel may become a restaurant's kitchen rag, mopping up spilled béchamel sauce or swaddling a hot pan's handle.
Ellen DeGeneres chose to feature them in her spring "Be Kind" subscriber box. Another subscription package, TheraBox, will launch later this spring with 46,000 sets of linens, delivered in sets of two to 23,000 households. Between the two, ALTLinen will infiltrate 75,000 homes.
The entrepreneurs have more than 20 restaurants signed on, with more than 10 in the wings, including Nusr-Et, the highly anticipated Salt Bae restaurant, opening any moment in the shadow of the Meyerson Symphony Center. The Village Dallas, with culinary oversight by Junior Borges, has signed on for its 15 food and beverage concepts, opening in a rollout through April.
Ramping up nationwide would be the next step, but it will mean a shift. They foresee full automation, investing in machinery in the months ahead, after COVID-19. Towels could be shrink-wrapped into bundles instead of packaged by hand. The Sunday lunch table and chef's kitchen will need to disappear, making way for a boiler to power new machines.
But for now, on a Sunday afternoon, the team of three employees carefully folds fresh towels. When they break for lunch, taking a seat at the chef's table, talk turns to sports, tattoos, and Jamaican food. As Raghunathan ladles out arroz con pollo from two scuffed Dutch ovens, they each spread a perfect napkin across their laps.
---
Write to [email protected].
Get the SideDish Newsletter
Dallas' hottest dining news, recipes, and reviews served up fresh to your inbox each week.