Three artists of frosting and crumb are revolutionizing what is available in vegan baking in our city. Without brick-and-mortar businesses, these cottage-law makers are churning a world of sweetness out of their homes. They constitute a new school and new wave of independent champions contributing to the ever-evolving fate of dairy-free baked goods in this city.
Drawing inspiration from each other's presence, they'll fool you into not thinking about butter, milk, and eggs.
Gillian Kirk of Sweet Gilly's Vegan Is a Vegan Cake Artist
Home baker Gillian Kirk, who is 22 and has been vegan for four years, began baking vegan desserts for her sister, who was having trouble finding her bliss in a city that was still deficient in dairy- and egg-free sweets. Under the moniker Sweet Gilly's Vegan, Kirk's aesthetic is inspired by everything from Claude Monet to Kate Spade, a style that's "light and airy" with lots of pastels.
She concocts cakes with cherub-pink fondant hearts, edible wafer-paper butterflies, and shirred rucks of pastel-hued buttercream frosting. Or she hand-paints them like a semi-abstract field of fallen poppies with a palette knife and paintbrush. She knows vegan and gluten-free don't have to be killjoys. She's dialed in on flour blends that yield a fluffy crumb and the tricks and ingredients that mimic the luxury of whipped butter and cream. Her barrel-shaped whimsical fantasies boast flavors like Bailey's Irish Cream and espresso or pistachio and fresh cherries. But she began by recreating childhood snacks like vegan circus animal cookies and zebra-striped Little Debbie-size mini cakes for her sister.
She believes Dallas is catching up quickly to cities like Los Angeles, New York, and Portland as a realm for animal product-free desserts. "I don't want people to be scared to go vegan," she says. Rather, they should know they can have their cake and eat it, too.
Find her on Instagram @sweetgillysvegan or email [email protected] to order. (Tip: Plan ahead. Some days she works from 7 a.m. until 1 in the morning, but she's only one person. Getting on her custom cake list can be a feat.)
Two More Bakers Bring Dairy-Free Bliss to Dallas
Mindamora "Minda" Rocha of Merienda Monster fashions vegan Filipino- and Mexican-inspired treats that reflect her heritage. Her weekly orders and brunch boxes leave us delightfully awash in a whole roster of the chubby yeasted doughnuts called malasadas filled with Thai tea, pandan, or churro custard with a coconut caramel; a coconut and cassava cake; the little steamed Filipino cakes called puto in flavors like horchata; or a gorgeous repertoire of purple ube-topped conchas and ube-filled rainbow-sprinkled pop tarts.
"I think chefs of color have brought a lot of people to vegan food." She's proud to be of that number. "I feel like we're here to stay, and as long as people keep uplifting and normalizing, we will be part of the [conversation]."
Order here and watch for weekend pop-ups. A portion of proceeds benefits the non-profit Dallas Truth, Racial Healing and Transformation.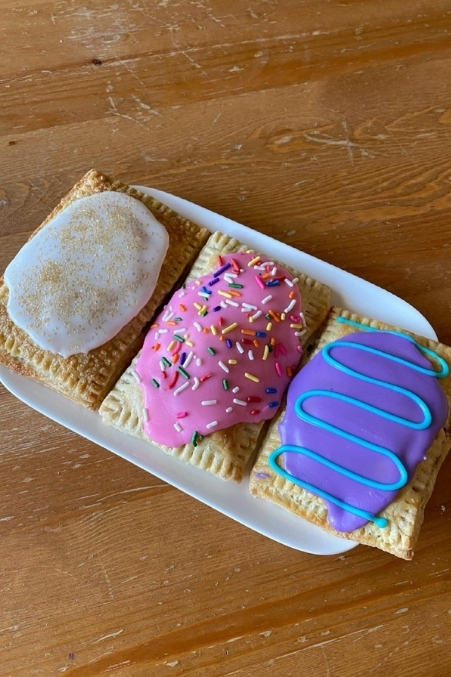 If you have a sweet tooth and have not added Amaris Riddle to your all-star list, it behooves you to do so. Under the name Moon Child Vegan Cakes, she makes vegan cakes you can specialty order. Her famous teal-squiggles-over-violet-icing mixed berry pop tarts are straight out of the '90s. There are also raised doughnuts, in all their sweet, yeasty glory—Boston cream pie or an apple fritter, strewn with apple chunks, or raspberry jam-filled blimps with sugar crystals you lick off your fingers. A rich banana pudding (a stunning coup of vegan approximations of texture, which are tricky to achieve) arrived this summer, in time for picnics. And then there are the cupcakes, with constellations of golden or platinum sprinkles and silver luster dust hiding, if you're lucky, her sultry vegan butterscotch.
Order here or check for the pastries (pop tarts, muffins, scones) she drops off at Tribal All Day Cafe on Fridays. For more about Riddle, including a childhood with a mother who decorated (non-vegan) cakes professionally, read our profile here.
Get the SideDish Newsletter
Dallas' hottest dining news, recipes, and reviews served up fresh to your inbox each week.