To open a restaurant during a pandemic is ludicrous and courageous and challenging. That is why these 12 restaurants are bound together into a cohort like no other, each one a miracle, collectively a group that has meant more than restaurants ever have. As we have emerged, vulnerable, theirs has been a task of daunting proportions: to redefine a dining landscape shaken to its core by the tumult of a global catastrophe the industry is still weathering. And, also, to give us a reason to go out again.
They have done so thrillingly, with a passion that takes our breath away and speaks to their grit and resilience. These trailblazers served us Japanese omakase tastings in a minimalist, ultra-intimate setting and elegant coursed menus in a hybrid bakery-restaurant. Their chefs showcased their heritage, whether they hailed from Brazil, Northern Vietnam, Mexico City, or the American South. And they fed our escapist fantasies via settings such as Ayahuasca Cantina's secluded hideaway, Suburban Yacht Club's coastal-vacation vibes, and Monarch's limitless sky. 
In other words, they brought us back from the brink—to delight, to commune, to experience.
Restaurant of the Year
At the beginning of this dining year, I knew several things about Junior Borges. I knew the Brazilian-born chef from his time as culinary director at Mirador, and I knew of his previous résumé, which reached from FT33 in Dallas to his years in New York. 
I knew he had yet to really cook his own Brazilian food anywhere, and I knew he was gearing up to do just that. I'd seen him posting on Instagram dishes in development involving Brazilian ingredients—charred plantain, coconut milk, the toasted cassava flour farofa—alongside images of his Brazilian grandmother, with longing and loving homages in captions.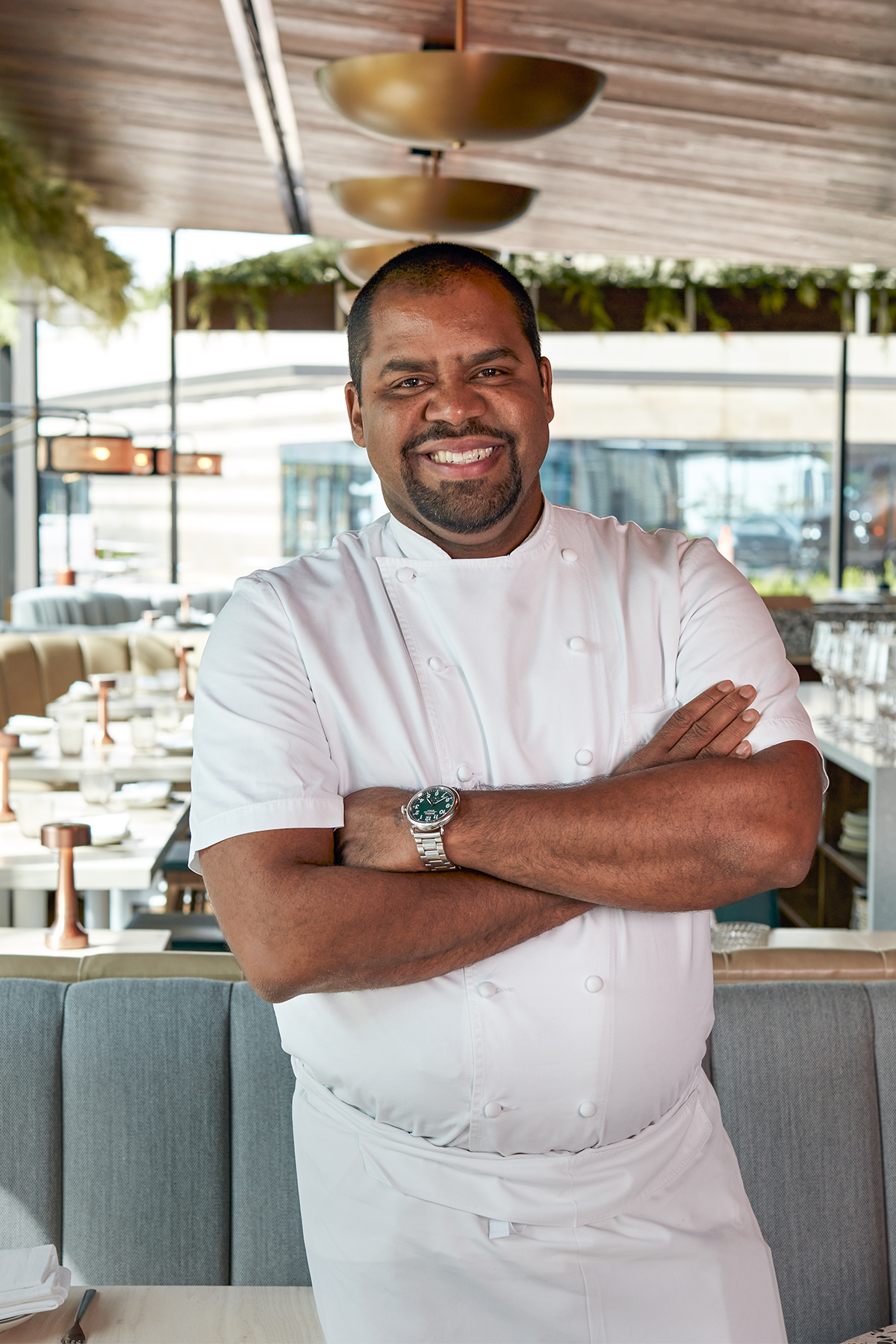 And I knew whatever was happening was intended for The Village and its tangle of apartment complexes, a dining destination that seemed surreal to me, like opening a restaurant on the moon. 
What I didn't know: what this modern palimpsest of Brazilian fine dining would taste like. And that it would blow me away. 
It's hard to say when it happened. If it was the first time, with the beachy, tapioca-based snacks, or when I encountered the airy pão de queijo and their laboriously finessed puffs of steam.
But several weeks in, on a Thursday night, I wanted oysters, something cool and delicate, and I found my compass pointing toward Meridian. It was the one place in the city I wanted to be. 
What I didn't know: what this modern palimpsest of Brazilian fine dining would taste like. And that it would blow me away.
On that stormy night, I sat at the bar and had a gossamer crudo with egg-white aminos and depth from bonito cream that exceeded any I'd ever had. I sipped a cocktail dappled with black sesame seeds over an egg-white foam. I looked around, and my fellow diners seemed to have sensed the secret, that some of the city's most vital dishes were here. 
The beauty of a Caesar salad's white, paper-thin shavings of kohlrabi. The gusto of dishes with smears and pebbles that compounded flavor. The way you could summon a side of souffled potatoes buoyed by aioli dusted with dill pollen—a golden pillow, lime bright and thrilling—to match the whole, hearth-grilled octopus and feel a forthright power.
The bread course alone delivers a whole universe, sometimes whipped lardo with fennel seeds, other times paprika- and espelette-marbled butter, alongside finely wrought breads, the province of David Madrid, Borges' equal in talent.  
But there is something deeper, too. The seafood moqueca arrives, drawn from Borges' grandmother's state of Bahia. It is one of the most mesmerizing dishes of the year, its orange-gold, sunset-hued sauce imbued with coconut milk and its velvety texture a gathering force. 
The plates' complexity and intricacy seemed to come from the fact that the food spoke so directly of Borges, finally. 
Madrid's desserts are likewise memorable, seamlessly extending the aesthetic. The servers will tell you that the brigadeiro cake's layers of chocolate mousses, hazelnuts, and gilded edible pearls are based on the simple bonbon ubiquitous at festivities in Brazil. But, of course, nothing is quite so simple here. 
It's all so exquisitely complicated, so genuine, but also the kind of restaurant where you go for a cocktail and a bite on a Thursday night. Borges brought his home to ours, and we are all the better for it.
Don't miss: In addition to Brazilian-infused fare, handmade pastas are a specialty of the kitchen. Changing frequently, they should be sought out often. 
5650 Village Glen Dr. | Northeast Dallas | 469-659-6382
Perched on the 49th floor of the remodeled National, Monarch delivered everything the beleaguered, post-quarantine world wanted. Flamboyant, expensive, and chic, this bauble in the sky tapped into Dallas' most soaring fantasies of maximalism. It's understandable if you leave feeling a touch of vertigo.
Monarch is the latest brainchild of chef Danny Grant, who earned two Michelin stars in Chicago (where he still resides). It's a steakhouse imbued with the Sicilian inflection of his Italian American blood that promises deluxe extravagances such as king crab and prawn cocktails served in a chalice of ice. You do not have to be dazzled by the food, the flair, or the impeccable wine list, but you may find you have no choice in the matter. (Just as you'll find the view has stolen your breath.)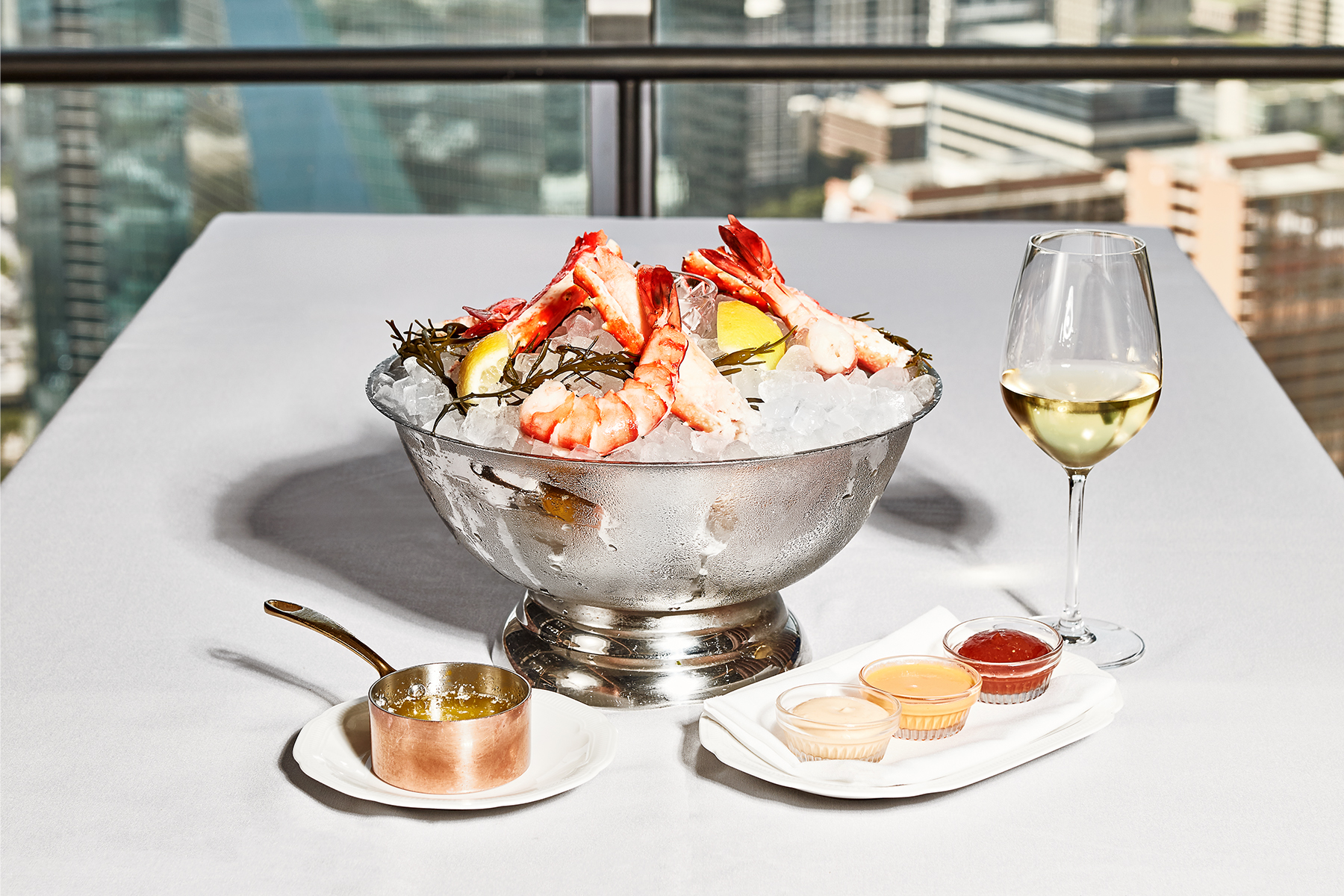 Buttermilk brodo pooled around delicately crimped agnolotti was my first taste. Then came the grandeur: a hearth-grilled dry-aged porterhouse bistecca cooked over coals. Delicate morsels of Dover sole, a sauce poured tableside. The year's loveliest risotto. Sides such as a supremely silken mascarpone polenta. Even the whipped ricotta layered with honey and black truffle oil they send out on the house. I was impressed with it all.
No one—and nothing—can be overdressed here. Not the diners. Not the carpaccio lavishly layered with truffle petals. Not the wine cart with its wonderful decanters. Certainly not the tiramisu ice cream parfait, gem-encrusted with its coffee granita.
Some places wax glamorous and then fail to deliver. Monarch lives up to all its promises, with a menu that mixes the hearth's primitive blaze with touches of refinement, like a glittery Beauty and the Beast. The thrill, of course, is in the way the two meet, sumptuous and virtuosic.
It's a heady combination, capable of taking diners to extraordinary heights. Some evenings, diners didn't seem to want to come down. That's where Monarch fails us: eventually, you have to come down.
Don't miss: The Sovereign cocktail is a sleek concoction of Maker's 46, amontillado sherry, and bitters—with a crown etched into the ice. Because, obviously. 
1401 Elm St. | Downtown | 214-945-2222
I love the way the croissant and foie gras course expresses the La Rues, husband and wife Casey and Amy, entirely. The quenelle of foie gras mousse with its fluff of Concord grape (or pear or peach) foam is divine, served with a buttery, rich croissant. Technically demanding, it changes with the seasons. That is the exquisite promise of Carte Blanche. And, with that, you disappear into their world.Both cooked at bastions of high cachet and then held elegant supper-club pop-ups. Now they've conceived an unusual hybrid: a bakery and tasting-menu restaurant on Lower Greenville. He, savory; she, sweet.
In the morning, Amy warms the air with the aroma of bliss-inducing crullers and chocolate-frangipane croissants. At night, Casey sends out dishes of subtlety and beauty over multiple courses. The brave combination charmed me. The deft execution impressed me. As did the warm, unwavering hospitality—chic but far from somber, shaped by the personal touches the duo has poured into it.
Gracing a deconstructed composition of antelope from Broken Arrow Ranch with a dainty pithivier, the dark, glossy mirror of a Bordelaise proved how much Casey's sauces are devastatingly precise. (For environmental reasons, the La Rues eschew beef; instead you might find elk or squab.) A dish of agnolotti filled with a rare find of a local cheese held aloft a delicate shower of truffle petals that melded beautifully. Foams, such as an intermezzo's sake sabayon, buoyed dishes in the most extraordinary ways. Amy, masterminding dessert, brought leveled-up rusticity in the form of Earl Grey pastry creams and buttermilk sherbets. 
The effect is a marriage. Of them, quite literally. Of technique and creativity. Of daylight and evening. Of our strongest desires and fortunate reality.
Don't miss: In the evening, a dinner-long tea pairing may bring a rare oolong, siphon-carbonated and served in the same glassware as the well-appointed wines. 
2114 Greenville Ave. | Lower Greenville | 214-434-1538
With a perfect coconut-milk and turmeric brunch punch, Âme breezed into the Bishop Arts District with enviable aplomb. The highly personal hybrid of French technique and Indian flavors, opened by mother and daughter Afifa and Sabrina Nayeb (owners of Laili, 8 Cloves, and Juicebabe), was easy to love immediately. 
The combination, for me, was a pure, intensely pleasurable plummet, my first restaurant visit after more than a year. Since then, I've loved everything about this breath of fresh air.
I fell hard for the interior, with its captivating details, such as a dusty-rose velvet curtain cinched by a tiny brass hand. I fell for sauces in muted apricot tones and washes of cream-tempered ochres that created symphonies of flavors and soft pools of color. 
Afifa, who lived in New Delhi for two years in her youth, ensures that breads get their due. Individual naan puffs, soft billows bronzed from the tandoor oven, and the flaky, pull-apart coils of paratha pay homage to the rich whorls of a cuisine, its entrancing swaths of flavor.
There were delicately bloomed spices and myriad textures and aromas: East Indian curry with shrimp encrusted in vermillion spice; a biryani, each slender grain silky and perfumed, topped with a crispy Scotch egg and cashews reddened by Kashmiri spice; and cinnabar-colored lamb vindaloo with jeweled sequins of spiced yogurt. 
These matched the absolute visual beauty of lavender malai—ricotta sponges on a plate with lavender-infused whipped cream affixed like mauve-colored lashes to the ricotta's pure-white irises. They were all part of the French Indian equation that left me intoxicated, happy to tumble headlong into an Eat Me/Drink Me, White Rabbit-worthy warren. 
After dinner, slip into the sleek Elephant Bar, a moody lounge with its own menu that beckons with well-appointed cocktails you sip on an emerald-green velvet settee. Don't question it—whether you're falling in too far or too fast. That's impossible.
Don't miss: A fabulous brunch menu brings the warm heat of mango- habanero syrup on waffles stacked with shaggy-coated chicken stained brick-red by spice.
418 N. Bishop Ave. | Bishop Arts | 214-782-9696
Describing a visit to Suburban Yacht Club might make you feel the need to come up with several synonyms for super-radiant-fabulous, different ways to say "salt spray and beach vibes." Except the restaurant has already done it for us.
It's in the lighting of atmospheric rosy and aquamarine tones, in the plants creating curtains and fringe, and in the screens playing not the game but waves.
Brian Luscher embarked on this adventure with SYC's restaurant group after closing The Grape, joining Daniel Pittman for this escape meant to remind you of SoCal.
I had no expectations, but by the end of the first night in this northern oasis, I was planning a story to which the subhead would be: "How Suburban Yacht Club—under the arc of freeway overpasses, in the shadow of office buildings, near an artificial boardwalk marina—made me fall in love with the 'burbs."
I adored chile butter-basted grilled shrimp, which the kitchen butterflies so the chile butter pools darker in the center, for a sunset-hued ombre effect. And a shrimp cocktail, its pineapple sweetness sparring fabulously with heat, to pile on saltines and half-moon tortilla chips. And the beer-battered Baja-style fish taco loaded with smashed avocado and a bright lime crema. I'm a Cali girl, and I haven't found one that transports me there more convincingly than this.
Silly and fun, with a chill, laid-back energy, SYC is for those of us yearning for a hit of escapism, the theme of 2021. Would we like another tiki drink with pandan foam and rum from a small producer in Hawaii? In this happy-go-lucky place where everything is somehow brilliant, yes, we would. What we also want? A beach.
Don't miss: You might need the Weekend at Bernie's scorpion bowl with flavors of passion fruit and orgeat, and all kinds of island vibes. Bring friends.
5872 State Hwy. 121 | Plano | 972-905-366
Ascend the spiral staircase that ushers you above Eataly's busy marketplace and into this dining room, where flame-licked steaks and smoke-enlivened vegetables cooked over the open hearth prevail. 
"We use the live fire to sear," says Jake Epstein, Terra's executive chef. "There's a little bit of bitterness that comes through, and the most satisfying part is that almost kissed-by-fire taste that you get from the flame rather than a pan. It is so far beyond, better, and stronger. It's somewhat primal." 
The cooking at Terra, then, is rather instinctual. Fiery variables—the moisture of the wood, size of the logs, heat of the coals—dictate time and focus, but therein lies the excitement for Epstein. It requires controlling the elements to produce dishes that appear much finer than the cooking style would imply.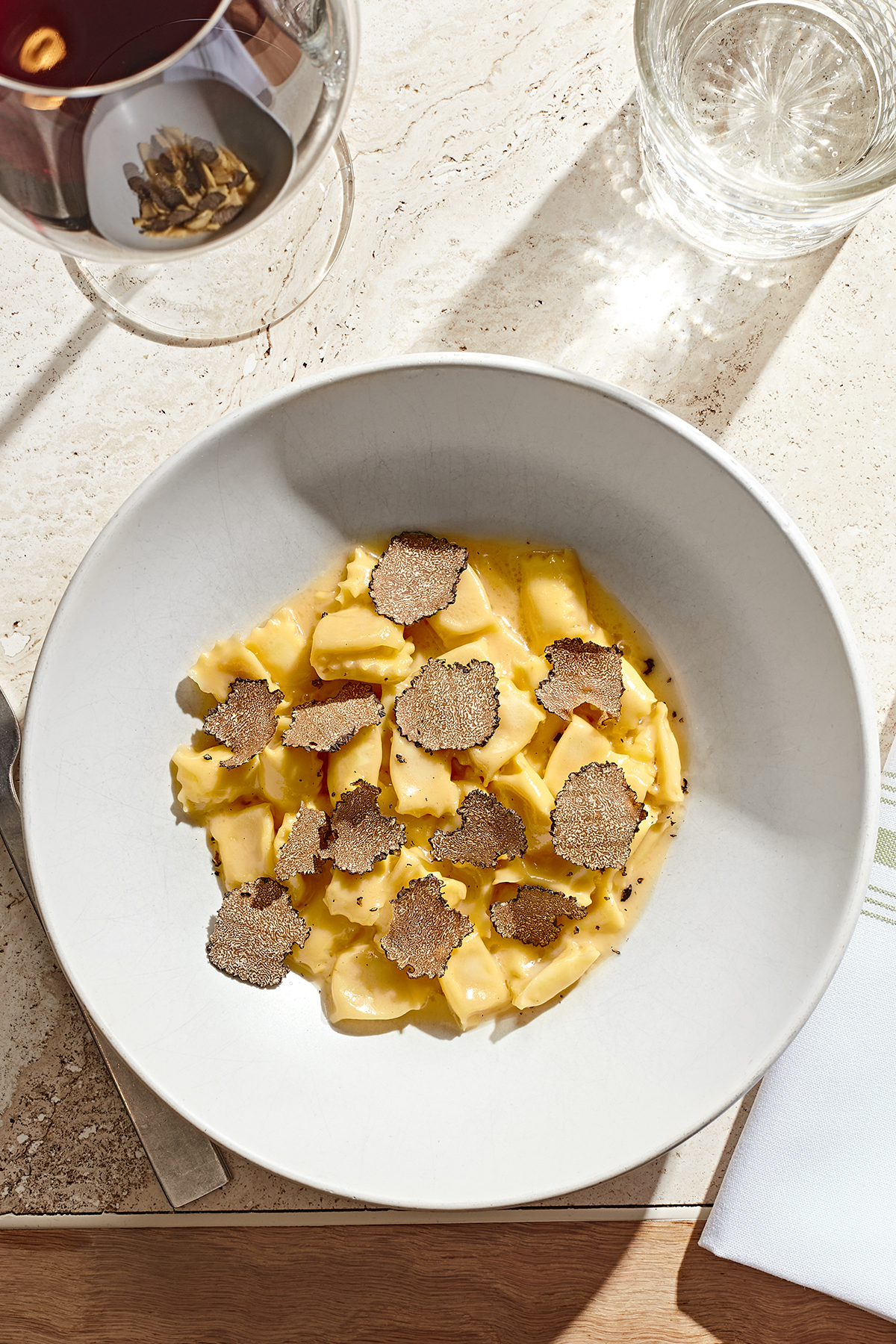 Under the Spiedini (things on sticks) section of the menu, the arrosticini are noteworthy. The classic Italian dish traditionally uses mutton, but Epstein prefers a younger lamb. Fatty lamb belly and leg cuts are layered, pressed, and then skewered before getting cooked over the fire. Served with flaky salt and bread to sop up the juices, it's simple but soul-gratifying. 
That's the magic of Italian cookery and the essence that imbues the entire menu at Terra. From grilled and skewered Gulf shrimp to Italian burrata served with Texas pecans, dishes let the best ingredients shine, whether from local farms or international producers (the very ones you can find on the shelves downstairs). 
While Terra is centered on the wood-fire hearth from whence come the smoke-kissed bites, flavors don't taste like they were pulled from a campfire but from a tiny trattoria in the hills of Umbria—even if Terra actually overlooks the NorthPark Center parking lot. —Rosin Saez
Don't miss: Vapori da Salotto—rye, amaro, bitters—is Terra in cocktail form: a little American, a little Italian, and fully hotboxed with smoke swirls under a glass cloche. 
8687 N. Central Expwy. | North Dallas | 469-759-2800
You won't forget the rose wallpaper. Or the plates on the walls or the sheer amount of marble. For Sister, it is as though the Duro group took The Grape, the space they transformed, turned the room sideways, and staged it with finds from a very luxurious estate sale, so it's all plaster statuettes and lush banquettes upholstered in burgundy tweed. 
If you have been to The Charles, its older sibling, you'll recognize the family resemblance. Certainly there are the same influences, Chas Martin and J Chastain (owner and culinary director, respectively) as well as newcomer Matt Gold (executive chef). 
One drink into the very Italian-leaning cocktails (with Cocchi and Campari), or maybe after a spritz with blood orange and ginger beer or a blushing sparkling rosé (from an excellent wine list) won't hurt. You will still remember the nutty, smoky eggplant dip and the roasted beets over a brilliant fuchsia pillow of beet hummus with crunchy puffs of wild rice and a bright, lemony vinaigrette. They're so good you swab the plate clean, the experience of getting them all in one bite wonderful, the combinations lush and riotous. 
You will fondly recall and even dream of the pork secreto, served with a fan of fennel, tomatoes, and a drift of polenta, the meat so tender and sweet it's ambrosial. And the intense lamb collar, served over a sweep of smoky harissa sauce that is as fabulous and apt as the 'nduja smeared under an octopus panzanella. (Do not forget, I should add, the pastas.)
The decadent chocolate dessert with a dramatic swish of cherry-mezcal compote and smoked ice cream and the bright mandarin sorbet with Campari-poached pears and almond cake—they have such flair.
I realized as soon as I left: you will not forget anything at Sister.
Don't miss:The pork secreto, an unusual and precious shoulder cut common in Spain. It's tender and rich in flavor and like no loin you will ever encounter. 
2808 Greenville Ave. | Lower Greenville | 214-888-8660
Tiffany Derry's tribute to the South reminds us of what grace and care one can bring to Southern food. But also, what it brings back to us.
She works her magic in a dining room that's high-ceilinged, a light and modern cube cloaked in soft grays. It says New Southern with its boisterous energy and, say, a mocktail that charms you from the start with its generous, warm nutmeg notes. The drink slides onto a marble tabletop to meet a spread of fried chicken, biscuits, and hot sauce that's just so pretty.
Surely, we needed such depth and comfort—more this year than any other. The menu, based on the conviction of Derry's Louisiana roots and given an upscale spin, is a chance for her to show off culinary credentials long amassed, introducing us gracefully to remixes wherein savoriness, sweetness, acid, and heat mesh in perfect harmony.
How do you not adore the cast-iron skillet cornbread served with strawberry-rhubarb preserves and smoked butter? Or the bitter greens swimming in tangy potlikker, made lip-smackingly rich with pork, into which we dripped drops of pepper-infused vinegar?
The triumph of the duck fat-fried chicken that has been her calling card for years lands on the table in magnificent pieces. Extraordinarily brined, crackling-skinned, and mahogany-crusted, it is so intensely flavorful that it is reverie-inducing the next morning, cold.
But then there's the sultry, smoked hen of the woods mushrooms on a cornflower-blue plate, fanned over sunny-yellow creamed corn—like nothing anyone's grandmother ever actually made but which Derry has somehow conjured perfectly.  
At times, she is less chef than tailor, bringing a cuisine's various threads and textures together into a modern design, never letting you see the seams. You'll agree it's all stunning: the pillowy biscuits sided by spiced, candied watermelon rind; the deep flavor of the gumbo's thick roux; and the duck hearts and gizzards that go into the dirty fried rice. 
This jubilant melee is an invitation to communal joy, to participate in an ongoing conversation you'll want to return to again and again.
Don't miss: The duck fat-fried chicken, brined and marinated and presented family-style (with pillowy biscuits), is familiar and yet like nothing you've had.
13050 Bee St., Ste. 160 | Farmers Branch | 214-346-4441
There is a word in Italian that describes the interplay between light and dark: chiaroscuro. That notion is front of mind at Shoyo. After a dark inner vestibule welcomes you, a sliding door reveals a counter where a dozen guests will dine while black-clad servers, delicately attentive and watchful, will tend to everyone's needs.  
In Jimmy Park's elite, omakase tasting menu-only enclave, I am reminded, too, of the Ezra Pound poem "In a Station of the Metro," which describes faces "like petals on a wet, black bough." That is how the nigiri bites look on beautifully vinegared rice, set on handmade plates.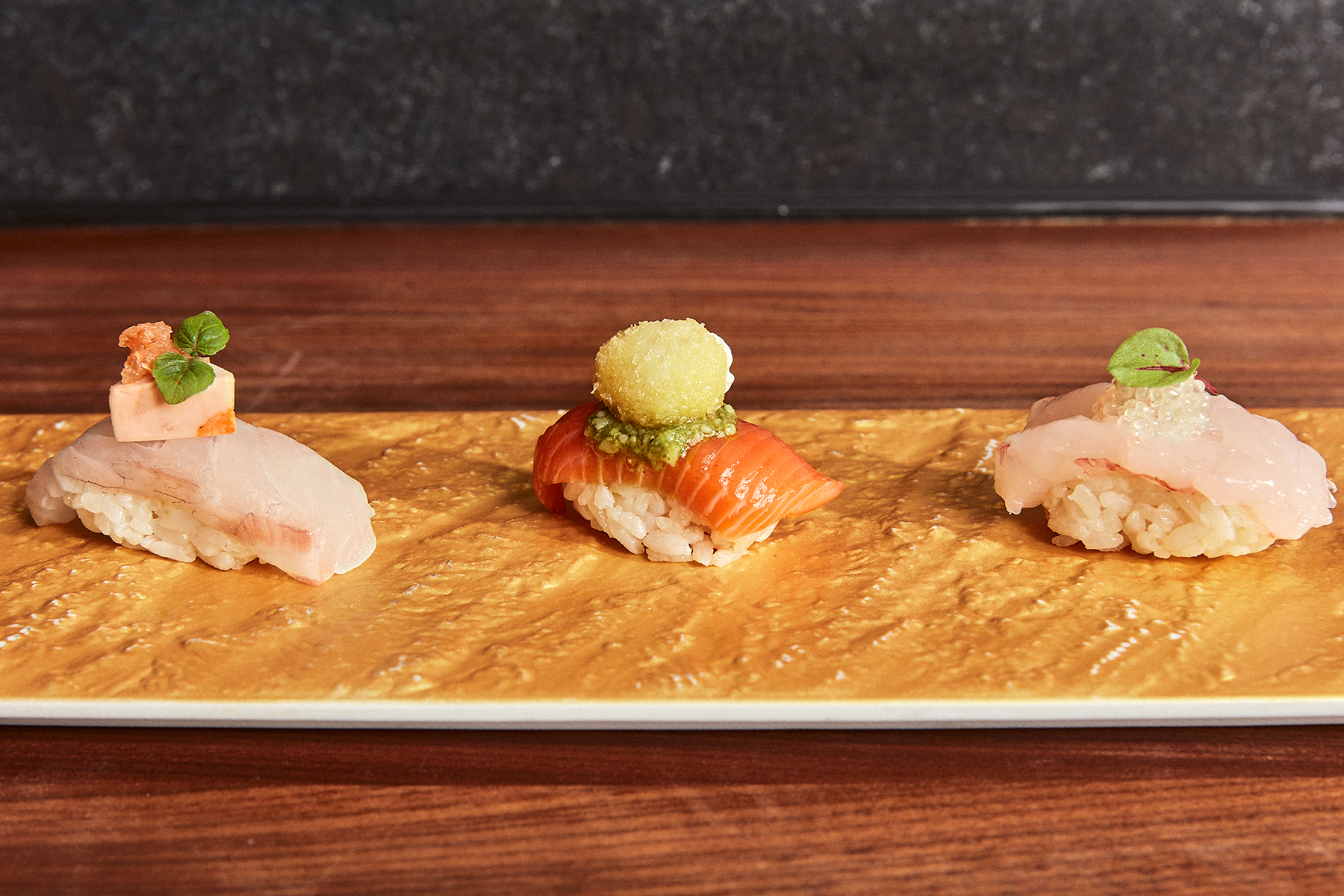 The two chefs behind everything, Park and Shin Kondo, met at Nobu, a novice and his master. Together at Shoyo, they have created a sanctuary that bowled me over in its brilliant craftsmanship. 
There is a bite here that seems to glow from within: lobes of sea urchin, saline pearls of salmon roe (ikura), and black truffle sitting on an ethereal medallion of deep-fried Texas toast. The whole gold-flecked mound disappears immediately. 
Smoked salmon belly with a dab of pesto and an orb of fried mozzarella convince you they were meant for each other. Ditto the sweet, creamy scallop with a miso caramel lacquer. Saying these combine old and new, modern and classical hardly seems to capture it. 
Over the course of a meals warm mouthfuls, Park and Kondo dazzle, and expectations vault higher and higher.
Over the course of a meal's warm mouthfuls, Park and Kondo dazzle, and expectations vault higher and higher. Eel is slathered with nori jam and crème fraîche. A shrimp tempura is shattering, craggy, fragile. A paella holds shiitake mushrooms and the pillowiest fish cakes, like tiny marshmallows. 
The space is small, but no intake of breath is too dramatic. Two chefs, 12 seats, 17 courses, one craft. You can't help but be caught up in the poetry.
Don't miss: À la carte options before the simple dessert present the possibility of adding a crab handroll or A5 Kobe beef nigiri or uni toast. Do.
1916 Greenville Ave. | Lower Greenville | 214-258-5528
The trio of culinary mavericks behind Rye in McKinney—Tanner Agar, Nic Cain, and executive chef Taylor Rause—brought its sister to us and made it relevant to Lower Greenville. 
Here, in a place where the walls are decked in mismatched framed mirrors, the long wood bar boasts an impressive array of brown spirits, and servers appear in checkered flannel, you are certainly not expecting red fish en papillote. (When was the last time you had anything en papillote?) But then it arrives, delicately tied into its parcel with a tiny pitcher of grapefruit beurre blanc. The setting and cuisine coexist nonchalantly, stylishly. The result is unlike anything we have, really.
A meal draws from the small-plate format, a delectable hodgepodge. You can have the cold-hot contrast of a masa tamal filled with cabrito, a cool scoop of sweet corn ice cream melting into nearby grits. You can have a cocktail with butterscotch-washed rum or their take on a piña colada, with coconut milk clarified by centrifugal force.
But at some point you have to wonder, Where on earth do I fit in the Icelandic hot dog? It all begins and ends with that bite of Rosewood Ranch wagyu on Danish-style rugbrød made to mimic Icelandic bread baked in ovens powered by geyser steam, its diminutive heft topped with rivulets of sweet mustard and remoulade, with fried onion ringlets on top. Therefore, the question is moot. Anyway, be honest: you'll never forget the night you wedged it between the purple cauliflower purée from the last shared-format plate and the popcorn crème brulée. 
Because this bite—this insanely delicious, addictive, perfect bite—is the one you will talk about for the rest of the year.
Don't miss: The PB&J dessert, a decadent stack of brioche French toast with pillows of nutty cream and candied grapes, is big enough for four spoons to dive in.
1920 Greenville Ave. | Lower Greenville | 972-803-3391
When Carol Nguyen was a little girl in Hanoi, Vietnam's capital city, she'd walk five minutes from home to a spot famous for its goi du du khô bò, a green papaya salad with salty hunks of beef jerky. 
"We had that papaya salad almost every afternoon," Nguyen says. Now the chef and owner of Ngon Vietnamese Kitchen serves it in her Lower Greenville restaurant. (She also runs Crazee Crab in Grand Prairie.) "When I create some new item on the menu  …  I'm reminded of Vietnam and my childhood when I was just a little one. So that's very special. This is from Hanoi." 
This glimpse of Nguyen's North Vietnam is evident all over the wide-ranging menu. Banh mi boast hefty schmears of French cognac foie gras pâté—cognac, Nguyen says, makes an appearance wherever possible to compound flavor. "We're from Hanoi, so we try to put cognac on everything." There's also the multicomponent bowl of bun cha Hanoi, another ode to Nguyen's hometown, wherein a bed of vermicelli rice noodles cradles chargrilled minced pork and pork belly alongside piles of fresh herbs and a side cup of sweetened fish sauce.  
Familiar dishes, such as spring rolls or bun bo hue, pop up in Vietnamese restaurants around the city. Still, Ngon's dedication to finely crafted northern Vietnamese flavors makes it a singular destination in one of Dallas' major dining neighborhoods, rather than out in the suburbs where pho and banh mi shops abound. 
Ngon is different. It's for masterful soups and curries, the loaded mi hoanh thanh and duck cá ri, especially. It's for umami-packed pho, the broth for which is simmered for a good 24 hours. And it's for Nguyen's mother, Ngôn, who often asked her, "Are you sure you can cook? Are you sure you can have that much of time to run both restaurants like that?" 
Nguyen knows she can cook. And now we do, too. —R.S
Don't miss: Slurp up a bowl of pho Hanoi made with a rich-yet-balanced beef broth—just, please, don't ask for extra hoisin sauce. It's perfect as is.
1907 Greenville Ave. | Lower Greenville | 469-250-7183
From its vantage point hidden down a hallway behind Xamán Cafe on Jefferson Boulevard, Ayahuasca Cantina has accomplished something incredibly remarkable.  
It is a lair, where candlelight flickers against brick walls and plates and drinks come to you out of the gloom of the dim cave. Every visit, you're enchanted, like it's the first. 
You feel the pulse that runs through it, Gerardo Barrera and Mauricio Gallegos' mission to create a direct, unfiltered expression of the Mexico they know. In doing so, they have crafted a love letter that reminds me of my favorite haunts and my best meals in Mexico City. It is there in Luis Sifuentes' cocktails with Spanish and Indigenous names, some served in earthenware cantaritos, that mix up agave in all its expressions: mezcal, raicilla, sotol, tequila. Even pulque—the rare (to us), milky, fermented potion of agave sap that sweetens an elixir—is here. 
Meanwhile, flautas filled with tart hibiscus flowers served over sweetened cinnamon-and agave-imbued goat cheese make you surreptitiously mop the plate. They're dainty and earthy at once. A cool nopal ceviche is an extraordinary snack, and the blue masa of a squash blossom and braised rabbit quesadilla rivals the midnight dark. 
Don't you think more people should know about Ayahuasca? Wouldn't you imagine a place with such a deep, electric pulse would lure hordes? 
And yet, plunged in the penumbras, you feel like you're alone in the world. We both do and don't want it to stay that way. 
Don't Miss: Sous-vide duck breast served over an almond-green pepita pipian sauce, with julienned vegetables and a shower of flower petals, is refined and elemental. 
334 W. Jefferson Blvd. | Oak Cliff | 469-687-0005
Get the SideDish Newsletter
Dallas' hottest dining news, recipes, and reviews served up fresh to your inbox each week.
Author
Eve Hill-Agnus was D Magazine's dining critic from 2014-2021. She has roots in France and California and during her time at D wrote…