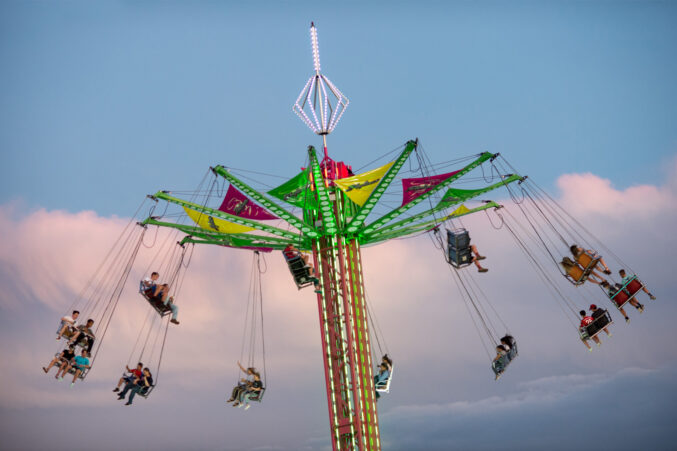 How To Spend One Day In Denton
Borrow our notes on the best little college town in Texas.
Each issue, we'll be traveling to a nearby town and helping you figure out how to spend your day. We're starting with Denton. We hope you enjoy.
---
At the greatest dive bar in North Texas, I am drinking something cold, eating something greasy, and saying something stupid to my college roommates. My friends roll their eyes. It's been awhile, but we've been here—this situation, Cool Beans, Denton, Texas—many times before.
There's a ground-floor patio now, a brunch menu that makes no mention of the waffle fries I once held dear. But I recognize a Bowling for Soup poster on the wall, and the faces in the daytime crowd look so familiar that I feel I could greet them each by name. Eavesdropping on a table nearby, I hear two guys chatting about The Flying Tomato, the legendary Fry Street pizza joint that burned down not far from here in 2007. It was already a fading memory by the time I showed up a year later. I know I've heard previous versions of this conversation.
In Denton, nostalgia competes with the forgetfulness of youth. There's annual population turnover from the colleges (UNT and TWU), and there are plenty of people who like the place so much that they stick around long after graduation. If folks here reminisce a lot, it's because this is a town where it's remarkably easy to do things worth remembering. If the music venue you loved in college has closed, well, there's a new venue and a new band you're going to love. The drummer has never even heard of The Tomato. And that's OK.
Things To Do
1. Denton County Courthouse-on-the-Square Museum
There's a museum inside the historic 1896 courthouse at the center of Denton's downtown square. But the real action is out on the lawn, where you'll often find free performances or some other happening. You can bring food and a picnic blanket to make it happen yourself. Also try: Quakertown Park, 700 Oakland St.
110 W. Hickory St. 940-349-2850
2. Oak St. Drafthouse & Cocktail Parlor
Choose a spot out in the spacious beer garden, or land on a comfy couch inside what the owners identify as the third-oldest house in Denton. Either is a fine place from which to enjoy one of the 70 brews on tap. A food truck was slinging gyros out front on a recent Sunday. Also try: Harvest House, 331 E. Hickory St.
308 E. Oak St. 940-435-0404
3. Recycled Books
Admire the exterior for a moment. This old, purple building used to be an opera house and still has a certain highbrow grandeur. Then lose yourself among the several stories of shelves filled with used and rare books, vinyl records, and DVDs.
200 N. Locust St. 940-566-5688
4. Dan's Silverleaf
Like Austin without the traffic and all those Facebook employees, Denton is known for its live music scene. Dan's regularly welcomes touring acts along with homegrown alt-country legends like Slobberbone. You'll also encounter more experimental programming. I once saw a Jurassic Park musical staged here. Also try: Rubber Gloves, 411 E. Sycamore St.
103 Industrial St. 940-252-4369
5. Cool Beans Bar & Grill
At "Denton's Finest Dive Bar," depending on the season or the whim, brunch may mean Philly cheesesteak breakfast hash with waffle fries and Cheez Whiz, and the $6 Liquor Pitchers may be garnished with Bomb Pops or rainbow-colored Airheads. Also try: Tom's Daiquiri Place, 1212 W. Mulberry St.
1210 W. Hickory St. 940-382-7025
6. GreenHouse Restaurant
Pre-pandemic, Monday jazz nights at the bar here were a weekly staple, thanks in part to the local talent pool created by UNT's nationally recognized jazz program. With or without the music, this neighborhood joint is worth it for the burgers, the stuffed chicken, and the cool, casual vibe. Also try: Sweetwater Grill & Tavern, 115 S. Elm St.
600 N. Locust St. 940-484-1349