Now more than ever, small North Texas businesses need your support, whether they be doughnut shops, restaurants, dance troupes, dog boarders, or purveyors of cactuses. Here are 172 great local places and people we love. Now get out there and do right by Dallas while you live your best—masked, vaccinated—life!

Best Taco Joint
It's impossible to choose: the cochinita pibil taco, with fuchsia-pink pickled onions to cut through spice; the chile relleno–stuffed taco, swathed in guajillo-morita salsa; the tortas and burritos, too. Ismael and Olmy Sanchez had no business making such a marvelous taqueria. But they did, with sequined curtains for a festive touch.
720 E. Jefferson Blvd. 972-982-0004.
We started in a gas station in McKinney. People thought authentic Mexican food should be $1 tacos. But my husband said the most important thing is the flavor. He believed in it, and now here we are.

Olmy Sanchez, Del Sur Tacos
Best Brewery
Much like the universe for which this brewery is themed, Celestial Beerworks' roster of brews feels ever-expanding. You may have tried many a hazy IPA or fruity gose or pale ale, but the beer coming out of this mural-bedecked brewery and taproom in the Medical District is otherworldly in the best possible way. Honorable mention: White Rock Alehouse & Brewery
2530 Butler St. 972-707-0523.
Best Seafood Boil
Asian meets Cajun at this Bishop Arts restaurant where buckets brim with crawfish, shrimp, clam, and crab, all doused in Krio's signature Cajun spice blend. Opt for the Connie Sauce, which adds fresh garlic and coconut milk to the mix for a creamy-spicy boil broth. Honorable mention: Tasty Tails
233 W. Seventh St., Ste. 100. 214-253-9311.
Best Paletas
Anyone can freeze some juice and call it a Popsicle. These, though, are paletas of the highest caliber, with flavor combos like cucumber-lime-jalapeño, prickly pear–mango, and, simply, pico de gallo for the savory dessert lovers out there. If you miss the paleta cart rolling down the street, head to Encanto Pops. Honorable mention: Picolé
831 W. Davis St. 469-899-7434.
Best Fried Chicken Sandwich
You could rappel into the crags of the fried chicken sandwich here. Its golden-brown bark boasts deep nooks and crannies, the mark of flavor-packed bites. Halal chicken is brined in buttermilk, fried, then accompanied by pickled jalapeño slaw for the Cardi B, or with dill mayo and pickles in its sister sandwich, known simply as Cardi.
4029 Crutcher St. 214-272-7312.
Best Late-Night Eats
After making the rounds at your usual Deep Ellum haunts, you'd better make a pit stop at Brick and Bones before hopping in an Uber. A bucket of some of the best fried chicken in town—even better at 1 in the morning, after a few too many Lone Stars—will provide necessary sustenance for your pothole–riddled ride home.
2713 Elm St. 469-914-6776.
[img-credit align="alignnone" id=" 859112″ width="677″]
[/img-credit]
Best Paella
Head chef Iñaki Betrán, who hails from San Sebastian, where he started cooking at the Michelin-starred Arzak, prepares the beloved Spanish rice dish of his home country in four styles: vegetable-centric; rabbit and chicken; seafood (which is a classic must-try); and "black," so named for the squid ink in which the paella is simmered.
321 N. Zang Blvd. 214-484-6006.
Best Chocolatier
Mother-and-daughter duo Andrea and Cindy Pedraza fill their adorable cottage in Bishop Arts with handmade molded chocolates, truffles, and bars like the roseberry (milk chocolate with dehydrated raspberries and rose petals). As our only female (and Latina) bean-to-bar chocolatiers, they source cacao in part from a woman-helmed cooperative in Chiapas, Mexico. Honorable mention: Dude Sweet Chocolate
508 W. Seventh St. 214-941-3030.
Best Place for Filipino Lechon
The spit and cleaver fever is high. Friday through Sunday, down a very ordinary road in Princeton, you'll find whole-pig lechon, the Filipino suckling pig roasted in a coal-lined pit, its burnished, crackling skin yielding meat you pre-order by the pound. Add homey Filipino dishes—pancit, lumpia, tapsilog—served from a tiny wooden shack. It's a trip to an island beach cookout.
10424 County Road 1099, Princeton. 903-422-3071.
Best Vietnamese
From banh mi harboring smears of smooth cognac pâté to the most impressive lineup of noodle dishes—both brothy bowls and ones accompanied by a sidecar of soup for sipping—Ngon demonstrates the vastness of Vietnamese cuisine. With items like chicken wings caramelized in fish sauce and grilled duck breast curry, run, don't walk, to Ngon. Honorable mention: LaVui
1907 Greenville Ave. 469-250-7183.
Best Korean
As the name implies, the Korean dishes at Joy Kitchen are made with (and for) pure pleasure. The bulgogi always delivers. The seafood pancake is crispy, large, and filling. The burbling pot of kimchi jjigae and pork neck bone soup is comforting. It's all so home-style, in fact, that you serve yourself. Honorable mention: Dansungsa Korean Restaurant and Bar
1455 Buckingham Rd., Ste. 112, Richardson. 972-479-9450.
Best Ramen
Following George Itoh's sudden death in April, his family has carried on the tradition he started, with truly exquisite ramen made with noodles sourced from Sapporo, Japan. All of the elements—soup, noodles, toppings, seasonings, oil—get due respect. Begin your pursuit with the delicate Fuji apple and burdock broth. Honorable mention: Ten Ramen
2724 Commerce St. 972-707-0732.
[img-credit align="alignnone" id=" 859110″ width="677″]
[/img-credit]
Best Tasting Menu
Oh, to live inside the beautiful culinary mind of chef-owner Misti Norris. How does she dream up some 10 courses of nonstop food magic? In her hands, beef heart is paired with ash-soured sunflower seeds and peanut dukkah. She spoons brine beurre blanc over quenelles of fermented eggplant. Every meal here is elegantly executed.
601 N. Haskell Ave. 318-935-0906.
Best Bagels
Tight-crumbed and blitzed with poppy seeds (our order), these hand-shaped concentric circles took the city by storm. Jessica and Seth Brammer's bagels, made with Barton Springs Mill heirloom flour, are perfect on their own, but you might want to give them a schmear. Choose from an assortment of cream cheeses like fresh strawberry or scallion and hard-cooked egg. Honorable mention: Shug's Bagels
lenoresbagels.com
Best Barbecue
When it comes to barbecue, we certainly aren't lacking places of worship. But we still get religion here, coming for the shivering beef rib, whole salt-crusted sweet potato Hot Mess, green-chile mac and cheese, and banana pudding. Diane and Justin Fourton recently lifted up the restaurant industry with their Dinner Bell Foundation. Honorable mention: Cattleack
2702 Main St. 214-748-8900.
Best Burger
For a good while, we were enamored with lofty burgers bearing all the bells and whistles. That's not Harvey B's. The retro-style joint does quarter- and half-pound patties the old-school way. No fuss. No frills. Just melted cheese, toasted buns, shredded iceberg lettuce for crunch not flavor, and maybe some freshly grilled jalapeños. Honorable mention: Peak Inn
4506 Columbia Ave., Ste. 100. 469-334-0980.
Best Order-Ahead Bakery
La Casita, the labor of love of Maricsa Trejo and Alex Henderson, is a wonderland of sweets (and some savory, too). Place Saturday orders while hungry—how to choose between the dulce de leche cruffins and ham and Gruyère croissants?—then systematically devour in your car in a shower of crumbs. Honorable mention: Girl With Flour
580 W. Arapaho Rd., Ste. 230, Richardson. 440-462-2078.
Best Regional Mexican Food
For his new concept inside Revolver Taco Lounge, Regino Rojas had us at the promise of multicourse tasting menus centered on indigenous strains of corn he sources from various regions of Mexico, nixtamalizes, and grinds in a molino. From there, among other things, you find wagyu rib-eye and carne asada on a midnight blue tortilla.
2701 Main St., Ste. 120. 214-272-7163.
Best Banh Mi
Crackling, airy baguette (from Quoc Bao); house-pickled daikon and carrots; ginger tofu, chicken, pork, or house-steamed sausage; killer sauce; and runny egg—meet your banh mi bliss. Sandwich Hag owner Reyna Duong is a force in the community. Honorable mention: Quoc Bao Bakery
1902 Botham Jean Blvd. 214-484-5971.
Best Chinese Takeout
Squeezed into the same strip mall as Asian supermarket Jusgo is a delightful little Szechuan kitchen that elevates simplicity and packs plenty of spice. You'll find all your takeout classics on the menu, but here even dry-fried green beans and beef sautéed with onions and Szechuan peppers take on new dimensions of flavor.
240 Legacy Dr., Plano. 972-517-1374.
Best New York Deli
The bagel dough hails from Brooklyn. The classic lox platter is called the East Coaster. The owners are two hip, kosher mavens besotted with traditional Friday-only challah (with chocolate swirls or za'atar spice) and accompanying dips (try the sweet roasted onion). Our deli prayers are answered. Honorable mention: Cindi's NY Deli
13534 Preston Rd. 469-677-5424.
Best Japanese
Slurping soba is a ritual that should capture one's full attention. But it's not just the delicate buckwheat noodles here that are special. Sashimi and both hot and cold dishes are of the utmost delicacy. And everything about Teiichi Sakurai's tranquil oasis reads like a sanctuary.
1722 Routh St., Ste. 110. 214-220-2828.
Best Restaurant Patio
With its own bar and turf, along with cactus-garden centerpieces and vintage Airstream trailer, maximalist Nick Badovinus' largest-footprint patio is a freewheeling fantasy with excellent Hi-Balls and fire-kissed tacos. We're happy to suspend reality awhile. What's not to like about a Baja vacation with no extra charge?
1520 Greenville Ave. 214-827-1520.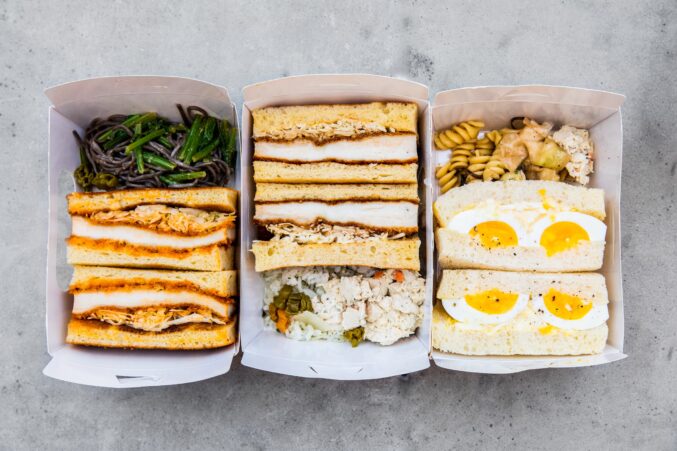 Best Japanese Sandwich
The Japanese sando sensation arrived with Instagram-worthy fillings stacked between layers of fluffy milk bread. We went wild for matcha cream and strawberries; koji-cured chicken cutlet riffing on Nashville hot chicken; and the priciest sandwich we'd ever seen, featuring A5 wagyu flecked with black truffle and gold leaf.
Best Vegetarian-Friendly
It's not just the sunny bowls with avocado and jalapeño-cashew cream cheese that the cool kids eat on the patio. Nor the walnut-mushroom faux sausage crumble tacos. It's not merely the brilliant beet lattes and biscuits with macadamia-nut ricotta that make us feel like we're brunching in L.A. It's everything, really, that gives us plate envy.
263 N. Bishop Ave. 469-776-8003.
Best Vegan
At TLC, chef Troy Gardner excels at plant-based faux meats and cheeses. He trained in Spain but looks everywhere for inspiration for seitan andouille sausage served with his arrabbiata sauce, chicken-fried steak with gravy, vegan brats, or the dollops of cashew mozzarella on a pizza.
520 Shepherd Dr., Ste. 10A, Garland. 469-562-4001.
Best Bakery
Tida Pichakron turns out a spunky, creative, and polished lineup, from macarons to fruity mousse bars, Key lime tarts to pistachio-raspberry cakes. Her gluten-free and paleo options have earned a devoted following. As have monthly beignet pop-ups that have you showering the sidewalk in a snowfall of powdered sugar. Honorable mention: Bisous Bisous Patisserie
10230 E. Northwest Hwy. 214-856-0166.
Best Bakery for Bread
Bresnan Bread and Pastry
Matt Bresnan's orange-cardamom morning buns and vanilla cream Danish pastries with Cara Cara orange and pistachio are unparalleled. But even more, we love his loaves. Hand-mixed, long-fermented, burnished domes include country sour, multigrain, golden raisin-fennel, and walnut-olive. Praise be, they're opening a brick-and-mortar in McKinney.
Various pickup locations.
[img-credit align="alignnone" id=" 859109″ width="677″]
[/img-credit]
Best French Restaurant
Michelin-star chef Bruno Davaillon recently joined fellow Frenchman-restaurateur Stephan Courseau to oversee this breezy neighborhood bistro. Now there's even more reason to don your blue-and-white stripes or foulard and eat endive-Roquefort salad, trout almondine and haricots verts, and pommes frites—maybe with a Pouilly-Fuissé from Davaillon's native Loire Valley.
3230 Knox St., Ste. 140. 469-250-4007.
Best Italian
David and Jennifer Uygur have re-created their intimate Lucia in the former Macellaio space. It's all the good stuff you remember, plus more. There are still pastas shaped with care and house salumi—from mortadella to 'nduja—served with griddled house focaccia. Desserts, like a fennel-pollen gelato, blew us away. Honorable mention: Nonna
287 N. Bishop Ave. 214-948-4998.
Best Tex-Mex
The best Tex-Mex is arguably the one in your neighborhood—your staple spot where you take the family for a no-brainer solid meal. That's E Bar, the Old East Dallas favorite for sizzling fajitas, brisket tacos, and blackened fish tacos (don't sleep on the fish tacos!).
1901 N. Haskell Ave., Ste. 120. 214-824-3227.
Best Ice Cream
We see you, Columbus, Ohio-based Jeni's, we really do. But we're suckers for this essential local gelato shop, where flavors—mascarpone fig, Piedmont hazelnut, or coconut stracciatella—are perfectly mastered. Carlo Gattini works Willy Wonka wonders with frozen gelato cakes that layer semifreddo with gelato and liquor-soaked sponge cakes in flavors like pistachio-rose.
2116 Greenville Ave. 469-776-9077; 5959 Royal Ln., Ste. 622. 214-964-0073.
Best Place for Dessert
Pastry wizard Maggie Huff continues to impress us with the most memorable desserts we eat in town. We still remember those hearth-smoked strawberries paired with beet froyo and poppy seed cake. And the love story carries over to a devastating dark chocolate-almond tart or anything served in pressed-glass footed coupes.
4002 Oak Lawn Ave. 214-434-1244.
Best Dim Sum
Brave the weekend line to the elegant upstairs dining room to do dim sum in style. Carts bear an array of beautifully executed treasures: bronzed barbecue pork buns, pan-fried radish cakes, flaky egg tarts, and even preserved egg congee. Accent with the uncannily addictive house-made chile sauce. Take a jar home, in fact.
221 W. Polk St., Ste. 200, Richardson. 214-575-8888.
[img-credit align="alignnone" id=" 859111″ width="677″]
[/img-credit]
Best Cheese Shop
When you want a triple-crème, a goat's milk Gouda, or a funky bleu, the team helps you out. Classes teach curd nerds to pair fromage with wine, charcuterie, and bubbles.
3511 Oak Lawn Ave. 214-219-1300; 920 S. Harwood St. 214-238-2312.
Best Coffeehouse
Equally great for a caffeine-fueled laptop session as it is for a nice brunch with a friend, Xamán is undoubtedly a community cafe where you can get espresso-spiked horchata and expertly brewed single-origin coffee, which is sourced from smaller family-owned farms in Mexico. Honorable mention: Fiction Coffee
334 W. Jefferson Blvd. 469-687-0005.
Best Mod Taco
Sometimes you want street-style protein-​masa-sauce combinations (trompo, asada, lengua, cabeza). But sometimes you want to spiral off into a caramelized cauliflower, kale, and pepita taco drizzled with lemon epazote aioli. Or tacos that sport pecan-smoked chicken or scallops and crispy leeks. Andrew Savoie is happy to (deliciously) oblige.
9661 Audelia Rd., Ste. 112. 972-685-5280.
Best Hot Chicken
Even if you are a Nashville native and were born to the hot chicken scene, this isn't the place to get cocky. Ask for a sample before you work your way up the Scoville scale. We're perfectly happy with Mild and extra Comeback Sauce. If creamed corn is on the specials board, get it.
100 S. Central Expwy., Ste. 18, Richardson. 214-272-3735.
[img-credit align="alignnone" id=" 859295″ width="677″]
[/img-credit]
Best Doughnuts
We eagerly await creative doughnut genius Jinny Cho's rotating monthly flavor drop like an album release: whipped cream swirls, dreamy fillings, and other tricks give you rose and Champagne with gold leaf, matcha and red bean, or an Arnold Palmer or Ferrero Rocher doppelganger. Honorable mention: Hypnotic Donuts & Chicken Biscuits
8161 FM 423, Ste. 250, Frisco. 469-535-3585.
Best Steakhouse
At steak wizard John Tesar's den, we crave the off-cut bavette from 44 Farms as much as the behemoth rib-eye, dry-aged 240 days. We also love the story of how he sold steaks during lockdown, dropping marbled flesh into waiting car trunks. Honorable mention: Town Hearth
5300 E. Mockingbird Ln. 214-443-9339; 6121 W. Park Blvd., Plano. 214-299-5943.
Best Lobster Roll
We long waited for the perfect lobster roll, and then Nick Badovinus delivered it: freckled, rosy hunks slathered in butter, cradled in a warm, griddled, split-top brioche bun. Get it Maine-style if you wish, chilled and daintily dressed in ultra-creamy, tarragon-flecked mayo. We're not choosing sides in the chilled-versus-warm debate.
33B Highland Park Village. 214-559-4245.
Best Pizza
Pizza Leila
In this year when the right angles of Detroit-style pizza dominated, Leila's similarly square Sicilian pies woke us from our blister-crusted Neapolitan reverie and split the difference. We swoon over the spinach-artichoke situation that oozes and bubbles and the porchetta-laced meat-lovers' hit, The Butcher. Honorable mention: Pizzeria Testa
2001 Ross Ave. 214-484-1395.
Best Vegetarian Sandwich
Patina Green Home and Market
Patina Green makes a beautiful and (we'll say it) poetic vegetable sandwich: roasted cauliflower—meltingly tender and still warm—meets arugula, firm raw cheddar, and a smear of green-tomato relish in a tryst with Hippie Health bread. Perch outside the shop on Mc​Kinney's historic square, and you've got a brilliant picnic. Honorable mention: Brown Bag Provisions
116 N. Tennessee St., Ste. 102, McKinney. 972-548-9141.
[img-credit align="alignnone" id=" 839598″ width="677″]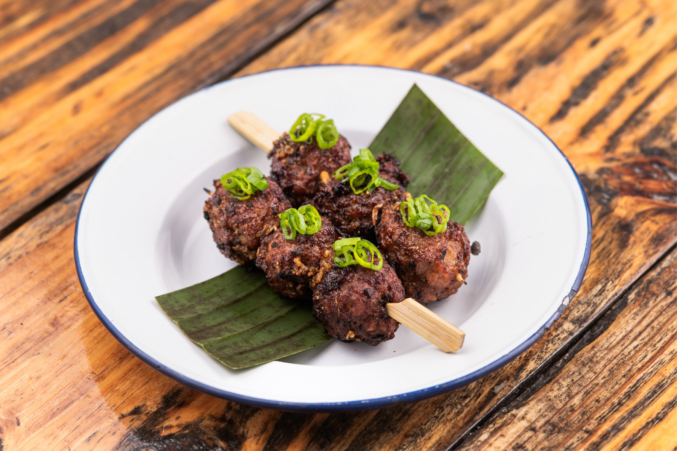 [/img-credit]
Best Laotian
We've slurped many a boat noodle broth at this much-acclaimed, soulful gem. This year, Donny Sirisavath debuted a whole new Laotian repertoire, including a spring roll wrapped in vermicelli noodles and even a soothing, hearty curry, heady with makrut lime and served over a mound of purple rice.
4812 Bryan St., Ste. 101. 972-803-3373.
Best Reason to Spoil your Appetite
Sure, we've gorged on pre-dinner bread and butter. Junior Borges and David Madrid elevate the trope to artistry. Don't miss ordering the tableaux of Madrid's buttery brioche or individual miche with its flanking attendants: house ricotta with charred alliums, fiery 'nduja, or cultured butter marbled with blueberry powder or green garlic.
5650 Village Glen Dr. 469-659-6382.
Best Fried Chicken
Roots Chicken Shak
Fancy fried chicken naysayers, recant! Former Top Chef contestant Tiffany Derry debuted her mahogany bird at the tony Private Social 10 years ago, applying the notion of crackling duck-fat fries. Now, get it piled onto a sweet-potato bun with West Indies hot sauce, too. This is her speaking in her own voice. Honorable mention: Mike's Chicken
7800 Windrose Ave., Plano. 469-546-5961.
Best Custom Vegan Baked Goods
Moon Child Vegan Cakes
Amaris Riddle grew up with a cake decorator mother. But now she uses vegan ingredients to make spectacular cakes, raspberry jam- or cream-filled doughnuts, nostalgia-tinged pop tarts, seasonal scones, and luster-dusted cupcakes with fillings like sultry vegan butterscotch. We really wouldn't know the difference. Honorable mention: Sweet Gilly's Vegan
Best Thai
The husband-and-wife team of George Kaiho (from Japan) and Yuyee Sakpanichkul Kaiho (from Bangkok) creates a unique blend of street food at this casual Thai counter-order spot near the Dallas Farmers Market. We tantalize our taste buds with the fiery nam tok moo, then soothe them with the sweet pandan custard with sticky rice.
1011 S. Pearl Expwy., Ste. 190. 214-238-2232.
Best Caribbean
No matter the weather, no matter the season, The Island Spot is a bright tropical paradise on Jefferson Boulevard, where quintessential jerk spices grace everything from luscious chicken to ribs to nachos. Whether it's simmered oxtails or curried goat that lands on your table, do wash it all down with a sunset-hued rum cocktail from the full bar. Honorable mention: The Caribbean Cabana
309 W. Jefferson Blvd., 972-913-4919; 2661 Midway Rd., Ste. 105, Carrollton.
Best Place to Buy Booze
That bottle of reserve chardonnay from Mexico's oldest vineyard that you had on the Riviera Maya? Check. Your favorite Japanese gin and whiskey? Double check. Dom Perignon rosé, Cowgirl Creamery Mt. Tam, and Swiss truffles? Triple check. Doorstep delivery with optional gift wrap? Hallelujah. Honorable mention: Bar & Garden Dallas
5360 W. Lovers Ln. 214-350-8989.
Best Gourmet Grocery Delivery
Farmer Jeff Bednar had us at fresh herbs, microgreens, and edible flowers from his hydroponic farm in Lucas. Working with local growers, he added to his roster heirloom veggies, grass-fed meats, farm-fresh eggs, whole grains—even handmade pasta, bagels, and tamales. The inside of our fridge has never been so lovely.
Best Drag Brunch
Booty's Street Food
What do you get when you cross a pirate-inspired restaurant concept with an elevated yet affordable globally inspired menu, attach it to a Deep Ellum hostel, throw in MC Barbie Davenport Dupree and DJ Dezi, and give it a good stir? The liveliest drag brunch, every Sunday. Eye patch optional.
2801 Elm St. 214-712-8118.
Best Frozen Margs
Crystalline and slushy, tangy and filled with top-notch tequila, the frozen margarita at José (dubbed The Squozen) is extraordinary. Yes, it's bright with lime juice and a hint of agave. Yes, the tile bar takes you straight to Guadalajara. It's truly a frosty concoction worthy of the city that invented it.
931 W. Lovers Ln. 214-891-5673.
[img-credit align="alignnone" id=" 859108″ width="677″]
[/img-credit]
Best Breakfast Taco
La Nueva does most of its own work. The chorizo is seasoned in-house. The tortillas come from here, too, sturdy corn and pillowy flour in which you can fold a mix of scrambled egg and guisado rojo or bean and cheese. Just make sure you don't leave without a tub of bright, rich salsa guacamole.
9625 Webb Chapel Rd. 214-358-7261.
Best Sushi
Uchi was always a go-to for special celebrations, but this year it became a takeout revelation. "Cool tastings" of flounder and candied quinoa or bigeye tuna, Fuji apple, and goat cheese lost nothing in translation on the journey home. But we're back to dining in for the wagyu tataki with miso foam.
2817 Maple Ave. 214-855-5454.
Best Dumplings
We are fools for the steamed soup dumplings, which take us back to lazy mornings in Shanghai. Our biggest mistake is never ordering enough of the pan-fried pork buns dusted with black sesame seeds, the yin of the pillowy soft top meeting the yang of the crisp golden underbelly. Honorable mention: Momo Shack
8150 N. MacArthur Blvd., Ste. 190, Irving. 972-831-9888.
Best Family-Friendly
The best way to describe this Sylvan Thirty staple is controlled chaos. On weekends, expect a dozen or so kids darting across the open manicured lawn outside this Italian market. Parents sip wine and eat pizza on the sprawling patio while their kids tire themselves out. For families, it's the best of both worlds.
1868 Sylvan Ave. 214-653-2426.
[img-credit align="alignnone" id=" 809052″ width="677″]
[/img-credit]
Best Place to Celebrate an Anniversary
The luxurious dining room is the perfect spot to mark an occasion. Sink into opulent velvet banquettes, watching servers glide by. Order foie gras poêlé, white asparagus topped with trout roe pearls, and a nose-bleed-priced, famously pedigreed Blackmore Australian wagyu matched with a rare four-figure bottle. You only live once.
4514 Travis St., Ste. 132. 469-466-8263.
Best Butcher Shop
Snout-to-tail butcher Nathan Abeyta and his team continue to innovate and grow. In June, their small North Dallas shop expanded into the space next door, allowing them to dry age more Texas beef, cure more heritage Red Wattle pork guanciale, brine more Black Angus beef pastrami, and smoke more Cajun boudin. Honorable mention: American Butchers
7989 Belt Line Rd., Ste. 146. 469-906-6420.
Best Brunch
In the former Bolsa space, chef Matt Balke and partner Corey McCombs' take on New American/Modern Southern means sitting on the covered patio amid reclaimed wood and butterscotch-colored leather seats and diving headlong into feather-light blue cornmeal pancakes slathered in satiny cajeta, kale biscuits with rivulets of chorizo gravy, and mimosas.
614 W. Davis St., Ste. 100. 469-620-3644.
[img-credit align="alignnone" id=" 859106″ width="677″]
[/img-credit]
Best Breakfast
The menu here is largely based on various breakfast sandwiches, most served on house beer biscuits, and everything you order delivers a perfect good-morning bite. If you're feeling adventurous, try the Duder: house-made chorizo on a biscuit with peanut butter and jelly. As the menu says, trust us.
1155 Peavy Rd. 972-807-2899.
Best Detriot-Style Pizza
This year, many tried to take on the Motor City trend of thick-crust pizzas covered edge-to-edge with Wisconsin brick cheese, but the pie pros behind Cane Rosso and Zoli's truly made it their own. The Luka Brasi is a slam dunk, with dollops of ricotta, meatballs, fresh basil, and the requisite red sauce on top.
3501 Hulen St., Fort Worth. 817-402-0050; 14910 Midway Rd., Addison. 469-754-9654.
Best Indian
OK, it's upscale Indian-French, but we're whisked away by the respectful flavors Afifa Nayeb conjures in the restaurant she co-owns with her daughter, Sabrina. Don't miss the dinner menu's lamb vindaloo and naan puffs. Brunch boasts a rich tikka Benedict. And in the moody Elephant Bar, settle in with a Purple Cloud, with coconut milk and egg white foam.
418 N. Bishop Ave. 214-782-9696.

[img-credit align="alignnone" id=" 859600″ width="1800″]
[/img-credit]
Best Floral Concept
Patricio Rivera grew up in Honduras, studied fashion in California, and worked as a busser in a Dallas restaurant before launching his floral concept in Bishop Arts. His designs are as artful and soulful as he is, and they can be delivered in custom ceramics crafted by local and national artists.
420 W. Davis St. 469-531-6723.
Each time I do an arrangement, I pick a word. Today, it is power. I'll use 20 flowers and pull up a single peony. My client will wake up and remember she's one of a kind.

Patricio Rivera, Twelve Thirty Four
Best Kitchen Accessories Store
Coryanne Ettiene launched her eponymous market after years of global travel, and Ettiene Market is a love letter to the cuisines she enjoyed along the way. You'll find a selection of kitchen and bar must-haves like cast-iron pans and linen towels, in-house creations like candles and cocktail mixers, and imported treats from around the world.
402 W. Eighth St. 214-892-3846; 115 W. Louisiana St., McKinney. 214-799-5195.
Best Flip-Flop Shop
The Dallas-based sandal concern has for years run an under-the-radar storefront tied to its warehouse on the edge of Deep Ellum. But now, with an adorable new two-story boutique on Knox that serves Bloody Marys on weekends, the brand is ready to take the next step. You'll find apparel not in the online store, and a full line will roll out this fall.
3213 Knox St. 469-890-5366.
Best Alternative to a Department Store
This Preston Center shop may be small, but it's packed with everything the HP mom needs: Aviator Nation cropped crews and striped sweatpants for after-school pickups, LoveShackFancy ruffle skirts for mimosas on the Park House patio, and Hidden mom shorts for when you want to be mistaken for one of the girls.
8415 Preston Center Plaza. 214-234-7511.
Best Game Shop
Jamison Sacks' store, smartly located next to the excellent Zeus Comics, offers hundreds of games: card games, board games, trading card games, role-playing games, puzzles. You can pick up extra dice and snacks, too, while you're there.
1328 Inwood Rd. 214-631-4263.
[img-credit align="alignnone" id=" 852714″ width="677″]
[/img-credit]
Best prickly Plant purveyor
A photographer by trade, Payge Stevens became enamored with cactuses on a wedding shoot in San Miguel de Allende. When her business struggled during the pandemic, she invested her savings in a plant shop at South Side on Lamar. The storefront stocks hundreds of spiky options, from tabletop sizes to 10-foot varieties.
1409 Botham Jean Blvd., Ste. 326. 469-569-3619.
Best Baby Fashion
Kari Schlegel Kloewer's shop started as a blog before morphing into an online retailer and finally a brick-and-mortar store in 2017. It's the place to go for all your high-fashion baby needs, from the sweetest Sal & Pimenta swimsuits to Little English playsuits embellished with crocheted pink elephants.
7801 Inwood Rd. 214-912-1858.
Best Baby Registry
New moms need it all, and Carrie Barnard aims to give it to them at her Snider Plaza shop. You'll find the best bassinets, strollers, nursing chairs, and sleep sacks. If you don't know what you need, she has created pre-built registries on the website based on gender and age. Just put your feet up and click.
6721 Snider Plaza. 469-232-9420.
[img-credit align="alignnone" id=" 587534″ width="677″]
[/img-credit]
Best Beauty Boutique
Operated and curated by Joanna Czech, aesthetician to stars like Chrissy Teigen and Anna Wintour, this eponymous boutique has the tinctures, serums, and lotions to help you achieve your optimal epidermis. Now that you're vaccinated, splurge and book one of Czech's famed LED facials.
2410 Victory Park Ln. 214-812-9488.
Best Women's Clothing Boutique
This jewel box of a boutique on Lovers Lane stocks apparel and accessories from an artful mix of established and emerging brands like Zimmermann, Hunter Bell, Alice McCall, and Smythe. Their complimentary personal shoppers can help pull everything from breezy patterned maxi dresses to retro-inspired flares. You'll also find candles, home decor, and gifts.
4400 Lovers Ln. 214-987-0837.
Best Place to Buy Sneakers
In the past few months, we've seen the likes of Raekwon, Nelly, Erykah Badu, and Ezekiel Elliott stop in here for fresh kicks. But we don't need celebs to tell us what we already know: Centre has created a vibrant local sneaker community, with the best selection around and regular (and fair) raffles via its Instagram account.
5307 E. Mockingbird Ln., Ste. 140. 214-821-2028; 1455 W. Magnolia Ave., Ste. 117, Fort Worth. 817-900-9270.
Best Affordable Gallery
Erin and John Hossley may have changed locations (saying bye-bye to Bishop Arts in favor of the Design District), but their mission remains unchanged: to showcase the most interesting area artists, with works to fit your price range whether you're looking to spend a couple thousand bucks or a couple dozen.
2532 Converse St. 214-943-5650.
Best Eyewear Brand
Le Chi Eyewear
Kelechi Ohanaja's stylish eyewear brand, Le Chi, is centered on diversity. The frames are designed to fit and flatter a wide range of facial structures. The Black-owned company, which recently appeared in Vanity Fair, carries glasses for women and men in eye-catching shapes and hues, available with or without prescription lenses.
@lechieyewear, lechieyewear.com
Best Place to Buy Boots
Miron Crosby's Highland Park Village storefront carries an array of artisanal boots for men, women, and children, all handmade in Texas. The brand offers multiple boot heights—short, mid-calf, and traditional cowboy—in leathers and exotic skins. For a bespoke experience, work with the in-house concierge to personalize your pair.
25 Highland Park Village, Ste. 201. 214-238-3385.
[img-credit align="alignnone" id=" 499232″ width="677″]
[/img-credit]
Best Place to Buy Cookbooks
You know that friend who whips up Persian feasts like it's nothing, reads essays by writers from M.F.K. Fisher to Anthony Bourdain, and is always questing for something to up her batch cocktail game? This is where you stock her bookshelf.
5600 W. Lovers Ln., Ste. 142. 214-484-4289.
Best Designer Hardware
From doorknobs and cabinet pulls to faucets and fixtures, Pierce offers a vast selection of hardware to suit every taste and budget. They're the exclusive stockist of some of our favorite lines—Rocky Mountain Hardware and Ashley Norton among them—and, unlike many designer showrooms, they're open to the public.
2615 W. Mockingbird Ln., Ste. 101. 214-368-2851.
Best Hardware Store
Sharon "Boots" Anderson, the sixtysomething CEO of Half Price Books, bought a Lake Highlands hardware store in 2016 and then named it after a prize-​winning Buff Orpington bird that a customer dropped off. There's a great gift shop and all the hardware you need, plus once a month you can buy your own pullet from Urban Chicken's John Ramos.
10233 Northwest Hwy., Ste. 409. 214-343-1971.
Best Toy Store
An ordinary toy shop gives way—via (shh!) a secret bookshelf passage—to a wonderland of interactive, carefree play for all ages. Cheerful employees (aka "counselors") lead classes, encourage fun, and can make recommendations from the store's selections, from sporting goods and board games to action figures and art supplies.
9830 N. Central Expwy. 214-612-0451.
Best Men's Clothing Store
DLM is our go-to destination for on-trend menswear. The Oak Cliff storefront carries apparel, accessories, and shoes from national and local brands; you'll find KREWE sunglasses, Far Afield patterned button-downs, Veja sneakers, and Boardies swim shorts.
837 W. Davis St. 469-917-8081.
Best Vintage Dig
Benny Hinkle's antiques cred comes from two decades in the biz (plus his marriage to Dolly Python proprietor Gretchen Bell). At his Haskell Avenue shop, next door to his wife's, he stocks oddities like human pinkie finger bones and stuffed beavers. Head over to the Riverfront location for your art and furniture needs. Say, an embalming table for your entryway.
1920 N. Haskell Ave. 214-238-3740; 1026 N. Riverfront Blvd. 214-701-8242.
Best hat bar
Originally a biannual market, Flea Style has permanently settled in Deep Ellum and Frisco. In addition to expanded product offerings, from housewares to a new custom hat bar (featuring their own Stetson), they still carry a solid selection of old band t-shirts, throwback accessories, and vintage jackets, dresses, and denim.
3009 Commerce St. 469-520-3222; 6765 Winning Dr., Ste. 830, Frisco. 972-292-9510.
[img-credit align="alignnone" id=" 859125″ width="677″]
[/img-credit]
Best Affordable Women's Clothing
This dream venture by former Favor the Kind staffer Lindsey Munchrath is still going strong. In addition to homewares like vintage Moroccan rugs, you'll find vegan leather jackets, floral midi dresses, linen rompers, cabana slides, and that gold evil eye charm necklace you need to turn this year around.
837 W. Seventh St. 214-238-6389.
Best Self-Care Shop
Molly Mathias, who also owns the Magic Hour boutique, opened her new self-care shop in Bishop Arts in November. You'll find everything from bath salts and CBD balms to vibrators and lubricants. Mathias' mantra for better mental health? A little more conversation and community support, a little less judgment, please.
250 N. Bishop Ave., Ste 150.
Best Metaphysical Shop
Park your broom, walk in, and explore your spiritual side at "Dallas' Oldest Witches Shop." The purple house on Bell Avenue off Lower Greenville celebrated 24 years in Dallas in March, and it maintains its tradition of guiding customers through spiritual books, powders, herbs, and other apothecary items.
5618 Bell Ave. 214-823-1963.
Best Contemporary Furniture Store
Cookie-cutter furniture won't do? Get thee to Scott + Cooner, the Design District staple that carries hard-to-find and exceptionally innovative lines from around the world. Their large, open-to-the-public showroom boasts a wide, ever-changing selection of home furniture and accessories that aren't just perfunctory but true works of art.
1617 Hi Line Dr., Ste. 100. 214-748-9838.
Best Record Store
Josey was already a crate-digger's paradise—and then it brought in the inventory (and iconic sign) from Bill's Records, after the passing of Dallas record-store icon Bill Wisener. Block off an afternoon if you plan on stopping by.
2821 LBJ Fwy., Ste. 100, Farmers Branch. 972-243-2039.
Best Suburban Farmers Market
Coppell's charming town square may be a creation of the new Main Street development, but the city's farmers market is truly authentic. Focused on local farmers and makers, it is stocked on Saturday mornings with seasonal organic produce, free-range meats, dairy, breads and pastries, pickles and jams, and fresh flowers.
768 W. Main St., Coppell.
Best Leather Goods
Odin Clack is the hands and heart behind Odin Leather Goods, the Coppell-based craft manufacturer of classic leather wares. From wallets and belts to totes and messenger bags, all of Clack's pieces are made from the highest-quality materials and intended to last—getting more beautiful with age and wear.
5768 Grandscape Blvd., Ste. 115, The Colony. 972-410-0532.
Best Outdoor Furniture and Accessories
On weekends, this nursery near Love Field is chockablock with home gardeners stocking up on annuals and perennials. Inside the sizable showroom, you'll find high-end grills, Adirondack chairs, and one-of-a-kind Domiziani dining tables. Pick out a water feature and a set of Baccarat crystal tumblers to complete the look.
6950 Lemmon Ave. 214-350-9200.
Best Fragrance Shop
We were obsessed with Shasa Mitcham back when he was the fragrance guru at Forty Five Ten. Then Brian Bolke brought him on board at The Conservatory on Two, his 4,000-square-foot curated retail wonderland above Chanel. So that's where we now go for our Queens and Monsters eau de parfum. Mitcham just gets us.
100 Highland Park Village, Ste. 205. 972-863-8590.
[img-credit align="alignnone" id=" 859126″ width="677″]
[/img-credit]
Best Gift Shop
This carefully curated shop is a bright and airy oasis on Davis Street. Here you'll find an eclectic mix of homewares, wellness products, kitchen and bar staples, and accessories from local small businesses and global artisans alike. Whether your gift recipient would prefer smudge sticks, perfume oils, hand-thrown earthenware, or patterned pillows, you'll find it at Magic Hour. Honorable mention: The Merchant
250 N. Bishop Ave., Ste. 130. 972-913-4402.
Best Vintage Furniture Store
If you're going for that glamorous 1950s Upper West Side vibe, look no further. From a pair of matching Marge Carson slipper sofas in mohair to a curvaceous Samuel Marx chest of drawers, you'll be able to set your own Marvelous Mrs. Maisel scene.
1329 Slocum St. 214-887-6221.
Best Stationery Store
Talking Out of Turn is as fun and irreverent as its acronym, TOOT. The pastel paradise in Bishop Arts is filled with candy-colored planners, stationery, stickers, self-care products, and home goods, most of which are emblazoned with cheeky phrases and playful patterns.
841 W. Davis St. 833-252-8668.
Best Vintage Clothing Store
Formerly Haus of Vintage, this treasure trove of bygone goods has an outfit for anyone who lives for a vintage score. Find pastel-hued suits to pair with sneaks. Discover bright Coogi sweaters that are made of wool and '90s-themed mood boards. An acid-washed shearling denim jacket? Oh, yes. Honorable mention: Koneko Studio
413 N. Tyler St.
Best Garden Shop
Founded in 1951, the family-owned nursery is trustworthy and knowledgeable, focused on educating its clients through its Garden Coach Program and a plethora of gardening tips. Whether you are a connoisseur or a beginner, they'll meet you where you are and guide you to the home garden of your dreams.
7700 Northaven Rd. 214-363-5316.
Best Homegrown Furniture Line
If you only know this Design District shop for their vintage finds, it's time to refamiliarize yourself. In recent years, the showroom has stepped up their in-house Scout Label line of furniture, offering well-crafted, on-trend furnishings from chairs and stools to case goods. They do custom work, too.
155 Howell St. 214-741-2414.
Best Home Accessories Store
Scratch your instant gratification itch at this sophisticated showroom, which stocks a large supply of grab-and-go housewares—both of the attainable and show-stopping varieties. Best of all, the diverse mix of vintage and production pieces ensures you could outfit your entire home in one fell swoop and no one would be the wiser.
1515 Slocum St. 214-265-7272.
Best Bridal Registry
Composed of more than 50 top lines from around the world, Blue Print's recently launched tabletop collection makes a perfect foundation for aspiring entertainers who are feathering their nests. From fine china and crystal to everyday serving pieces, you'll find it all—with an on-staff registry expert to assist.
2707 Fairmount St. 214-954-9511.
Best Pet Supply Store
Kathleen Evett owns and operates Deep Ellum's only shop devoted to our furry friends, and she does so with unmatched customer service. Leashes, high-quality pet food, toys, and treats of all sorts are so thoughtfully packed into The Upper Paw you'll want to give it a high-paw.
2809 Commerce St., 214-760-9991.

Best Agave Bar
What's happening behind the clandestine bar tucked into the back of a coffee shop off Jefferson Boulevard is pure magic. You won't find hallucinogenic ayahuasca, but the cocktails here sing with small-batch and Mexico-sourced agave spirits—including the little-seen sotol—that will soothe your soul. Honorable mention: Las Almas Rotas
334 W. Jefferson Blvd. 469-687-0005.
It's a place to introduce the ancestral mixology and the taste of our gastronomy. It blends together in harmony to celebrate the great Mexican heritage

Mauricio Gallegos, Ayahuasca Cantina
Best Happy Hour
Let's just get to it: half-price martinis ($5–$6), half-price oysters ($1.50 each), and half-price double cheeseburgers ($10) every day from 3 pm to 6 pm at the Hudson House bar. You won't find a better after-work deal in Dallas.
4448 Lovers Ln. 214-583-2255.
Best Wine Bar
At Trova's stylish digs in Preston Center, we like to nosh on truffle fries or a build-your-own cheese and charcuterie board (think Shropshire and elk salami). The selection of more than 20 wines by the glass lets us romp in classic wine regions with forays into pét nats and a selection of fortified wines (hello, sherry!).
4004 Villanova St. 469-930-0069.
Best Bar With Games
The kids are monopolizing Mario Kart, the aunts are battling zombies on The House of the Dead 2, and Mom and Dad are enjoying some quiet time with a couple of Crackberries on the patio. But then everyone comes together for a round of Killer Queen, handily defeating that cocky pair of 12-year-olds. Honorable mention: Another Round
2777 Irving Blvd. 214-208-1922.
Best Place to Day Drink
The enormous outdoor area, with its crushed granite yard and shade canopy of mature trees, is the perfect place to hoist a Beer-Rita in a frosty schooner and listen to classic country as you watch the suckers sweating on the Katy Trail. It's a very Uptown version of Austin, in the best possible sense.
3127 Routh St. 214-468-0600.
Best Pet-Friendly Patio
When there are as many pups as people at a drinking establishment, that's how you know: this is one pet-friendly spot. Toller Patio has a concession stand–like bar and plenty of room for belly rubs. Get a boozy blueberry-lemonade frozen pop for yourself and a peanut butter pupsicle for your best canine friend.
3675 Ross Ave. 469-608-1780.
Best Dive Bar
The windowless bar with a legal capacity of 49 got its 15 minutes about 15 years ago, when Don Nelson offhandedly mentioned on The Ticket that he drank there with Owen Wilson. Nothing much has changed since: the shuffleboard, the live music, and Becky, the manager, going on 25 years behind the stick.
9191 Forest Ln. 972-234-9064.
Best DJ
DJ Rizkilla
When nightlife shut down, DJ Rizkilla brought her energetic, well-crafted mixes to TikTok and went viral. Her popularity is well earned: each mix is constructed with special attention to the artist's background and period of Texas hip-hop. Did we mention Bun B is a fan?
Best Comeback Bar
This subterranean cocktail bar in the Joule hotel was an early casualty of the COVID-19 pandemic. When it returned, it came back with a new leader: longtime Deep Ellum bartender Gabe Sanchez, who had sold his Black Swan months prior. His infusions and blends—the pecan-infused bourbon returns!—are back, just a mile west.
1530 Main St. 214-261-4601.
[img-credit align="alignnone" id=" 859122″ width="677″]
[/img-credit]
Best Live Music Venue
The music and musicians regularly explode onto the sidewalk and street in front of Revelers Hall on the main drag of the Bishop Arts District. So the idea of a live music venue is a bit of a moving target at this New Orleans-inspired haven for jazz. Which is as it should be.
412 N. Bishop Ave. 972-982-2661.
Best Biergarten
The biergarten here functions like the backyard for the entire Tyler Station complex. It's penned in but spacious, lights twinkling overhead, red wood chips underfoot, patio tables sprinkled about along with a few two-tops built into the fence. Usually there are a couple of food trucks stationed just outside. It's only missing you and, say, one or two Lee Hazy Oswalds.
1300 S. Polk St., Ste. 222. 214-506-0480.
Best Gay Bar
This Oak Cliff hole in the wall feels like home, especially to those who've chosen their families. The pool table is always open, drinks are always cheap, snack bags of Cheez-Its are always clipped to the wall, and everyone always brings their own plastic bags to respectfully cover the karaoke mic. Honorable mention: The Round-Up Saloon and Dance Hall
325 Centre St. 214-941-2145.
Best Dinner and Music
Check the Bonton Farms Facebook page for their frequent dining experiences under the South Dallas stars. Live music is performed by the likes of Champagne Yacht Club and the Mississippi Bastard Project, and gourmet offerings–ranging from three-course dinners to light bites–are made from ingredients pulled straight from the farm.
6915 Bexar St. 972-982-2245.
Best Distillery for a Drink
The luxe tasting room, with its marble-topped bar and velvet-upholstered banquettes, is a fitting backdrop for the fruits of distiller Ezra Cox III's labors. A rotating list of cocktails is made from the Texas grain-based spirits, fresh-squeezed juices, and house-made bitters and infusions. Anything with Blackland's small-batch bourbon gets our vote.
2616 Weisenberger St., Fort Worth. 682-268-5333.
[img-credit align="alignnone" id=" 859121″ width="677″]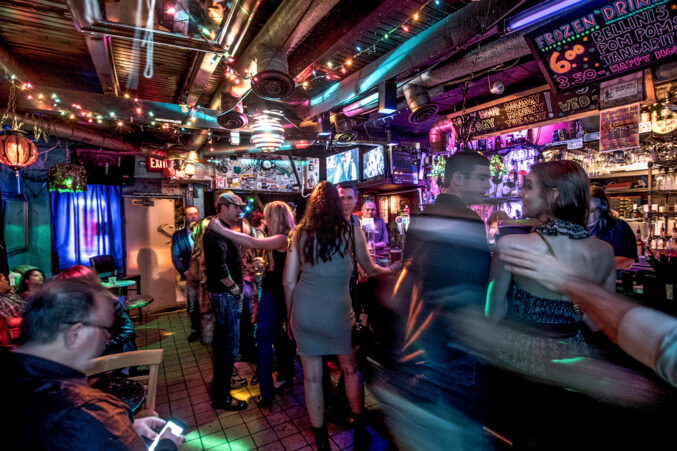 [/img-credit]
Best Frozen Drinks
The Pom Pom, Tangarita, and Bellini are essential to the Grapevine. Served from rotating slushy machines and spiked with Everclear, one of these frozen drinks fast-tracks the buzz you're catching on the dive bar's sprawling patio. They're just like the bar: funky, strong, and way too easy to help kill an afternoon. (Pro tip: ask for them mixed together.)
3902 Maple Ave. 214-522-8466.
Best Bar With Patio
The tiny, unpretentious Bishop Arts joint has a surprisingly sophisticated seasonal menu that transitions smartly into solid late-night options, which aid those doing battle with John Barleycorn. The patio, with its mix of picnic tables and funky wooden chairs, feels like someone's backyard because it is. Note: there are cats.
232 W. Seventh St. 214-943-2677.
Best Bar for a Date
The softly lit, black-and-gold interior here sets just the right tone for a romantic tête-à-tête. Jettison also happens to be the home of some of the city's best cocktails, like the cognac-star anise coffee-orgeat creation, One of These Nights. Low-alcohol options beckon, if you need to keep your wits (mostly) about you.
1878 Sylvan Ave. 214-238-2643.
Best Bookstore Bar
The Wild Detectives is everything we missed during the pandemic: a low-key hangout spot where you can read quietly in the corner, catch up with friends over a cocktail, happen upon a book reading or musical performance, or enjoy a beer on a backyard picnic table on a warm spring afternoon.
314 W. Eighth St. 214-942-0108.
Best Bar for Beer
When it opened, in 2012, this was the first place in Dallas to fill growlers, and the OG is still pouring strong. From Clown Shoes to Toppling Goliath, Peticolas to Manhattan Project, its 30 taps reveal the work of a discerning palate. And nine of them are now dedicated to Craft and Growler's own well-made brews.
3601 Parry Ave. 214-821-1122.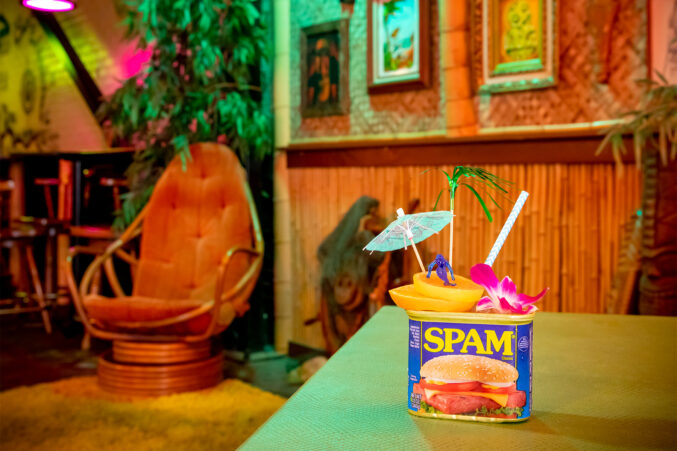 Best Tiki Bar
Those lamenting the loss of Trader Vic's will raise a fruit-garnished, umbrella-topped drink to Lowest Greenville's new kitsch-bedecked tiki bar. Swizzle slings rum cocktails both classic and original, like the Pukiki Park swizzle, in which rum, port wine, and brandy-like aguardiente are tempered by passion fruit and lime juice.
1802 Greenville Ave., Ste. 110. 469-862-3102.
Best Bar Food
Often bar food means a platter of nachos or greasy fries. No shade to either of those classic standbys, but the entirely vegan menu at Shoals is incredibly satisfying sans meat. The shiitake ceviche is light and refreshing. Curried chickpea empanadas pack a little kick of spice. The Chop Cheez is an ode to the bodega favorite, here made with Beyond Burger meat. You need this in your life.
2614 Elm St., Ste. 110. 469-677-0176.
Best Mariachi Bar
With the allure of a speakeasy (no obvious signage, a door that looks more underground fight club entrance than lively drinking den), Yellow Rosa is a whimsical little spot in Deep Ellum, which feels increasingly rare by the day. Escape to a courtyard dining room bestrewn with viny plants and macrame art, and sip Champagne spiked with amaro amid the acoustic tunes of live mariachi on Sundays.
2901 Commerce St. 469-996-8969.
Best Sports Bar
As we explained in the July issue, this is a footie pub, a better than reasonable facsimile of a proper British public house. So it's a sports bar if your sport is football, which is to say soccer. A recent facelift makes this the perfect spot to watch the World Cup.
2850 N. Harwood St., Ste. 100. 214-273-5151.

[img-credit align="alignnone" id=" 859133″ width="677″]
[/img-credit]
Best Place for a Staycation
Hôtel St. Germain
Lavishly decorated in 19th-century French antiques, Hôtel St. Germain offers a European-style getaway in the heart of Uptown. Stay in one of the seven luxurious suites in the century-old home, dine on top-notch French cuisine served on fine china, and save the airfare.
2516 Maple Ave. 214-871-2516.
You can feel like you are in Paris without ever having to leave Dallas city limits. Our antique French furnishing and attention to service gives customers an old-world European experience.

Claire Heymann, Hôtel St. Germain
Best Aerial Workout
Blue Feather Aerial
Is it just us, or do we all still dream of living out our P!nk 2010 Grammy Awards performance fantasy? Fulfill your need to fly and get an awesome core workout at Blue Feather Aerial in Bishop Arts. Whether you show up in sweats or a fierce catsuit and bedazzled stilettos is up to you.
233 W. Seventh St., Ste. 110. 469-577-4170.
Best Fitness Studio
The West Village and Preston Center spaces aren't just pretty to look at. The uber-talented instructors who teach Cycle, Train, Sculpt, Sprint, and more will push you until the sweat stings your eyes—but they'll cheer you on while doing it.
2801 N. Central Expwy., Ste. 200. 214-238-2377; 6116 Luther Ln. 214-987-1109.
Best Gym
OSO Climbing Gyms
OSO, the Design District's new 36,000- square-foot gym, isn't just for rock climbers. While it does have 120 rotating bouldering routes for all skill levels, it also has a fully equipped fitness facility, group classes, and a yoga studio. Pick your workout for the day and then hit the sauna to unwind.
1330 Conant St. 844-676-4967.
Best Vet
Preston Center Animal Clinic
The best vet, it should go without saying, is the one to whom you feel most comfortable bringing your beloved pet. For many, that means the care from the good folks at Preston Center Animal Clinic. Service here feels special and calm. Honorable mention: Parker Animal and Bird Clinic, Plano
5934 W. Northwest Hwy. 214-368-3592.
Best Pet Boarder for Small Dogs
Fireplug Inn
Located close to DFW Airport, it's an easy drop-off when we're flying out of town. We love how they specialize in dogs under 25 pounds, meaning our senior Chihuahuas aren't getting crushed by an over-eager Great Dane. Bob and Bella Sparkles deserve a relaxing boutique hotel getaway, too.
2251 E. Continental Blvd., Southlake. 817-329-8835.
Best Sunless Tanning
Sugar and Shears
The certified technicians at Lindsay Taylor Reed's shop will remove unwanted hair with sugar paste before your tanning (but not the same day; it's bad to have open pores), and they'll apply a moisturizing base before you hit the beach. They'll also mix the custom color to match your skin tone, giving you a better, bronzer version of yourself.
2650 N. Fitzhugh Ave., Ste. 150. 405-830-1066; 251 W. Southlake Blvd., Ste. 17, Southlake. 405-830-1066.
[img-credit align="alignnone" id=" 859147″ width="677″]
[/img-credit]
Best Stationer
The ladies at Ellis Hill have made monograms an artform and brought staid stationery suites to new heights. Their designs will tickle even the most traditional types, but their fresh approach to color and personality broaden the appeal of their custom paper designs to a younger, more fashionable generation, too. It's Emily Post with panache.
5001 W. Lovers Ln. 214-520-6108.
Best Paper Towel Replacement
They set out to give restaurateurs the perfect napkin. It turns out this local start-up's absorbent, alabaster, hand-loomed cotton linens make for eco-friendly home napkins and kitchen towels. Buy, use, and launder, and you'll receive replacements for a lifetime. (You only pay shipping.)
Best Laundry Service
Download the app, schedule a pickup, and a big bag (equal to three 13-gallon trash bags) of clothes will be collected, laundered, folded, and returned. All for $45. Same-day service is available before noon, and many special preferences—particular detergents, clothes hung on hangers—can be accommodated.
Best Vaccine Distributor
As vaccines became available, UT Southwestern created pop-up vaccination sites across the city, prioritizing high-risk individuals as well as offering shots to as many UT Southwestern patients as possible. They created a process that proved quick and effortless, with few delays and painless distribution of life-saving jabs into thousands of arms.
Best Entertaining Hack
Fount Board & Table
Impress guests with an artful, edible board from this Uptown cafe. Select your artisanal ingredients (this isn't your run-of-the-mill cheddar) and size (boards serve anywhere from one to 20, with by-the-meter grazing tables for larger gatherings) and let them work their magic. Vegan, vegetarian, and gluten-free options available.
2414 Routh St. 214-699-7455.
Best Caterer
Manned by a former head bartender from Twilite Lounge (so you know the bar service for events is stellar) and a professional cook who counts former Dallas Cowboys among her clientele, Fat Rabbit Provisions has only expanded and sharpened its operations since demand boomed during the pandemic.
469-223-9189.
Best Barbershop
At a time when many shops are tacking on bells and whistles, Brass Tacks' downtown satellite location strips the barbershop experience down to a classy, straightforward science: two chairs and two talented barbers (David Fletcher and Jessica Birney). We put Fletcher to the ultimate test, taming a mop that grew wild during a year of quarantine. He delivered in spades.
1321 Commerce St. 214-742-8200.
Best Shoe Repair
Since 1960, Deno's small Highland Park storefront has seen some of the city's most rarified footwear pass through its doors in search of an extra lease on life. Deno's brings a master's touch to the job, whether you need to resole a favorite pair of boots, restitch a well-loved leather wallet, or repair those pricey Jimmy Choos that didn't make it through the night.
62 Highland Park Village. 214-521-1070.
Best Salon
The Songbird Society
Founded in 2012 by longtime friends JT Osgood and Richard Hayler, The Songbird Society is the place to go for a stylish cut and fresh color. Even if you've decided to embrace the gray, they've got the R+Co restorative remedies and Oribe Silverati shampoo you need.
4631 Insurance Ln. 214-361-2070.
[img-credit align="alignnone" id=" 859130″ width="677″]
[/img-credit]
Best Med Spa
Started by best friends Brittany Ricketts and Rylie Bland in response to their self-proclaimed quarter-life crisis, House of Preservation is the place to go for all your Botox, microneedling, laser hair removal, and facial needs.
3219 N. Fitzhugh Ave. 469-571-3740.
Best Mani/Pedi
At Verbena, a nontoxic, fume-free nail bar founded by Ashley Tran in Uptown, we can enjoy a flat white or a glass of prosecco from the cafe while luxuriating in the hands of one of their expert technicians.
2626 Howell St., Ste. 166. 214-433-7359.
[img-credit align="alignnone" id=" 859149″ width="677″]
[/img-credit]
Best Custom Cupcakes
The Cupcake Experience
Chef Ginger Taylor excels in floral designs of all flavors, which can be picked up or delivered in stylishly clear or monogram-shaped boxes. We can't resist the ones that resemble cactuses and succulents, the verdant frosting set against terra cotta-colored cakes.
1955 Market Center Blvd. 214-287-9021.
Best Birthday Cake
Loft22 Cakes
Le Cordon Bleu-educated Tareka L. Lofton is the creative genius behind Loft22's vibrant designs. Her signature cakes, with their smooth sides and roughly swirled tops, come in flavors as adventurous as their color palettes, like Pink Animal Cracker, Orange Sherbet, and the electric blue Kookie Monster (packed with chocolate chip cookie and Oreo crumbs).
106 E. Dagget Ave., Fort Worth. 682-841-1771.

[img-credit align="alignnone" id=" 859150″ width="677″]
[/img-credit]
Best Sports Venue
Arlingtonians were fools to buy billionaires a new stadium, and from the outside it looks so totally basic. But we have to admit: when the roof is closed and the thermostat is set to 70, watching the Rangers play is actually a pleasant sort of torture.
734 Stadium Dr., Arlington. 817-533-1972.
It's really two distinct ballparks. Roof open on a nice day: what a gorgeous and grand stage for baseball. But it's on those miserably hot and swampy nights that it hits you. Close that roof, crank the AC, and enjoy big league baseball in comfort.

Dave Raymond, Texas Rangers Play-by-Play TV Announcer
Best Interactive Garden for Kids
Rory Meyers Children's Adventure Garden
Nestled within the Dallas Arboretum and featuring age-specific galleries focused on life and earth science, the garden attracts learners of all ages. From the Walne Family Discovery Lab's hands-on experience to the Glade Puppet Show's daily performance for younger visitors, this garden will play a part in forging an environmentally conscious generation. Don't miss the OmniGlobe. Trust us.
8525 Garland Rd. 214-515-6615.
Best Botanical Garden
The past year and a half pushed us outside for safe activities, and there is no better place for that in North Texas than Texas' oldest major botanic garden. Founded in 1934, it has awed generations with more than 2,500 plant species in its collections. Take a walk through the Pollinator Pathway or the Tinsley Rock Springs Garden, and enjoy the serenity of nature. The Japanese Garden is a must-visit in spring. August brings an exhibition of plant-based artifacts from Mexico.
3220 Botanic Garden Blvd., Fort Worth. 817-463-4160.
Best Radio Station
KXT 91.7
Most office environments translated to work-from-home relatively easily. The DJs at KXT had to transform their closets, bedrooms, and kitchens into makeshift studios, all to ensure that the steady soundtrack of familiar classics and emerging artists was there for us to retain some sense of normalcy.
3000 Harry Hines Blvd. 214-871-1390.
Best Public Official
Dr. Philip Huang
Over the past year, Dr. Philip Huang, Dallas County's director of health and human services, bore the heaviest burden of the pandemic. Often working without sleep, Huang navigated a firehose of continually evolving medical information while advising the public on safety protocols and withstanding a political firestorm. Throughout, Huang kept his messaging sober, simple, and straightforward.
Best Gallery
The pandemic forced experimentation, but few COVID-inspired art gambits got it as right as Sweet Pass. The smart and sometimes quirky West Dallas sculpture park satisfied our need for inspiration, dialogue, and connection through site-responsive installations and performances.
402 Fabrication St.
Best Museum for Kids
"The Science of Guinness World Records," a new exhibition that runs through September 6, will keep kids busy trying to make the history books. Adults can get in touch with their inner nerd on Thursday nights, when the place is restricted to an over-21 crowd, with live music, drinks, food trucks, and unlimited virtual T. rex races. Honorable mention: Dallas Holocaust and Human Rights Museum
2201 N. Field St. 214-428-5555.
Best Radio Show
Norm and D Invasion, The Ticket
It took a pandemic for us to realize what a gem The Ticket has in its midmorning slot. Hosts Norm Hitzges and Donovan Lewis are joined by producer Mike Sirois and reporter Julie Dobbs, and the on-air result feels like a family dinner, goofily funny and surprisingly warm.
Best Museum
Fair Park is filled with unique history, of course, but the African American Museum is the standout, a national gem dedicated to preserving and presenting African American history, culture, and art (it houses one of the largest African American folk art collections in the United States). Here, you can see materials salvaged from exhumed graves during the expansion of Central Expressway.
3536 Grand Ave., 214-565-9026.
Best Suburban Sculpture Garden
Painter Donald Vogel bought the multi-acre wooded plot back in 1953, when Spring Valley was still prairie. Now the original building is Dallas' oldest modern art gallery and the woods are filled with works by contemporary artists. Unlike the Nasher, there's no admission fee.
6616 Spring Valley Rd. 972-239-2441.
Best Performing Arts Venue
Once we knew that congregating outdoors was relatively safe, Dallas rediscovered the joys of outdoor performance spaces like Annette Strauss Square. In addition to staging socially distanced concerts framed by the magnificent architecture of the Winspear Opera House, the venue allowed local organizations to use the space to fundraise emergency support or simply get back out in front of an audience.
2403 Flora St. 214-880-0202.
Best Music Act
Within the past 12 months, Sessions won a Grammy; contributed to Marvel's Black Panther comic book anthology series; collaborated with Megan Thee Stallion on "I'm a King," the debut single from the Coming 2 America soundtrack; and released Manifest, his debut studio album. Top that.
Best Drag Queen
Cassie Nova
Some things get better with age: cowboy boots, fossil fuels, and Cassie Nova (aka James Love). Nearing three decades on the Dallas scene, she's still a regular performer at Station 4's Rose Room as well as the venue's illustrious mistress of ceremonies. Her quarantine diary posts for the Dallas Voice helped us stay sane, and we continue to live by her motto: love more, bitch less, and be fabulous.
3911 Cedar Springs Rd. 214-526-7171.
Best Social Media Feed
Dallas Texas TV
Think of it like an all-local version of Ridiculousness. On Instagram, Facebook, Twitter, and TikTok, it posts irresistible videos of Hooters waitresses fighting, cars being carried away by floodwater, three cops on a leisurely foot chase, and a naked couple having an argument on a highway overpass at 8 am. Among other things.
Best Sports Team
Dallas Baptist University Women's Golf
The DBU Patriots were the only Division II team at this year's Kiawah Island Classic; they beat 40 Division I teams. Then, in May, they won the NCAA Division II Women's Golf National Championship, the school's first, led by five All-Americans: Olivia Mitchell, Hannah Harrison, Faith DeLaGarza, Jaycie Stewart, and Julia Garcia.
Best Athlete
Luka Dončić
Just one stat: in Game 5 against the Clippers, Luka scored or assisted on 31 of the Mavs' 37 field goals, for an 83.8 percentage contribution, an NBA playoff record. He is a generational talent whose unhurried drives to the basket, step-back threes, and understanding of the space-time continuum will change basketball forever.
Best Critic
The paper's architecture critic understands that he's writing about more than buildings—or, rather, that the buildings and spaces he is writing about are connected to other buildings and spaces, and are essential to understanding how our city works. Or, often, doesn't.
Best Reporter
Covering police is the hardest beat at any paper, and the past year has given Jaramillo more than her fair share of bylines, between last summer's protests, the hiring of new Chief Eddie Garcia, and the department's continuing efforts to curb violent crime. The young UT grad has performed admirably in the role, delivering tough and nuanced coverage.
[img-credit align="alignnone" id=" 859117″ width="677″]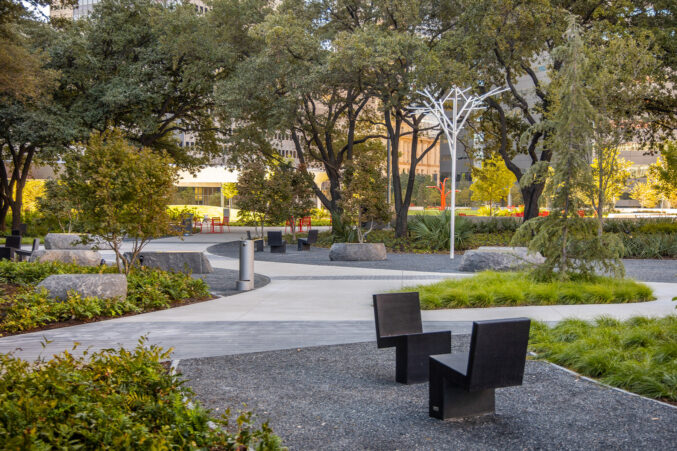 [/img-credit]
Best New Park
Pacific Plaza
This 3.74-acre neighborhood park, which opened in late 2019, didn't have to be so thoughtfully designed, since it was only replacing a real heat island of a parking lot. But it has so many wonderful touches, our favorite being the 614-foot-long limestone wall/bench that snakes through the site and ties it all together.
401 N. Harwood St.
Best Bookstore
In Duncanville, Enda Pemberton Jones' journey in education—from ministry to teaching GED prep—led her to open a reading room for her students that grew into a modest loaning library. Now it's a fully fledged bookstore, stocked with myriad titles, many written by women or people of color.
428 N. Main St., Duncanville. 972-460-6362.
[img-credit align="alignnone" id=" 859120″ width="677″]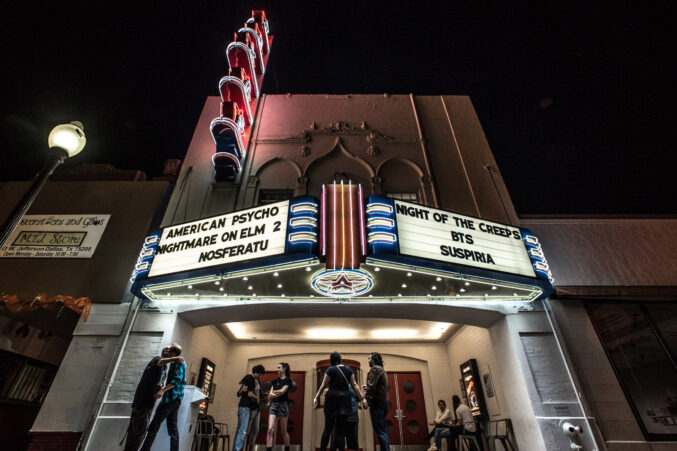 [/img-credit]
Best Movie Theater
Three cheers for the unflappable folks who run this historic theater for surviving the pandemic and bringing back, in June, the Oak Cliff Film Festival, one of this city's most endearing annual events. We can't wait to try the new upstairs 160-seat screening room, slated to open this summer.
231 W. Jefferson Blvd. 214-948-1546.
Best Dance Company
In a year like no other for dance troupes, Bruce Wood Dance turned to film, using the talent of videography team The Digibees to create moving works that awakened us to new feelings. One of the resulting projects, the Wood/Shop series, nudged company dancers to choreograph. We were riveted. Honorable mention: Dallas Black Dance Theatre
Best record Release
Truth to Power
On Record Store Day, in June, the label Eastwood Music Group, run by Jeff "Skin" Wade (The Eagle, the Mavs) and Luke Sardello (Josey Records), dropped a triple LP set with tracks from, among others, Leon Bridges, Keite Young, Black Pumas, Bastards of Soul, Sarah Jaffe, and BADBADNOTGOOD. It rocks, and all profits will go to organizations that support marginalized communities.
Best Publisher
Started by Will Evans in 2013, the small but mighty operation now has a bookstore and six editorial imprints releasing everything from a book about Dirk and fatherhood by D Magazine senior editor Zac Crain to its first children's book, Uncle Rabbit and the Wax Doll, translated from the Nahuatl and set to publish this summer. If Dallas can claim to be a literary town, the argument starts with Deep Vellum.
3000 Commerce St. 972-638-7741.
Best TV Broadcaster
David Schechter, ABC Channel 8
The two-time national Murrow Award winner is a Swiss Army knife in the newsroom, handling fill-in host duties on Inside Texas Politics and, with an able team, producing great in-depth reports like his recent "Banking Below 30," which looked at racist lending practices of local banks.
Get the D Brief Newsletter
Dallas' most important news stories of the week, delivered to your inbox each Sunday.
Author