The allure of la dolce vita seems as eternal as Rome itself. Eating the Italian way, then, is a small taste of the sweet life. Without booking a flight to that boot-shaped country, Eataly Dallas has transported a beloved food and all the ingredients that make up the whole of the cuisine. With its Dallas arrival, Eataly brings a—and in some ways confirms our own—farm-to-table philosophy.
Whether you want to build your own Italian pantry—tinned anchovies, good extra virgin olive oil—or have a pro slide you a bowl of cacio e pepe, NorthPark Center's sweeping food wonderland is your one-stop destination. And this is your indispensable guide to the three-level market place.
Counter Culture
---
Parmigiano-Reggiano, marbled wagyu, hand-cut pasta, sweet pastries, frutti di mare—there's nary an Italian good you can't find at one of Eataly's many counters.
Salumi & Formaggi
The side-by-side cheese and cured meat cases harbor more than 500 kinds of each; at the cheese counter find mozzarella, burrata, and supremely soft stracciatella cheeses made by hand daily.
Seafood
The catch of the day is ever-changing, but the frutti di mare—from whole branzino to black-shelled mussels—is consistently fresh.
La Macelleria
For the butcher case, meats are sourced locally from purveyors like Hudson Meat Market (Marble Falls) and A Bar N Ranch (Celina).
Welcome to gluten heaven, where thick-style, wood-fired pizza by the square, pastries, breads, and panini dwell.
Scoops of gelato, in classic flavors like hazelnut and Sicilian pistachio, are made with milk from Mill-King Market & Creamery in Central Texas. You can also snag made-to-order cannoli here.
Restaurants & Cafes
---
If you're all about that carb life, this is where you need to be. Pasta is the obvious focus here, where shapes that hail from all over Italy are well represented and made fresh each day. Get a salumi board and a glass of red vino, and you'll be saying ciao an obnoxious amount in no time.
Try this: agnolotti del plin al sugo, an unusual pinched pasta from Piedmont that has been filled with veal shank and 18-month Parmigiano-Reggiano.
You can infer from the name what two entrées to expect: a lineup of pastas, both dried and just-made, and pizza napoletana in all its char-bubbled glory. This is where you can also order the greatest hits of comforting Italian fare like spice-tinged bucatini all'amatriciana, olive-and-caper-rich puttanesca, and nonna-approved arancini.
Try this: tagliatelle alla bolognese.
Terra may mean "Earth" in Italian, but Eataly's crown jewel restaurant floats above the ground floor of the marketplace, escaping the grocery hubbub below. It is also far and away the store's finest restaurant. The menu revolves around the open hearth, from which come flame-licked steaks and smoke-enlivened vegetables. Even the cocktails, which arrive under glass cloches, are likewise imbued with hickory wood smokiness.
"We use the live fire to sear. There's a little bit of bitterness that comes through and the most satisfying part is that flavor—almost kissed-by-fire taste—that you get from the flame, rather than a pan, is so far beyond better and stronger," says Jake Epstein, Terra's executive chef. "It's somewhat primal."
The cooking at Terra, then, is somewhat instinctual. Fiery variables dictate time and focus—the moisture of the wood, size of the logs, heat of the coals—but therein lies the excitement for Epstein. It requires controlling the element of fire to produce dishes that appear much finer than the cooking style would imply.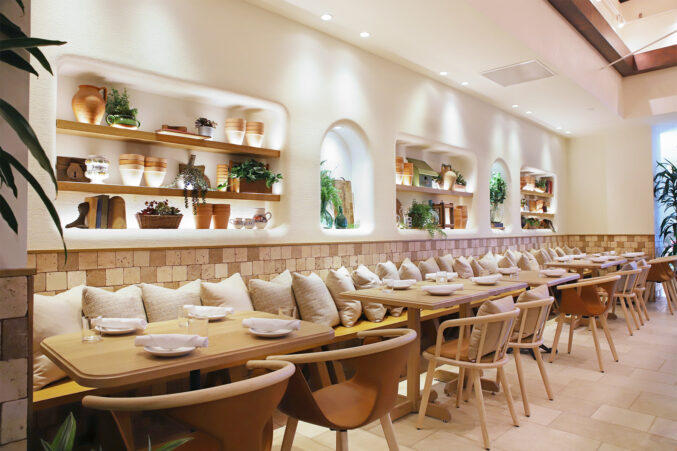 A Vapori da Salotto, a house cocktails of rye, amaro, and bitters, captures Terra in drink form: it's a little American, a little Italian, and fully hotboxed as smoke swirls inside the glass cover. The wine list, too, is a curated collection of vino spanning Italy's various wine regions. (Yes, get the Barberesco that pairs nicely with all of the marbled meat dishes on the menu. Speaking of which, yes, get the Bistecca, a Snake River strip loin, off the Alla Griglia section.)
Under the Spiedini section of the menu (things on sticks), Epstein calls out the arrosticini as a favorite. "That one, for me, always hits the spot." The classic Italian dish traditionally uses mutton, but Terra goes with a younger lamb. Fatty lamb belly and leg cuts are layered, pressed, then skewered before getting cooked over the fire. It comes with flaky salt and bread to sop up the juices. It's simple, but soul-gratifying.
That's the magic of Italian cookery and the essence that imbues the entire menu at Terra. Skewered Spanish octopus, grilled Gulf shrimp, Italian burrata served with Texas pecans—dishes let the best ingredients shine, whether from local farms or international producers (the very ones you can find on the shelves downstairs).
While Terra is centered on the wood-fire hearth from whence come the smoke-kissed bites, flavors don't taste like they were pulled from a campfire but from a tiny trattoria in the hills of Umbria—even if Terra's perch actually overlooks the NorthPark Center parking lot. Never mind that and beckon the gelato cart for made-to-order table side dessert.
Down an escalator located just past the butcher shop resides Caffè Lavazza, an all-day cafe that serves light breakfast fare and strong espresso in the morning, simple salads and sandwiches at lunch, and a multitiered tower of bite-size pastries and sweets for any time of day. Go from cappuccino to hibiscus spritz easily.
Try this: bicerin, meaning "little cup" in Piedmont dialect, rich chocolate melted under hot espresso and topped with whipped cream
How to
---
…Pick Your Olive Oil.
If the promise of extra virgin olive oil expressive of its terroir intrigues you, then you'll have fun in the EVOO aisles packed with 100 varieties of the juice. Yes, olive oil is essentially a juice. Like wine, it's made up of various cultivars that impart idiosyncratic notes—say, robust and spicy for oils from Southern Italy, grassy-peppery flavors in Central Italy, or soft and buttery finishes from the north. Keep an eye out for DOP labels with designations of origin. Our favorite: Cerasuola extra virgin olive oil from Mandranova. It's bold and mildly spicy with a gentle peppery aftertaste.
…Study Abroad
Check the website for a packed schedule that includes Eatalian walking tours and tastings ($50); a Neapolitan-style pizza lab and lunch ($55); a class on the art of the Italian salumi and formaggi board ($65); and regionally focused wine tastings ($55), in addition to chef demonstrations and floral arrangement classes.
Get the SideDish Newsletter
Dallas' hottest dining news, recipes, and reviews served up fresh to your inbox each week.