In Texas, we're more familiar with fiddles than violins, more attuned to country and blues than jazz. But chances are you've seen Scott Tixier or heard his work, probably without knowing it. The 34-year-old Grammy Award-winning French jazz violinist has made late show appearances with Stephen Colbert and Jimmy Fallon. His music can be heard in films such as the 2019 remake of The Lion King, Spike Lee's Da 5 Bloods, and John Wick, and he has worked on albums and performed with artists like Stevie Wonder, Ed Sheeran, Pink Floyd, Christina Aguilera, and Gladys Knight.
Yet, despite the lengthy résumé, he has had only one audition in his entire career. It was for an associate professor position at UNT.
"When I got the email [about the audition], I was backstage at Madison Square Garden with Elton John," Tixier says with a laugh. "I said, 'Oh, well, let's do it.' " His audition sealed the deal, and he was offered the job in, as he describes it, one of the "best programs for jazz in the country, if not one of the top in the world."
Tixier stands out in the jazz scene not only for being French and a violinist, but also because he's more than 6 feet tall, not counting the Afro that he refers to as his "signature look." His flair for style presents in different ways, from colorful socks that peek between black jeans and boots to the golden velour formal jacket he wore to his last performance. He has a relaxed presence, a kind smile, and eyes that shine with intensity when he talks about music.
He's also the kind of guy who's willing to improvise and see where life takes him. So, having visited Denton for only one day, he packed his bags and moved 1,600 miles away from New York to a place he knew so little about, to do a job he'd never done before. There were those who tried to sway him from this new adventure.
"When I was 19, people were projecting their fears on me, like, 'Oh, you are never going to make it. You don't speak English. You're too young. New York is too hard. You play violin. Do a real job,' " he says. "Now, in my 30s, they told me the same thing about Texas. It makes me almost laugh."
Tixier's journey began in France, where he was born to a pair of artists. His Black mother, whose family hails from the Caribbean island of Martinique, is a talented dancer who has run her own dance company, Fusion, for 30 years. His White father is a playwright, actor, and director. Tixier grew up with his identical twin brother, Tony (now a successful jazz pianist), in a low-income household in Seine-Saint-Denis, a diverse northern suburb of Paris. His parents' professions offered perspective on life.
"You don't live poverty in the same way when you are an artist, when your parents are artists," Tixier says. "Even though they're making the same amount of money as somebody who's working a very low-income job, they're making something they love, so it has a different impact on your mind and the way you live."
Having visited Denton for only one day, he packed his bags and moved 1,600 miles away from New York to a place he knew so little about to do a job he'd never done before.
Beginning when he was just 3 years old, Tixier enrolled in music conservatories, eventually completing his studies in classical music at 16 at the Paris Conservatory. But it wasn't classical music that captured his heart. It was jazz.
The improvisational freedom jazz offered a young man with four strings and a bow sent Tixier on a journey of self-education. He listened to every jazz vinyl record and CD he could get his hands on, and he played in Romani camps at night. Backstage at festivals and performances, he would seek out instruction and insight from jazz masters: Elvin Jones, McCoy Tyner, Michel Legrand, Chucho Valdés.
"When I was 14, I knew even the little person outside of Portugal in a little cabin," he says. "I knew every mainstream, avant-garde jazz musician. I knew everything because every day it was my mission to find out how this person or this person played."
Life changed for Tixier when his great-grandfather, a descendant of Leopold II, the king of Belgium, died and his father received a sizable inheritance. The family moved into a four-story home, but a year later Tixier's parents divorced, and jazz became a safe and comforting space for the teen.
"I was 14, and I started to be very serious about jazz because I was always stressed out with the divorce and all the tension around the family," Tixier says. He sequestered himself in his room, practicing for hours on end. Three years later, he won the biggest jazz competition in Paris, Les Trophées du Sunside. But Paris' jazz scene was not welcoming to someone of his age or limited experience.
"In Paris, it's more like, 'You're nobody. We have never heard your name. You're too young. Come back when you have a career,' " Tixier says. Jean-Luc Ponty, a famed French jazz violinist and composer, suggested Tixier go to New York, the "mecca of jazz."
"After one week in New York, I learned more than in all the years I'd been studying and learning jazz in France," he says. "And in one month, I got opportunities that were worth five years in France."
Within his first week, the 19-year-old was invited by bassist Lonnie Plaxico, via MySpace, to his gig at John Zorn's club, The Stone. There, Plaxico brought Tixier onstage, where the nervous young Frenchman played John Coltrane's "Giant Steps" with Plaxico's band.
Tixier smiles widely recalling how nervous he was. "When I look at the video, I feel like it was yesterday. I look like a baby," he says, laughing. "I got so much feedback after that because the video was on YouTube."
At the time, Tixier knew only a few words of English, which made him a target of harassment. "I got a lot of people yelling at me, 'Hey, speak English,' or, 'I don't understand anything you say,' for two years when I was 19 to 21," he says. "It was horrible. But I had my violin, so I practiced every day and tried to keep my head focused on the music."
Add culture shock, a lack of family support, and strained finances, and Tixier's early years in New York were anything but easy. "One meal a day. I was starving, literally starving," he says. "I slept on the subway sometimes. I slept on sofas of strangers or didn't sleep, just on the bench during the day. I was literally homeless."
But returning to Paris wasn't an option. "My dad always told me, 'Life or death. If it's not a question of life or death, don't do it,' " he says. "I thought about giving up in difficult times in New York, but I just thought about it and never actually did it. For me, music is life or death."
Artistically, Tixier flourished in the fast-paced jazz scene. His constant practicing, dedication to his craft, and his improvisational skills helped him to stand out. "In Paris, I was doubting myself," he says. "But when I was in New York, it was being in the storm, so there is absolutely no time for you to doubt yourself."
While playing in a band at Sleep No More in Chelsea, he was approached by a television string contractor. Not familiar with American late-night shows, Tixier was confused when the woman asked him if he'd be interested in playing on Late Show with David Letterman.
World on a String: When Tixier first started playing in New York as a teenager, he often didn't have money for strings; if he broke one, he'd have to finish the show with three. Once he moved to Denton to teach, he thought the work might dry up. But he's busier than ever.
"I thought she was talking about a singer, because I was playing with singers all the time," he says. "I was like, 'I love singers, and I love to play with singers!' She started laughing. She thought I was joking."
Violinists are a rarity in the jazz world, and Tixier's Late Show gig soon led to more late-night TV bookings, a stint on America's Got Talent, consulting jobs in films, and playing for Michelle Obama in Washington, D.C. In fact, Tixier's musical contributions are so widespread that he suddenly paused during our interview to listen to a John Legend song playing over the speakers. "It's me playing."
His compositional skill comes alive on his own albums, Brooklyn Bazaar (2012) and Cosmic Adventure (2016). He adds drums, congas, guitars, bass, keyboards, piano, or tenor saxophone to his violin to form upbeat melodies, hip-moving tunes with Afro-Caribbean influences, and wistful songs made for slow dancing. His Grammy Awards were earned for participation in PJ Morton's album Gumbo Unplugged (2018), Legend's A Legendary Christmas (2019), and The Lion King soundtrack (2020).
After he took the teaching job at UNT in 2018, Tixier was happily surprised by his new home. "I didn't know anything about Texas," he says. "I was scared it was going to be a little bit more close-minded and not diverse enough, but I was wrong. People here are very welcoming, and they're humble. It looks like it's a big city, but it doesn't feel like a big city when you talk to people."
He believes teaching has helped him be more understanding of other musicians. "I know so many people who have so much technique on their instrument," he says. "They can play anything, but they have nothing to say. They're just moving their fingers. What is your story? What are you saying? That's what I try to teach my students."
Tixier is one of four Black jazz professors at UNT (there are 17 full-time faculty members in the department), and he hopes his presence shows students of color that it's possible to be taught by and have a shared experience with somebody who looks like them. In addition, he has pushed UNT to recruit diverse students from different schools, income levels, training, and personal backgrounds. "Jazz was created by African Americans," he says. "You see the people who invented this music, and when you see people doing it, studying it, and teaching it today, they're not Black."
The young professor thought job offers might dry up when he entered into education. Then he got the call from Hans Zimmer to do The Lion King. He's now doing more movies than ever. And although the pandemic initially put a stop to his travels—as much of the industry converted to recording online—by the end of 2020 he was traveling to Los Angeles to record in studios for projects that required a full band.
He noticed that on the sets of television shows where he performed, the other musicians were generally Asian and White. He began to feel that his presence was an attempt to check the box for "a Black dude."
It wasn't easy getting to that point.
While some saw the pandemic as an opportunity to create, Tixier found that the inability to travel and work with new people stifled his creativity. On top of that, he was also anxious about the uncertain future of his pending green card. "Donald Trump said that he was blocking all applications for green cards, so I was really scared that I was going to be deported," he says. "For two months, I was completely freaked out." Eventually, his permanent resident status was approved.
Then the Black Lives Matter movement reignited, and it affected Tixier in a profound way. "I'm always emotional when I talk about this," he says. "In France, there is a culture for strikes and protests, but there's a lot of racism in France as well. I grew up around racist people because I was the poor kid, and sometimes in my school there was not so much diversity, so I was the only one."
Even though his maternal great-grandparents were enslaved people from the West Indies, and Tixier was made fun of as a child for his Afro and his physical features, he says racism had mostly been an abstract concept for him growing up. "Before moving to America," he says, "I always considered myself as a human being. I never thought about being Black or White, even though there was racism and I did directly experience it. I thought, I'm Scott, the violinist, and I define myself by my actions and what I do in the moment, not by ancestry."
His perspective slowly changed, however, with age and new experiences of systemic racism in his industry. He noticed that on the sets of television shows where he performed, the other musicians were generally Asian and White. He began to feel that his presence was an attempt to check the box for "a Black dude."
The Black Lives Matter movement became a source of inspiration, urging him to do more. He auditioned for the lead role of Chevalier de Saint-Georges in the upcoming Disney biopic Black Mozart, about an 18th-century master fencer and violin virtuoso in the court of Marie Antoinette. (The title of the film has been somewhat controversial, as some argue that the artist was so accomplished that he should be remembered by his birth name, Joseph Boulogne, and not by a glib reference to a White contemporary.) Tixier is waiting to hear back about the role, but there's a good chance he may also be called on as a consultant and violin coach.
He was hired to play all of the violin parts for Eddie Murphy's latest film, Coming 2 America, watching the screen as he recorded the score in L.A. (The score's composer, Jermaine Stegall, happens to be a UNT alumnus.) The Cuban American singer-songwriter Camila Cabello has enlisted his talents for an upcoming project, and he'll be heading to Europe in May to work with French rapper JoeyStarr and French actress Isabelle Adjani.
[img-credit align="alignnone" id=" 845886″ width="1200″]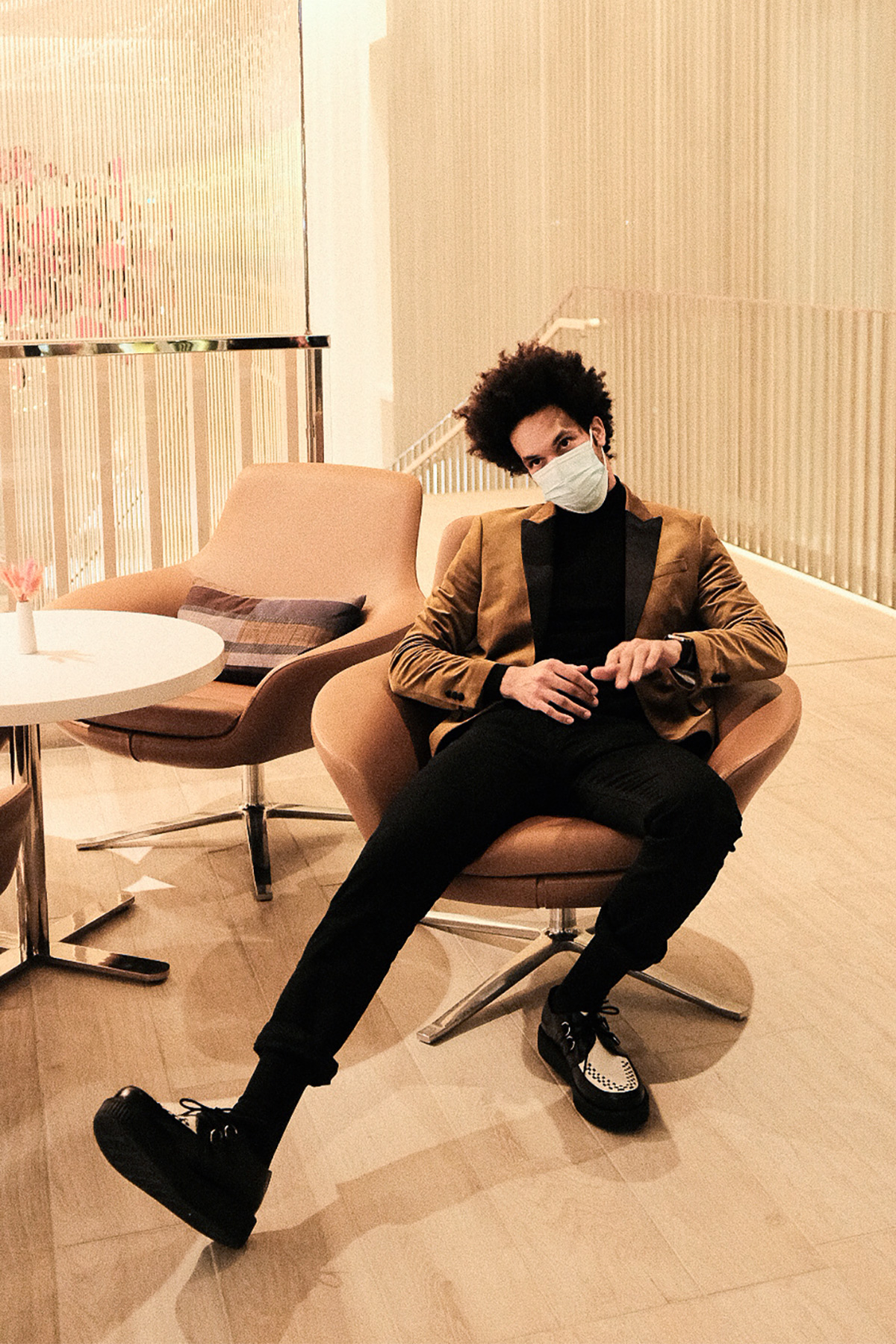 [/img-credit]
He's preparing to host the first UNT International Jazz Strings Workshop this summer, and he has been invited to give a master class in Cremona, Italy, the "city of violins," where Stradivari violins were made in the 18th century.
Most recently, he performed at the Moody Performance Hall in Dallas at the end of January with his bandmates, guitarist Davy Mooney and bassist Matt Clohesy. Even though there was no one in the audience—the Chamber Music International event was livestreamed using seven cameras—Tixier says it was a pivotal experience that will help sustain him in the months and projects to come.
"Moody Hall was incredibly necessary for my soul," he says. "I didn't realize how much I needed it. The energy from being onstage again defined the momentum in my life. More than 1,000 people have tuned in so far, and even if I couldn't see them, I somehow could feel them. Playing in this empty hall was dramatic and grave but also joyful, electric, and exhilarating.
"After the performance, I received an overwhelming amount of messages and emails from people from all around the world that were watching at the same time, whether it was 3 a.m. in their country or 5 p.m. in Texas. They shared how important it was and how they felt watching. It really added an extra layer of happiness into my performance and my days following the concert. There is nothing that can replace this. Nothing can replace live music—improvising for the people and for my soul, from my soul."
---
Write to [email protected].
Get the FrontRow Newsletter
Get a front row seat to the best shows, arts, and things to do across North Texas. Never miss a beat.