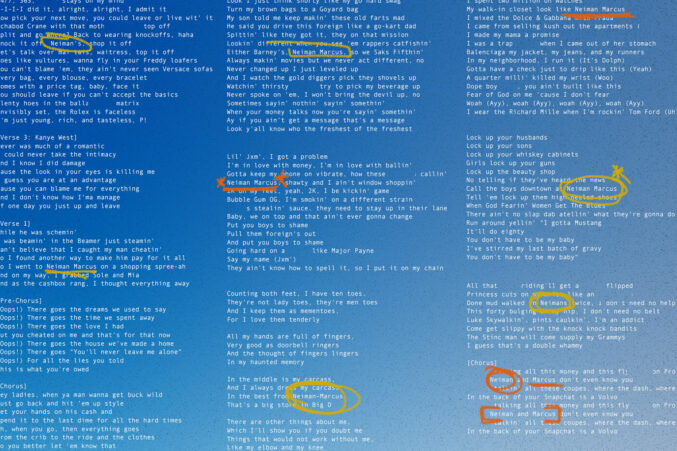 Neiman's: The Most Popular Store In Music
Dallas' embattled retail icon may be the most referenced store in music.
Though Neiman Marcus is navigating choppy bankruptcy waters alongside fellow brick-and-mortar kin, the national retailer still has square footage everywhere. It even occupies space in pop culture. Dozens of recording artists reference Neiman's as a flex. Martina McBride, dad-rock icons Train, song parodist Allan Sherman—they all mention the Dallas store. It has even gotten the Weird Al Yankovic treatment. But with its designer labels and luxury brands, Neiman Marcus is immortalized most often in hip-hop. It's a badge of prestige for both sides, proof of cultural and economic capital. As Neiman's turns 113 years old this month, we look at some of the most notable shout-outs.
The Neiman's Name Spotify Playlist
"While he was schemin'/I was beamin' in the Beamer just beamin'/Can't believe that I caught my man cheatin'/So I found another way to make him pay for it all/So I went/To Neiman Marcus on a shopping spree" Blu Cantrell, "Hit 'Em Up Style (Oops!)" 2001
"Look, I just think shorty like my go-hard swag/Turn my brown bags to a Goyard bag/My son told me keep makin' these old farts mad/He said, 'You drive this foreign like a go-kart, Dad'/Spittin' like they got it, they on that mission/Lookin' different when you see 'em rappers catfishin'/Either Barney's, Neiman Marcus, so we Saks Fifthin'/Always makin' movies but we never act different, no" Fabolous, "Goyard Bag" 2016
"In the middle is my carcass/And I always dress my carcass/In the best from Neiman Marcus/That's a big store in Big D" Allan Sherman, "Me" 1962
"Neiman and Marcus don't even know you" Drakeo the Ruler, "Neiman & Marcus Don't Know You" 2017 
"Back to wearin' knockoffs, haha/Knock it off, Neiman's, shop it off/Let's talk over mai tais, waitress, top it off" Pusha T on Kanye West's "Runaway" 2010
"I spent 2 million on watches/My walk-in closet look like Neiman Marcus (Damn)/I mixed the Dolce & Gabbana with Prada (Damn)/I came from selling kush out the apartments (Damn)" Young Dolph on Bankroll Freddie's "Drip Like Dis" 2019
"Neiman Marcus, shawty, and I ain't window shoppin' " Rae Sremmurd, "Perplexing Pegasus" 2017
"Call the boys downtown at Neiman Marcus/Tell 'em lock up them high-heel shoes/When God-fearin' women get the blues/ There ain't no slap-dab-a-tellin'/What they're gonna do" Martina McBride, "When God-Fearin' Women Get the Blues" 2001