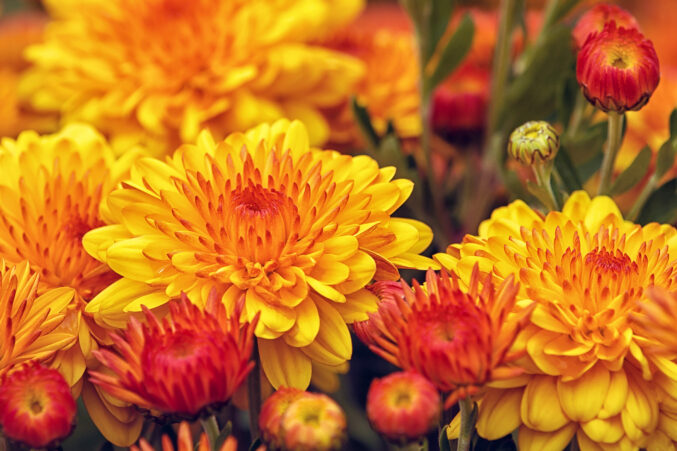 Where To Go Outside This Fall
You've been cooped for far too long. Mars Hill Farm and McKinney's crape myrtles are waiting.
Find Refuge
Mars Hill Farm has a simple purpose: to employ North Texas refugees, to provide fresh food and flowers to Dallasites, and to create a sense of community along the way. The farm, located 20 miles south of Dallas in Ferris, offers plots of land free of charge for refugees to use. Many of these individuals have valuable agricultural knowledge honed in their home countries, and the Mars Hill Farm founders hope to provide meaningful job opportunities to put those skills to use. Employees sell their produce, grass-fed beef, honey, and more at North Texas farmers markets. Flowers, too, are a staple here. Summer visitors were invited to cut stems themselves from the blooming fields. North Texans can also subscribe to seasonal floral deliveries, starting at $35 per week. As the weather cools, stop by to pick your own pumpkin or stock up on firewood. —Emily Heft
Stop Crape Murder
McKinney, "America's Crape Myrtle City," wants you to know: extreme pruning kills. The common Texas practice of cutting crape myrtles back to the stubs removes viable limbs and encourages weak, flimsy growth. Plus, it's just plain ugly. Let those floral-tipped branches reach for the sky, and limit fall and winter pruning to removing dead or crossed branches and opening up the canopy. If space is tight, there are plenty of dwarf options that stay on the small side. These petite models also serve as a good replacement for rose bushes that may have suffered an unfortunate fate due to rose blight. Take a tour of McKinney's World Collection Park to see all of your options in real life (it's open seven days a week and has paved pathways for easy access), then drive the neighboring trail to see more planted in public and private landscapes. Late fall and early spring are the best times to get these beauties in the ground. —Kathy Wise
Spring Forward
Need some inspiration for your brown and brittle outdoor spaces? Plan ahead with Hocker: 2005–2020 Landscapes, a just-published collection by the titular Dallas landscape architecture firm responsible for such forward-thinking projects as Forty Five Ten, the Dallas Museum of Art Eagle Family Plaza, Temple Emanu-el, and the Cistercian Abbey. President and founding partner David Hocker is internationally acclaimed for his modern, architectural outdoor spaces that allow homeowners to, as the book's author Helen Thompson describes, "live, relax, and enjoy nature in a way that wasn't accessible to them before." Notes Hocker: "At the very core of my work is a mission to establish the landscape as a cohesive link between a project's architecture and site." It's a work that's groundbreaking in both the literal and figurative senses. —Lauren Armstrong
Even More Options
Head here for our full guide to autumn, which includes details on the 15th annual pumpkin installation at the Dallas Arboretum, events at the Dallas Farmers Market, a maze at Hall's Pumpkin Farm and Corn Maze, Midlothian's Shadow Creek, and more.