Light and dark. Morning and night. Xamán Cafe and Ayahuasca Cantina are two sides of the same culinary coin. Or perhaps it's more of a food and drink mullet: bright coffee shop in the front, candlelit bar in the back. What's certain is that co-owners Gerardo Barrera and Mauricio Gallegos have created a two-in-one space unlike any other.
When Barrera and Gallegos opened their West Jefferson Boulevard coffee shop and bar this summer, as we previously covered, they realized their dream two years in the making: "bring more authentic Mexican culture, I would say, that we grew up with," says Barrera.
So inside the pastry case awaits various Mexican pastries, like concha, or shell-patterned sweet rolls, in vanilla, chocolate, strawberry, and an intriguing matcha flavor. What's come to be colloquially known as "spooky season," has long been traditionally celebrated in Mexico: the weeks leading up to La Día de Los Muertos. At Xamán Cafe there's pan de muerto, a sweet "bread of the dead," with a dusting of blackened sugar on top. "The baker that makes it takes husk of the tamale and she burns it to create a little ash with sugar," says Barrera.
It's not the only traditional Mexican bread at Xamán. Here you can find pan de pulque made with actual pulque, an alcoholic drink made from the fermented agave sap that acts as a natural bread leavener. "We utilize the pulque that we get for our craft cocktails," then the baker can make the pre-colonial bread that dates back centuries before the Spanish arrived in Mexico.
"We always talk about how we we miss back home and want to present more of the traditional music, the food, coffees, [and] deserts," Barrera says.
You'll find espresso-imbued horchata, cajeta macchiato, and cafe de olla sweetened with piloncillo and spiced with cinnamon alongside the aforementioned bright pink concha pan dulce (sweet bread rolls). Heartier brunch items come by way of chef Hugo Galvan, who you might recognize from Casa Komali, El Bolero, and Flora Street. Galvan will employ a modernist touch to traditional Mexican dishes—lamb meatballs with mole negro, rabbit-stuffed squash blossoms, nopal ceviche—for both the cafe and cantina.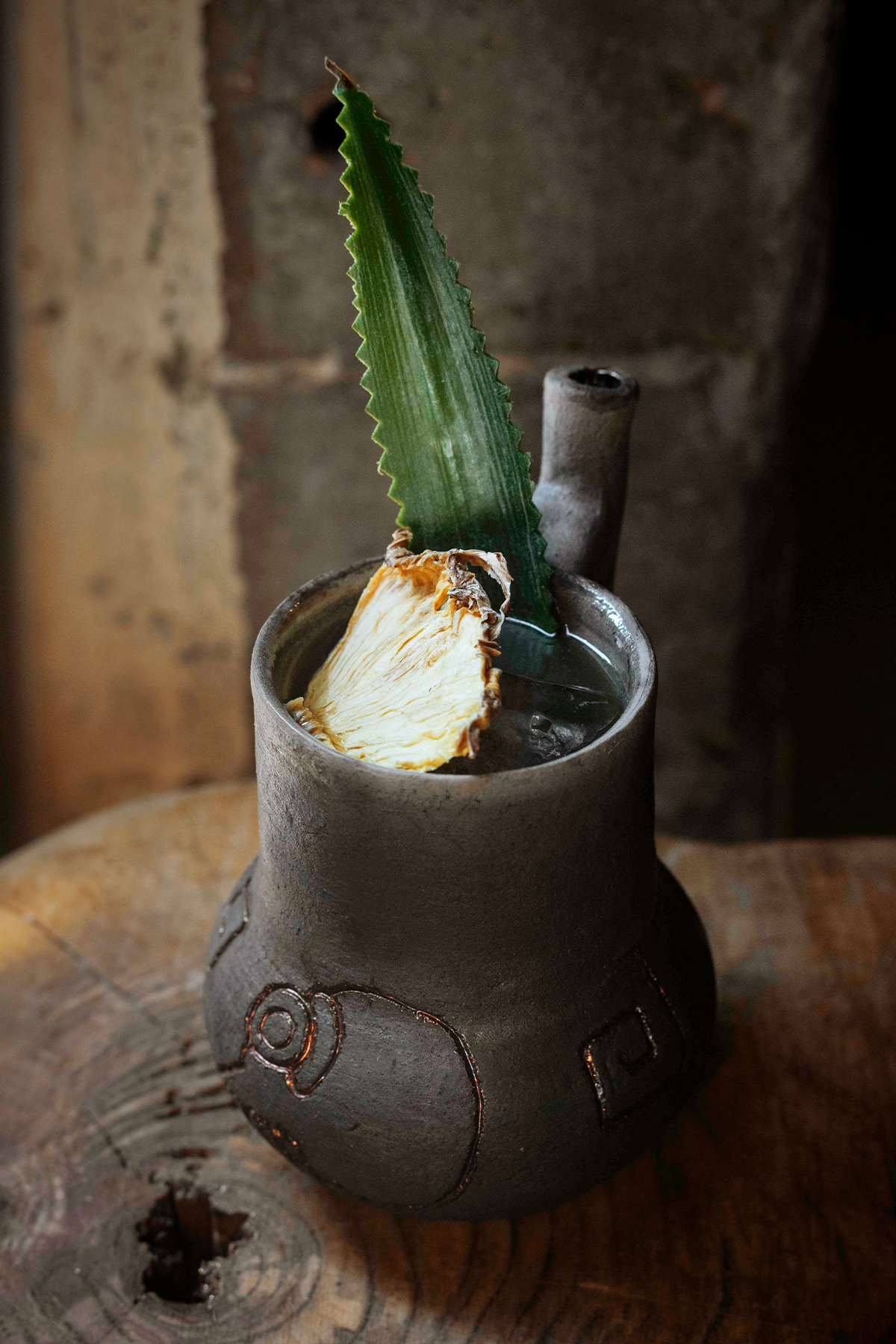 Down a hallway, a door opens into the dimly lit Ayahuasca Cantina, where Gallegos, a longtime Dallas barman (Santos y Pecadores, Las Almas Rotas), extols the virtues of sotol. He works wonders with tequila and mezcal cocktails, but Gallegos wants to share his passion for the distillate made from the desert shrub for which it is named. 
"I think everyone knows mezcal…and more people are asking about mezcal now," says Gallegos, but he rightly points out, "There's not just mezcal in Mexico." And that's why we wants to bring Dallas "a step forward" with sotol's "really strong edge that goes really well with cocktails."
While cocktails are the natural entry point into sotol, Gallegos says, "the best way to do is just neat."
What Xamán Cafe and Ayahuasca Cantina bring to the city isn't just another coffee shop or another bar, but two individual places with singular personalities. It's the best of what Third Wave coffee is doing. It's the best of what Dallas' cocktail scene is doing to explore more spirits.
"It's Texan, but it's also Mexican," Barrera says. "We're not only bringing stuff that's from Mexico with the food, the music, we're bringing something that straddles both worlds, which is kind of like us."   
Get the SideDish Newsletter
Dallas' hottest dining news, recipes, and reviews served up fresh to your inbox each week.