Ellie's feels a little like you are dining in a museum because, really, you are. The airy restaurant in the Hall Arts Hotel, named for developer Craig Hall's mother, is filled with art. Spangled Ramparts by Kristin Baker runs the length of the room, while a glass mosaic in wave-like shades of blue, visible through a wall of windows, encloses the lovely patio. (Pick up a guide to the collection in the lobby.) But there's a downside to feeling like you are in a gallery, open and exposed, especially when the space also functions as a hallway through the hotel. The bar area, separated by a raised grand piano and crowned with Asteroid, an extended celestial light fixture, is more inviting and intimate.
The menu, too, is of two minds. For lunch, executive chef Eric Dreyer says, "the feeling is it's kind of the '40s and '50s of Ellie's era and when Mr. Hall was growing up. It's TV dinners, it's Campbell's Soup recipes, and elevating those." For dinner, he's aiming for Napa Valley. The Dallas native started his career in California, originally thinking he'd go into the computer science field. But a part-time gig waiting tables at a restaurant in Pasadena led him to culinary school. He stayed in California for a decade before returning to Dallas, where he opened the Grand Hyatt DFW. When The Ritz-Carlton came to Dallas, he moved over there before most recently serving as Oprah's personal chef.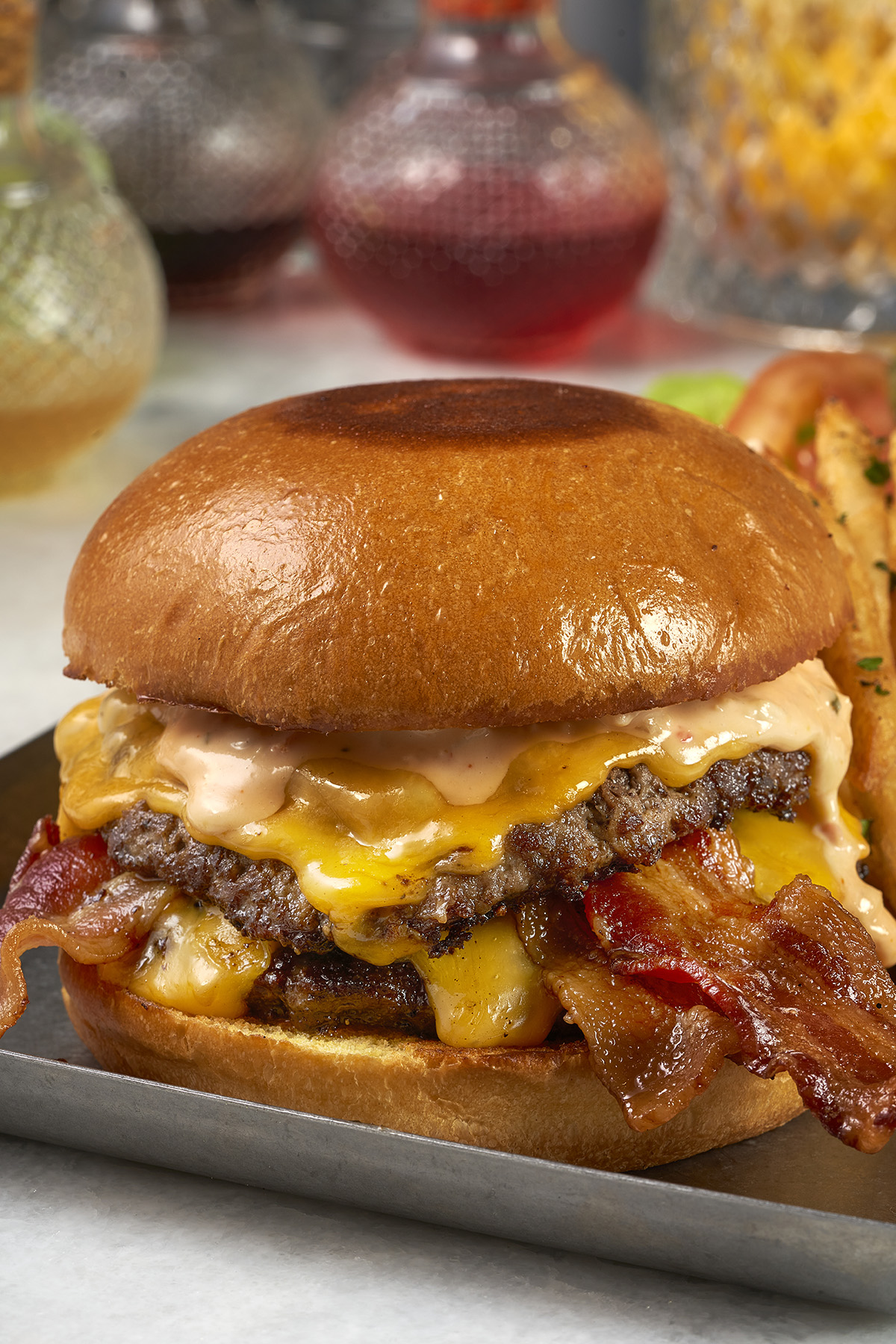 I thought I'd prefer Dreyer's West Coast dishes, but an order of George's Banks sea scallops was disappointing, overly seared on one side and sunk in a purée of Jerusalem artichokes strangely flavored with vanilla. The accompanying heirloom carrots had gone rubbery in the roasting. A crab Louie Cobb salad fared better, simple and fresh, with bright bursts of cherry tomatoes and chunks of firm crab-meat, although the dressing could have used a touch more tang.
What I will go back for is the burger. Dreyer worked with the Dallas-based Bakery Group to develop a special recipe for the brioche bun, which is baked fresh daily. The toasted bun is stacked with two thin patties, a custom blend of chuck brisket and short rib, which are topped in turn with slices of American cheese, strips of bacon, house-made bread-and-butter pickles, and what Dreyer calls his secret "Mother Sauce" in another nod to Ellie. It's retro perfection. Like the film clip "Andy Warhol Eating a Hamburger," this is pop art.
Next time I'll order it in the bar with a Nothing Beets Couple No. 1, a brightly colored and earthy tequila cocktail that gets a spicy, smoky kick from Ancho Reyes Verde liqueur, made from poblano chiles. Happy hour is 4 to 6 p.m. on weekdays. With any luck, someone will be tickling the ivories of the Steinway.
Get the SideDish Newsletter
Dallas' hottest dining news, recipes, and reviews served up fresh to your inbox each week.