Childhood friends Casey Abbruzzese and Valerie Lackey knew they wanted to start a business together. But it wasn't until they began hitting the kids' birthday party circuit that they came up with an idea. "There's only a few select places that people were inviting us. It was the same places over and over again," Lackey says. "They were a little outdated and not so clean." The friends came up with an idea for an aesthetically pleasing, play-based space with an educational component. Through their research, however, they discovered that Frisco mom and former teacher Courtney Muccio had beaten them to it with Play Street Museum, which had locations in Frisco, Plano, and McKinney.
Lackey and Abbruzzese reached out to Muccio and ended up franchising a Lake Highlands Play Street (there are now nine locations throughout Dallas-Fort Worth, plus more in Colorado, Oregon, and Missouri). Play Street's mission is to spark creativity and problem-solving skills through play. Each spot has a different theme. Lake Highlands' is organized like a city with a town hall, movie theater, trolley, and pizzeria, all with interactive components. In the center of the space is an oversize Lego table and a discovery rug that rotates toys and books through a curriculum. Every few months, the space is updated with new play items, books, and crafts.
The owners give the space a deep clean every month, disinfecting with a nontoxic spray and trading used toys for new ones. Even the carpet, which is made of tiles that can be pulled up and washed, is built to hold up to littles.
Pop in during the week to play or sign up for special events—like this month's Valentine's Day party—on the website.
In December, Dallas welcomed Camp, a New York-based toy store founded by BuzzFeed's former chief of marketing, Ben Kaufman. The 13,000-square-foot space, in The Hill shopping center in North Dallas, is dedicated to an experiential shopping setup. The main storefront is filled with grab-and-go giftables like Petite 'n Pretty, Nailmatic, and Sunnylife, but the real magic is behind a secret door.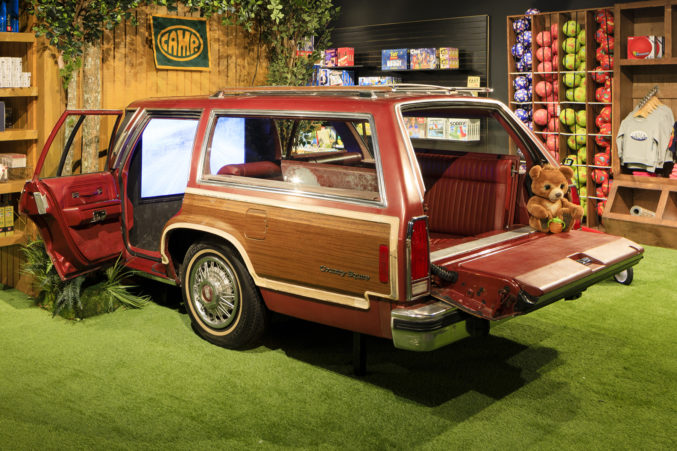 When kids push it open, they are led to 10,000 square feet of themed play spaces, including a basketball court, an arts and crafts station, a pretend lake with an oversize canoe, and a tech radio lab. The themes change, but this month you'll get a nod to a nostalgic New England-style summer camp. Sprinkled throughout each area is merch—lots of it. Find almost 4,000 items, from L.O.L. Surprise and Tegu toys to clothing from Bobo Choses and Chaser. And almost every toy can be tested by kids before purchase.
But you don't have to shop to partake. An amphitheater hosts musicians, artists, magicians, and more. Activities, such as crafts, yoga, science projects, and cookie decorating, are offered daily for a fee. There's even a cafe, which serves Ample Hills ice cream, coffee, and snacks to keep cranky kids (and adults) happy.
Inspiration struck while Lauren Wallace was trying to find ways to entertain her toddler daughter when it was too cold, hot, or rainy to go outside. "I was racking my brain," she says. "I really didn't know what to do." She looked to her background in educational counseling and remembered the sensory bins that are common in play therapy. She poured a big tub full of Cheerios, cups, and funnels. "She played for hours," Wallace says. "It was this aha moment. This stuff isn't just for therapeutic settings. This is good for all kids of all ages."
She also started making homemade play dough and handing it out to friends—one being fellow preschool mom and high school pal Stevie McCartney. Wallace had seen the way it helped her anxious daughter communicate and decompress from the school day, and she knew it would help McCartney's daughter, Aidan, with her anxiety, too. As they played, the girls started talking about their days. "It was a game changer," Wallace says.
In late 2018, Wallace called McCartney and tasked her with making their homemade boxes a business. A month later, Twig & Olive sold its first box—a holiday-themed set of play dough and open-ended materials. One of the most important components of a Twig & Olive box is that there are no rules for play, only boundaries for safety. "Kids are constantly being corrected and told no, so our box will never be any of those things," McCartney says. "It is a place they can do whatever it is they want to do."
More Spots to Cure Your Cabin Fever
Get the AtHome Newsletter
Enjoy Dallas' best trends, hot properties, and tips from local designers to help you nest in style delivered weekly.