All over town, chefs who like fiddling with their pantries are letting their creative colors fly in pickles, krauts, and kimchees, pulling out tricks from classic vinegar brines to lacto-fermentation, a method of pickling akin to sourdough bread-making, using an ingredient's natural bacteria instead of vinegar. They're using local produce and sake lees (a byproduct from sake-making), jasmine rice or koji spores, beds of rice bran or housemade miso (an umami bomb) to make preserved things that are funky, vibrant, fiery, and fresh. All it takes is time and vision.
We tracked down colorful swatches all over town, from rotating charcuterie plates to sandwich boards. Below is a numbered mix-and-match. Think there's nothing simpler than that dill sour? Think again.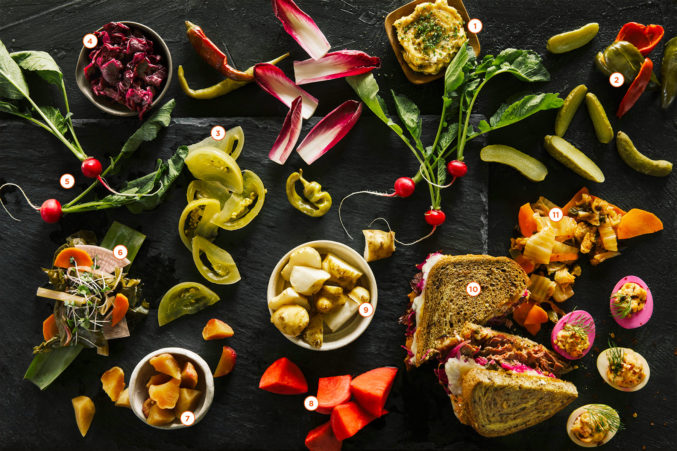 Homewood
A mixed pickle and crudités plate may come with (1) black garlic aioli topped with fermented turnip-leaf gomashio (toasted sesame-seed salt) powder; pickled unripe blueberries; (2) vinegar-based cornichons; (3) brined green tomatoes; (4) sauerkrauts; or an occasional curtido (a spicy Salvadoran slaw). "It's a nice beginning," says chef Matt McCallister. "We try to showcase those and raw vegetables. So we're growing (5) petite radishes in the garden just for that plate."
Khao Noodle Shop
Donny Sirisavath uses his grandmother's and mother's recipe for (6) greens pickled the Laotian way, with cooked jasmine rice. His recipe—for everything from crinkly snow fungus to cabbage or collard greens—includes ginger, shallot, garlic, and bird's-eye chiles. His mother's pickles might have included caterpillar holes; his use extra aromatics, like kaffir lime, galangal, and lemongrass.
Salaryman
At his Bishop Arts izakaya, Justin Holt takes inspiration from Japanese farmhouse techniques. Things get cured with sake lees, the yeast deposits left after fermentation, and there's kombu (kelp) in the chowchow for added umami flavor. (7) Radishes and turnips are buried in a bed of house-made miso, transforming them into the miso pickles known as misozuke.
Petra & the Beast
Misti Norris and Jessica Alonzo make their own egg white aminos or char bread scraps for a burnt bread-koji paste for fermenting. Their "generational" pickles reuse brines to create new pickling liquids. (8) Scarlet turnips in a half-sour brine (without vinegar) or (9) sunchokes fermented in buttermilk might be the stars of the rotating charcuterie board.
Butler's Cabinet
Josh Harmon will soon be bringing his Fort Worth concept and fermentation tricks to Belmont Hotel. The (10) pastrami sandwich has house-cured pastrami, Swiss cheese whiz, and Thousand Island dressing infused with (11) one of his half-dozen types of kimchee. (He makes a black kimchee with squid ink and black radishes.) Order a side of (12) beet-pickled eggs.
Get the SideDish Newsletter
Dallas' hottest dining news, recipes, and reviews served up fresh to your inbox each week.