What is Filipino food? Let's start with what it isn't.
It isn't Thai or Vietnamese or Japanese or Chinese or Pacific Islander food, though all of those are relevant in this Southeast Asian nation of more than 7,100 islands.
"We were such a huge crossroads for so many years," says Denise Apigo, one of a small number of pop-up crusaders who are bringing Filipino food to Dallas. "That's why you get a little bit of curry down south, from those Indonesian-Malaysian influences. Up north, you have a lot of Spanish influences. There are a lot of Chinese influences because we're close to China up north. And then, obviously, the American occupation that brought in a lot of things."
It's a cuisine that can be light and vegetable forward. It's highly regional, racy with vinegar, rich with pork and even blood. And it's perfectly adaptable, easily boosted and punched up with fermented flavors. Spanish, Pacific, and East Asian infusions blend with local ingredients and tastes.
It's a cuisine of yeasted breads and sweets. It incorporates tropical fruits—tastes of coconut, ube (purple yam), cassava—or Spanish influences, as in the ensaymada, sweet breads filled with cream cheese or topped with shredded queso de bola. The result is an archipelago of variations—all of them delicious.
A small group of second-generation Filipino Americans is taking advantage of the endless options, integrating the food and flavor profiles of their childhood with a modern energy. For many, it's an identity quest and a return to a communal way of eating that has always been relevant. Their families came from small waves of immigrants, mostly military. Though many of the new arrivals went to Houston and San Antonio, clustered around bases, some made their way to Dallas. Like pinpoints in the dark, the new generation found each other and started a movement.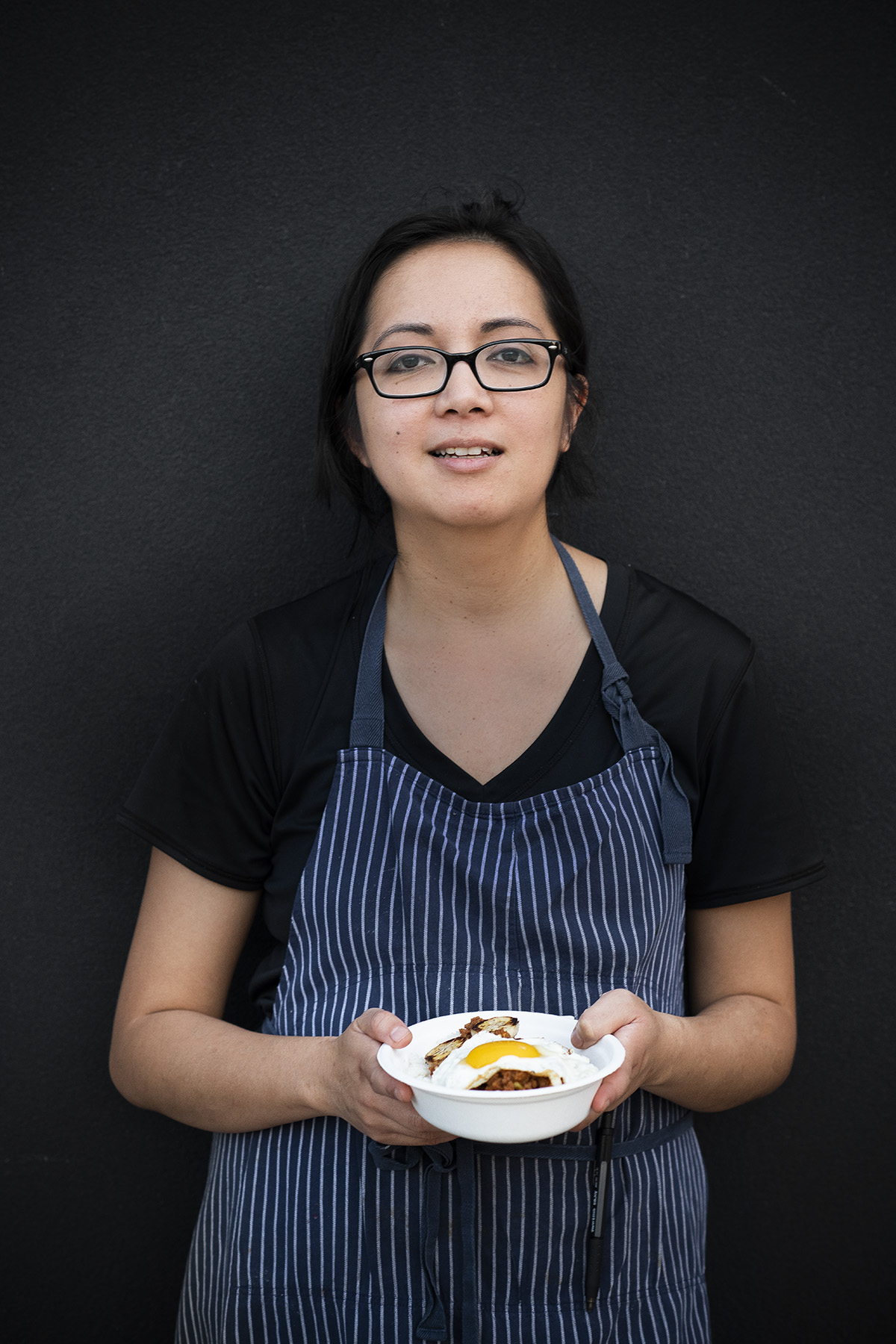 They were galvanized by an exploding Filipino food scene that swept the East and West coasts a few years ago. There was a movement in L.A. and a few spots in New York and Washington, D.C. Like chefs in those cities, ours straddle old and new, using it all as a playground.
"It's this weird conglomeration," Apigo says about Filipino food. "It's not spicy like Thai cooking. It's not herby like Vietnamese cooking. It's got a lot of funk from fish sauce and fermented shrimp. A lot of brightness from vinegar and citrus. And a lot of weird, off-the-wall things. Like our version of spaghetti with this sweet sauce and the hot dogs chopped up and the cheddar cheese. That's all just part of our history. People might smirk about it, but it was all about the Americans trying to make themselves feel at home with their cobbled-together spaghetti."
Apigo and this new generation of cooks, who speak of Filipino food both in terms of a "love language" and an expression of identity, are now sharing their versions with us. They are the new food movement.
Ulam
Anna Swann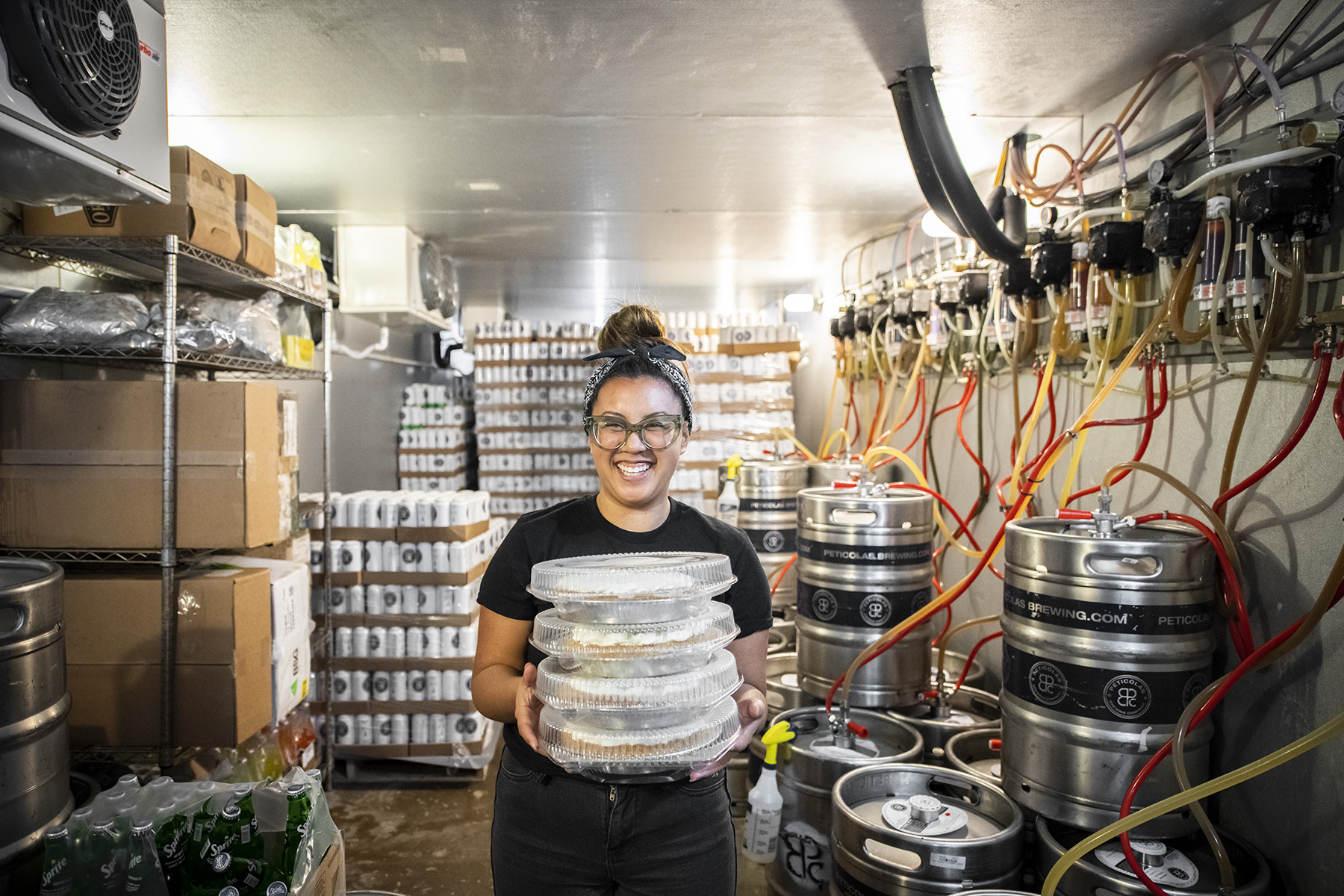 With a big family in Vallejo and the filipino hub of South San Francisco, Anna Swann grew up in California's East Bay, in Daly City and Dublin. When she moved to Texas to study fashion merchandising at UNT in 2006, she missed the taste of home, the food of her
lola
(grandmother) and
lolo
(grandfather). When her
lolo
died in 2014, she threw herself in earnest into an exploration of cooking.
She was still working for Fossil and cooking on the side when, in 2015, she auditioned for MasterChef season 8. After getting in the door with her chicken adobo, she ultimately made it into the top 80. Her pop-ups followed in 2017, the first Filipino ones to crop up in Dallas. They started as Swann in the Kitchen and then became Ulam, the Tagalog word for "main dish" and her nom de guerre. Filipino food was her original love language, and that's what she wanted to share.
Swann was a small but fiery revolutionary, landing at Peticolas and proving that Filipino barbecue, with its sour flavors and accent of papaya relish, could hold its own against its Texas counterpart. In the back room, under patio lights, she'd hand you an aluminum tray lined with a banana leaf, her version of plating for a four-course ticketed meal with '90s R&B and hip-hop as the soundtrack. These were parties, the vibe like one of her family reunions back home.
Even while she was making Super Bowl bar food—Spam musubi with furikake or a remix of adobo pork belly musubi with charred kale—she was showing her creative stripes. They were evident in her "tipsy" pancit, a hybrid of Thai drunken noodles and Filipino noodles, and in her triumphant calamansi pie, a look-alike for key lime pie that uses the island's citrus. There's NorCal allegiance in tri-tip bistec marinated in soy and calamansi juice, and a spirit of brunch in ube pancakes topped with Fruity Pebbles and ube butter and syrup, or an Irish coffee semifreddo with toasted crumbs of pan de sal, the fluffy, buttered Filipino roll.
For inspiration, she looks to fellow modern Filipino crusaders in Houston and Portland, Oregon, who are doing adobo tamales, In-N-Out Animal-Style lumpia, and twists on gumbo. "But it's still those flavors," she says. "You take a bite and you think, Oh! This is adobo! This is sinigang! I'm just so fascinated watching people, seeing what people of our generation are doing with the food of the Philippines."
Embracing the Filipino American identity means acknowledging place. Now, in Texas, she likes her chicken adobo spicier. "I don't know if I was ever American enough. I don't know if I was ever Filipino enough," she says. "But now I'm being me, putting my stamp on it."
Bilao
Denise Apigo
Denise Apigo's interests
lie in wicked knife skills, cats, and classic horror films—many of which, from a certain period, were filmed in the Philippines. She grew up there, in Baguio, in the mountains north of Manila, a state with entirely different produce and a different climate from elsewhere in the Philippines. She grew up eating strawberries and ube jam made by nuns in a nearby convent.
Apigo's parents moved to Plano when she was 14, and she later began her culinary career at Sugarbacon Proper Kitchen in McKinney and Julia Pearl Southern Cuisine in Plano. She's now chef de partie at Bullion, the upscale French brasserie that was until recently run by Bruno Davaillon, who was our city's only Michelin-star chef. (He left his post in January.)
But in July, she worked around her job schedule to participate in an Asian Night Market: first, to see if she could do it, and second, because she had noticed the absence of other Filipino chefs in the event. She invented a pop-up and named it Bilao, after the woven rice-winnowing baskets that are a staple in the provinces of the Philippines. Recipe testing involved help from fellow line cooks, a far more dialed-in form of feedback.
"I wonder if the reason there aren't more Filipino places is because everyone insists that their mom make it better," says Apigo. "This isn't your mom cooking, but we're going try to make the Sunday supper."
Feeling like the new kid of the emerging Filipino group, Apigo has hosted only a few pop-ups. But already she is leveraging her culinary edge. For one of her events at Four Corners Brewery, a friend drove up from Houston to add her own pastry chef versions of ensaymada (a cheese-topped brioche) and French buttercream macarons to Apigo's chicken adobo and longanisa (sausage) bowls.
Apigo and her cinephile husband's dream is to open a Filipino-food drive-in with horror film screenings. That may be a little niche, but her overarching goal is achievable: to marry classic techniques she's been trained in with flavors from home.
"After cooking in many places in Dallas, it means a lot to be cooking my own food," Apigo says. "I feel like this whole time I was looking for a little validation and permission. We've got to stop waiting for permission, because nobody's going to hand it to us. We've got to do it ourselves."
Hella Lumpia
Sarah Rañola and Rachel Trammell
Several days after last fall's EF-
3
tornado ripped through North Dallas, Sarah Rañola prepped the filling for the deep-fried Filipino snack known as lumpia. The power couldn't go out, she said, as her girlfriend, Rachel Trammell, finished cutting what would be hundreds of ube Rice Krispie bars, tinged purple with ube extract. That Saturday was their first pop-up as Hella Lumpia, an affair at Peticolas where lumpia met beer.
If there's anything that's ubiquitous at social gatherings, synonymous with Filipino American community, it's lumpia, long, slim, deep-fried spring rolls. Full of carrots, garlic, scallions, soy, and any choice of meat, they rule a spread. Golden and flaky, they are the quintessential Filipino party snack.
Rañola's lumpia are memory and teaching rolled into one. They populate her recollections of growing up in Florida in a vast extended Filipino family, helping in the kitchen at matriarchs' apron strings, absorbing their ways of making things. "Growing up, I had different aunties showing me their method of rolling. Everyone has their special way," she says. "It wasn't even clicking that I was learning things."
Rañola graduated from culinary school in 2012. When her mother died of renal failure in 2013, it was the impetus to focus on the food from her childhood. A part-time barista, she and Trammell launched their pop-up in 2019 with a name that speaks with the voice of Filipino Americans.
"This is how I connect with my mom," Rañola says. "It's like she's in the kitchen with me." Framed photographs of her mother watch over her from the wall and stovetop.
She makes banana fritters called turon with dulce de leche, has served ube waffles for a cidery brunch pop-up, and for her first event at Peticolas served arroz caldo with scallion oil and those brilliant purple Rice Krispie treats showered with coconut. But always there is lumpia, with a sweet pineapple-chile dipping sauce that replicates the sauce her aunts taught her to make with specific chiles.
"Our approach is that we're bringing the party food, but I'm putting all my experience and all the teaching from my aunties and my mom into it. This is not just a tray of lumpia," says Rañola.
Fellow pop-up owners have expressed gratitude that she spearheaded something essential but tedious. "I am so glad you took the lumpia torch," she recalls Denise Apigo saying at one of her pop-ups. "One of us has to. You're gonna do us proud."
Marie's Kitchen
Candy Marie Ramos and Jay Gersan Jr.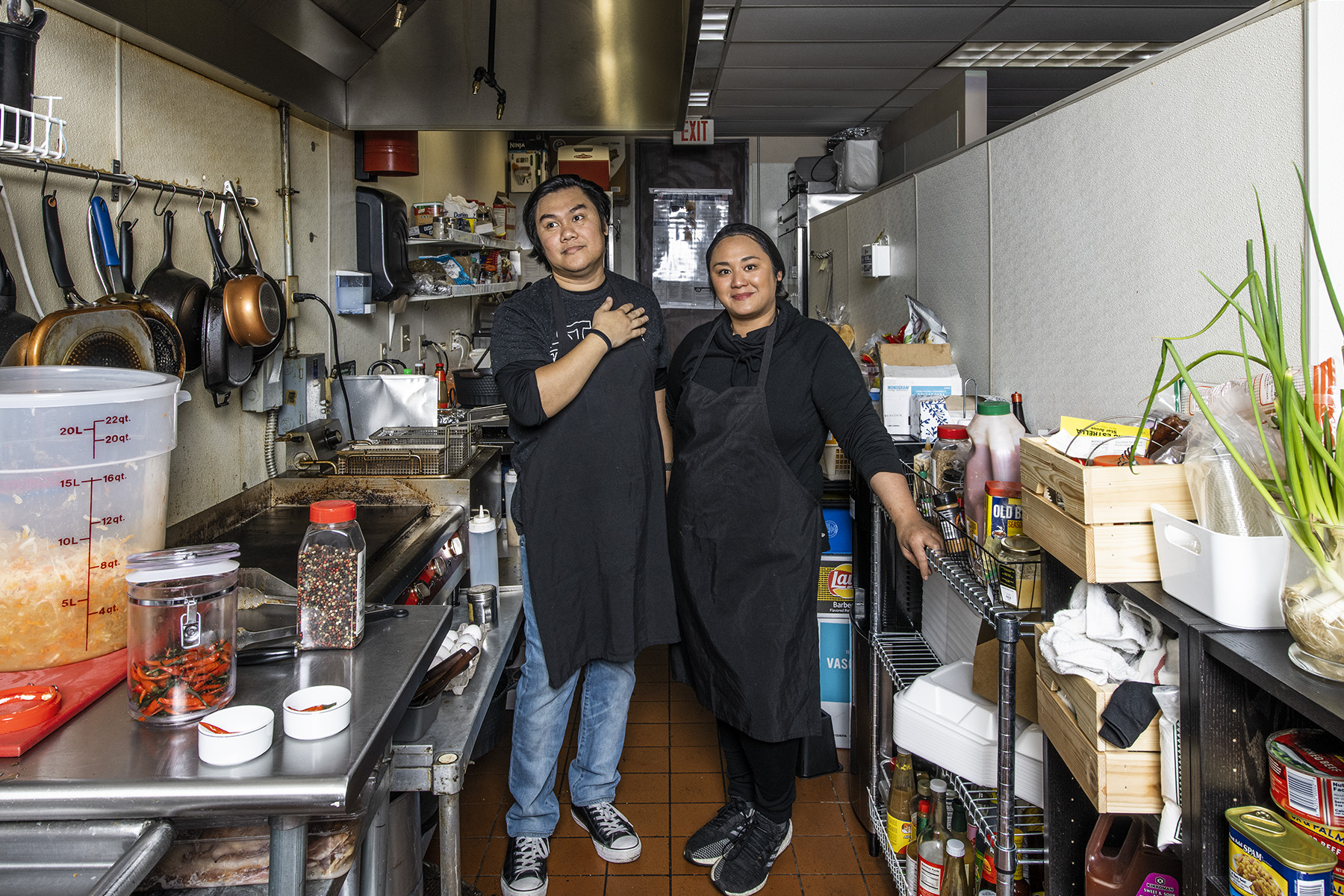 It all started with breakfast. the deli wasn't a pop-up, but the little enclave called Marie's Kitchen that husband and wife Candy Marie Ramos and Jay Gersan Jr. opened in an office building in Far North Dallas, close to I-635, may as well have been. Go down a hall, open a door, and you'll find a secret Filipino breakfast and lunch menu beside the salads and patty melt.
Ramos grew up in the Philippines, on the island of Negros, where her grandmother harvested fresh coconuts, grew the cassava with which she made cassava cake, and cured her own ham in a smokehouse shed on their family compound, outside a tiny village. Ramos' mother ran a turo-turo, a Filipino street-food stand, known far and wide for its aphrodisiac bull testicle soup for which people drove miles.
Everything Ramos learned—the sourcing of food, the preparations—she didn't know she'd use. After her family moved to the San Francisco Bay Area, Ramos became an accountant. She and Gersan moved to Dallas in November 2018, looking for a small business, any business. Then she found the deli, a "gem" she could run with her husband. She took over the space, which had only one table, and decided to serve silog, the traditional Filipino breakfast plate with a protein, fried garlic rice, and eggs.
"I thought, I just want to make pancakes every day. That's my dream: a small coffee shop instead of a laundromat. I can enjoy it more," says Ramos.
Silog looks like a diner plate when set on a Formica tabletop with a cup of coffee. But instead of steak and eggs, there's tapa (thinly sliced marinated steak), longanisa (pork sausage), lechon kawali (crispy cubes of pork belly), or hot dog. Instead of steak sauce, there are bird's-eye chiles and the pickled condiment atchara on the side with banana ketchup.
Based on requests, Ramos added a daily ulam, or main dish. She started with dinuguan, the iconic pork-blood soup, on Wednesdays. Now she serves embutido, a sausage loaf stuffed with hard-boiled egg; adobo pusit (squid) with squid ink; and the gingery soup tinola, which uses unripe papaya as a souring agent. Most of the recipes represent her regional cuisine of Negros, an island rising in culinary renown. She's old school, unlike some of the other new Filipino groups in Dallas, she says, laughing. Only 37, she is the lola: she cooks what her grandmother (and mother) taught her. And people in the building are eating Filipino silog every day for breakfast.
Mekeni Filipino Kitchen
Marie and John Richard Manansala
They would describe their experiences of the Filipino American reality as night and day. Marie and John Richard Manansala both have families rooted in the culinarily respected region of Pampanga, north of Manila. Marie, though, was born in Dallas, with parents who spoke to her in both English and Tagalog, and friends who neither spoke Tagalog nor cooked Filipino food. John Richard moved to the United States for graduate school. They met in sunny L.A., where they spent weekends with friends going to the beach and cooking Filipino meals, first as college students and then as working professionals. (John Richard is a phlebotomist; Marie does beauty product development.)
Life in L.A. was filled with Filipino restaurants and markets on practically every corner. Slowly, John Richard, raised as the taste tester in a female-centric family, introduced Marie to his version of adobo. As John Richard cooked, Marie learned things she hadn't grown up with or had learned only as watered-down versions. When the couple moved to Dallas in 2018, they started their business, Mekeni Filipino Kitchen, named for the word meaning "come here" or "come forward" in the Pampangan dialect.
John Richard's style is street food, easy to execute for pop-ups. His technique resembles that of a beach cookout, with smoking grills. Meats are served simply with rice and something tangy to cut the char and fat. He builds a slider from sizzling sisig, usually fashioned from pig's head (cheeks, brain), chopped fine and mixed with chicken liver. Here, it's a mix of pork belly and liver pâté, with pig's ear for crunch, loaded onto a King's Hawaiian roll with stripes of garlic aioli. He makes garlicky, sweet longanisa into a grilled meatball on a stick—his style, neither the sweet southern nor the garlicky northern style, but somewhere in between. He's known for the smoky notes of his adobo ribs, staying true to flavors, with a slight flair. For him, it's all a taste of home.
Mekeni's first pop-up was at a Foodies at Night market in October 2018, where the food was called out by a chef as the best bite of the night and attendees inquired whether there was a bricks-and-mortar. That's now the dream.
"Being with John and all our friends in L.A. helped me understand Filipino food," Marie says. "I learned how to be fluent in Tagalog. It gave me a bigger sense of pride to be Filipino. I want people to look at Filipino food the way they look at Vietnamese food and Thai food. There's so many great flavors and so many regions of the Philippines."
Not Your Lola's
Randall Braud, Daniel Gerona, Jed Pajela, and Carlo Wayan
They meant their name as a rallying cry: not your lola's, a reference to the idea that this is not the food your Filipino grandmother makes. The quartet who met in 2018 consists of Daniel Gerona, who teaches middle school music and likes to dance; Jed Pajela, a tiki home bartender champion; Carlo Wayan, newly a pastry chef at The Ritz-Carlton; and Randall Braud, who was born in Guam. Last year, they broke into the scene with their version of the street-food dish sisig. They made it into a headcheese terrine from a heritage-breed pig from East Texas-based Chubby Dog Farm for a June pop-up at Industry Alley, pairing it with bruléed bananas with jackfruit crème anglaise, and posting under the hashtag #bringfilipinofoodtodallas.
"We're trying to show how beautiful our food is. Our cuisine doesn't need to be elevated. But it needs to evolve. It's about reaching a new audience, a generation that's more open and more accepting," says Braud. "They remember growing up with food their lola made. We are trying to hit that nostalgia point. And that older generation will come along."
Driven by a desire to lead with the modern, they started doing Filipino food that was half French technique, half heritage. In a coursed dinner, there might be a seafood take on the rice porridge arroz caldo, where scallops lend a subtle note, topped with the dehydrated, fermented shrimp paste, bagoong. Flash-fried lechon (the iconic pork belly), crispy outside and melting inside, gets braised in coconut milk and shrimp paste and plated with greens—a take on Bicol Express. Kare-kare, a luxurious peanut based stew (earthy and savory with mirepoix), is made with beef short rib, the plate painted with fermented shrimp paste so that every bite has a bit of funk. Wrap a mouthful in tender blanched chard leaves; dip in the smooth peanut sauce; drizzle with an oil fragrant with sesame, ginger peel, and achiote. It's an amazing bite. And for dessert, the French pastry called a diplomat, an elegant tower of meringue and guava whipped cream, bejeweled with brûléed cinnamon figs and passion fruit coulis, a tartness that plays against and balances the richness. This is modern Filipino food, full of nuance and finesse.
Braud was sous chef under Peja Krstic at Mot Hai Ba. Now, his culinary training and the quartet's concentrated energy shine at events. At Chefs for Farmers, they were the only pop-up group at the Night Market event, serving beef rillettes and oyster mushroom lumpia with a koji-fermented banana dipping sauce. They worked with 44 Farms beef for Meat Fight. With Dallas chef Josh Harmon, they were invited to cook for a festival in Louisiana.
They also hosted a lavish kamayan, a communal meal served on a banana leaf, eaten with one's hands, at the intimate Mot Hai Ba. "Dallas, you ready for one?" they had asked on Instagram. It didn't matter. They were bringing it. "Our time is now," Braud says, meaning them, the others, the whole Filipino movement, without any apologies.
Get the SideDish Newsletter
Dallas' hottest dining news, recipes, and reviews served up fresh to your inbox each week.